ASIA HUNDREDS is a series of interviews and conference presentations by professionals with whom the Japan Foundation Asia Center works through its many cultural projects.
By sharing the words of key figures in the arts and cultures in both English and Japanese and archiving the "present" moments of Asia, we hope to further generate cultural exchange within and among the regions.
First encounter with hip-hop
HOMMA Junko (hereinafter Homma):I will start doing graduate research from April 2020 on the relationship between traditional Cambodian poetry and contemporary Khmer rap. I am very glad to have this opportunity to speak with you today about how you have developed your hip-hop as a female rapper in Cambodia. I would also like to ask you about the social media project Post Rap News and your current projects. To start, please tell me about where you are from and how you got interested in hip-hop.
Sang Sok Serey (hereinafter Serey):I am from the Cambodian capital of Phnom Penh. In Phnom Penh, there is an organization called Tiny Toones,*1 which offers free education and artistic opportunities to children. The first and foremost breakdancing school in Cambodia, it is a nonprofit founded by Tuy Sobil (aka "KK")*2 with the hope of helping all children who want to learn gain access to ways to shape their own futures. I originally visited Tiny Toones when I accompanied a friend interested in learning breakdancing. I was just amazed by what I saw there. "Wow, what a place," I thought. "I wanna try this!" And so I started breakdancing. Until I visited Tiny Toones, I had no idea if I had any talent.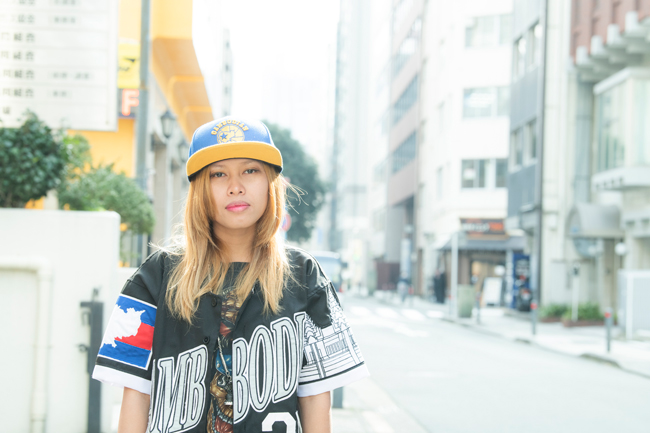 After that, I began making music in the studio and learning how to DJ and freestyle. I was probably then about twenty-one or twenty-two. Most music in Cambodia at the time was just copying overseas music, but Tiny Toones had a rule that we always had to make something original. Since I didn't even know at this point what rap was, I first watched videos of Cambodian and American hip-hop for inspiration. Starting from an attempt to emulate these examples, I then began writing my own rap music and got hooked.
*1 Tiny Toones is a charity established in 2005 to provide ways for children to receive education and a better childhood regardless of their financial circumstances. It is open to children who live on the streets and in environments that expose them to the risk of drugs of delinquency, or who otherwise cannot go to school. In addition to teaching breakdancing, the school offers curricula in Khmer, English, computer skills, graffiti, DJing, and rap music, encouraging children to return to the mainstream public school system or get into higher education. Alumni of the school include many educators now teaching the next generation of children as well as breakdancers and hip-hop artists active at home and abroad.
*2 Born to Cambodian parents in a camp in Thailand where refugees from the Cambodian Civil War had fled, Tuy Sobil (KK) was brought up in Los Angeles. There he joined the ranks of a gang and was later deported to Cambodia, a country he had never previously visited. When children came knocking at his door after word spread that this Cambodian-American had been a breakdancer in the United States, he started teaching them and eventually opened the school Tiny Toones.
https://www.tinytoones.org/
Homma: How did your parents respond when you started rapping?
Serey: I was still an economics major at university, so no one in my family supported me at the time. My father, in particular, wanted me to concentrate on my regular studies because he thought dance and rap were futile activities. This changed when I was picked to be the main artist in a TV commercial for a major mobile telecommunications company in Cambodia, where some twenty or thirty performers organized a flash mob through their phones. Coming to explain about my appearance in the commercial to my father beforehand, the manager told him that I did a fundraising event at Tiny Toones and won a scholarship. My father felt proud of me and then accepted what I was doing. The commercial became famous and the way my family and friends viewed my activities changed a bit. It's not easy to study something that isn't supported by your own family. Nonetheless, I continued to devote myself to doing what I could do.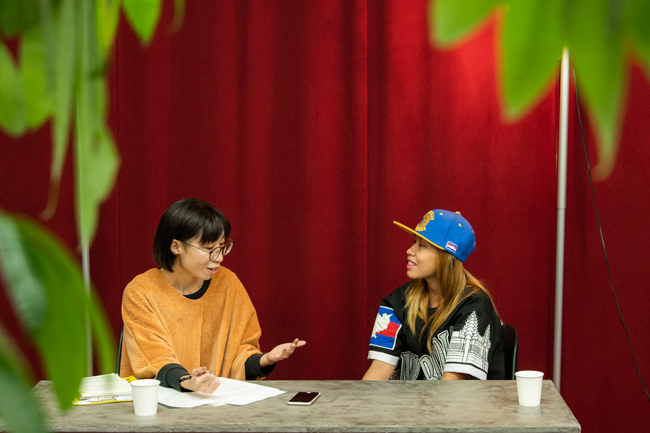 Homma: As you were working to refine your rapping skills, did you have any role models or mentors who provided guidance on being a female rapper?
Serey: There were actually no women among the rappers who influenced me at the time. When it came to making rap songs, I was deeply impressed and inspired by a male rapper, the Cambodian artist Khmer1Jivit, in terms of the power of his music and the meaning he invests in his lyrics. He raps fast but you can understand what it means. I learned from him the importance of rapping so that listeners can hear you clearly, in order that they understand the meaning of what you want to say.
Homma: When do you get the inspiration to write lyrics? How do you encounter the stories that you want to express through music?
Serey: For example, with "The Light," a popular song I wrote before my professional debut, the lyrics came out of a meeting I had with a certain girl. I had previously appeared on Loy9, a TV show for people aged between fifteen and twenty-four, as part of a breakdancing group from Tiny Toones. A girl who watched the show then sent me a message on social media. She could dance like a K-pop dance superstar, but the stress of not having anyone around to listen to her had driven her to consider suicide. I had to stop her many times from following through with this. I gradually realized that I should love her like a parent. In order to motivate her and make her stronger, I wrote the song "The Light" as a birthday present. Happily, when she heard the song, it was like this great weight was lifted off her mind and she could finally open up. She stopped thinking about suicide after that.
In the same way, I was so proud that friends and fans who had experienced difficult times in their lives sent me messages thanking me for making the song. They are still my supporters today. A company called Sabay produced a music video for "The Light" and so I made my formal debut as a female rapper. I think many people were touched by the meaning of the lyrics and the rhyme as well as the rap into which I threw everything I had in order to encourage others.
Homma: In this kind of case, we can see how rap is really empowering people!
Power of rap to convey messages
Homma: Next, I'd like to ask you about Post Rap News,*3 which was published on the Facebook page of the Post Khmer, the Khmer edition of the Phnom Penh Post, a major English-language newspaper in Cambodia.
*3 Aiming to attract young people who no longer read newspapers, Post Rap News was published by the Phnom Penh Post on Facebook from March 27 to September 18, 2017.
Serey: The Phnom Penh Post produced the video, while we handled the music. The target was young people who don't want to read newspapers or have no interest at all in news. The Phnom Penh Post selected popular news stories and we turned them into rap songs so that the listener could understand them easily and in a fun way without having to read the actual articles. Youth who have no interest in reading a newspaper took an interest in our efforts.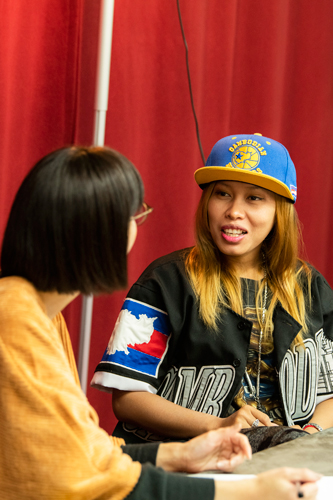 The music for the news rap was produced by beatmaker Voch Beatz*4 and he also served as the MC. It was a really creative approach and lots of fun to do, so I loved this project. But the actual production process was no walk in the park. [Laughs] We would get the news stories every Wednesday, write the rap on Thursday, check every phrase and, if necessary, revise things to make the rap more like news, and then record the vocals on Friday. We would shoot the video on Saturday and edit on Sunday, and finally publish on Monday. It's no simple matter to rap the news. Even though we were always up against a tight deadline, we could get it done by working with Voch.
*4 A beatmaker and MC, Voch Beatz has also written songs for the famous Cambodian pop singers Preap Sovath and Tep Boprek.
Homma: Wow, that must have been a really grueling schedule! Could you tell me more about your songs? When you write lyrics, in what way are you aware of the fact that you are talking about your own community or striking a chord with your fans?
Serey: In Cambodia, we are always rapping about our country and what is meaningful to everyone. I have a song called "Cambodia," featuring Voch Beatz and rhyming about my country, and for the music video, I included scenes of the Cambodian martial art of bokator. After I return to Cambodia, I will perform with breakdancers from Tiny Toones at a concert that is part of the Japan-Cambodia Kizuna Festival,*5 and for this, too, we will have a bokator performance on the stage in order to link traditional forms of Cambodian culture with hip-hop.
When I make rap songs, I write lyrics as a representative of women in Cambodia. Together with women's rights groups, I have made many songs to fight violence against women. When there is still this nineteenth-century mindset that is denying women the right to do as they wish, how can people say there is gender equality? If I can express in a song this situation where women's opinions are not listened to, then it will reach lots of people when they hear the music and pay attention to the lyrics.
*5 Co-organized by the Embassy of Japan in Cambodia, the Cambodian-Japan Cooperation Center, and the Japan Foundation Asia Center, this festival was launched to introduce traditional and contemporary culture in Japan and Cambodia, and to encourage exchange between the two nations. It has been held annually in Phnom Penh since 2012.
Homma: I read a Sabay News article that said you practice martial arts. Were you referring to bokator?
Serey: No, I don't learn bokator. I wanted to learn martial arts when I was a child but my father always said no. [Laughs] Sometimes I was a very well-behaved child and at others, really fidgety.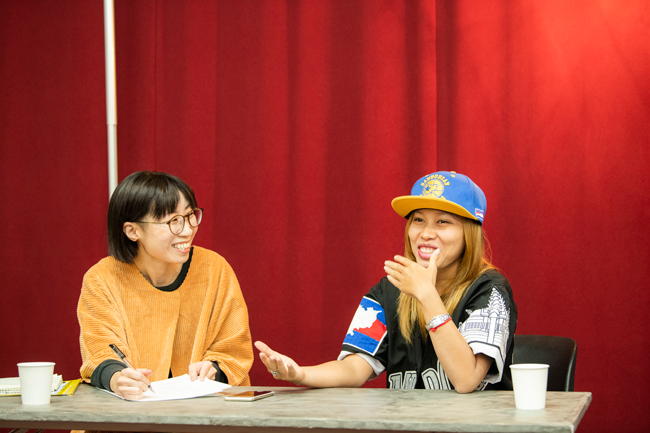 Homma: Is that so?
Serey: For sure! There was once this bully at school who demanded that I hand over my money. Even then, my father never let me learn martial arts. So I asked my older brother, a taekwondo teacher, to teach me a bit. He encouraged me by telling me I was strong, that I should have confidence, that I shouldn't be afraid. So when my money was about to be taken again, I could finally stand up for myself. I've never been afraid of anyone since then. I also endeavor to tell people who are bullied about my experience. My father has now passed away but after he died, I trained in Cambodian-style boxing at a gym that has produced fighters who compete at the international level, and this made me stronger.