The decision of film shooting in dangerous region
――What do you like the most in making of the film Island Funeral?
Towira: What I like most is the shooting of this film in Pattani Province which was very difficult. During that time, the situations there were rather violent and it took us for a long time to make a decision whether we could go down there. Everyone in our team was in fear when I told them that we would really go there to make a film. They were not sure if anyone in the team could go after I had made the decision. For me, I was not afraid as I went there to do some research so often that I knew about what is what and where is where. I also know some local people who could help us. At that time, we made the decision with uncertainty because we wanted to make our team feel secured. The feelings (of fear and uncertainty) were so overwhelming. If we went there and something happened, could we be responsible for it? Finally, we decided to ask our team and actors/actresses on a voluntary basis. The main actors/actresses decided to go. We asked our team who would not go. We told them that we would not force them and we would provide the insurance for them.
When we went there, our team was afraid. It was very difficult to shoot the film since our team was dismay. Like what our actor said, the atmosphere made us feel of it. We were in haste for the shooting and we just moved from one place to another once the shooting in each area was finished. Everything seemed difficult. We became an attention while shooting this film. We went farther and farther for the film shooting and the location was not only in town. We went to Saiburi District where no one normally go. During the film shooting, lots of police and soldiers came to us as they were worried about our security. What made us impressed is that we could shoot the film at that time. We initially felt that we could not do it but we could eventually make it. We felt that we could go to the point that we aspired to do and we could do it. We also wanted to make the shooting at Krue Se Mosque and we did it as we went there in team. So, we thought we could realize the difficult things and could make it.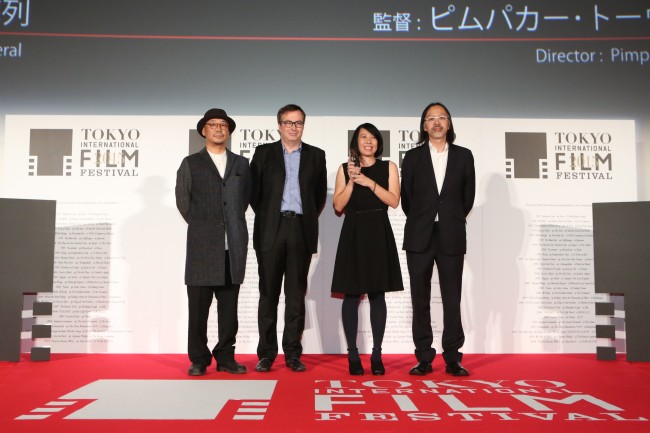 Director Pimpaka Towira received Best Asian Future Film Award ©2015 TIFF
――What is the most important message that you would like to convey to the audience?
Towira: Actually, I think the unrest in the three southern provinces is not the sole problem in Thailand. There are so many problems in the country, (to name a few), political instability in Bangkok, problems (about livelihood) of Isan people. So, the problems are everywhere. However, when we face a problem, we tend to think that we have to create something and fabricate that we have to definitely solve this problem by bringing co-existence, peace, and reconciliation to all people. In fact, it might not be realistic. We just take it for granted that it is the way to solve the problem.
I feel that this film does not only speak about the problems in the south but every problem that occurred. We could not just create another world and solve the problems. That is not enough. To solve a problem, we need to go for the realistic problem-solving and find a way to make the society congruent in ways that can actually solve the problems. It is not that we create an idealistic world and then can solve the problems completely as it does not exist in reality. It is just a romantic notion of a person who thought that the world would be in peace if things were put in this way. In reality, however, people do not reach the true problems. For example, in the southern parts, we realize that we could not go to solve the problems of southern parts of Thailand as we are the outsiders. Similarly, we made this film as an outsider. We did not do it as an insider who could tell others as to how they should solve the problem and how to make the peaceful co-existence because we do not understand comprehensively. We are just outsiders being there and do not understand the local situations. Personally, I feel that this film attempted to convey this message. If we want to get all the problems solved, we do need to get to the real problems in realistic ways, not only taking for granted that it should be in this or that way.