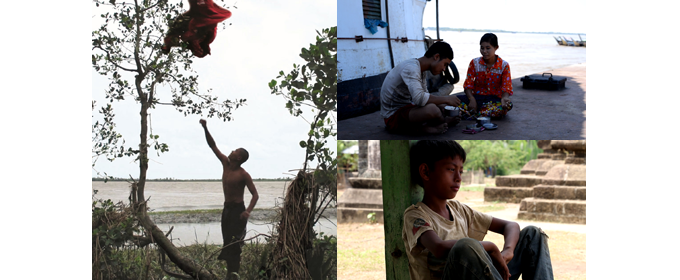 The Japan Foundation Asia Center organizes the Short Term Invitation Program for Cultural Leaders with the aim to provide prominent persons in various cultural and social fields and leaders of special importance in Asia who have had little exposure to Japanese culture and people with a firsthand introduction to Japan to enhance their awareness and understanding of the country.
We are pleased to welcome the Myanmar's regarded screenwriter and film director, Aung Min for this program. On this opportunity, we are screening selection of his works and have a discussion in Tokyo and Kyoto.
Aung Min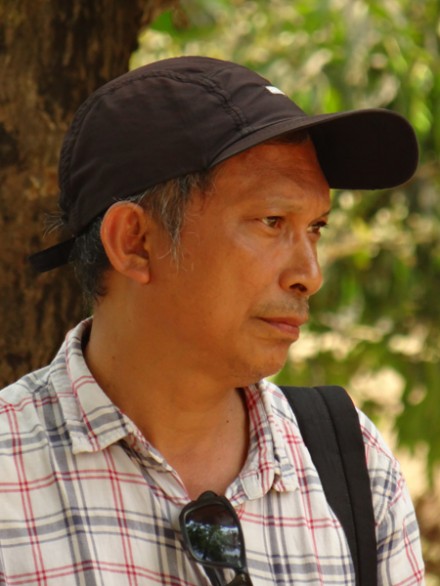 Aung Min is a medical doctor, writer and filmmaker based in Myanmar who has published novels and a book on contemporary art. He started to write screenplays from 2007. He made his directorial debut at a documentary film The Clinic where in which features his own clinic. He wrote the script for a feature film The Monk directed by The Maw Naing which was selected in International Film Festival Rotterdam, Singapore International Film Festival, etc. He also passes on his skills to his fellow Myanmar filmmakers in Yangon Film School courses and independently. From 2011, he has participated in "MIDPOINT" training project for young filmmakers organized by FAMU (Film and TV School of Academy of Performing Arts)at Prague.
Festival/Tokyo Asia Series Vol.2 : Myanmar "Roundabout in Yangon"
Screening "The Monk"  and Discussion
Date
November 18 (Wed), 2015 5:45pm Doors Open / 6pm Start
Venue
Tokyo Metropolitan Theatre (Atelier East)
http://www.festival-tokyo.jp/15/access/
Program
6pm- Screening "The Monk" *Japanese and English subtitle
7:45pm- Talk by The Maw Naing (director) and Aung Min (screenplay)対談講演/質疑応答 ※日緬通訳あり
[Guest] The Maw Naing (director), Aung Min (screenwriter)
[Moderator] Keiko Sei
Admission
500YEN(Reservation first)
Website
http://www.festival-tokyo.jp/15/program/roundabout-in-yangon/
Organizers
Festival/Tokyo Executive Committee,
Toshima City, Toshima Future Culture Foundation, NPO Arts Network Japan (NPO-ANJ),
Arts Council Tokyo & Tokyo Metropolitan Theatre (Tokyo Metropolitan Foundation for History and Culture)
Co-produced
The Japan Foundation Asia Center
Contact
Festival Tokyo Office:03-5961-5202
"The Monk"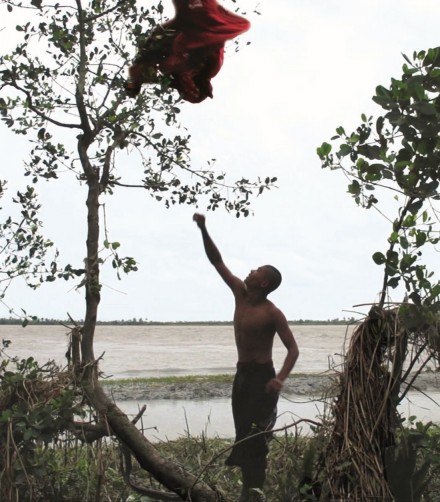 A young boy Zawana enters a small village monastery led by U Dahma. Zawana has doubts if this lifestyle is right for him, but he grows to like the old abbot. The monastery faces financial crisis, monks are leaving, and on top of that U Dahma gets sick. Somebody must take care of him and the whole community. Zawana understands that he has to take the challenge…
Director: The Maw Naing
Screenwriter: Aung Min
(2014/Czech Republic, Burma/91 min./Burmese)
Guest Speaker
The Maw Naing (Film director, poet performer)Born in 1971, he studied film at Yangon Film School and FAMU in Prague. His documentary Nargis: When Time Stopped Breathing(2012) and film The Monk(2014) have been screened at numerous international film festivals to great acclaim.
Screening "Mrauk Oo Story" & "Mawtin Jetty" and Talk session
Date
November 20 (Fri), 2015 2:30 Doors Open / 3pm Start
Venue
Kyoto University, Inamori Mid-sized Meeting Room 3rd Floor
[Access]http://www.cseas.kyoto-u.ac.jp/access/
Program
3pm Introduction

3:10pm Screening "Mrauk Oo story" *Japanese subtitle
"Mawtin Jetty" *English subtitle

4:10pm Talk by Aung Min "Creating Films as Expressive Media in Myanmar Today"
(In Burmese with Interpretation in Japanese)
[Moderator] Mario Lopez

Admission
Free
Co-sponsors
Center for Southeast Asian Studies (CSEAS) and the Japan Foundation Asia Center
Contact
Center for Southeast Asian Studies (CSEAS) TEL: 075-753-7302
"Mrauk Oo story"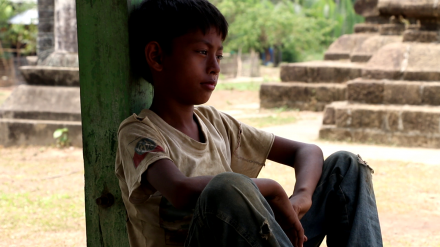 Director: Aung Min, Than Kyaw Htay
(2015 /Burma/30min/Burmese/Japanese subtitle)
filmed in Maruk Oo in Yakhine state which was religiously thriving and developed once in 16th century. 'Paukkyar' jobs as a recycle garbage collector kid around the old pagodas. He gets a modern electronic tablet out of sudden and leaves his friends behind. Since keeping the tablet in his hand, the troubles happen to him one after another. He has become the outcast from his social environment; his father, friends, job boss. Then he gives up keeping the tablet. At last he get it back . But he does not feel happy to own it anymore. The question; ' why he could not be happy more with the tablet?' is being messaged to the audience. This film is filmed with the real kids collecting the recycle garbage around Mrauk Oo's old pagodas.
"Mawtin Jetty"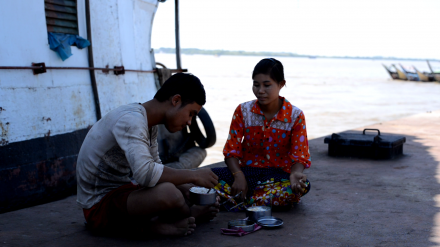 Director: Ten Men
(2015 /Burma/15min/Burmese/English subtitle)
Mawtin Jetty is the place bridging Yangon to Ayeyarwady delta. This movie uses the real laborers and street side shopkeepers around the jetty as the actors. Those actors work out keeping in line with their real life experiences and emotions. This short film is composed of three episodes. In' WOMAN' the young woman represses her doubts inside at seeing the hard labor husband of the jetty. ' GALLERY' shows the young labor guy attracted by his similar figure in the painting has entered into the new world. In ' WAITING' the old monk keeps waiting in the boat but he does not know that he would not be able to be the delta village. This short film is the combined reality and fiction work. This is the third film done by Ten Men.
(C)Ten Men Group