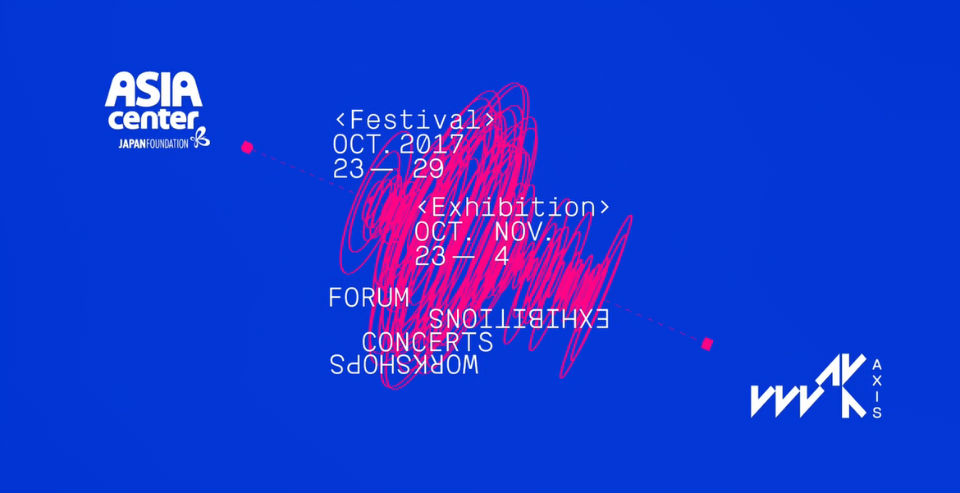 On the Partner Program with WSK Festival 2017
The Japan Foundation Asia Center's ref:now—toward a new media culture in asia comprehensively showcases contemporary media culture and creativity through art, exchange, education, and collaboration. Shining a spotlight on the creative scene in Asia against the backdrop of the region's rapid development and advances in information technology, the project fosters intergenerational dialogue and partnership across exhibitions, workshops, symposia, and performances that introduce the innovative fusion of technology and art that is new media art as well as trends in pop culture and music following the emergence of the Internet.
Since the 2017 fiscal year, the project has aspired to cultivate new platforms for media culture in Asia in cooperation with festivals and events in ASEAN members. Along with these exhibitions and music events overseas, it also coordinates international symposia, exhibitions, and training programs in Tokyo.
As part of this ongoing project, the Japan Foundation Asia Center now presents a special exhibition and music program in association with WSK: Festival of the Recently Possible, which has been held in Manila since 2009. Featuring artists from Japan and the Philippines whose work demonstrates unique approaches enhanced by technology, the exhibition "INTERSTICES: Manifolds of the In-between" explores various interdisciplinary forms of media and art such as video, sound, sculpture, graphic design, and performance. In addition, a packed program of satellite events includes music showcase "x-pol: Buwan Buwan × Maltine", talks and workshops reflecting on how media art is shaping culture in Asia today. The project introduces prominent examples of dynamic culture in our network society as well as individual creativity that is strikingly synthesized with media technology.
Event detail
Special Exhibition "INTERSTICES: Manifolds of the In-between"
Dates
October 23 (Monday)-November 4 (Saturday), 2017
Venue
De La Salle-College of Saint Benilde 6th floor-BlackBox, Hallway Gallery
2544 Taft Ave, Malate, Manila, 1004 Metro Manila
and others
Artists
Derek Tumala
Houxo Que
Tsuyoshi Hisakado
Ian Carlo Jaucian
Katsuki Nogami
Ryoichi Kurokawa
Pauline and Ivan Despi
Tad Ermitano
Program
Director
Tengal Drilon (WSK AXIS 2017 Festival Director)
Website
https://www.wsk.io/
Related Events
Talk Event "ASIAN NEW MEDIA ART FORUM"
Time & Date: October 25 (Tuesday), 2017 4:00 pm–6:00 pm
Guests: Tad Ermitano (Participating Artist) , Hiroshi Yoshioka(Philosopher / Professor, Kokoro Research Center, Kyoto University), Tengal Drilon (WSK AXIS 2017 Festival Director)
Workshop "THE MEDIUM IS THE MESS AGE: Drawing Experiments on the relationships of the body, new and old media, in the internet age."
Time & Date: October 26 (Thursday), 2017
Lecturers: Houxo Que (Participating Artist)
Our smartphones have become indispensable tools for staying in contact with our friends, the world, and information in general. This workshop aims to explore the relationship between the actions we perform to operate our smartphones and the images (photographs, video) that these devices provide us with, as well as investigate the human physicality that faces off against information. In the workshop, participants will operate smartphones with paint attached to their fingers, leaving the trajectory of their finger movements on the screen. This "painting" will accentuate the action of manipulating information as a trace of human act. While referencing the different paintings created by the participants, the workshop will elucidate the relationship between interfaces, action, and media-generated imagery.
Music Program "x-pol - Buwan Buwan × Maltine"
Dates
October 28 (Saturday), 2017
Doors open: 9:00pm
Venue
XX XX (Twenty-Twenty)
20A-20B LA FUERZA PLAZA - 2241 CHINO ROCES AVE (PASONG TAMO) MAKATI, MANILA
http://20-20.asia/
Performers
Similarobjects
Moonmask (fka Ulzzang Pistol)
Meshua
Nights of Rizal
Tomad
TORIENA
PARKGOLF
Pa's Lam System
VJ
GraphersRock
Koike Masaki (huez)
Program
Directors
Similarobjects(Buwan Buwan Collective)
Tomad(Maltine Records)
Admission
350PHP (1 drink)
Venue
Partner
XX XX (Twenty-Twenty)
Organizer and Producer
Organized by the Japan Foundation Asia Center
Produced by SABAW MEDIA ART KITCHEN / WSK: FESTIVAL OF THE RECENTLY POSSIBLE