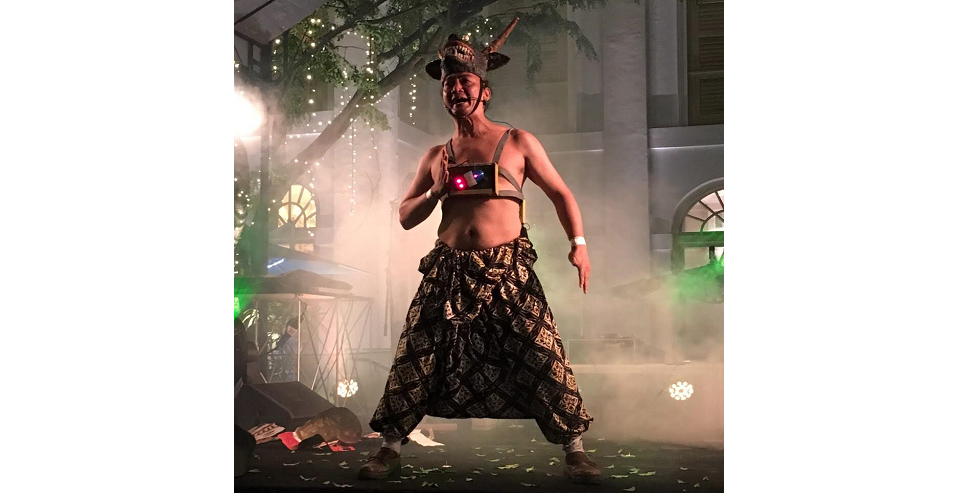 In 2015, the National Art Center Tokyo, the Mori Art Museum, and the Japan Foundation Asia Center teamed up to launch the SEA PROJECT: Contemporary Art from Southeast Asia - 1980 to Now" This joint project conducts studies focused on the ten ASEAN countries, building to a jointly-organized exhibition scheduled for summer 2017.
For the second edition of SEA PROJECT-related event, we are happy to announce the twofold program: Part 1) performance and talk by renowned Indonesian artist Heri Dono, and Part 2) progress report on "Now of Indonesian Contemporary Art" by curators who conducted research in Indonesia.
Artists
Heri Dono (Artist)
His works often employ monstrous or even frightening figures that originate from Indonesian traditional shadow-puppetry theatre known as wayang. At a glance, these figures might feel overwhelmingly negative, but when we look closely at the works' details, comical elements start to emerge. These at times grotesque, at times pantomimic or Pierrot-like figures are analogues of Heri Dono's socio-political criticism of contemporary Indonesia. They also resemble a parodic reflection of global contemporary politics. This winning combination of a highly intellectual critical sensibility and a humorous, smiling outlook on life has now become characteristic of Heri Dono's artistic practice, which allows us to easily identify him on the global stage as one of Indonesia's foremost contemporary artists.
Event detail
Title
Performance and Talk by Heri Dono + Report of the SEA PROJECT Research in Indonesia
Date
Saturday, September 24, 2016  19:00-21:00 (Doors open 18:30)
Venue
Auditorium, Mori Art Museum
53F, Roppongi Hills Mori Tower, 6-10-1 Roppongi, Minato-ku, Tokyo >>Access
Capacity
80 (bookings required)
Admission
Free (ticket of "The Universe and Art" exhibition required)
Booking
See the Mori Art Museum website
Organizers
Mori Art Museum, the National Art Center, Tokyo, the Japan Foundation Asia Center
Cooperation
Mizuma Art Gallery
Program
19:00-20:00
Part 1: Performance and Talk by Heri Dono

Heri Dono's performance

Performer & Speaker
Heri Dono (Artist)
20:10-21:00
Part 2: Report of the SEA PROJECT Research in Indonesia

Installation view: "Biennale Jogja 2015"

Speakers
Naoki Yoneda (Curator, the National Art Center, Tokyo)
Mami Kataoka (Chief Curator, Mori Art Museum)
Haruko Kumakura (Assistant Curator, Mori Art Museum)