The Situation of Sri Lankan Dance
Hisano: Can you tell us about the situation of dance in Sri Lanka?
Venuri: In Sri Lanka, there are three forms of traditional dance which were originally derived from healing and exorcism rituals and were only danced by men. Women started dancing in the 60's after the Independence movement. Kandyan dance was made the national dance form and is taught in the mainstream school curriculum. It has become representative of the Sinhalese, and Tamil dancers mostly learn Bharatanathyam. The modernization of the form has become an entertaining sensualized version of the traditional masculine ritualistic form and the highly technical classicalized form.
There are many traditional and folk dance companies in Sri Lanka. The bigger companies have a dance school (Kalayathanaya), and if you have talent, you can progress into the company. Company members teach at the dance school and usually have a regular job alongside this. In order to survive, some of these companies perform at weddings, opening ceremonies or corporate events. The smaller companies that do not have a 'dance school' will definitely do events and their members may hire studio space and teach in various locations. In Colombo, there are ballet schools that may also teach modern, jazz etc. All dance schools in Sri Lanka are extra-curricular and function on weekends and evenings.
There is really no dance company doing experimental or contemporary work. We do have one full time modern dance company. Usually, a company will hire a theatre space and the evening will either consist of 'items' or a full length dance drama. A lot of these companies seem to be doing the same formula. The Chitrasena Dance Company, where I had my training, stands out in this regard as the work they make is of high technical standard and they have been reinventing themselves artistically in the recent years.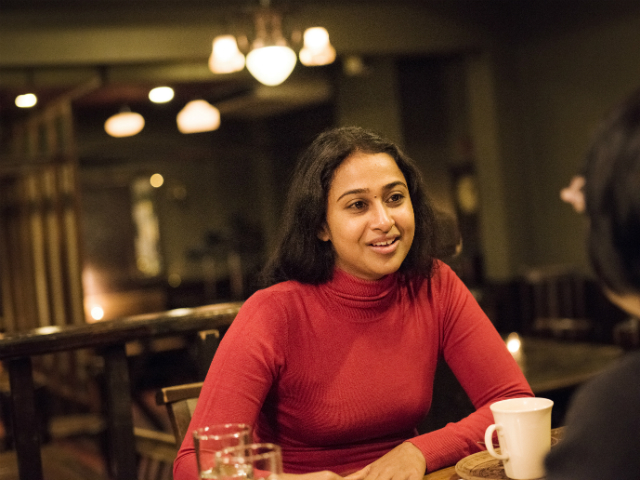 Photo: Naoaki Yamamoto
There is one University of Visual and Performing Arts and performing arts is taught in a few other universities as well. The Dance Departments teach traditional dance techniques and history―an out-of-date dance education. The forms have not been standardized so the styles vary from teacher to teacher. The Theatre Departments have Dance Drama (Oriental Ballet) and Modern Dance, but there is no rigour in what they do. These are government institutions, where the teachers are underpaid, student are chosen from a point system from all over the island, and teacher student hierarchies are deep seated. Most graduates from here would end up teaching in government schools, a few may set up small companies, or join the bigger companies after further training.
Hisano: What do you think needs to be done to improve the situation?
Venuri: The problem, I think, is our lack of awareness of what's going on in the dance world outside, lack of a culture of criticism and the celebration of mediocrity. We need to improve awareness about what's going on outside Sri Lanka, for example, in India, and in the region, in places where the contexts are similar.
I think for the Dance Platform and the scene to grow, we must take ownership of it, and think more about what happens during the in between two years. People tend to be preoccupied by immediate issues and tend to be a bit insular, without having a larger vision for building of a community, or scene, or audiences.
In general, it may be interesting to think in terms of 'collectives', and not companies. This could encourage cross disciplinary collaborations which I think could really support interesting works.
There is no money in the arts. People need to survive, so of course they will make work for where the money is - weddings, cultural shows, and TV programs. I am not sure how this will change in the near future. Maybe reaching out to private organizations and patrons to fund the arts could be one way forward. A crucial thing is education. The arts education is really lagging behind and a big shift needs to happen in the institutions, otherwise the arts institutes will just produce cycle after cycle of dance teachers. There needs to be more emphasis on stretching the boundaries, creativity and concept building in dance education overall.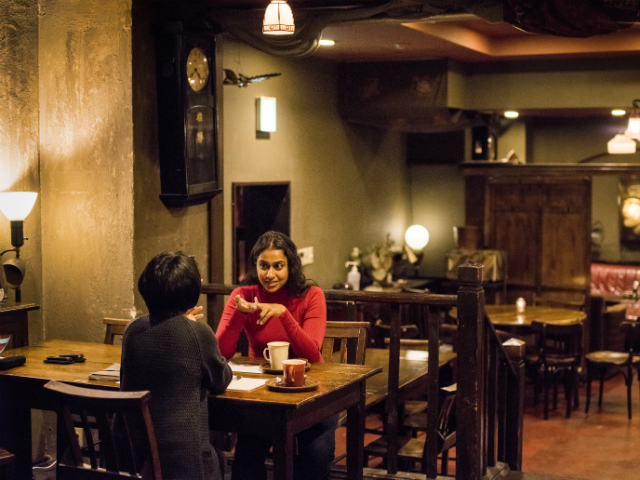 Photo: Naoaki Yamamoto
Hisano: Do you feel that the situation is somewhat changing?
Venuri: Yes, actually, at the moment I do. We have a new government since 2015 and there may be a chance to make some fundamental changes. Last year, several artists campaigned and created and Arts and Cultural Policy desk which is an independent initiative, to research and create policy. A very anarchic artist has been appointed to head the Arts Council, which is now under the Education Ministry. This may also a very positive thing and finally 'culture' has been identified as separate from 'arts' as otherwise all the government money goes to funding of cultural events. I used to be skeptical about taking government support because I thought we would have to abide by their rules. But, I hope that the current administration may be different. So, though it may take time, things are gradually changing. This year there are also various initiatives for arts and reconciliation, which may connect artists across the country.
Recently, the arts scene is getting livelier and theatre performances, exhibitions, and many festivals and are being held almost every weekend. A few young creative people making arts their vocation, especially in visual arts and theatre and doing some collaborative work. So I think, this is an exciting time for the arts in Sri Lanka, and am keeping my fingers crossed!
Methodologies of Creative Work
Hisano: How do you work on your pieces? Do you participate in residency programs, for example?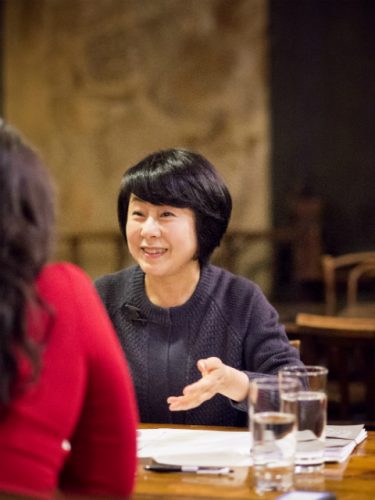 Venuri: I don't have one specific way of working, it really depends on the project, or subject matter. I read and research a lot, try and interview relevant people, visit relevant places, before and during the process of working with my body. I think I'm more logical then intuitive.
The first time I worked on a piece during a residency was in 2014 at Gati, in New Delhi, India. During a period of ten weeks, we had access to studio space, there were mentors, as well as other residents, who were part of each step of the process. I had never received feedback that way and it was entirely different from working in isolation.
I have been in been in a few residencies since, very different to Gati, but these experiences are rare, and for the most part, I have been working by myself. I work at night in my mother's living room and record everything as there is no outside eye. But whenever possible I invite other people into the process to sort of play the role of 'dramaturg'. I really appreciate the perspectives of other artists coming visual arts/film, poetry, theatre, sound and I have worked collaboratively with them.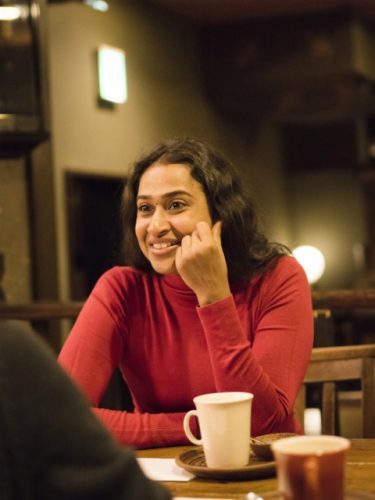 On the Issue of Identity
Hisano: Now that you have been working internationally, taking part in residencies and presenting your own works, how do you think about your own identity?
Venuri: It is only recently that I started to identify as a dancer, and to say that I am an artist or dancer. Maybe I identify myself a lot with the India. I feel the dance community there has accepted me as their own in a sense, my work is shown there more than at home, and I have learnt so much and continue to learn from some amazing Indian artists and keep going back for various collaborations.
I guess I would like to think of myself as a nomadic artist, part of a global arts community. But every time I travel out of South Asia especially, the Sri Lankan identity becomes important. The fact that I am in the bottom of the hierarchies of citizenships is brought home, even before leaving home, especially with all the visa processes.
In Sri Lanka on the other hand, I have a different position. I am not only a Sinhalese Buddhist, the majority community in Sri Lanka, I am also part of the English speaking middle class of Colombo, which is in a sense a privileged minority. Unfortunately, the class structure of Sri Lanka based on language is very strong. So even if I don't have a proper income, own a car or house, dress a certain way, or have a maid, the fact that I speak English, and went to a certain school, automatically gives me a certain status. These awarenesses also comes with a certain sense of responsibility which also drives the work I make.
Experience in Japan
Hisano: I heard that this is not your first visit to Japan. When was your first visit?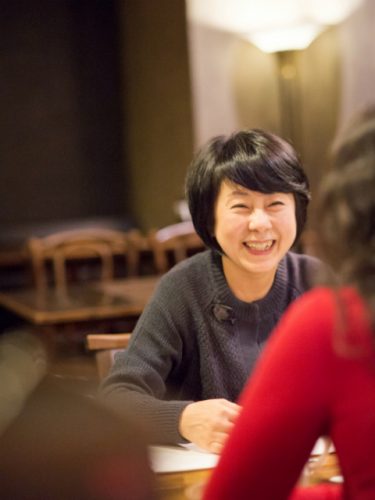 Venuri: It was in 2004. I came to Tokyo to participate in a multi-media theatre collaboration, Memories of a Legend, organized by the Japan Foundation. We were here for about one and a half months. Five different South Asian countries were involved―Sri Lanka, Bangladesh, India, Nepal, and Pakistan―where one director and three artists from each country took part. It was based on Baburnama (The Memoirs of Babur) which was the name given to the memoirs of Babur, the founder and first emperor of the Mogul Empire.
This piece was, in a sense, a "collision between cultures." You can imagine one production with five South Asian directors with different artistic visions. And then the Japanese production team, super organized. For example we had costumes long before we knew who we were playing! It was the first time for me to take part in that kind of large scale multi lingual devised work, which was an unforgettable experience. We had an amazing time living together, and I learnt a lot from the hugely talented team.
I was really amazed by Tokyo, the technology and attention to detail. I had never been anywhere other than India until then, and it was like travelling to the future. We also performed the piece at the Kyoto Theatre at the Kyoto University of Art & Design so it was nice to get the opportunity to see two very different sides of Japan.
Future Plans
Hisano: What are you planning now for the future?
Venuri: My immediate plan is to go to Itoshima, Fukuoka (Japan) to stay with Ms. Natsuko Tezuka to spend some time with her and explore the possibility of a future collaboration, continuing the Dance Archive Boxes project that we participated in at the Singapore International Festival of Arts 2016. Natsuko has an idea that I pass on her archive box to another choreographer from South Korea, YeongRan Suh to respond. It is like a triangular correspondence. I think there will be a lot to learn from this chain of exchanges because we all have similar interests in ritual performance, and about society and the affect of modernization/colonization, so we want to continue working together.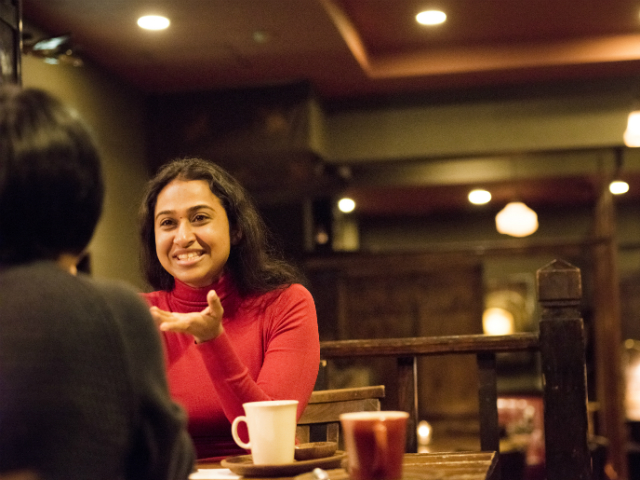 Photo: Naoaki Yamamoto
Because of the nature of my work, I never know what's coming, so I cannot tell you exactly what I will be doing at this point! There is a possibility that I will be back in Japan for KYOTO EXPERIMENT, to perform in Ota Shogo's Water Station, directed by Indian Director Sankar Venkateswaran.
I am interested in somehow getting more involved in the dance scene in Sri Lanka, and see how I can contribute by taking on more responsibility with the Colombo Dance Platform and getting involved in Arts Education. In terms of a general artistic direction, I am more and more interested in a space between dance, theatre and performance art. I think I am getting less interested in form, more in being and doing and creating experiences.
Hisano: Did you discover something new during your stay in Japan this time?
Venuri: I am learning more and more about the region and I guess the question what it means to be "Asian" has been resurfacing constantly. I was only familiar with dance scene in the United Kingdom, some parts of Europe and India before going to South Korea and Australia last year for residencies. There, I encountered the arts and the socio-cultural conditions of East, Southeast, and Central Asia. I got some insights as to what was going on in Taiwan, China, Indonesia, and the Philippines for the first time, and it was great to meet and hear from people and discover similar histories, contexts and trajectories. Japan was helpful in confirming that I want to be and learn and discover more from this region, its cultures and artists. I also finally saw my first live Butoh performance, and that was a great experience!
Hisano: I look forward to seeing you again soon. Thank you.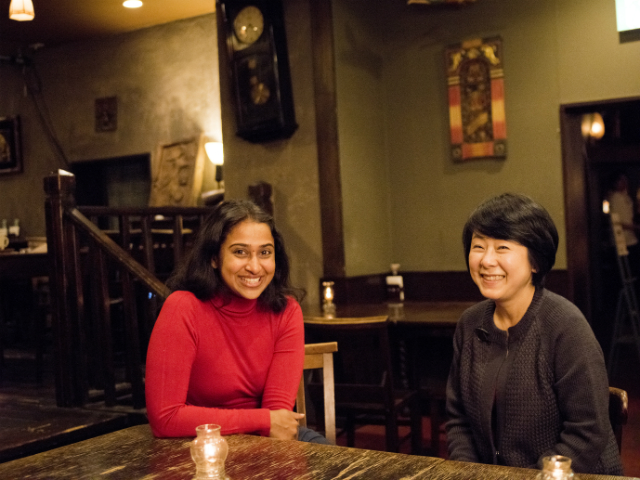 Photo: Naoaki Yamamoto
Amazon Club
February 11, 2016
---
Interview and text: Atsuko Hisano
Program Director at The Saison Foundation. After coordinating the theatre and dance programs for a multi-purpose space "Studio 200," she joined The Saison Foundation in 1992. In the present post since 1996, she plans and manages the Foundation's grant programs for contemporary theatre and dance as well as its sponsorship programs. Her friendship with Venuri Perera has grown during a project about archiving of dance pieces that was conducted in Japan and Singapore from 2014 to 2016.