ASIA HUNDREDS is a series of interviews and conference presentations by professionals with whom the Japan Foundation Asia Center works through its many cultural projects.
By sharing the words of key figures in the arts and cultures in both English and Japanese and archiving the "present" moments of Asia, we hope to further generate cultural exchange within and among the regions.
What We Can Show Through Dance and the Possibilities Expanded by DANCE DANCE ASIA
Atsushi Kosugi (hereinafter Kosugi): Tell us how you first encountered dance.
3T: I started dancing when I was 14, around the end of 2002 and 2003. I focused on breakdancing until 2011, after which I also began to learn contemporary dance.
KATSUYA: I don't exactly remember but around when I was in fourth grade, my mom took me to a dance studio and that was how things got started. Since I wasn't studying or doing exercise, it was like I might as well as try this instead.
Kosugi: So it wasn't the case that you liked dance from the start?
KATSUYA: At first, I was forced to go. But then I came into contact with hip hop and, before I knew it, I was hooked. There's this move in breakdancing called the windmill and when my teacher at the time showed this to me, I was just totally blown away. I knew then that I wanted to be able to do that and I guess that's how I ended up becoming a b-boy.
3T: I started dance around when I was in second grade of junior high school and just when hip hop became popular in Vietnam. So I thought it would make me look cool and popular with girls if I did hip hop. (Laughs)
KATSUYA: (Laughs)
3T: Well, I was young. (Laughs) Later on, I joined a club and then began working professionally as a hip hop dancer. In Vietnam, the normal thing to do after graduating high school is you go on to university, but I didn't and instead starting to work as a dancer. My parents were pretty worried at first, though I got their support for my choice after I reached the point where I was taking part in international competitions.
KATSUYA: My mom was always supportive, though my dad was more the one who was like telling me to do something better. But after I left my home prefecture of Kumamoto around when I was in junior high and started to achieve results even overseas, he seemed to understand that I wasn't just doing this for fun.
3T: How long did it take for them to understand? For me, it took about four years.
KATSUYA: Yes, it was about the same for me.
3T: And another thing is that in Vietnam, you can't be a professional dancer unless your parents understand what you are doing. When I was younger, I was paying for the costs of performing myself, so I didn't have money.
Kosugi: What was it about breakdancing that attracted you?
3T: It's the way in which I can just be myself. And how I can connect with other people. There are 36 dancers in my group and we are all connected through hip hop. Sometimes I get tired or stressed, but my fellow dancers are like a family always there by my side. I think we were fated to meet and that's also how I could end up meeting KATSUYA. This is the appeal that breakdancing has, something that cannot be expressed in words.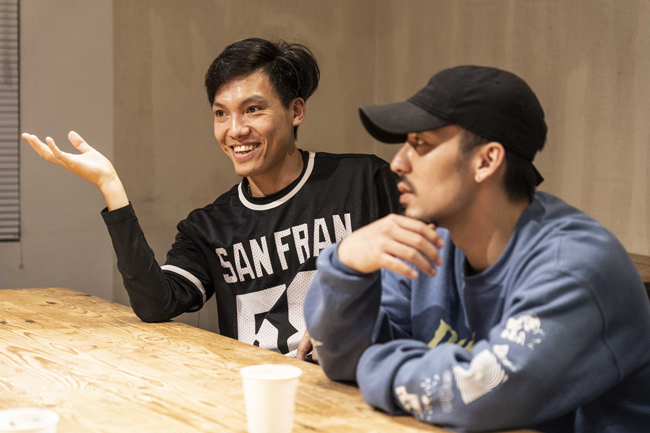 KATSUYA: For me, it's also something that can't be expressed in words. That being said, it isn't personally my intention to stick just to breakdancing. B-boying is one element of hip hop and also one element of dance, and what I like is more simply dance and music as a whole.
Of course, there are countless people I would never have met if it hadn't been for breakdance and I think I've had some really good experiences. It's now impossible for me to imagine how things would have turned out if I hadn't become a dancer.
Kosugi: And this isn't your first time to take part in DANCE DANCE ASIA, right?
3T: At the moment in Vietnam, there is a debate over whether or not breakdancing is a sport or a form of physical expression. When I first started breakdancing, it was a time when the police would turn up if you danced in the street. So even just searching for a place to perform was tough.
In 2007, I was selected for the Young Dance Hanoi Champion Cup for the first time and it was from around then that the Vietnamese government also started to take an interest in dance. After that, b-boying became more widely recognized and I could work more confidently. Just from experiencing that situation, it now makes me so happy to be involved with such a large show like DANCE DANCE ASIA. I feel totally excited. (Laughs)
It also makes me happy that we can perform at this Tokyo show as a kind of relay with four other teams of dancers. The piece we will perform, What if...Just dance, comprises stories that turn the individual ideas of each of the dancers into movement. I want to make a performance that conveys their ideas. For a long time, I have always put everything I've got into participating in dance competitions and that same spirit of determination is also incorporated into this performance.
KATSUYA: My first involvement with DANCE DANCE ASIA was in 2015 with a dance group called 90's. At the time, I teamed up with similarly aged dancers working in various other styles and this proved the catalyst for how I got to perform in shows in Hanoi and Bangkok. I then became involved with this project and watched it as a member of the audience.
I was taking part in showcases and battles but when it came to performing onstage like this, part of me initially didn't know what to do. At the start, I had confidence that I knew, but then the director would tell me how to do it better. (Laughs) This experience has had quite an influence on my expression and I think has broadened the possibilities for what I can show through dance. Also, thanks to this project I could make more friends among dancers from Southeast Asia.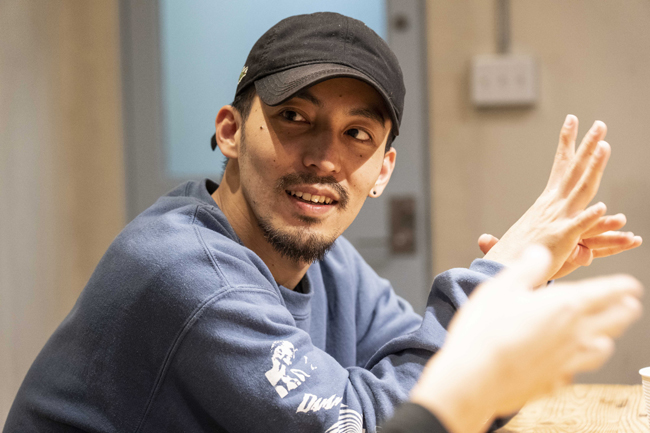 3T: Over the past few years, many dancers from Vietnam have taken part in DANCE DANCE ASIA and I think it's really good that we could learn about each other's culture in Asia. At the 2015 performances in Hanoi, dancers from all over Vietnam came to watch. Today, every dancer in Vietnam says that he or she wants to take part in DANCE DANCE ASIA, so I really hope that this project can be continued. After all, in Vietnam, you can only present your work once or twice a year, and there are few opportunities to stage this kind of performance.
KATSUYA: The day before the Hanoi performances, I went to see a performance by S.I.N.E,* the group that 3T appears with. And then the next day at the DANCE DANCE ASIA Hanoi performance, 3T and his peers came to see me.
*1 S.I.N.E is a dance group formed in Hanoi on November 11, 2011. Winner at Centaur Dance Showdown 2012, it also triumphed at the Southeast Asia edition of Battle of the Year, the world's top breakdancing battle contest, in both 2013 and 2014. Its distinctive style, which is not only street dance but intermixes elements of contemporary dance, has won the group much acclaim on tours in France, Germany, and Denmark. Fusing Vietnamese traditions with contemporary culture, the group disseminates Vietnam on the world stage. At the DANCE DANCE ASIA Tokyo performances in 2015, it performed straight line, directed and choreographed by 3T.
3T: It was from then that I became very interested in DANCE DANCE ASIA. That I eventually came to work with KATSUYA in creating this new performance goes back to that show in Hanoi, when I was so fascinated by his dancing. I had the impression from his dance that it somehow embodied the "flavor" of Japan. When S.I.N.E performed at the DANCE DANCE ASIA shows in Tokyo in 2015, it was my intention to convey the flavor of Vietnam through dance and this time I hope we can convey it with an Asian flavor.
KATSUYA: A kind of Asian flavor that mixes what Japanese people engender with what Vietnamese people engender. It's like we want to bring out this mixed atmosphere of different b-boys from around Asia, right?
3T: Right. Were you nervous about collaborating with me?
KATSUYA: At first I was, because we hadn't talked so much. But after spending three weeks together, I understood what an interesting person you are and now I don't feel nervous at all.
3T: Everyone was nervous for the first week. But as rehearsals progressed, we came to understand one another. When we had a party after everyone had arrived in Japan, there were lots of things I wanted to know and, though my English was basic, we could talk about not only dance but also our worries for the future. I'm really glad we could trust one another and talk about lots of things. And that's why I think that this performance definitely wouldn't have come together if even just one member of the team had been missing.