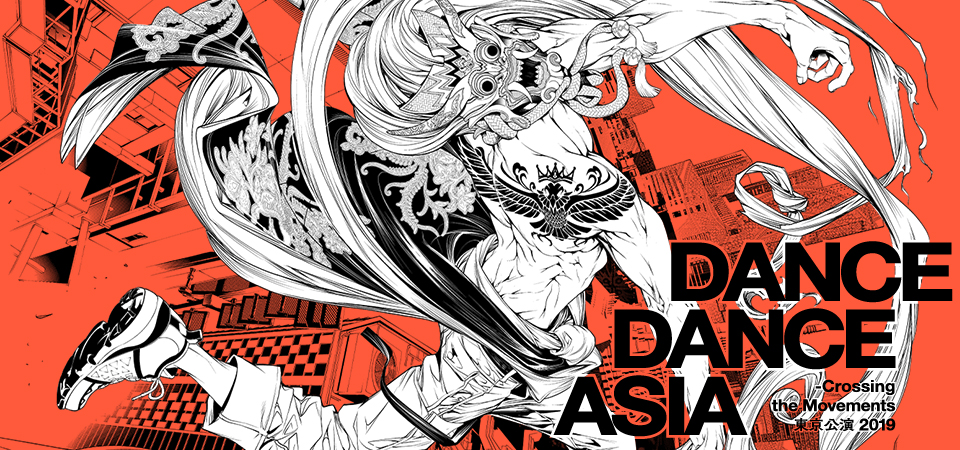 Collaborative street dance performance between Southeast Asia and Japan
The Japan Foundation Asia Center and PARCO Co., Ltd. are proud to present DANCE DANCE ASIA―Crossing the Movements in Tokyo 2019, an international co-production by leading Japanese and Southeast Asian street dancers at Tokyo Metropolitan Theatre's Theatre West from Friday, July 12 to Sunday, July 14, 2019.
Launched in 2014, DANCE DANCE ASIA aspires to encourage exchange and create new culture through staging international co-productions of performing arts in Asia, with a focus on street dance.
Organized as part of the Japan Foundation Asia Center's Asia in Resonance 2019 program that showcases a wide range of cultural exchange projects between Japan and Southeast Asia, the 2019 show in Tokyo will feature performances directed and choreographed by 3T from Vietnam, Nikii from Thailand, and, from Japan, KITE and FISHBOY's Crazy Rollers as well as GANMI and kEnkEn. Together with a range of international up-and-coming dancers, these artists will present a dazzling fusion of skill, artistic expression, and music.
The shows created collaboratively and unveiled in Tokyo by these Asian directors, choreographers, dancers, and artists will give audiences the opportunity to experience the excitement and growing potential of street dance.
↓Click to enlarge [PDF: 1.5MB]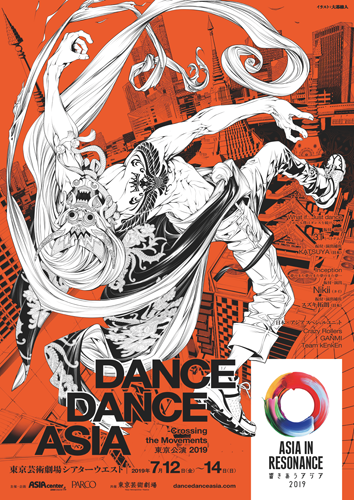 Program
What if...Just dance...Still I'm gonna keep on dancing
Choreographer, Director: 3T(Vietnam)
Choreographer, Assistant Director: KATSUYA(Japan)
Music: SNG(Japan)
Performers: CANCEL(Vietnam), Cheno(Thailand), C-Lil(Laos), GEN ROC(Japan),  Sakyo(Japan)
Inception — A dream within a dream within a dream within a dream...
Choreographer, Director: Nikii(Thailand)
Choreographer, Assistant Director: Takuro Suzuki(Japan)
Performers: GAMEZ(Thailand), KEIN(Japan), MC Buck(Vietnam), Topiek SmallBlack(Laos), VI VIEN(Malaysia), Wadafu*k(Thailand) *Human Beatbox
Japan×Asia Special Units
Non-fiction
Choreographer, Director: Crazy Rollers(Japan)
Performers: KITE(Japan), FISHBOY(Japan), Marzipan (Singapore), MTpop (Vietnam), HIRONA(Japan) *Human Beatbox, Kru Add The Salor (Thailand) *Multi flute, Masakatsu(Japan) *Tsugaru-jamisen
GANMI GAKUEN
Choreographer, Director: GANMI(Japan)
Performers: GANMI(Japan), Kyle Collantes MVMEANT (the Philippines), Les Paul Sañez MVMEANT (the Philippines), Melrein Viado MVMEANT (the Philippines)
free-style
Choreographer, Director: kEnkEn(Japan)
Performers: kEnkEn(Japan), Liang (Singapore), JUMPEI(Japan), RenZ (the Philippines), Te Double Dy(Malaysia)
Event Details
Dates
July 12 (Fri), 2019
Starts: 7 p.m. Crazy Rollers / 3T / Nikii
July 13 (Sat), 2019
Starts: 1 p.m. GANMI /3T / kEnkEn
Starts: 6 p.m. Crazy Rollers / Nikii / kEnkEn
July 14 (Sun), 2019
Starts: 1p.m. Nikii / 3T / GANMI
Each performance features 3 pieces out of the 5 pieces.
Venue

Tokyo Metropolitan Theatre (Theatre West) Access
1-8-1 Nishi-Ikebukuro, Toshima-ku, Tokyo Googlemap
(2-minute walk from West Exit of Ikebukuro Station on JR lines, Tokyo Metro lines, Tobu Tojo Line, and Seibu Ikebukuro Line.
*Directly accessible from Exit 2b of Ikebukuro Station underground passage.)

Tickets
All seats reserved, tax included

General Admission: 3,500 JPY
Students: 2,500 JPY (Applicable to graduate school, university, college, technical school, junior high school, or high school students. Students are required to show ID to gain admission.)
Disability Discount: 2,000 JPY
Required to show disability certificate to gain admission.

*Discount for children accompanied adult: 2,000 yen (from 3 years old to elementary school age)
*Age restrictions: Friday, July 12: No admission for children under the age of 3.
Saturday, July 13 and Sunday July 14 (3 performances): No limit. (Free for a child under the age of 3 watching on the knee. However, a child's ticket is required if you need a seat.)
*No refunds for those who purchased normal ticket and wish to be refunded the difference.
*Those who purchased a ticket with discount price and do not show ID are requested to pay the difference at the entrance.
*No commercial resale permitted.
*Wheelchair users are kindly requested to contact Sunrise Promotion Tokyo up to the day before the show they intend to see.
*Please contact Sunrise Promotion Tokyo if you are applying for a group of more than eight people.

On sale
Sunday, May 19, 2019 at 10:00 a.m.
For Tickets
PARCO STAGE Smartphone app PARCO STAGE
Please search with "PARCO STAGE"

Ticket Pia
0570-02-9999 (P code: 493-950)
https://w.pia.jp/t/dda2019/ (PC, mobile) Seven-Eleven, Ticket Pia Shop

Lawson Ticket
0570-084-003 (L code: 33285) 0570-000-407 (By Operators / 10:00 a.m. - 8:00 p.m.)
https://l-tike.com/dda2019/ (PC, mobile) Loppi in Lawson and Mini Stop

e+ (eplus)
https://eplus.jp/dda2019/ (PC, mobile) (available at Fami port in Family Mart stores)

Tokyo Metropolitan Theatre Box Office
0570-010-296
(10:00 a.m. – 7:00 p.m. except when theatre closed) (also available at the ticket counter)
http://www.geigeki.jp/t/
*Phone numbers starting with 0570 cannot be connected from some mobile phones and PHS.
*The automatic answering number cannot be connected from the dial line. Please connect from a push line or a telephone with a tone signal.

Contact
Sunrise Promotion Tokyo 0570-00-3337 (10:00 a.m. – 6:00 p.m.)
Contact
(about the Show)
PARCO STAGE 03-3477-5858 (Monday to Saturday: 11:00 a.m. – 7:00 p.m., Sunday: 11:00 a.m. – 3:00 p.m.)
Organized and Planned by
The Japan Foundation Asia Center, PARCO Co., Ltd.
Co-
organized by
Tokyo Metropolitan Theatre (Tokyo Metropolitan Foundation for History and Culture)

Asia in Resonance 2019
The Japan Foundation Asia Center is holding the "Asia in Resonance 2019", a series of events introducing its various cultural exchange programs between Japan and Southeast Asia. The broad range of special events includes cross-border productions of stage performances and films, an international friendly soccer match in which the ASIAN ELEVEN team of selected Southeast-Asian players will play against a team from Japan, and a "NIHONGO Partners" symposium. These events are an opportunity to enjoy the resonance created by the strengthened ties between Southeast Asia and Japan. And as well as being an opportunity to look back at the achievements of mutual cultural exchange which the Asia Center have been holding over the last five years, this festival will provide a springboard to further deepen ties between Japan and Southeast Asia.
"Asia in Resonance 2019" is scheduled to also be held in Southeast Asia.

This is the certified project of beyond 2020 program.