Malaysian readers are divided into several groups, the biggest of which read in Malay while the rest read in English, Chinese and Tamil. Malay is the main language due to official policy, but the uniqueness of Malaysia is we also have Chinese medium education (up to private universities) and Tamil (in primary school). Many private colleges use English, and most English readers are from the urban middle class.
The literacy rate in Malaysia among the ages of 15 and above is very high at 95%. An interim study of reading habits by the National Library of Malaysia (PNM) in 2014 announced that Malaysians read an average of 15 books a year. This high number is due to the Nilam program (a book-reading encouragement program in schools). In Nilam's report that year, students read an average of 21 books a year.
A 2019 study by Picodi (an e-commerce research firm) says that 76% of Malaysians buy at least 1 book a year. This puts Malaysian book buyers in sixth place out of 41 countries. In fact, Malaysians buy more books compared to neighbouring countries such as Indonesia and the Philippines.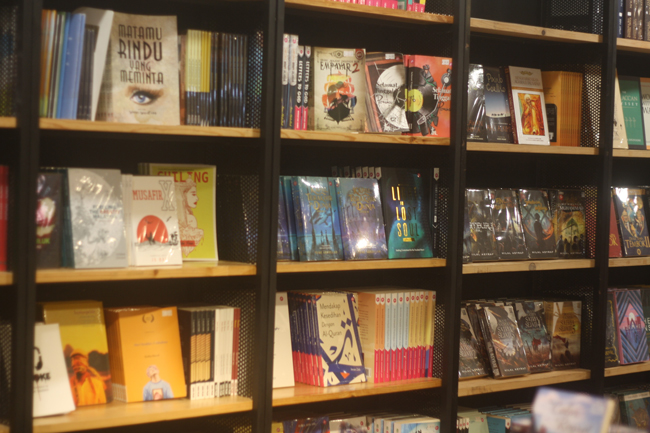 In the general fiction and non-fiction book categories, local books are more popular than imported books. Imported books are mostly from the United States, United Kingdom and India (cheap books in English). The books in Chinese are mostly from China and Taiwan. Books in Indonesian are also bought by many Malaysian readers (especially novels) because Malaysian readers can understand the Indonesian language.
For English books, best-selling fiction titles are usually by popular writers such as JK Rowling, James Patterson, John Grisham, and so on. For non-fiction books, writers who have many followers in Malaysia include Yuval Noah Harari, Malcolm Gladwell and Robert Kiyosaki. As for Indonesian books, popular authors include Hamka and Andrea Hirata.
The best-selling book genre is comics. Two types of comics of interest are local comics with funny characters, as well as Japanese manga translated into Malay and English.
The next popular genre is religious books, followed by novels. In the fiction category, the popular themes are love, mystery, thriller and horror.
There is also a demand among readers for the Malay translations of international works. In the 1980s, the translations of notable foreign works were done by government publishers such as Dewan Bahasa dan Pustaka before it was taken over by the National Translation Institute (later renamed the Malaysian Translation and Book Institute (ITBM)) in the 1990s and 2000s. Recently, this role has been taken over by private publishers such as PTS, Inisiatif Buku Darul Ehsan (IBDE) and The Biblio Press. It is expected that in 3 to 5 years to come, more people in Malaysia will read in Malay, and thus the demand for translated international bestsellers will increase. Previously, the translation of international bestsellers was not as robust as in neighbouring countries such as Indonesia and Thailand, as many Malay readers could read the imported English versions.
The demand for Malay-language books will increase, including for children and young adults. This is because the younger generation prefers to read in Malay, the main medium of the education system.
Typically until 2018, adult readers were fond of novels, especially in the genres of romance, thriller, and history. Many novel publishers cater to this demand, including Alaf 21, Kaki Novel and Karya Seni. The trend is due to the many adaptations of these novels to the silver screen as well as television series. The cross-promotion between novels and dramas helped popularise these titles. The main readers of this category are usually women aged 25 to 35 years.
For young people, comics are the most popular category. Two popular comic publishers are Komik M and Gempak Starz. Komik M publishes comics on the adventures of school students in an Islamic-compliant way. Apart from that, there are also humorous comics led by Bekazon, a legacy from the famous cartoon magazines of the 80s and 90s, namely Gila-Gila and Ujang, as well as newcomers such as Maple Comics. The popular title of Gempak Starz is the comedy series 'Lawak Kampus' and translated Japanese manga. The success of Gempak Starz convinced the large Japanese content provider Kadokawa Corporation to take a controlling stake in 2015, so it is now known as Kadokawa Gempak Starz.
For young adult readers, there were many indie publishers for books that were youthful, rebellious, alternative and experimental. From this new group of publishers came Buku Fixi and Lejen Press for fiction, Dubook Press and Thukul Cetak for non-fiction, fiction and general topics while Terfaktab and Merpati Jingga experimented with literature and critical essays.
The growth of many young publishers around 2012-2017 was because the government subsidised 1Malaysia Book Vouchers (BB1M) for students at the tertiary level worth RM250, which amounted to RM250 million into the industry. After the program was discontinued, most of these young publishers lost their mojo.
But recently, from 2018-2021, the Malay-language readers' tastes started to shift focus to spiritual/motivational or emotionally resonant books. Several new publishers emerged with their respective niches such as Iman Publications which has books about solace and emotional self-care. This genre is on the rise among young Malay-Muslim readers who want motivational writing tinged with religion. Books like 'Letters to God' by Norhafsah Hamid became bestsellers. Similarly, books that motivate and nourish the soul such as Teme Abdullah's 'Arkitek Jalanan' are hits.
Another rising motivational publisher is JT Books (Jejak Tarbiah) and their latest imprint Jiwa. Prior to this, JT Books was known for bringing books by the Indonesian author Hamka, whose writing is known in Malaysia because of his status as a great scholar of the Nusantara archipelago. Its new imprint Jiwa presents beautiful literary books that entertain the soul.
Another new publisher, Patriots Publishing, features titles about the Malay world and many books on geopolitics and political science presented in simple language. The Patriots also publishes many international history books and has started venturing into novels with the imprint Mahakarya.
While many indie publishers of the 2012 - 2017 era are now dormant, Buku Fixi is still known as a publisher of young people's fiction that tells unique stories about young people's problems, with elements of horror, thriller and mystery. As a fiction publisher with still many loyal followers, Fixi always publishes fresh new titles and is still in demand even though its original readership has now reached their 30s.
Other interesting publishers are Ilham Publications with its political books, and Biblio Press that translates many public-domain titles to the Malay language so that more readers can appreciate the great works of Sun Tzu, Machiavelli, and Imam Al Ghazali.
The pandemic situation that forced bookstores to close did not significantly affect the marketing of local publishers because most customers are comfortable buying books online via well-known e-commerce platforms such as Shopee and Lazada.
Nevertheless, major bookstores are still important for loyal readers. Among them:
Kinokuniya KLCC is still the top choice of readers in the capital, especially those looking for imported books such as English, Japanese, manga and Chinese books.
Popular Bookstores and MPH Bookstores have dozens of branches nationwide.
Strong regional bookstores in their respective locations such as Badan Cemerlang in the south of the peninsula, SMO Bookstores on the east coast, Hasani Bookstores and Kedai Buku Banggol in the north.
In 2020, it was reported that the Eslite chain from Taiwan would enter the Malaysian market, but was delayed due to the pandemic.
There are also concept bookstores and boutique outlets with their own loyal customers. Among these unique stores are Bookxcess for cheap or remaindered imported books, Tintabudi for poetry and philosophy books, Gerakbudaya for political and left-wing books, Kedai Fixi which targets young adults, Silverfish Bookstore which is in a residential area but with a great collection, as well as Pelita Dhihin which specialises in philosophy and renowned books by Islamic scholars.
There is also the latest trend where bookstores are created combined with cafés known as bookcafés in big cities to cater to hip young urbanites. Among the interesting bookcafés in the capital are Book Barter Club, MeTime Book Café, Ink Library, Lit Books and Biblio Café.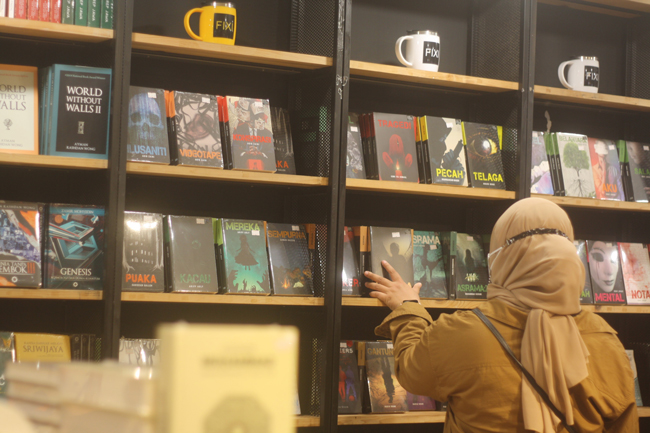 Kuala Lumpur is still fresh from its role to as the UNESCO World Book Capital 2020 which saw various book events organised. However, as much of 2020 was shrouded in the Covid-19 pandemic, many physical events were canceled and held online including seminars, novel, short story and poetry writing contests; and many reading corners were built in public parks and public housing areas around Kuala Lumpur.
The government also launched the National Reading Decade from 2018. This programme has Dewan Bahasa dan Pustaka as the secretariat and involves various Ministries. Many programmes are organised especially at the school level, because the long-term goal is to create a knowledgeable generation of readers.
The Sasterawan Negara (National Laureate) award is the highest accolade by the State to Malay-language authors who reached a level of excellence. Since 1981, 14 writers have earned the title, which brings monetary rewards and creative assistance. Of these 14 people, two are women.
Hadiah Sastera Perdana Malaysia (HSPM) is an annual national award for Malay-language writers in the categories of novels, short stories, drama, poetry and also children's books.
For higher education and academia, the Malaysian Council of Academic Publishers (MAPIM) organises the MAPIM Awards for university publishers and research centres. This award recognises scholarly books and authors.
There are several book awards organised by the private sector such as the National Book Award by the Book Industry Development Foundation and the Mabopa Malaysia Book Award by the Malaysian Book Publishers Association (Mabopa).
Another boon for local popular books in Malay and English is the Popular Reader's Choice Awards by Popular Bookstore, held in conjunction with their Book Fair. Readers themselves vote to choose the winners.
A few writers have won awards not only nationally but internationally. The most frequently won award is the SEA Write Award given annually since 1979 to Southeast Asian poets and writers. The award is given to writers from each ASEAN country and is organised by Thailand. Among the past SEA Write winners are A. Samad Said, Baha Zain, Usman Awang, Adibah Amin, Latiff Mohiddin, and younger writers like Zaen Kasturi and SM Zakir.
Malaysians who write in English or Chinese have also been successful internationally. Among them:
Hanna Alkaf — 'The Weight of Our Sky' won the American Freeman Young Adult Award and 'The Girl and The Ghost' won the American Kirkus Award 2020.
Tan Twan Eng — 'The Garden of Evening Mists' was shortlisted for the 2012 Booker Prize and was filmed with an international cast and crew.
Shih Li Kow — 'The Sum of Our Follies' won the highest award in French literature, the Prix du Premier Roman Étranger (First Novel Award, Foreign Category) 2018; 'Ripples and Other Stories' was shortlisted for the 2009 Frank O'Connor International Short Story Award.
Tash Aw — 'The Harmony Silk Factory' was on the long list of the 2005 Man Booker Prize and won the 2005 Whitbread First Novel Award as well as the 2005 Commonwealth Writers Prize for Best First Novel (Asia Pacific). It has been translated into 20 languages so far.
Yangsze Choo — entered The New York Times Bestseller List. 'The Ghost Bride' was a Goodreads Choice Finalist 2013, a CILIP Carnegie nominee, a best weekly book on Oprah.com and adapted into a Netflix Original (2020) series. 'The Night Tiger' was the book of choice for Reese Witherspoon's Book Club Pick and also on Amazon's Spotlight Pick.
Ho Sok Fong — 'Lake Like A Mirror' (in Chinese, and translated into English by Granta UK) won the 2015 Chiu Ko Fiction Prize, the 25th China Times Short Story Prize, the English PEN Award, and the United Press Short Story Prize; also long listed for the Warwick Prize for Women in Translation.
Li Zi Shu — Her novels in Chinese include The Years of Remembrance, Wild Buddha, and Gateway to Heaven; she has won the Hua Zong Literary Award (Malaysia), UDN Literary Award and China Times Literary Award in Taiwan.
Malaysia has many annual book events, although all were disrupted in 2020-2021. Among them:
Kuala Lumpur International Book Fair (PBAKL) is the largest and most important event, jointly organised by the Ministry of Education through the National Book Council of Malaysia (MBKM) with a coalition of other book-industry associations. The 10-day book fair is open to the public and attracts over 2 million visitors a year. There is also an international copyright trade event, the Kuala Lumpur Trade & Copyright Center (KLTCC).
'Bookfest Malaysia', organised by Popular Bookstore, attract readers of mainly Chinese and English books. Organised in conjunction with the Popular Reader's Choice Award.
Kuala Lumpur Alternative Book Fair (KLABF) is still new in the calendar of book events. It is organised collectively by some private publishers and held in malls. In addition to book sales at the respective booths, there are also discussions and autograph sessions.
The Big Bad Wolf (BBW) Book Sale is a lively event for imported and local books as it offers cheap prices. BBW Kuala Lumpur lasts for 10 days and is open 24 hours a day non-stop. The books are mostly remaindered copies from abroad, plus old stock from local publishers. Sometimes, what you pay is not based on the price of each book but a fixed charge is imposed on a box regardless of the number of books in it.
Local literary activities on social networks have not yet grown rapidly but some groups have started to be active. Among them:
Malaysian Stories on Wattpad. Among the Malay-language stories with the most readers, almost 800,000, is the novel 'Sarah' from 2018 to 2019 which received a Watty Award. But on average, the popular Malay stories have about 30,000 to 50,000 readers. Popular genres are adult romance and teen love stories.
The 'Tapas' platform, the media that publishes digital short stories founded by Chang Kim from South Korea, is also gaining ground among teenagers. Young Malaysians who produce short stories, graphic novels and comics are starting to post here. It is still new, with only about 50-60 artists identified.
A popular platform for novice comic book creators is Webtoon, which originated in South Korea. One of the Malaysian works on Webtoon is 'The Weight of Our Sky' by Hanna Alkaf which recorded 250,000 reads. Other works include 'My Deepest Secret' by Hanza Art (2.4 million reads) and 'My Giant Nerd Boyfriend' by Fishball (2 million readers).
Webnovel, a well-known novel platform from China by Qidian, has many young writers and readers. Examples of popular Malaysian works are 'A Sojourn of Transmigrated Housewife' by Mrandmrsmooncat which recorded 516,000 reads, 'Gila' by Joyfakhri (60,000 reads), 'Ketika Cinta Mencari Tuannya' by Tinaagustiana (38,000 reads), 'Takdir Sebuah Cinta' by Pena Putera (19,000 reads) and 'Always Together 20' by Secret99 (32,800 reads).
For social media, Facebook is mostly used for mainstream literature. There are some groups for writers such as 'Geng Jom Menulis' with 17,000 members and 'Geng Mari Menulis' with 4,000 members. For the purpose of book promotion, there are several related groups such as Malaysia Book Club (6,000 members), 'What Book Is Published Today?' (3,000 members) and 'What Book Did You Read Today?' (3,000 members).
On Twitter the discussion and promotion of books is more lively, especially on Twitter Space which often hosts live discussions about writing and books. In terms of publishers, @bukuFixi has 105,000 followers, @DBPMalaysia 81,300 followers, @thepatriotsasia 77,300 followers and @imanpublication 13,900 followers. As for writers, @itsteme has 467,000 followers, @asamadsaid 256,000 followers, @hilalayraf 153,000 followers and @zamirmohyedin 143,000 followers.
I would like to end this brief tour by stating that the book industry in Malaysia will continue to develop, especially with the opening of more economic sectors in 'the new normal' as well as continued support from government agencies related to the world of books.
---
Hasri Hasan
Hasri Hasan has over 30 years of experience in book publishing with major publishers such as Pearson and Oxford University Press and was the senior management of Perbadanan Kota Buku, a government-linked book agency in Malaysia. Currently he is the Publishing Fellow at Universiti Sains Malaysia and the founder of Bookonomics Asia, a literary and regional content consultation agency. He is also an avid translator who has translated a few major works into Malay language among others the Paulo Coelho's The Alchemist, The Warrior of Lights and The Archer.