We conducted a small-scale survey among participants who were undergraduates and graduate students in the Faculty of Literature and Linguistics of the Ho Chi Minh City University of Education. The participants were born between 1991 and 2001, and 67% were female, 31% were male, and 2% did not want to specify gender. All of the participants in the survey had studied various subjects related to Japanese literature and had a settled understanding of Japanese literature. In this survey, the ten most popular Japanese literary works were listed in the following order:
Norwegian Wood (MURAKAMI Haruki)
The Tale of Genji (Murasaki Shikibu)
In A Grove (and AKUTAGAWA Ryunosuke's short stories in general)
Snow Country; House of Sleeping Beauties (KAWABATA Yasunari) (same number of votes)
Kafka on the Shore (Murakami Haruki)
Kitchen (YOSHIMOTO Banana)
Sputnik Sweetheart (Murakami Haruki); 1 Litre of Tears (KITO Aya); Totto Chan –The Little Girl at the Window (KUROYANAGI Tetsuko) (same number of votes)
Beauty and Sadness (Kawabata Yasunari); The Miracles of the Namiya General Store (HIGASHINO Keigo); Be With You (ICHIKAWA Takuji) (same number of votes)
The Wind-Up Bird Chronicle (Murakami Haruki); No Longer Human (DAZAI Osamu); The Devotion of Suspect X (Higashino Keigo) (same number of votes)
Haiku Poetry (multiple authors)
While these students have a fairly rich reading experience, they do not show much equivalent interest in Japanese cinema. Only 21% of the respondents reported "often watching Japanese movies," and 70% of the respondents reported "not often," and the rest fell into the categories of "never watch" or "no longer find it interesting so don't watch it anymore."
Another part of the survey related to whether or not they had seen films adapted from Japanese literature, that is, which particular film adaptation inspired them to read Japanese literature. The respondents often disagreed when choosing the most inspirational work. A few showed a certain interest in adaptations of classics such as Rashomon (directed by KUROSAWA Akira), Snow Country (directed by TOYODA Shiro), and The Heart (directed by ICHIKAWA Kon), but others noted that they felt the tempo was too slow, the actors lacked emotional expression, or black-and-white film was inherently unappealing.
Other respondents reported that they love modern works such as Love Letter (directed by IWAI Shunji), Himitsu (directed by TAKITA Yojiro), Departures (directed by Takita Yojiro), and The Miracles of the Namiya General Store (directed by HIROKI Ryuichi).
A larger number gave the answer that they love Japanese anime movies such as Grave of the Fireflies, 5 Centimeter per Second, Your Name, Detective Conan, and Doraemon. Meanwhile, the most famous film adapted from Japanese novels mentioned by many of the respondents was Tran Anh Hung's Norwegian Wood, based on the novel of the same name by Murakami Haruki.
Another area of the survey dealt with the order in which people consume movie adaptations and their source material. Sixty-five percent of the survey respondents said that they wanted to read the book first, 12% said that they would watch the movie first, and the rest would consider either of the activities to perform first depending on the circumstances, conditions, and purposes. Of the latter group, opinions were divided based on whether or not the material was for entertainment purposes in which case they said it is okay to approach either activity first, or if it was for research purposes, the surveyed people thought that they should approach the topic from their established area of proficiency to have a more productive and enjoyable experience.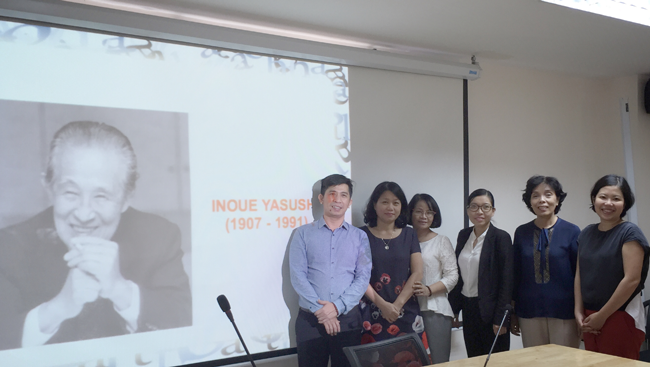 According to our research, there are several reasons why young people choose to engage in reading activities after watching movie adaptations:
After watching the movie, they do not understand some of the details (due to them being complicated or due to subtitles/translation errors) so they want to read the books to have a better understanding of the basic story. Reading the story is easier to understand because the author generally explains the character's thoughts or situations more clearly and in more detail than in the movie.
People prefer reading stories because they can be more reflective about the story rather than being dominated by the movie tempo. Whenever they want to think, they just need to close the book and close their eyes, let their imagination combine with emotions, and then build a picture of the story in their mind. On the other hand, movies offer little opportunity for such reflection. Meanwhile, the length of time to experience the story can be either short or long, depending on the person's reading proficiency and available time.
Reading engenders more emotions and recalls more personal experiences. Readers always have their own images of characters, stories, and contexts, which not every movie can satisfy.
Curiosity about how the film story was originally expressed through literature in some cases will be expressed.
They want to experience their favorite story differently.
Of course, not every movie can inspire progression from the activity of "watching" to the activity of "reading." For the students we surveyed, Japanese cinema and literature are special, thanks to the following characteristics:
It contains inner depth (36.5% of total selections).
It expresses emotions subtly (21% of total selections).
It displays rich imagination and can create a whole new world (17%).
It stimulates their curiosity and makes them want to learn about Japanese culture (10%).
It has many new characters, different from those they have previously read about or seen (8%).
It contains an unusual sense of beauty (3%).
It involves interesting, engaging storytelling (3%).
It makes them enjoy reading (1.5%).
Therefore, works that make viewers feel the inner depth and delicate emotions, show rich imagination, and build a new world tend to attract more attention. For example, a student commented after watching the animation The Tale of the Princess Kaguya that they wanted to read Japanese fairy tales and learn more about Japanese culture. There were also many views expressing their love for the unique ideas and the emotions subtly expressed in Your Name. This is also an example of a work showing the evolution from "watching" to "reading" because it was created as a movie first and then director SHINKAI Makoto wrote the light novel from the original famous animated film, which was made in 2016.
The transition from "watching" to "reading" and "reading" to "watching" is always linked. This is because many people share the opinion that there are advantages to reading a book, first to gain personal impressions, and then viewing the film. They believe that it can help readers discover things they might have missed while reading or understand more about the story through someone else's point of view (e.g., writer, director).
We also posed questions about the difficulties that students face when interacting with Japanese literature and cinema:
Do not know Japanese (28%)
Feeling confused (28%)
Lack of referrals or reviews (15%)
Unusual/perverted expression (9.5%)
No access to or high cost of accessing film resources (8%)
Too few books and materials (7%)
Unexciting or boring content (1.5%)
Having been prejudiced against Japanese culture (1.5%)
Do not like Japanese literature (1.5%)
From my experience in teaching, combined with the survey results, I can initially draw some conclusions as follows:
First, at present, in Vietnam, Japanese literature is still popular and gets more attention than Japanese movies per se, so young students tend to choose to lay themselves open to literature first and then search for film materials. Even so, the watch-to-read trend is still a potential trend of the audiovisual and digital age. There are different opinions on this issue, but in general, it can be seen that the advantage of literature is to create an imaginary space for the reader, while the advantage of cinema is to present an imaginary space for the viewer. These two processes can complement and support each other to achieve the optimal aesthetic effect for the beholder.
Second, the activity of viewing and the act of reading can interact with each other in both direct and indirect ways. Direct interaction is that the viewer of a filmed work will want to read the written work and vice versa. Indirect interaction occurs when viewing and reading are not on the same work. Cinema, with its visual advantage, can help young people understand cultural values more quickly and easily, thereby capturing messages conveyed somewhat implicitly or more subtly in written material. For example, those who have watched and loved the movie My Neighbor Totoro can better understand the Japanese people's close relationship with the forest, thereby feeling the emotional psychology of the character Toru when going through the forest to find Naoko at the Ami hostel in the Norwegian Wood. Similarly, watching movies by OZU Yasujiro or NARUSE Mikio can help young people experience the characteristics of Japanese lifestyle and personality, thereby making them more receptive to Japanese literature and less likely to find Japanese literature "difficult to understand."
Third, for the "watch to read" activity to go smoothly, young people need introductory information or guidance. This information could be an introductory article, or it could also be a short video from a reputable channel, and better yet, a monograph. Some materials are now available in Vietnam, but they are still fragmented, while others have been discontinued or have not been introduced systematically and have not yet spread into the community. It would also be helpful if more pages specialized in reviewing/recommending movies or books about Japanese culture for the community to access.
Fourth, the issue of receiving Japanese literature and Japanese cinema has gained cultural acceptance. Based on my experience in teaching Japanese literature, I have found three things that are most difficult to convey to students, and Vietnamese students also find them the most difficult aspects of Japanese literature and cinema to understand. They are the Japanese aristocratic spirit (as described in The Tale of Genji, for instance), the Japanese people's mentality in different historical periods, and a different sense of beauty in Japanese culture. These cultural differences can be overcome, thanks to two basic conditions: the continued development of Vietnam's economy and culture and Japanese culture being more widely studied and accepted in Vietnam. When these two conditions are met, the cultural exchange between Vietnam and Japan will be more seamless and intimate.
Translated by the author Phan Thu Van
---
Phan Thu Van
Dr. Phan Thu Van is a graduate of Fudan University (Shanghai, China), with a Ph.D. in 2010. She is currently a researcher and lecturer in East Asian literature, adviser for M.A. students in the Foreign Literature program, Chairperson of the Division of Foreign Literature and Vice-dean of the Department of Literature and Linguistics, at the Ho Chi Minh City University of Education. She had articles published in several academic journals such as: "Chinese cultural factors in Genji Monogatari (The Tale of Genji) and their literary significance" (2012), "Murakami and The Great Gatsby" (2015), etc.