From past to present, literary works have remained an endless source of inspiration for filmmakers to adapt such work into a movie or television film, and many classic movies have been successfully adapted based on the original literary work. When a literary work is adapted into a movie, it creates a new face, a new value in terms of art and tastes, giving the film a life of its own. The same is true for Japanese literary works. Many works from the ancient to the modern period have been adapted into movies or TV series in Japan and abroad. These include the work The Tale of Genji by female author Murasaki Shikibu, novels by IHARA Saikaku, and, in particular, modern works by AKUTAGAWA Ryunosuke, ABE Kobo, KAWABATA Yasunari, DAZAI Osamu, MISHIMA Yukio, MURAKAMI Haruki, YOSHIMOTO Banana, ICHIKAWA Takuji, HIGASHINO Keigo, HYAKUTA Naoki, etc. Some films have been highly appreciated and have won prestigious awards at domestic and international film festivals, creating a new value for these literary works.
In Vietnam, the movies adapted from Japanese literary novels that are most loved by young people are Be With You, Norwegian Wood, 1 Litre of Tears, and, recently, films adapted from Higashino Keigo's novels.
The film Norwegian Wood (2010), produced by the director Tran Anh Hung, has created a good impression for many young Vietnamese, so many people have read the original literary work by the author Murakami Haruki, despite not having paid much attention to this work before. Although not many films have been adapted from Murakami's works, since watching the film and reading the novel, many Vietnamese readers have become enamored of this author. The translation of and research on his works have also been strongly promoted in Vietnam, thereby enhancing the orientation of reading activities for readers. Bookstores or publishers also play an important role in translating and publishing a large number of Murakami Haruki's works.
Another film that also makes a strong impression on viewers, thanks to its beautiful, natural, romantic setting, and deep meaning imbued with humanity, is Be With You (2004), adapted from the novel of the same title, by Ichikawa Takuji. Young people who watched the film became fans of the author's serene and sensitive writing style and began to read his other works. The movie really touched the hearts of the audience, which made them warmly welcome the author's other novels. It can be said that Ichikawa Takuji is one of the authors typical of cementing the connection between the watching and reading activities of young Vietnamese.
In Vietnam today, I think the change from "watching" to "reading" Japanese literary works is the most clearly shown in the works of the author Higashino Keigo. The number of books translated from his work has surpassed even that of author Murakami Haruki. The films adapted from the novel Into the White Night and Suspect X are two films that most clearly evoke and promote the change from the watching to reading activities of young Vietnamese. Here I want to emphasize the "activity of watching" films adapted from author Higashino Keigo's detective novels and the "reading activity" of his works. According to our survey, Higashino Keigo is the author with the highest number of translated works in Vietnam today, as well as the author with the highest number of works that have been adapted into movies and TV series. Nearly 30 of his works have been translated into Vietnamese in recent years, and several works are in the pipeline to be translated. On the social network of Vietnamese users, the Higashino Keigo Vietnam fan page was established and attracted many members, mainly young people, including university students and young researchers. Higashino's work attracts readers through its unique, new, and impressive way of writing detective novels. In the era of popular social networks in Vietnam, the spread of famous films or literary works by fans and favorites of Japanese authors or literary works has created a great effect on a large audience.
So far, many of Higashino Keigo's novels have been made into movies or TV series and won many prestigious awards both in Japan and abroad. His novel Into the White Night was adapted into a television series in Japan in 2006 and a movie in 2011, and won the Best Drama Award in 2006. In addition, the work was adapted into a movie in South Korea in 2009. The novel Naoko (Himitsu/Secret) was adapted into a movie in France in 2009. The novel Miracles of the Namiya General Store was adapted into a movie in Japan (2017), and also in China (2017) with the name Namiya.
Many other works by Higashino Keigo have also been adapted into movies and television series in Japan. The films have shown most of the novel's content, with the talented acting of the male and female characters who commit crimes, the character of detective Galileo or the policeman Kaga. The films have also shown the contemporary cultural and social context of Japan with many typical scenes such as the space of a Japanese-style room, a bento restaurant, a flashy urban setting, and the living space of the homeless. It can be said that literature and cinema are closely related in contemporary artistic and cultural life. Since Higashino Keigo's works became bestsellers in the domestic book market, many filmmakers have been adapting his works. The source of translation books of the author's works has also become abundant in other countries such as the USA, China, South Korea, and Southeast Asian countries including Vietnam in recent years. The author's detective novels and the films adapted from his novels provide the public with insights into the Japanese human psyche and topical issues in Japanese society. Therefore, in our opinion, his works will still attract a large number of readers and filmmakers in the future.
A phenomenon related to the change from "watching" to "reading" Japanese literature originated from anime works. According to our survey, many young Vietnamese people are passionate about the Japanese anime and manga genres. Among those works, some have been adapted from literature into anime, and many readers have started from watching anime because they love it and then go on to read the original work, for example, 5 Centimeters per Second, Grave of the Fireflies, and some anime based on Japanese fairy tales such as The Tale of the Princess Kaguya. According to our survey, high school students in Vietnam are mostly only introduced to read the novel Totto-chan: The Little Girl at the Window. Meanwhile, from elementary school onward, most children have read a lot of comics (manga) and watched cartoons (anime), so the approach to Japanese literature comes later, usually at the age of high school students and especially university students.
In Vietnam, there is a tendency that not too many young people love to read literary works from the very beginning, mainly because they are reluctant to read books, especially thick novels in large volumes. However, after watching the movie, they were curious about the difference between the movie plot and the work's text, so they read the literary work, and since then, they have become fascinated with the author's literature. As we mentioned above, Murakami Haruki is a prime example. Many young people who finished watching the film Norwegian Wood have read the work and gradually became interested in other works of Murakami, even though they have not been adapted into a movie. These activities are spread by groups, associations, websites on social networks, or fan pages of bookstores, attracting many young people to participate and update information continuously, creating a relatively good effect for the Japanese literature lover.
According to a survey that we obtained from university students majoring in literature, the number of students who first became acquainted with Japanese literature by watching movies is quite large. The main reason is that they are often afraid to read thick works, but when they are introduced to the film, they are very interested and now ready to read the original literary work, from which their passion for Japanese literature grows and is cultivated. After that process, they can just read the work passionately without watching the movie or perhaps both watch the movie and read the book at the same time.
The reality of our teaching also demonstrates this. When we asked students to read a literary work, they were often afraid to read the text of the work, especially the large works. However, when we introduced and showed a movie adapted from that work, they were extremely interested, and many of them started to explore by watching the whole movie, reading the text of the work, and conducting research to compare them to find the similarities and differences between the two versions. That process aroused the passion of many young people to continue reading the Japanese literary works of that author and other authors. On the other hand, many students with a passion for Japanese culture have learned about and read many Japanese literary works and then have been introduced to watching film adaptations. This is a reading and watching process. The two-way interaction can be seen in both watching and reading Japanese literature. The students studied Japanese literature on various topics, focusing on the form and content issues of famous authors' literary works, and, at the same time, made comparisons with movies adapted and compared with literary works of other countries, including Vietnam.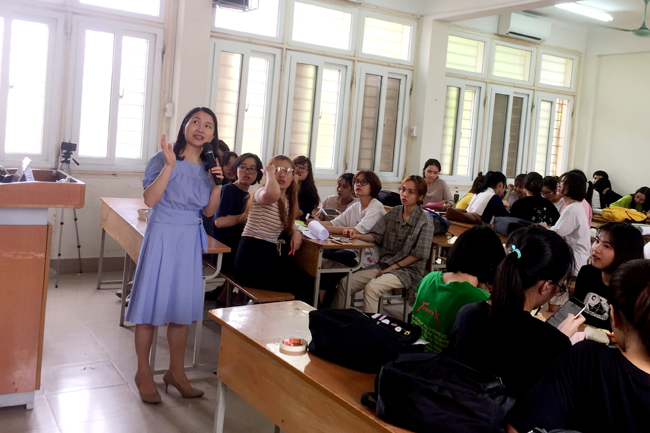 Bookstores or publishers play an important role in shaping the tastes of readers. Choosing to translate works by famous authors such as Murakami Haruki, Yoshimoto Banana, or Higashino Keigo also shows their grasp of literary tendencies quite well. On the other hand, many other famous Japanese authors have not been translated much in Vietnam. In the opposite direction, when an author's work is warmly welcomed, the selection of translation of subsequent works is also based on that.
Thus, watching movies or TV series adapted from literary works has had a great impact on young people in Vietnam. Among them, we can mention the film adaptations that have attracted the most attention and affection of the audience, such as Norwegian Wood, Be With You, 1 Litre of Tears, and anime by director Shinkai Makoto such as 5 Centimeters per Second, Voices of a Distant Star, Your Name, etc. Watching activities have promoted reading activities and are widespread among young people who love Japanese culture and literature. Many people have read literary works and become interested in that author, in love with Japanese literature because literary works express the culture and lifestyle of people in Japanese society and reflect contemporary issues.
"Watching activity" clearly has the effect of promoting "reading activity" of young Vietnamese people. The works of some best-selling authors have been translated to serve the needs and tastes of young people. Besides, the translation of works of other famous Japanese author is also being carried out widely, meeting the needs of not only young people but also researchers and teachers of Japanese literature. It is a necessary activity, helping Vietnamese readers to develop a comprehensive approach to Japanese literature in the near future.
Translated by the author
---
Tran Thi Thuc
Dr. Tran Thi Thuc is a lecturer at the Faculty of Literature of the University of Social Sciences and Humanities, Vietnam National University, Hanoi. She obtained her Ph.D. in Japanese literature in 2019. She was a research student at the Graduate School of Arts and Sciences, the University of Tokyo in 2016. Her research and teaching focuses on modern Japanese literature and comparative literature, and she has published papers, essays and articles in such journal as Eastern Asia: Issues on Literary Research and Education (Culture-Literature and Arts Publishing House, Ho Chi Minh City, 2019), Journal of Literature Studies and others.