Dahdi: A Short Film themed on the Rohingya Crisis
Tsuchida: In your short film Dahdi, you picked up the issue of the Rohingyas, which is a crisis that many Southeast Asian filmmakers are addressing now. Edmund Yeo's AQERAT (We the dead) was screened at this year's TIFF, for instance. Why did you come up to make a film on this theme?
Tan: Rohingyas are Muslims living in Myanmar and they are ethnic minorities in a largely Buddhist country. The issue is that they are not even recognized as an ethnicity; slowly they are being exterminated and the government is trying to cover-up the entire situation. So in Southeast Asia, it is quite a real issue and, as you know, the United Nations and media all over world are talking about it.
This short film is based on a real incident that happened in Singapore in 2012 where a group of Rohingya refugees were washed up on to Singapore by boat. They were actually rescued by a cargo ship from a shipwreck and the ship ended up in Singapore, but the authorities just decided to turn them away without giving them food, shelter, or medicine. But in Singapore, we don't have a policy for protecting refugees, so the Singaporean authorities' decision, "legally," was sound. But I tried to question that even if you are legally correct, where is the line between moral responsibility and legal responsibility?
Tsuchida: So did you make this short film because you were personally interested in this issue?
Tan: I actually read the news of this incident in New York, but when I tried to look for it in the Singapore media, there was almost no news about it which made me slightly upset. However, I tried to make the film less political and more human, so I routed the issue into a grandmother and posed the question to the audience, "If you have a refugee in your house and she obviously needs your help, would you just hand her over to the police or would you actually try to help her?" I tried to craft the story so that is easy for everyone to understand and hopefully it's a question that they can ask themselves.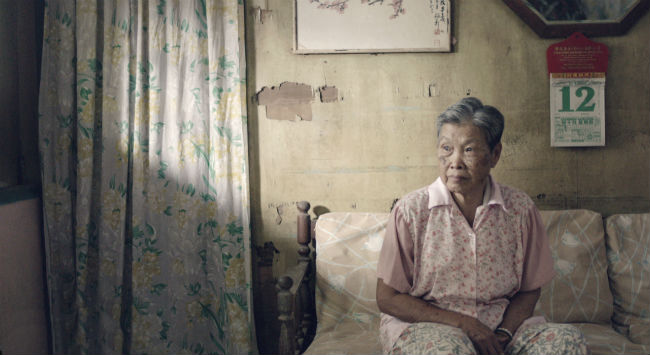 POP AYE: A Thai-Singapore Co-Production Film with an Elephant
Tsuchida: Now your newest film Pop Aye depicts a middle-aged architect who realizes himself no longer necessary for the company and decides to take his elephant on a journey to his homeland in Thailand. We are happy to have Mr. Thaneth Warakulnukroh, the lead actor of the film, here with us so we would like him to join us here. Kirsten, were you familiar with him as a well-known musician in Thailand?
Tan: Not really, but I did all my research on him before the audition, so I was already familiar with him when I met him for the first time. Actually he was recommended by the Thai writer and filmmaker, Prabda Yoon who directed Someone From Nowhere (2017).
Tsuchida: In terms of making a Thailand-Singapore co-production, did you have any difficulties with shooting in Thailand and working with Thai actors for the first time?
Tan: I feel that making the first feature film is always challenging, especially when you are fairly young. Oftentimes your crew is much older and experienced than you, so it is really hard to convince them to believe in your vision. But it is also one of those things where you really have to just bite the bullet and do it, and I feel human beings all work the same way. Until you start earning your stripes, no one is going to believe you. Fortunately this film is not doing bad at the film festivals, so hopefully the next one will be easier.
Tsuchida: Thaneth, did you encounter any difficulties after your thirty-year absence  as an actor and also working with Kirsten who is a young Singaporean director making her first feature film?
Thaneth Warakulnukroh (hereinafter Warakulnukroh) : I did not have any difficulty because I asked Kirsten so many questions before I accepted this role. Actually, I don't even call myself an actor and I don't know how to act, so I just let my feelings go with the flow. I try to understand everything from the story, the script, and to make sure that I can relate to it and feel it. Once I could get it, I just feel it. That's all. But I would say that this process to understand each other was the difficult part.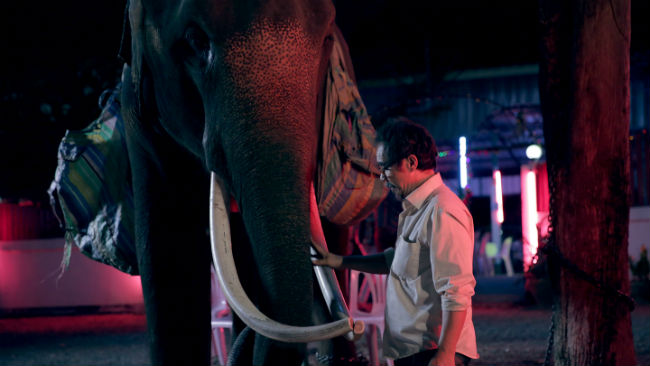 Tsuchida: I heard that one of the reasons that Kirsten chose you was because you were not scared of elephants. How was shooting a film with one?
Warakulnukroh: Actually, when I was very young, I was attacked by a young elephant that was trying to play with me. He was still bigger than me, so I was scared. I had forgotten about that since it was a long time ago, but I was reminded of it when I met the elephant on-set. But it didn't take too long to become friends with him because he was very gentle and well trained. So after spending two weeks with him, we became good friends and I wasn't scared of him anymore. But you also have to be careful even though he is a very nice elephant: you mustn't play with him by yourself, and must always have a mahout [elephant keeper] stay beside you.
Tsuchida: Kirsten, was it hard for you to film the elephant? I imagine it would be quite hard to control him; he is a big animal, at the end of the day.
Tan: Of course we knew it was going to be difficult, so we did some rehearsals with her first. The producer, my assistant directors, and I flew down to Surin—a city that is the home of the elephant culture in Thailand and also where my little Bong, the main elephant in Pop Aye, comes from—and talked to the elephant mahouts to figure out how we can all work together. And we did some rehearsals with her and some directing exercises to think of how we can get her to perform certain movements in the film.
Also as mentioned, Thaneth lived with her for two weeks, so by the time filming started, I think Bong had a rough idea what he was supposed to do. But I think we really understood how to work with each other. Mid-way through the film production, I think Bong finally realized he was acting in a film, and we also realized that elephants really do have good memories. But it did take a while for us to get how to work with one another.