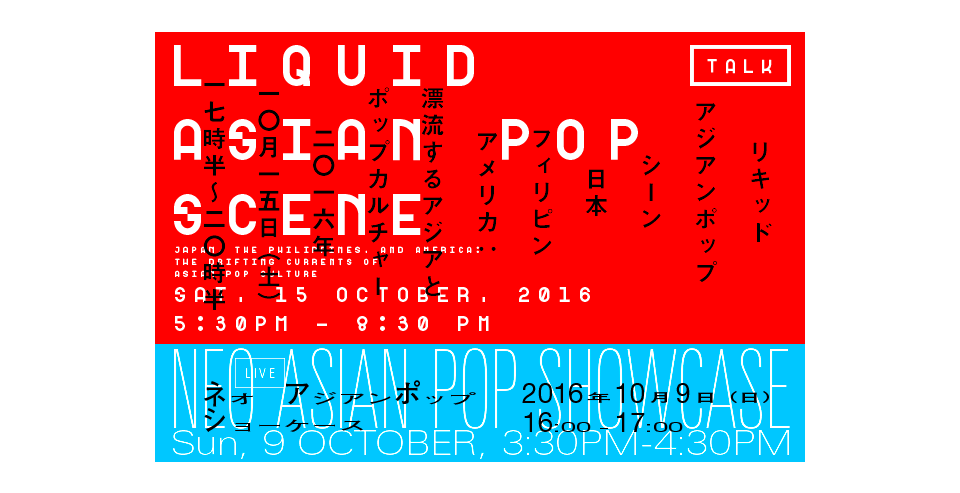 New Movements in Pop Culture and the Internet.
Experience the New Asia through Music.
The Japan Foundation Asia Center will hold the talk event "Liquid Asian Pop Scene" and the Music Showcase "Neo Asian Pop Showcase" that gives a glimpse at the contemporary Asian pop culture scene and provides a new vantage point on Asia through music.
Talk Event
"Liquid Asian Pop Scene-Japan, the Philippines, and America: The Drifting Currents of Asian Pop Culture"
Changes to the way music is created, distributed and appreciated, such as online streaming services like YouTube and SoundCloud, have ushered in an entirely new music scene. This forms part of a broad movement of communities and international networks that bypass the conventions of the commercial music industry and intersect freely with fashion, business, and events . This talk event invites speakers from Japan, the Philippines, and the United States to introduce the music scene and netlabels (online music labels) in their respective regions, and discuss how contemporary culture is being shaped by the proliferation of online tools and platforms. How do all these divergent cultures influence each other? How will they evolve from now? By decoding the impact of various aspects of pop culture across Asia, the talk showcases contemporary culture in the region that has been brought to the fore by our shared foundations of pop culture and the Internet.
Music Showcase "Neo Asian Pop Showcase"
The growth of social media has democratized global tastes and communication like never before, and a new generation of artists is today revolutionizing the various aspects of pop culture that exist in Asia. The Creators, one of the three main programs of Fukuoka's Asian Party, hosts "Neo Asian Pop Showcase," introducing three leaders in the contemporary Asian electronic music scene. While seemingly far removed from our traditional images of Asia, these music artists from Japan, the Philippines, and the United States intersect and play with all kinds of elements to present a radically new "Asia."
Panelists / Artists
tomad Organizer, DJ, Head of Maltine Records (Tokyo, Japan)
Launching the online record label Maltine Records in 2005 when he was just 15 years old, tomad has 150 releases to his name. Maltine Records has been featured widely in the press, including The Japan Times and MTV81, and has established a leading presence in the new dance and pop music scene in Tokyo. The label has recently held events in China and New York, and released songs by many overseas artists. To mark its 10th anniversary in 2015, the label published Maltine Book, which documents its activities over the decade. Today, tomad continues to work widely, collaborating with apparel brands and music idols as well as contributing to music remixes.
http://maltinerecords.cs8.biz
tofubeats Track maker, DJ (Kobe, Japan)
Tofubeats has been working with online platforms since his student days, remixing and producing a wide range of tracks. He released a self-produced album, lost decade, in April 2013, before making his professional debut that autumn with Warner Music Japan. He has produced tracks with many guest performers, and released two further albums (First Album, POSITIVE). As a producer and remixer, he has worked with the likes of SMAP, Ken Hirai, Crystal Kay, and Yuzu. He is also a prolific producer of background music and TV commercial music, and also writes magazine columns.
https://tofubeats.persona.co/
Meishi Smile Musician, Head of Zoom Lens (Los Angeles, USA)
Based in Los Angeles, Meishi Smile is an American music artist of mixed Chinese and Japanese heritage. Under the name Meishi Smile, they have released electronic music since 2010. Influenced by both Japanese pop music and experimental music, their wide-ranging sound encompasses everything from at times abrasive noise music to emotional pop. As the head of Zoom Lens, a record label with many experimental American and Asian artists on its roster, they travel the global uncovering new talent. They are also involved with events supporting Japanese pop culture and music. They made their debut in Japan with their second album, ...Belong, in 2015.
http://meishismile.com/
http://zoom-lens.org/
Moon Mask(fka Ulzzang Pistol) Musician (Manila, Philippines)
Moon Mask incorporates influences from East Asian pop culture to create his own unique cross-cultural sound. Matching delicate electronic music with lyrics in English, Cantonese, Korean, Tagalog and Japanese, Moon Mask has developed innovative and dreamy soundscapes set to break both sonic & linguistic barriers. Formerly as Ulzzang Pistol, he released two albums (Waste, Girlfriend) and is now preparing his first EP as Moon Mask. His music videos mix animation and live action to conjure up an original vision reflecting the stories and languages in his songs. Collaborating with a wide range of other online artists across various genres and regions, he continues to develop his vision across the world.
http://zoom-lens.org/moonmask.html
TORIENA Sound artist, Head of MADMILKY RECORDS (Kyoto, Japan)
TORIENA is a chiptune artist who uses Game Boy consoles and the computer music tool Little Sound Dj to make music. She has been composing tracks and performing live since 2012, and also founded and heads Japan's first chiptune label, MADMILKY RECORDS. Fully self-produced, TORIENA creates everything from the lyrics, music and mix of her tracks to the artwork and cover designs. She is noted for her pop yet hard sound, combined with an aggressive performance style. Overseas her reputation has continued to grow, thanks to appearances in 2015 at Square Sounds Melbourne, Australia, and Lucca Comics & Games, Italy, as well as a four-stop European tour. She has also produced tracks for music video games by Konami and Capcom.
http://www.toriena.net/
Event detail of the talk event
Title
Talk Event
"Liquid Asian Pop Scene-Japan, the Philippines, and America: The Drifting Currents of Asian Pop Culture"
"Japan Media Arts Festival 20th Anniversary Exhibition - Power to Change" Collaborative Programs
Time and
Date
15 October, 2016 5:30pm-8:30pm
Venue
3331 Arts Chiyoda, Sports Hall
6-11-14 Sotokanda, Chiyoda-Ku, Tokyo 101-0021 Japan >>Access
Admission
charge Free admission (Pre-registration required)
To
Register
To register, go to http://ptix.co/2dksGm1 .
Please read peatix's Privacy Policy for information on handling of Personal Information.
Panelists

tomad(Organizer, Head of Maltine Records / Tokyo)
Moon Mask(fka Ulzzang Pistol)(Musician / Manila)
Meishi Smile(Musician, Head of ZOOM LENS / Los Angeles)
tofubeats(Track maker, DJ / Kobe)
Language
English-Japanese simultaneous interpretation available
Organized
by
The Japan Foundation Asia Center
Related
information
"Japan Media Arts Festival 20th Anniversary Exhibition - Power to Change"
http://20anniv.j-mediaarts.jp/en/
Period: Saturday, October 15 - Sunday, November 6, 2016
Main venue: 3331 Arts Chiyoda (6-11-14 Sotokanda Chiyoda-ku, Tokyo 101-0021)
Opening hours: 11:00 to 19:00 *Last entry 30 minutes prior to closing.
Open every day during the exhibition period.
Satellite venues:
NTT InterCommunication Center [ICC], UDX THEATER, The National Art Center, Tokyo and other locations.
*Exhibition days and opening hours vary according to venue.
Admission Free ※A few events within the festival will be subject to charge.
Organized by the Japan Media Arts Festival 20th Anniversary Exhibition Executive Committee
Cooperation: 3331 Arts Chiyoda
Event detail of the music showcase
Title
Music Showcase "Neo Asian Pop Showcase"
Time and
Date
9 October, 2016 3:30pm-4:30pm
Venue
"The Creators"Fureai Hiroba, Fukuoka City Hall
1-8-1 Tenjin, Chuo-Ku, Fukuoka-Shi, Fukuoka-Ken, Japan
>>Access
Admission
charge Free admission
Music
Performance
Moon Mask (fka Ulzzang Pistol)(Musician / Manila)
Meishi Smile(Musician, Head of Zoom Lens / Los Angeles)
TORIENA(Sound artist, Head of MADMILKY RECORDS / Kyoto)
Stage Direction, VJ: SHIBUHOUSE, huez  Direction: tomad (Maltine Records)
Related
information
「The Creators」
http://the-creator.jp/about.html
Dates:8-9 October, 2016
Venue: Fureai Hiroba, Fukuoka City Hall
Organized by the Creative Lab Fukuoka