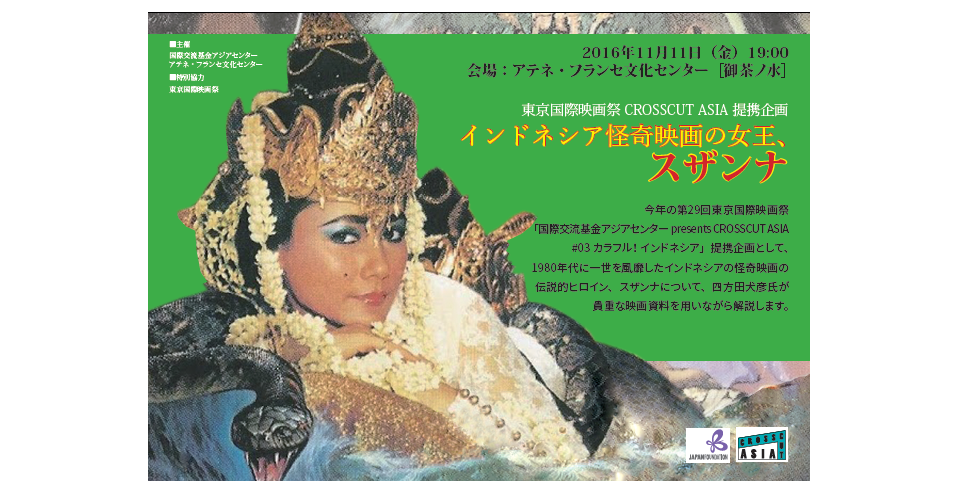 The Japan Foundation Asia Center will screen 11 Indonesian films including 2 mid-length films in CROSSCUT ASIA #03: Colorful Indonesia at the 29th Tokyo International Film Festival (TIFF).
As TIFF's tie-up event, we will also hold two events of Indonesian films with Atenee Francais Cultural Center.
On Friday November 11, a talk session with Mr. Yomota Inuhiko will be held on, Suzzanna, the legendary actress who took Indonesian horror films by storm during the 1980s.
Toward the end of January 2017, we will also bring to you screenings featuring more Indonesian films and hold a symposium with Indonesian filmmakers, both of which come with a twist and slight deviation from CROSSCUT ASIA. (Details will be announced on the Asia Center's website soon).
Those who can't get enough of Indonesian film, keep your eyes open for many of our additional Indonesian film events!
Event detail
Title
Tokyo International Film Festival CROSSCUT ASIA tie-up event
'Indnesian Horror Queen SUZZANNA'
Day/Time
Friday, November 11, 2016    19:00-21:00
Outline
Suzzanna was the legendary horror film queen who took Indonesia by storm in the 1980s. Using rare film footages, Yomota Inuhiko analyzes Suzzanna's striking charisma.


*This is a talk event.

Language
Japanese
Lecuturer
YOMOTA INUHIKO (Film studies and Comparative Literature)
~Massage from the lecuturer~
Sometimes a faithful wife, a heinous witch, or the queen of an undersea kingdom, Suzzanna is an enchanting actress that suddenly blossomed, gloriously, in the world of Indonesian film. Suzzanna hatching from an enormous golden egg, covered in blood, in a cave by the sea; Suzzanna, dressed in gold, flying away into the vast sky in a golden carriage. If Christine Hakim is the front of Indonesia—the honorable face that, with wisdom, embodies the nation's history—Suzzanna would be the goddess whose existence in the present world has been demeaned and once excluded from the human community but that which has resurrected upon gaining mystic power. It is through Suzzanna that the legendary Indonesian horror movies emerge.
Venue
Athenee Francais Cultural Center
4th Floor, 2-11, Surugadai, Chiyoda-ku, Tokyo
(Seven minute walk from JR Ochanomizu Station)>>Access
Tel: 03-3291-4339(13:00-20:00)
Admission
¥1,100 / Members of Athenee Francais Cultural Center ¥800
Organized by
The Japan Foundation Asia Center、Athenee Francais Cultural Center
Supported by
Tokyo International Film Festival
Website
http://www.athenee.net/culturalcenter/