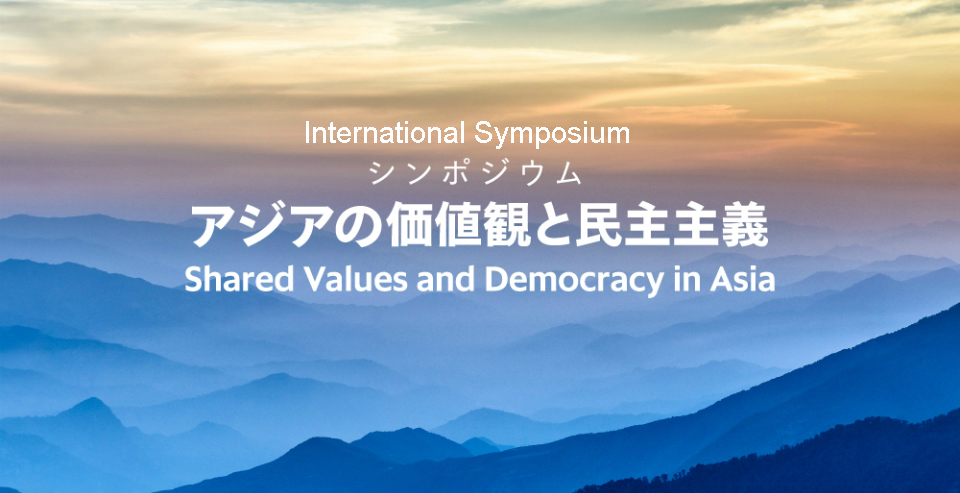 The Japan Foundation Asia Center facilitates many dialogues between intellectuals and researchers with the aim of achieving mutual cultural understanding and building a strong foundation for the future.
This symposium is being held as the fourth symposium of a pair of Japan-India conferences.
This year, we invite political leaders, religious leaders, and researchers from Asian countries to examine which values, if any, are commonly shared by Asian people and how they have sustained the evolution of those countries into modern democracies.
Shares Values and Democracy in Asia official website (Japanese):
https://events.nikkei.co.jp/4268/
The past symposium (Japanese)
https://asiawa.jpf.go.jp/culture/events/asianvalue_democracy/
PROGRAM
Opening Remarks: Banwarilal Purohit, Governor of Tamil Nadu, India
Remarks by Arvind Gupta, Director, Vivekananda International Foundation, India
Special Address:
Gloria Macapagal-Arroyo, Former President, Republic of the Philippines, Philippines
Sengaku Maeda, President, The Nakamura Hajime Eastern Institute, Japan
Swaminathan Gurumurthy, Vice Chairman, Vivekananda International Foundation, India
PANEL SESSION 1: Shared Values and Tradition in Asia
Presenters and Panelists:
Siddheshwar Rameshwar Bhatt, Chairman, India Philosophy Research Council, India
Yenny Zannuba Wahid, Director, Wahid Institution, Indonesia
Goshin Shaku, President, The Nakamura Hajime Eastern Institute, Japan
Chongsuh Kim, Professor Emeritus, Seoul National University, Korea
Sun Jing, Professor, Chinese Academy of Social Science, China
Alubomulle Sumanasara Thero, Chief Religious Adviser, Theravada Buddhist Association, Sri Lanka
Moderator: Hiroshi Marui, Secretary General, The Nakamura Hajime Eastern Institute, Japan
SPECIAL SESSION: Achievements and Challenges of the Cultural Exchange between Japan and Asia toward Future Collaboration
Kitti Prasirtsuk, Vice President, Thammasat Univesity, Thailand
Ambeth R. Ocampo, Associate Professor, Ateneo de Manila University, Philippines
PANEL SESSION 2: Experience of Liberation and Democratization in Asia:Legacy of Mahatma Gandhi
Presenters and Panelists
Jorge Villamor Tigno, Professor, University of the Philippines, Philippines
Ketty Wan-i Chen, Vice President, Taiwan Foundation for Democracy, Taiwan
Pema Khandu, Chief Minister of Arunachal Pradesh, India
Sujit Dutta, Senior Fellow, Vivekananda International Foundation, India
Tunku Zain Al-'Abidin ibni Tuanku Muhriz, President and Co-Founder, Institute for Democracy and Economic Affairs, Malaysia
Nobukatsu Kanehara, Assistant Chief Cabinet Secretary, Japan
Moderator: Tsuneo Watanabe, Senior Researcher, The Sasakawa Peace Foundation, Japan
CLOSING ADDRESS
*Please understand that the details of the program of this symposium may be changed.
OVERVIEW
Date
Thursday, July 5th, 2018
Time
12:50-18:30 (Doors open:12:20)
Venue

Hotel Okura Tokyo Access
105-0001 Tokyo-to,Minato-ku,Toranomon,2 Chome-10 google map

Organizer
Nikkei Inc.
Co-organizers
The Japan Foundation Asia Center
The Nakamura Hajime Eastern Institute
Vivekananda International Foundation
Supported by
Ministry of Foreign Affairs, Japan
In association with
International Buddhist Confederation
Fee
Free
Capacity
350 people (In case of too many applications, we will hold a drawing)
Registration
Go to http://eventregist.com/e/05072018?lang=en_US

Deadline: Jun. 25, 2018 (Mon)

Language
Japanese, English (Simultaneous Interpretation)
Inquiries
Shared Values and Democracy in Asia Office
asianvalue@nikkeipr.co.jp
PROFILE
Banwarilal Purohit
Governor of Tamil Nadu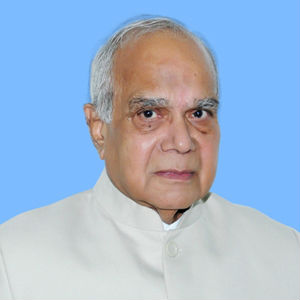 Mr. Banwarilal Purohit is a senior political personality having shaped public affairs in a big way for last four decades. Mr. Purohit has been threetime Lok Sabha member from Nagpur and Managing Editor of 'The Hitavada', Central India's oldest and English daily for last one hundred years. He is an eminent educationist, a renowned social activist, institution builder, ace orator, nationalist thinker. Born on April 16, 1940, Mr. Purohit, did his schooling from Nagpur and from Rajasthan. He obtained his commerce degree from Nagpur University. He became active in politics in 1970s to fight against persistent neglect of Vidarbha, a backward region of Maharashtra. He has served as Governor of Assam from 22nd August 2016 till 5th October 2017 and was also holding additional charge of Meghalaya. He assumed office of Governor of Tamil Nadu on 06th October 2017.
Arvind Gupta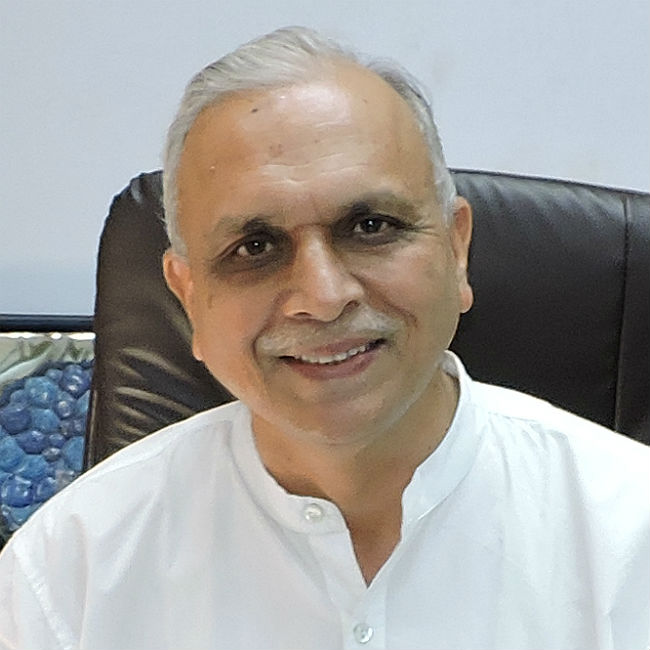 Arvind Gupta is the Director of Vivekananda International Foundation, a Delhi based independent, non-partisan think-tank focusing on research on foreign policy, defence, and security related issues from an Indian perspective. From 2014-17, he was the Deputy National Security Advisor and headed the national Security Council Secretariat in the Government of India. During 2012-14, he was Director General of the Institute for Defence Studies & Analyses, New Delhi. He is a former diplomat. He is also an Honorary Professor in the Department of Defence and National Security Studies, Punjab University, Chandigarh. His interests are in India's foreign policy, security, history, culture and civilization.
Gloria Macapagal Arroyo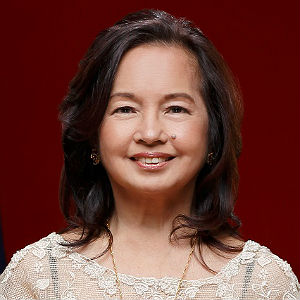 Gloria Macapagal-Arroyo was President of the Philippines from 2001 to 2010. She is the daughter of the late former Philippine President Diosdado Macapagal.She holds a Ph.D. in Economics. She attended Georgetown University's School of Foreign Service.As Senator from 1992-1998, she authored or sponsored over 50 of the country's most important economic and social laws.In 1998, she won as Vice President by a landslide, and assumed the Presidency in 2001.She was elected President in 2004. At the end of her presidency, nine million jobs had been created, and poverty incidence was reduced to 26% from 39% in 2001.Sheis on her 3rd and last term as Representative of the 2ndCongressional District of Pampanga.
Swaminathan Gurumurthy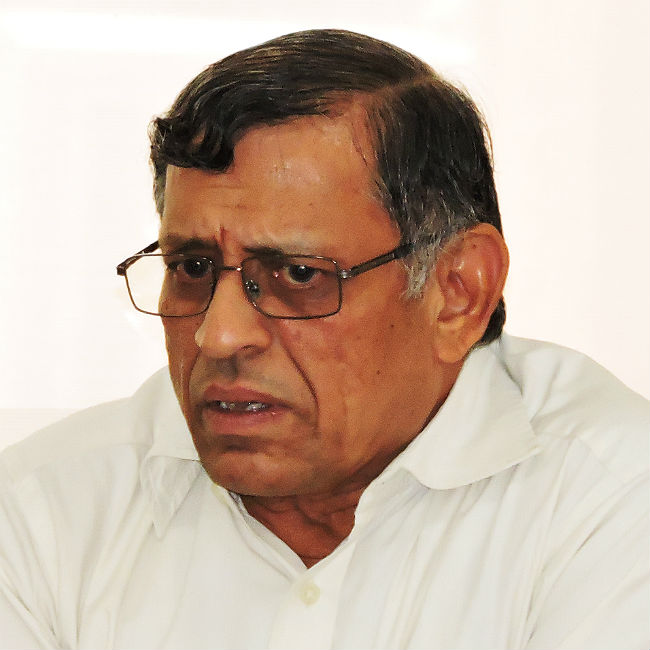 Swaminathan Gurumurthy, academic and celebrated investigative journalist, is popularly known for his campaign against corruption at high places and the nexus between business and government. He risked arrest and persecution and emerged victorious in his ordeal. Hamish McDonald, well-known Australian journalist, ranked Gurumurthy's investigative work 'among the most powerful examples of investigative journalism anywhere in the world'. Gurumurthy is Visiting Faculty of Economics, Finance and Management at IIT Bombay and Distinguished Professor Legal Anthropology in Sastra University. Being a chartered accountant, he is a corporate adviser of high standing. The media has consistently rated him among 50 most powerful persons in India from 1990 till now. A founder of the Vivekananda International Foundation, Gurumurthy is also its vice-chairman.
Sengaku Mayeda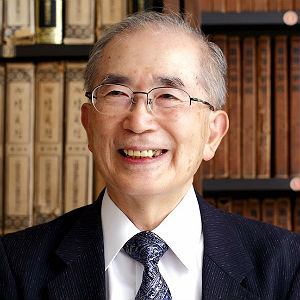 Graduated from the University of Tokyo Faculty of Letters, Department of Indian Philosophy and Indian Literature.. After completing a master's degree at the University of Tokyo's Graduate School of Humanities and Sociology, he completed a graduate program in Oriental Studies at the University of Pennsylvania. He holds a Ph.D. and D.Litt. His current positions include serving as executive director of the Nakamura Hajime Eastern Institute and director of the Eastern Academy. He is professor emeritus at the University of Tokyo, professor emeritus at Musashino University, and president of Ashikaga Gakko. He specializes in Indian philosophy and Buddhist studies. Awards he has received include the Japan Academy Prize; the Third Order of Merit with the Middle Cordon of the Rising Sun; the Buddhagunupakan Kancanakiartigun – Highest Decoration of Excellence, House of Representatives, Kingdom of Thailand; and the Padma Shri, Government of India. Among his writings are A Thousand Teachings of Shankara; Vedanta Philosophy; and Buddha – His Life and Thought.
S.R.Bhatt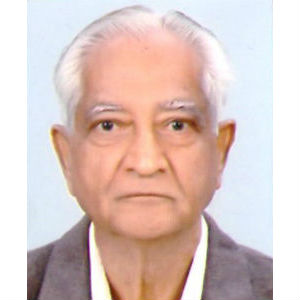 Professor S.R.Bhatt is Chairman, Indian Council of Philosophical Research, Ministry of Human Resource development, Government of India. He is also Chairman of Indian Philosophy Congress and Asian Philosophy Conference. He retired as Professor and Head, Department of Philosophy, University of Delhi, Delhi. He is internationally known as an authority on Ancient Indian Culture, Buddhism, Jainism and Vedanta. His research areas include Indian Philosophy, Logic, Epistemology, Ethics, Value-theory, Philosophy of Education, Philosophy of Religion, Comparative Religion, Social and Political Thought etc. He has lectured in many universities and research institutes all over the world. He has organized more than 50 national and international conferences, seminars and workshops. He has authored and edited 21 books and he has more than 150 published research papers to his credit. He is on the Editorial Board of many international journals.
Yenny Zannuba Wahid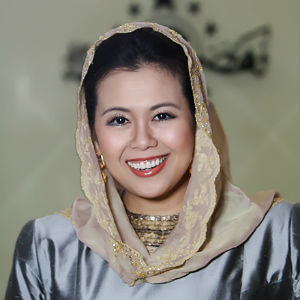 Yenny Zannuba Wahid is a social and political activist who works to promote peace and tolerance in the world. Her sphere of influence within the biggest Muslim organization, NU, with around 80 million members, has enabled her to work effectively on the grassroots level. Her work experiences include working as reporter for The Sydney Morning Herald and the Age Melbourne, working as special staff for President Susilo Yudhoyono, and working as secretary general for the biggest Moslem party in Indonesia, PKB. As a member of a prominent political dynasty in Indonesia--her great grandfather founded NU and remained loved to this day,her grandfather was a minister in President Soekarno's cabinet, and her father, President Wahid, was the 4th President of Indonesia. Yenny is expected to follow on the footstep one day. At the moment, the Harvard graduate prefers to focus on her work on the grassroots, trying to empower many marginalized women through her foundation, The Wahid Institute.
Sun Jing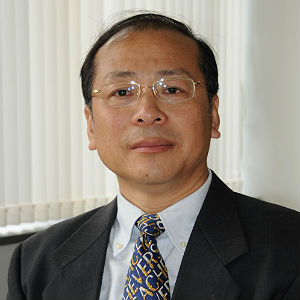 After graduating from Sichuan University Department of Philosophy and the Chinese Academy of Social Sciences, he began doing research at the University of Tokyo Faculty of Letters, Indian Philosophy Research Department. In 1986 he became an associate professor at the Chinese Academy of Social Sciences, Institute of Philosophy; he became an assistant professor there in 1993 and has been a professor there since 1997.
He is serving concurrently as general director of International Association of I-Ching Studies and as director of the International Association of Confucian Studies.
Chongsuh Kim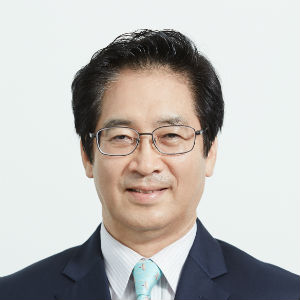 Chongsuh Kim is an emeritus professor at Seoul National University and Chair of Steering Committee, the 5th World Humanities Forum to be held in Korea this year. He was educated at Seoul National University and earned his Ph. D. in Religious Studies at University of California, Santa Barbara. He has gained extensive academic experience as a professor at The Academy of Korean Studies in Korea and as a visiting scholar at Harvard University, University of California at Berkeley and University of Tokyo. In addition to serving as Vice President and Dean of Graduate School, Seoul National University and President of The Korean Association for the Religious Studies, he has been Chair, Presidential Committee for Humanity and Cultural Enrichment in Korea.
Goshin Shaku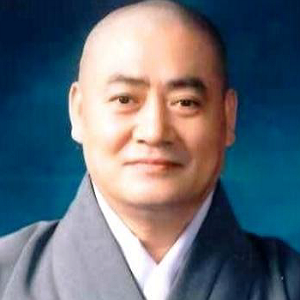 Graduated from Komazawa University, Department of Buddhism. He completed master's and Ph.D. degrees at Komazawa University, School of Humanities with a major in Buddhism. He holds a Ph.D. (Buddhist studies). He is a collaborating researcher at the University of Tokyo, Institute of Oriental Culture. Having taught as an instructor at the University of Tokyo, he currently serves as a director at the Nakamura Hajime Eastern Institute; associate director of Nakamura Hajime Memorial Hall Eastern Thought and Culture Institute; and visiting fellow at the University of Sri Lanka at Peradeniya. He specializes in Indian Buddhist studies and East Asian Buddhism. Among other awards, he has won honorable mention for the Nakamura Hajime Eastern Studies Academic Prize.
His writings include A Comprehensive Study of Symbiosis in Indian and Buddhist Thought : With reference to the Construction of Thought and Its Transformation (2017). and Investigation of religious pluralism and the concept of tolerance in India (2010).
Alubomulle Sumanasara Thero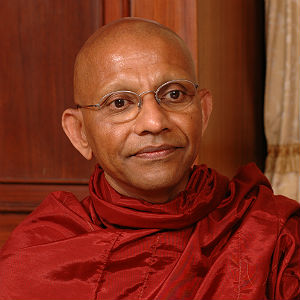 Alubomulle Sumanasara Thero is a Buddhist monk schooled in the Theravada tradition. Born in Sri Lanka in April 1945, he became a monk at the age of 13. He taught Buddhist philosophy at the University of Kelaniya. In 1980, he came to Japan as a government-sponsored study abroad student and graduate research at Komazawa University. Currently, he preaches Buddhism and instructs on meditation at the Japan Theravada Buddhist Association. In addition, he has appeared on the NHK educational show Kokoro no Jidai (Age of Spirituality) and teaches at the Asahi Culture Center. He has also written numerous books, including Buddha no Koufukuron (Buddha's Theory of Happiness), Mujyo no Mikata (Understanding Impermanence), and Okoranaikoto (Freedom from Anger) (each in Japanese), and Freedom from Anger (in English).
Hiroshi Marui
Graduated from Department of Indian Philosophy and Indian Literature, Faculty of Letters, the University of Tokyo He completed a master's program of Indian Philosophy and Buddhist Studies, Graduate School of Humanities, the University of Tokyo and earned credits in the Ph.D. program at the same Graduate School before leaving the school. He studied at University of Pune in India as a casual student financed by Japan's Ministry of Education. He holds a Ph.D. (Literature) and was a Council Member of the Science Council of Japan, terms 20-22. He is currently the chief director of the Nakamura Hajime Eastern Institute and a specially appointed professor at Musashino University. He specializes in Indian philosophy. He was awarded the Nakamura Hajime Eastern Studies Prize 2013 (Academic Achievement Prize), as well as the ICCR Distinguished Indologist Award 2017 from the government of India.
His writings include A Study of Jayanta: The Nyāya Philosophy as Described by a Medieval Kashmirian Poet (2014) and Learning from "The Last Journey of the Buddha" (2016).
Ambeth R. Ocampo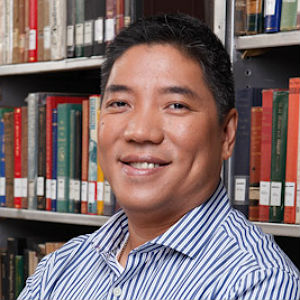 AMBETH R. OCAMPO is a public historian whose research covers the late 19th century Philippines: its art, culture, and the people who figure in the birth of the nation.
Dr. Ocampo is Associate Professor and former Chairman of the Department of History, Ateneo de Manila University. He served as Chairman, National Commission for Culture and the Arts (2005-2007) and Chairman, National Historical Commission of the Philippines (2002-2011). His popularization of Philippine history and culture has been recognized through numerous awards including State decorations from France, Spain and the Philippines. He is Advisory Board Member, Japan Foundation Asia Center.
Dr. Ocampo has published 39 books, writes a widely read Editorial Page column for the Philippines Daily Inquirer, and moderates a growing Facebook Fan Page.
Kitti Prasirtsuk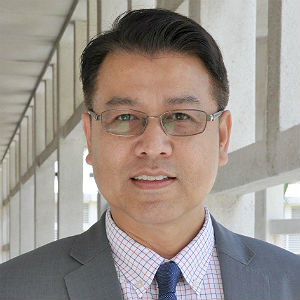 Kitti is Vice Rector for International Affairs at Thammasat University in Thailand, after serving as the Director at the Institute of East Studies there for five years. He is a member of strategic committee at the Thai Ministry of Defence and advisory committee for the Asia Center under the Japan Foundation.
His current research is on soft power in East Asia, U.S.-Thailand alliance, and Japan-Thailand relations at the local level. He taught International Relations in Southeast Asia as a visiting professor at UC Berkeley, and gave lectures at Peking, Munich, Waseda, Yonsei University, and ANU. Kitti is regularly invited to speak at international symposia, including at Columbia University, Nikkei Forum, Beijing Forum, and Jeju Forum.
Nobukatsu Kanehara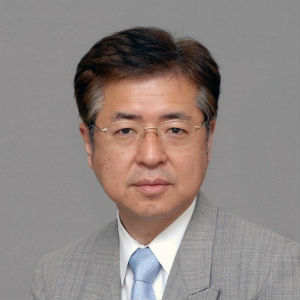 After graduating from the University of Tokyo law department in 1981, Kanehara entered the Ministry of Foreign Affairs. Kanehara has served as the International Legal Affairs Division Director, Policy Planning Division Director, Japan-U.S. Security Treaty Division Director, Minister of the Japanese Embassy in the United States of America, Foreign Policy Coordination Division Director, European Affairs Bureau Deputy Director-General, Foreign Policy Bureau Deputy Director-General, Minister of the Japanese Embassy in the Republic of Korea, Deputy Director of the Cabinet Intelligence and Research Office, and the International Legal Affairs Bureau Director-General. Kanehara has held his current post since 2012. Since 2014 he has served as Deputy Director of the National Security Secretariat. He has had two books published, A grand strategy of Japan for the 21st century (Nikkei Publishing, 2011) and Essay collection: The Diplomacy of Japan and Comprehensive Security (co-authored, Wedge, 2011).
Tunku Zain Al-'Abidin ibni Tuanku Muhriz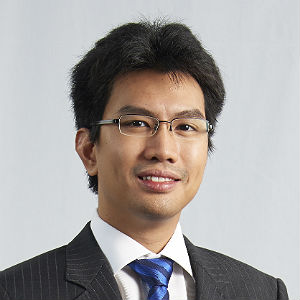 Tunku Zain is Founding President of the Institute for Democracy and Economic Affairs, a trustee of several foundations, a director of two public listed companies, a patron to educational organisations, a columnist in three newspapers and a Royal Fellow of the National University of Malaysia. After graduating from the London School of Economics he worked in the UK Houses of Parliament, the World Bank, United Nations Development Programme and the Lee Kuan Yew School of Public Policy.
Ketty Wan-i Chen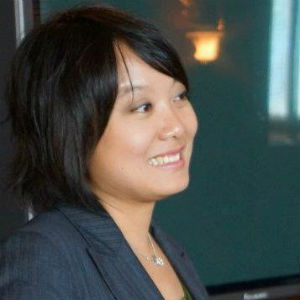 Dr. Ketty Wan-i Chen is the Vice President of the Taiwan Foundation for Democracy (TFD). She is responsible for overseeing international affairs and general administration at the TFD. Dr. Chen is a political scientist by training and received her doctoral degree in political science from the University of Oklahoma, specializing in comparative politics, democratization, international relations and political philosophy. Dr. Chen also holds two Master's degrees in political science and international relations from the University of Oklahoma and dual Bachelor of Arts degrees in political science and psychology from the Southern Methodist University in Dallas, Texas. Dr. Chen has been referenced in a number of publications and international media outlets, including the Wall Street Journal, the Associated Press, Al Jazeera, LA Times, New York Times, Financial Times, Voice of America, BBC-World, Libération and Le Monde. Her book chapters on Taiwan's social movement in Taiwan's Social Movements Under Ma Ying-jeou and Cities Unsilenced were published in 2017. Dr. Chen is currently authoring a book on the political resilience of the Kuomintang.
Pema Khandu
Chief Minister of Arunachal Pradesh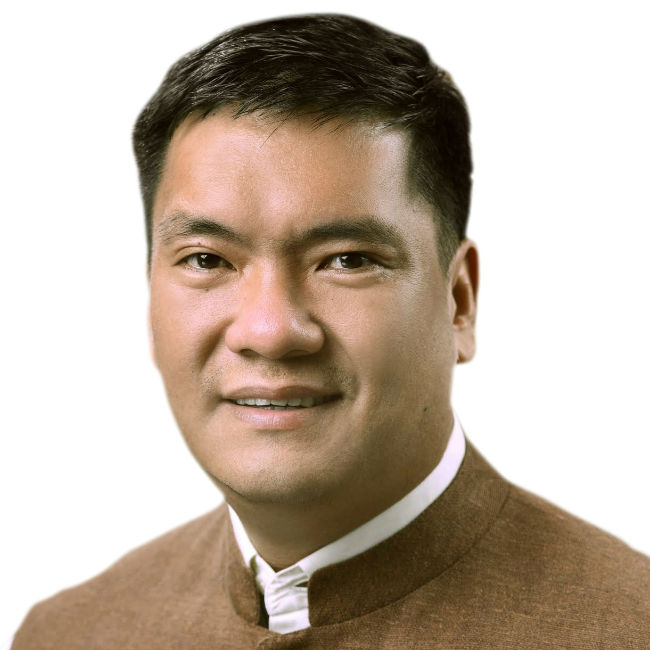 Mr. Pema Khandu was born in 1979 at Gyangkhar village Lemberdung, Arunachal Pradesh. He did his schooling from Tawang and Itanagar. He graduated from Hindu College, Delhi University in 2000. Since June 2011, he served on various ministers' level such as Minister of Tourism, Urban Development and Water Resources in the state government. He is the Chief Minister of Arunachal Pradesh since 17th July 2016 to till date. He has keen interest in Buddhist philosophy and is Chairman of Bodhi Language and literature promotional society. He organized several times plantation drives, periodical medical camps, educational promotional programmes in various blocks of Tawang district. He is keen for developing a peaceful and socio-economically vibrant Arunachal Pradesh with cordial relation among tribes of the state. He is focused on governance related systemic reforms to build a solid bedrock of administration.
Sujit Dutta
Prof. Sujit Dutta is Senior Fellow and head of the China Programme at the Vivekananda International Foundation, a leading think tank based in New Delhi. He is also the Editor of the VIF's forthcoming publication National Security. Dutta is a specialist on Conflict Analysis, Contemporary China, Indian Foreign Policy and Strategic Thought, and India-China relations.
Till recently he was Professor in Conflict Analysis and Peace Building and held the M.K. Gandhi Chair in the Nelson Mandela Centre for Peace and Conflict resolution at the Jamia Millia Islamia, Central University, New Delhi.  He was formerly, Senior Fellow and head of the East Asian Studies Programme at the Institute for Defence Studies and Analyses, New Delhi.
Jorge Villamor Tigno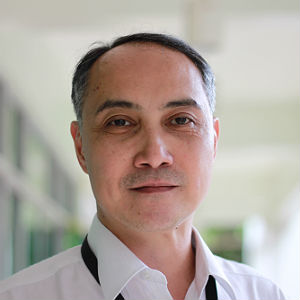 Jorge Villamor TIGNO is professor at the Department of Political Science at the University of the Philippines–Diliman. He has a doctorate in public administration from the same university and is a member of the Philippine Political Science Association and a Fellow at the Social Weather Stations. He is currently based on a Ministry of Foreign Affairs (MOFA) Taiwan Fellowship at Wenzao Ursuline University of Languages in Kaohsiung City until the end of July 2018. His research interests are in the areas of Asian labor migration and comparative immigration policies; democratic consolidation and transitions in Southeast Asia; political philosophy; non-governmental organizations and state-civil society relations in the Philippines; and electoral and political reforms in developing states.
Tsuneo Watanabe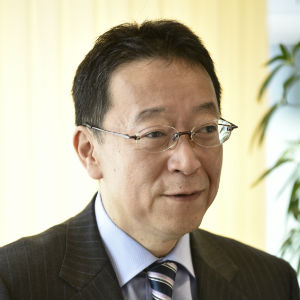 In October 2016, Watanabe joined the Sasakawa Peace Foundation after serving a senior fellow and a director of foreign & security policy research at the Tokyo Foundation since 2009. He served a senior fellow at the Mitsui Global S trategic Studies Institute in Tokyo from 2005 to 2009. In 1995, Watanabe joined Center for Strategic & International Studies (CSIS) in Washington, D.C. He served a visiting research scholar, research associate, fellow and senior fellow until 2005. He is currently adjunct fellow of the CSIS. His publications include Powers out of Control: Why the US, China & Russia are Threats to the World? [co-authored. in Japanese] (Kodansha, 2017), Are the US and China Trading Places in 2025: History Tells the Truth of the US-China Relations [in Japanese] (PHP Research Institute, 2011). Watanabe received his D.D.S. from Tohoku University in Japan and his M.A. in political science from the New School for Social Research in New York.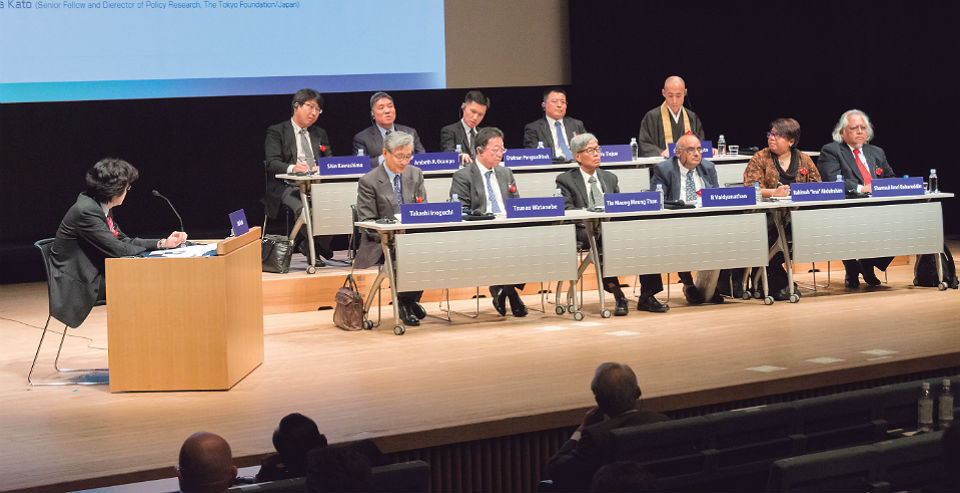 This is the certified project of beyond 2020 program.