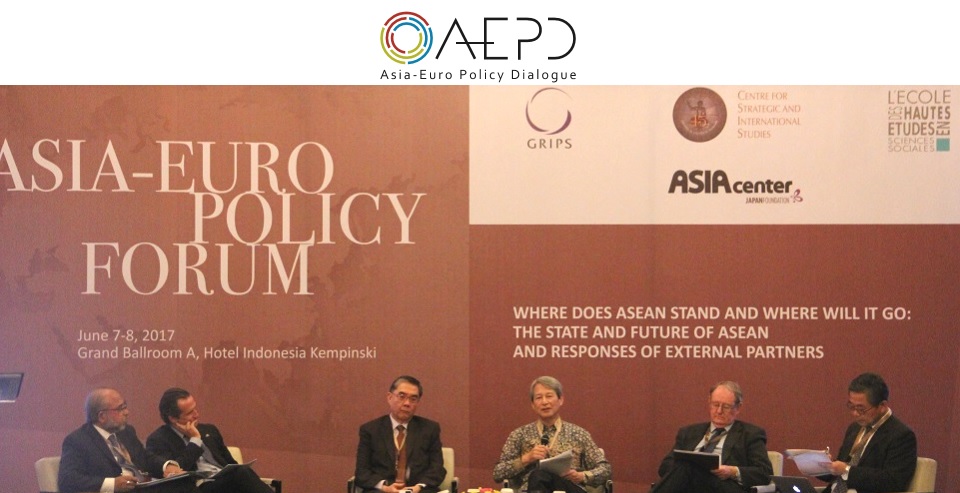 The Asia-Euro Policy Dialogue (AEPD) is a global policy research project which aims to encourage exchange among ASEAN countries, Europe, and Japan on Southeast Asia's current and future policy conditions. This project attempts to increase awareness on the political and economic significance of Southeast Asia in the international community and also to further operationalize the policy lessons for ASEAN countries by sharing past experience and knowledge from Europe and Japan. The AEPD aims to seek new directions for policy research and policy proposals on the future of Southeast Asia.
This project consists of the Policy Forum which is to be held annually and the Fellowship program for scholars and policy makers in the field.
The AEPD is co-organized by the Japan Foundation Asia Center and the National Graduate Institute for Policy Studies (GRIPS)/Grips Alliance. The Centre for Strategic and International Studies (CSIS, Indonesia) and l' École des hautes études en sciences sociales (EHESS, France) are the core institutions in managing the project in ASEAN and Europe respectively, and the Grips Alliance of Japan functions as the general secretariat.
This project in FY2017 and FY2018 is certified as beyond 2020 program.