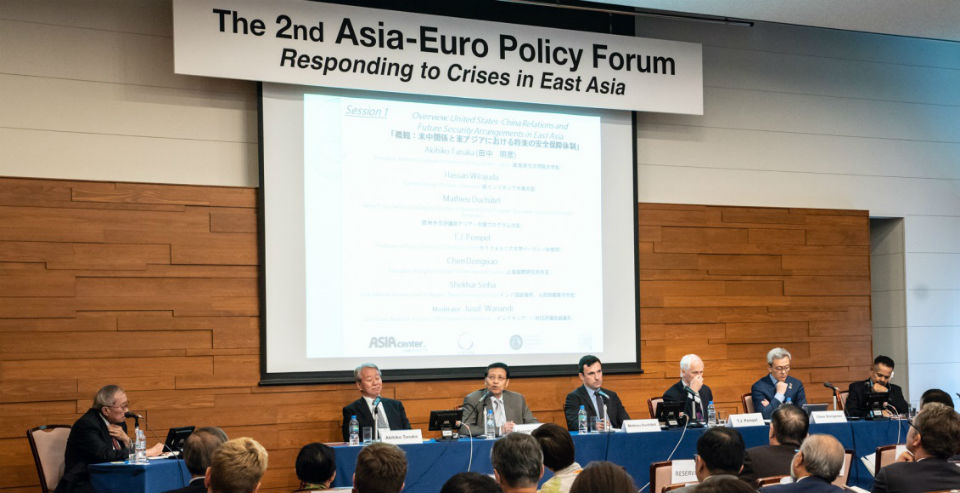 *This event has finished. Click below to read the summary and the report.
http://www3.grips.ac.jp/~aepd/policy/report.html?id=1010
"The 2nd Asia-Euro Policy Forum: Responding to Crises in East Asia" will be held on 12-13 September, 2018 at the International House of Japan, Tokyo.
The Asia-Euro Policy Forum is held as part of the trilateral policy research project Asia-Euro Policy Dialogue (AEPD) which aims to strengthen exchanges on Southeast Asia's current reality and beyond among ASEAN countries, Europe and Japan.
This annual forum is a valuable opportunity for prominent researchers and policy-makers from different countries to exchange views and opinions on key policy areas. There will be participants from Southeast Asia, Europe, and Japan, as well as key players such as Republic of Korea, China, India, Australia and the United States.
The first policy forum was held on 7-8th June, 2017 in Jakarta under the overall theme "Where does ASEAN stand and where will it go: the state and future of ASEAN and response of external partners". This year, the second policy forum will discuss pressing issues under the title "Responding to Crises in East Asia."
Forum Details
Time & Date
12th September 1:30 p.m. to 4:30 p.m. (Doors open at 12:30 p.m.)
13th September 9:30 a.m. to 6:40 p.m. (Doors open at 8:30 a.m.)
Venue

"Iwasaki Koyata Memorial Hall" International House of Japan Access
5-11-16 Roppongi, Minato-ku, Tokyo google map

Language
English/Japanese (Simultaneous interpretation available)
Fee
Free (Registration required)
Organizers
The Japan Foundation Asia Center
National Graduate Institute for Policy Studies, Japan/GRIPS Alliance, Japan
Centre for Strategic and International Studies, Jakarta
L'Ecole des Hautes Etudes en Sciences Sociales, France
Registration
Please visit the following site for registration
Asia-Euro Policy Dialogue Official Website
Inquiries
Office for Asia-Euro Policy Forum,
National Graduate Institute for Policy Studies/GRIPS Alliance, Japan
Tel: 03-6439-6064
Program
12 September, Wednesday
1:35 p.m. Greeting from organizer
Manabu Horii, Parliamentary Vice-Minister for Foreign Affairs, Japan
1:45 p.m. Introductory Remarks
Yutaka Iimura, Ambassador Chairman, Asia-Euro Policy Dialogue, Japan
2:00 p.m.

Session 1
Overview: United States-China Relations and Future Security Arrangements in East Asia

Akihiko Tanaka, President, National Graduate Institute for Policy Studies, Japan
Hassan Wirajuda, former Foreign Minister, Indonesia
Mathieu Duchâtel, Deputy Director, Asia and China Program, European Council for Foreign Relations
T.J. Pempel, Professor of Policy Science, UC Berkeley, USA
Chen Dongxiao, President, Shanghai Institute for International Studies
Shekhar Sinha, Vice Admiral, Former Chief of Western Naval Command, India

Moderator: Jusuf Wanandi, Vice Chair, Board of Trustees, CSIS Foundation, Indonesia
13 September, Thursday
9:30 a.m.

Session 2
Key Challenge One: South China Sea and Impact on ASEAN Stability

Yoji Koda, former Commander of Self Defense Fleet, Maritime Self Defense Forces, Japan
Rizal Sukma, Ambassador of Indonesia to United Kingdom
Bill Hayton, Associate Fellow, Asia-Pacific Program, Chatham House, UK
Amy Searight, Senior Advisor and Director, Southeast Asia Program, CSIS, USA
Zhu Feng, Executive Director, China Center for Collaborative Studies of the South China Sea, Nanjing University

Moderator: Philips Vermonte, Executive Director, CSIS, Indonesia

11:25 a.m.

Session 3
Key Challenge Two: North Korea's Nuclear Development and Geopolitical Implication

Narushige Michishita, Professor, National Graduate Institute for Policy Studies, Japan
Antoine Bondaz, Research Fellow at the Fondation pour la recherche stratégique/Senior Lecturer at Sciences Po, France
Scott Snyder, Director of the program on US-Korea Policy, Council on Foreign Relations, USA
Cheng Xiaohe, Associate Professor, Renmin University of China
Kang Choi, Vice President, Asan Institute for Policy Studies, Korea

Moderator: Yutaka Iimura, Senior Fellow, GRIPS Alliance, Japan

2:10 p.m. Keynote Speech
by Pascal Lamy, former Director-General of World Trade Organization
2:35 p.m.

Session 4
Key Challenge Three: Free Trade vs Protectionism in the Era of Populism

Shujiro Urata, Professor, Dean, Graduate School of Asia-Pacific Studies, Waseda University, Japan
Mari Pangestu, Member of the Board of Trustees, CSIS Foundation, Indonesia
Pascal Lamy, former Director-General of World Trade Organization
Peter Petri, Professor, Brandeis International Business School, USA

Moderator: Narongchai Akrasanee, former Minister of Energy, Thailand

4:35 p.m.

Session 5
ASEAN and External Partners – How External Partners Contribute to Stability and Prosperity of ASEAN

Takashi Shiraishi, Chancellor, Prefectural University of Kumamoto, Japan
Yukiko Okano, Director, Country Assistance Planning Division I, International Cooperation Bureau, Ministry of Foreign Affairs, Japan
Ong Keng Yong, former Secretary General of ASEAN
Alexander McLachlan, Senior Adviser, Strategic Planning Division, European External Action Service
Richard C. Smith, Non Resident Fellow, Lowy Institute for International Policy, Australia

Moderator: Tan Sri Rastam Mohd Isa, Chairman, Institute of Strategic International Studies, Malaysia

6:20 p.m. Closing Remarks

Jusuf Wanandi, Vice Chair, Board of Trustees, CSIS Foundation, Indonesia
Sébastien Lechevalier, President, Fondation France-Japon de L'Ecole des
Hautes Etudes en Sciences Sociales, France
Hiroko Tsuka, Executive Vice President, Japan Foundation
For the 1st Asia-Euro Policy Forum in Indonesia, please visit the following site.
https://asiawa.jpf.go.jp/en/culture/news/n-aepd-pf2017/