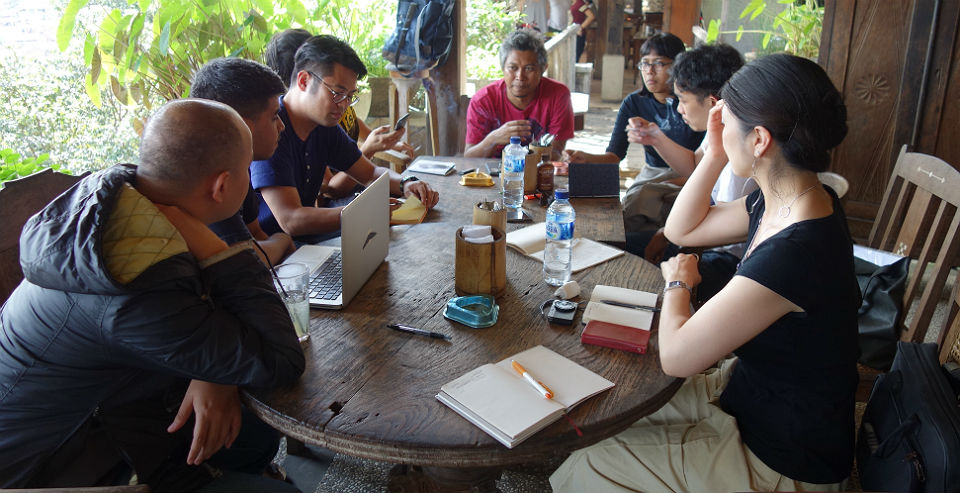 In recent years the Japan Foundation Asia Center has organized a series of collaborative projects by young curators representing the next generation in Southeast Asia and Japan: "Media/Art Kitchen" (2013–14); "Run & Learn" (2014–15); and "Condition Report (2015–17).
Through multilayered structures integrating theme selection, workshops, research, discussions, and exhibitions, the three projects each had a talent-development aspect—building networks, fostering solidarity, and developing the participants' exhibition-making skills through collaboration—which in turn raised the quality of each project. The projects were held not only in major cities like Jakarta and Bangkok, but also in the regional cities where the curators actually lived, such as Penang, Kota Kinabalu, Semarang and Aomori.
Adding new participants alongside those who took part in the previous projects, this forum will address topics such as how to define the role of the curator, what art activities should seek to achieve, and how to guarantee the openness of such programs. The forum is divided into three themed sessions: (1) Public, (2) History, and (3) Education.
Through the exchange of experiential knowledge, the raising of critical issues, and discussion, the forum will investigate ideas for improving conditions for art in the region while also clarifying the tasks for curation in contemporary art at this moment in 2018.
↓Click to Enlarge(PDF:194kb)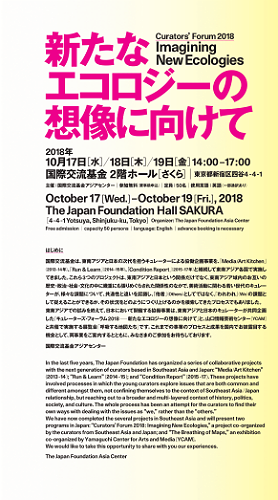 Event detail
Dates
October 17 (Wed.) 2:00 p.m. to 5:00 p.m. Session 1: Public
October 18 (Thu.) 2:00 p.m. to 5:00 p.m. Session 2: History
October 19 (Fri.) 2:00 p.m. to 5:00 p.m. Session 3: Education
Venue

The Japan Foundation (Main Building) Hall "Sakura" Access
4-4-1 Yotsuya, Shinjuku-ku, Tokyo google map

Language
Japanese-English simultaneous interpretation available
Admission
Free, capacity 50 persons (Advance booking is necessary)
Organizer
The Japan Foundation Asia Center
How to apply
Please send the following information.

E-mail: jfac_visual_arts@jpf.go.jp

1. Desired date
2. Name
3. Affiliation / Occupation
4. Phone number
5. E-mail address

Inquiries
Yasuko Furuichi (Ms.)
Arts, Culture, and Exchange Section 1
The Japan Foundation Asia Center
Tel: 81-3-5369-6140
E-mail: jfac_visual_arts@jpf.go.jp
Panelists
Ayos Purwoaji (Curator, Writer / Indonesia)
Che Kyongfa (Curator, Museum of Contemporary Art Tokyo / Japan)
Goh Sze Ying (Assistant Curator, National Gallery Singapore / Singapore)
Hasegawa Arata (Curator / Japan)
Horiuchi Naoko (Curator, Arts Inisiative Tokyo [AIT]  / Japan)
Kumakura Haruko (Assistant Curator, Mori Art Museum / Japan)
Le Thuan Uyen (Curator / Vietnam)
Leonhard Bartolomeus (Researcher, Member of ruangrupa  / Indonesia)
Maung Day (Artist, Poet / Myanmar)
Bill Nguyen (Curator, The Factory Contemporary Arts Centre/ Vietnam)
Nishida Maki (Curator / Japan)
Vipash Purichanont (Assistant Curator, Thailand Biennale, Krabi 2018 / Thailand)
Selene Yap (Curator / Singapore)
Shiraki Eise (Learning Curator, Mori Art Museum / Japan)
Syafiatudina (Curator, Member of KUNCHI Cultural Studies Center / Indonesia)
Lisa Ito-Tapang (Instructor, College of Fine Arts, University of the Philippines)
Beverly Yong (writer /editor of Rogue art / Malaysia)
Program
Session 1: Public
Curatorial practice is shaped by the imagination of or desire for a public. But the term public has taken on increasing complexity as contemporary art attempts to reach out to broader ranges of social strata through different modes of presentation and engagement. This session reflects on the potentiality and significance of shaping publics in both institutional and community-based practices. Is it possible for curatorial practices in larger art institutions to challenge the modernist idea of the public as a homogeneous mass of subjects? How can independent, community-based projects imagine/formulate new publics and their agency for social change?
[Moderators] Che Kyongfa+ Horiuchi Naoko
[Speakers] Goh Sze Ying, Kumakura Haruko, Ayos Purwoaji, Maung Day, Selene Yap
Session 2: History
Viewed from both art historical and sociopolitical perspectives, history offers a fascinating departure point for many artistic productions. Historical events are often seen as interdependent, and are constantly being negotiated, redefined, and challenged in relation to present identities, rituals, and values. How do artists and curators view the making and remaking of history? In other words, how do they process, contextualize and interpret historical/contemporary references? This discussion highlights some existing trajectories of curatorial work concerning the conception of history, the awareness of issues of speaking for and/or categorizing others, as well as the visualization of such issues in different forms.
[Moderators] Beverly Yong+ Che Kyongfa
[Speakers] Vipash Purichanont, Lisa Ito-Tapang, Le Thuan Uyen, Hasegawa Arata, Nishida Maki
Session 3: Education
The diversification of artistic practices and new approaches in curatorial activities that involve communities or reflect specific histories and contexts has resulted in the expansion of related programming such as educational events, artist and curatorial residencies, publications, archive making, and talks. Creating learning platforms for diverse audiences is becoming a core aspect in connecting exhibitions with broader social and political contexts. What kinds of debate and dialogue in art can we develop with other fields of knowledge? And what kinds of knowledge do audiences expect to obtain from education through art? This session aims to discuss alternative models of art education/learning programs organized by museums, artists collectives, and alternative spaces.
[Moderators] Horiuchi Naoko+Beverly Yong
[Speakers] Syafiatudina, Bill Nguyen, Leonhard Bartolomeus, Shiraki Eise
Wrap-up
This is the certified project of beyond 2020 program.