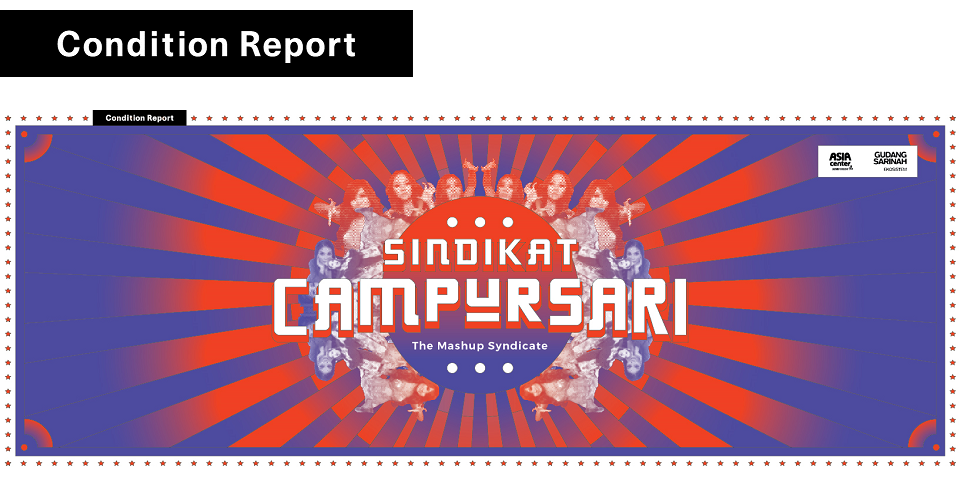 The Japan Foundation Asia Center will present "Condition Report" in 2017, a collaborative art project by curators from Japan and Southeast Asian Countries.
"Condition Report" is composed two parts. The first part is four collaborative exhibitions in Jakarta, Kuala Lumpur, Manila and Bangkok. The second part is 14 local exhibitions.
"Sindikat Campursari | Mashup Syndicate" in Jakarta is the first collaborative exhibition of this project.
*Six curatorial focal points served as a foundation of making the artist / collective list:
1: space / architectural 2: performativity 3: participation 4: media / technology 5: educational 6: institutional sustainability
Event detail
Title
Condition Report: Sindikat Campursari | Mashup Syndicate
Period
January 14 – February 14, 2017
Organizers
Gudang Sarinah Ekosistem
Address : Jalan Pancoran Timur II No. 4, 
Jakarta Selatan 12780 Indonesia


Opening hours :

1:00 p.m.–9:00 p.m. | Monday - Friday, 11:00 a.m.–9:00 p.m. | Saturday - Sunday
Close on National Holiday
Admission
Free
Organizers
Gudang Sarinah Ekosistem

The Japan Foundation Asia Center

Curators
Ade Darmawan[Director, ruangrupa](Indonesia)
Iida Shihoko[Independent Curator / Associate Professor, Tokyo University of the Arts](Japan)
Co-Curators
Fan Chon Hoo [Curator, Run Amok Gallery](Malaysia)
Le Thuan Uyen [Curator, Nha San Collective](Vietnam)
Vittavin Leelavanachai [Graphic Designer](Thailand)
Yoshizaki Kazuhiko [Curator, Museum of Contemporary Art Tokyo](Japan)
Artists/
Collectives
Ardi Gunawan (Indonesia)
Arie Syarifuddin (Indonesia)
Buka Warung (Indonesia)*
Buku Jalanan (Malaysia)*
Erika Ernawan (Indonesia)
Kato Tsubasa (Japan)
Lab Tanya (Indonesia) *
Then Group (Vietnam)*
Waft Lab (Indonesia)*

*collectives
[The brochure of "Condition Report" (PDF/4.48MB)]
[Curators' Message]
As a socially viable approach in various local conditions, collective practices have played a significant role in contemporary art scene in Southeast Asia, particularly after 1998 in Indonesia. This project – Sindikat Campursari, intends to go further in speculating on art collective practices in broader contexts in the society.
Campursari, literally means "mixture of essence," is a music genre that has evolved in Java. It is a crossover of several contemporary music genres, mainly Langgam Jawa and Dangdut. It combines western musical instruments such as guitar and keyboard with Javanese gamelan. The idea of mixing,
which campursari suggests, aptly describes the intention of this project that fuses collectives and individual artists from diverse backgrounds in order to challenge the mode of exhibition making, art making and practice of collectivism.
Sindikat Campursari aims to address the inter-relationship between art collectives/initiatives and the individual art practitioners, closely look at how they could influence each other and how individual artistic practice could be developed from within, or vice-versa. The exhibition itself becomes a platform for collaboration and experimentation, and all the participating artists and collectives are considered as a member of one temporal collective.
While working on their own projects, they are invited to work on-site, and collaborate with other participants to form the exhibition, to engage with local communities and interact with existing environments. The participants, along with the curatorial team, will work on the production budget and exhibition space design of Art Collective Compound (ACC) space in Gudang Sarinah Ekosistem, or existing environments at the warehouse during the three weeks of preparation. The newly formed relationships and ideas generated from this temporal social symbiosis will generate content, and form part of the exhibition. Ideally, it will continue to develop and evolve during and even after the exhibition.
Throughout the exhibition period, talk and forum on topics related to collectivism will be held, in particular on the progression and development of collectivism and its sociopolitical repercussions.
Rather than taking a representational approach, Sindikat Campursari speculates on sustainability of collectivism in a form of microeconomics. In other words, it is an open-ended project and experiment of how art collectives could survive today̶ allowing us to take risks in making mistakes, or even to fail.
(Ade Darmawan & Iida Shihoko)