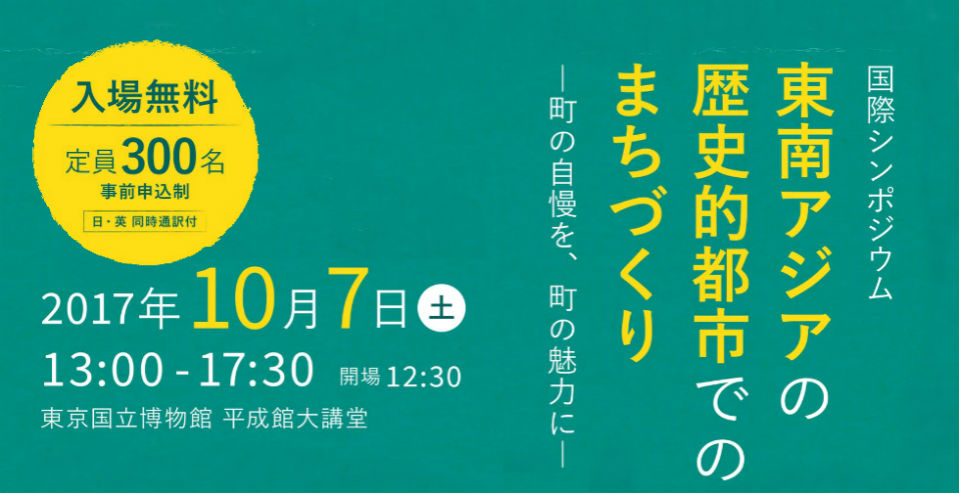 The Southeast Asian region is home to a multitude of fascinating historical cities. Some of these cities, such as Hue and Hoi An (Vietnam), Vigan (Philippines), and Penang and Malacca (Malaysia), are registered as World Heritage Sites and others, such as Yangon (Myanmar), house a number of cultural heritages. These historical cities are striving to contribute to cultural tourism and social progress through the preservation and conservation of their historical buildings. While initiatives are underway to preserve these historical cities amid the rapid economic development, change in social conditions, and diversification of people's values, there are still many challenges that need to be addressed.
To ensure that both the residents and public administration work toward a sustainable urban development that respects history and culture, and to inherit and pass on the historical environment to future generations, it is important for all parties to have a shared future vision, reach a mutual agreement to work together, and to reflect their ambitions in the overall plan. There is a need for constant dialogue among residents, public administrations, and experts in order to build cooperative relationships that are based on mutual understanding.
This international symposium brings together experts and practitioners involved in the preservation and utilization of the historical cities of ASEAN countries into a dialogue. Its goal is to facilitate future cooperation through exchanging opinions and sharing common understandings of the current conditions and issues in each country.
Click to Enlarge (PDF: 956KB)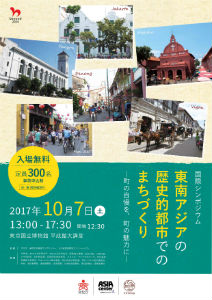 Event detail
Title
International Symposium
Sustainable Development of Historical Cities in Southeast Asia
Date
Saturday, October 7, 2017
Time
1:00 p.m. - 5:30 p.m.
* Doors open: 12:30 p.m.
* Entering and exiting during the symposium is allowed
Venue

Heiseikan Auditorium, Tokyo National Museum
Official Access Page

* Please enter from the West gate of the museum.

Admission fee
Free
* Pre-registration required
* First-come-first-served basis
* 300 seats.
Program

Opening Remarks

Yoshiaki Ishizawa 

(Chairperson, JCIC-Heritage/Director, Sophia Asia Center for Research and Human Development)

Keynote Lecture Conservation is about people: Preserving the historic Urban landscape and sustaining developments in Asian cities

Johannes Widodo 

(Associate Professor, National University of Singapore)

Lecture 1 Sustaining the Living Heritage in George Town, Challenges of a World Heritage Site

Clement Liang

(Council Member, Penang Heritage Trust, Malaysia)

Lecture 2 Conservation of Yangon's Heritage as a Tool for Sustainable Development

Moe Moe Lwin 

(Director/ Vice Chairman, Yangon Heritage Trust, Myanmar)

-Break-

Lecture 3 The Small City with Big Dreams: The World Heritage City of Vigan and its Heritage-Driven Sustainable Development

Eric Zerrudo

(Associate Professor/Director, University of Santo Tomas Center For Conservation of Cultural Property and Environment in the Tropics, Philippines)

Lecture 4 The Conflict Resolution between Hoi An Cultural Heritage Preservation and the development in Contemporary Society

Nguyen Su 

(Former Chairman, Hoi An Municipal People's Council, Vietnam)

Lecture 5 Sustainable Development of the Old City of Hoi An and Japan's International Cooperation

Hiromichi Tomoda 

(Director, Showa Women's University Institute of International Culture)

Discussion

Moderator: Shoichi Ota 

(Associate Professor, Kyoto Institute of Technology)

Panelist: The Five Speakers

Closing Remarks

Kunikazu Ueno 

(International Goodwill Professor, Nara Women's University)

Registration
Please register from the JCIC Heritage official website
Language
English-Japanese simultaneous interpretation
Organized by
The Agency for Cultural Affairs of Japan, the Japan Foundation Asia Center, and the Japan Consortium for International Cooperation in Cultural Heritage
Supported by
The Ministry of Foreign Affairs of Japan; Tokyo National Research Institute for Cultural Properties; Nara National Research Institute for Cultural Properties; the Japan International Cooperation Agency (JICA); the Sumitomo Foundation; the Mitsubishi Foundation; the Toyota Foundation; the Foundation for Cultural Heritage and Art Research; the Cultural Heritage Protection Cooperation Office, Asia/Pacific Cultural Center for UNESCO (ACCU Nara); the National Federation of UNESCO Associations in Japan; the National Museum of Ethnology, Japan; the International Council on Monuments and Sites, Japanese National Committee (ICOMOS Japan); Nippon Hoso Kyokai (NHK); the Asahi Shimbun Company; the Sankei Shimbun Co., Ltd.; the Tokyo Shimbun; Nikkei Inc.; The Mainichi Newspapers Co., Ltd.; the Yomiuri Shimbun Co.