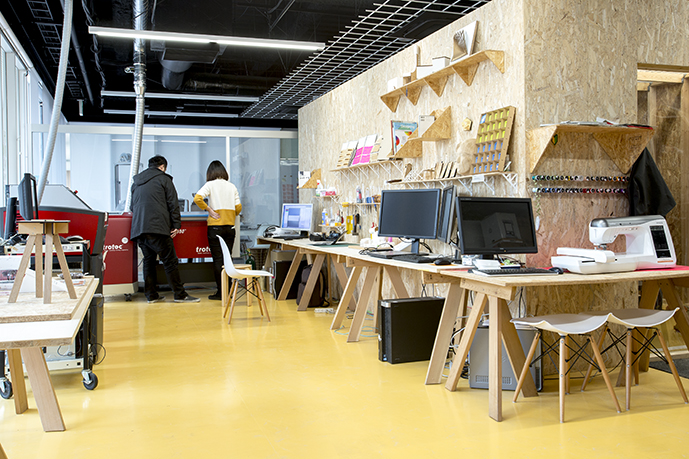 The Japan Foundation Asia Center & IAMAS Joint Workshop
Summer Camp "Hack the World"
Hack the World with Creativity Utilizing Democratized Technologies
The Japan Foundation Asia Center and Institute of Advanced Media Arts and Sciences [IAMAS] will hold "Hack the World Summer Camp", a special one-week intensive workshop on the theme of technology and creativity with participants from Japan and overseas.
Themed around the rich experiments in technology and creativity currently happening around the world, this workshop brings together participants from various countries and regions to learn practical ways to design society, communities and local areas based on the guidance of specialists in interaction design, media design, media art, and social design. In addition to studying the foundations of digital fabrication and the Internet of Things, participants will work in groups and join hands-on tours in order to acquire the means to foster creativity via a three-fold process of making, telling and thinking. By learning not only about technology and production but also theory through practical experience, the know-how cultivated by this workshop will return organically to the participants' individual activities and their communities. The one-week intensive curriculum promotes wide-ranging exchange and dialogue between participants, allowing them to share problems and understanding about each other's communities and homes, and helping to build a network of the next generation of digital creative talent.

Event detail
Title
The Japan Foundation Asia Center & IAMAS Joint Workshop
Summer Camp "Hack the World"
Hack the World with Creativity Utilizing Democratized Technologies
Workshop
Duration
August 10 (Wed)- 16 (Tue), 2016 [7days]
Venue
Institute of Advanced Media Arts and Sciences [IAMAS]
(4-1-7 Kagano, Ogaki-shi, Gifu 503-0006 JAPAN)
http://www.iamas.ac.jp/en/
Admission
Free
Participant
Numbers
Capacity: 20

* As part of its goals to advance platforms for sustained exchange and build new networks in Asia, the Japan Foundation Asia Center supports the development of future cultural leaders in Asia. The organizers will provide the following special allowance for 10 participants as Asia Center Invitees.

*Asia Center
Invitees
<Candidates>
- Nationality/citizenship/permanent residency of an ASEAN country
- Adequate past experience and record with research, creative activities and direction related to projects using digital fabrication and new media, and plans to continue working in this field
<Allowance>
- Return air fare (economy class) from a major city in the country of residence to Chubu Centrair International Airport
- Domestic transportation fees from Chubu Centrair International Airport to the venue
- Overseas Travel Insurance
- Accommodation during workshop period (August 9th–August 17th)
- Meals (lunch, dinner)
Application
Instructions
Please see the Application Instructions (PDF) for more information about Program Curriculum and Participant Requirements.
Participant
Requirements
- Able to attend all days of the workshop program
- Possesses a past record in research, creative activities or direction related to digital fabrication or new media
- Adequate English language ability for working collaboratively
<Participant Examples>
- Creators and designers involved with social activities using digital fabrication or new media
- Artists making or planning to make artwork using new media or technology
- Engineers or directors starting (or planning to start) their own makerspace
- Engineers involved with social activities using open-source software or hardware
- Educators planning to develop educational curricula not only for teaching technology but also cultivating creativity
Application
Process
Please send your application form, along with a CV and portfolio, to the following email address: summer-camp-apply@ml.iamas.ac.jp
<Items to Submit>
① Application form (word)
② CV (free format)
③ Portfolio (free format; in case of video materials, include viewing link)
Deadline
June 27 (Mon), 2016
Download
the form
Application Instructions (PDF) / Application form (word)
Download as two files:HW_application_en.zip
Notification of
Application
Results
Applicants will be informed of the result of their application by July 8 (Fri), 2016, via the email address included on their application.
Organizer
The Japan Foundation Asia Center
Co-organizer
Institute of Advanced Media Arts and Sciences [IAMAS]
Inquiries
Summer Camp "Hack the World" office
E-mail: summer-camp-apply@ml.iamas.ac.jp