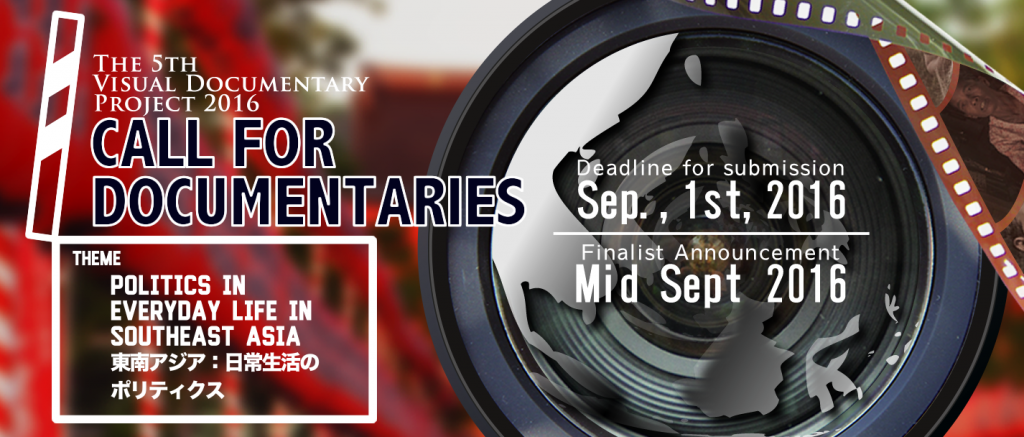 The Japan Foundation Asia Center is co-organizing "Visual Documentary Project" with the Center for Southeast Asian Studies (CSEAS), Kyoto University.
The project aims to offer a platform for Asian Filmmakers in the region to express their realities through documentaries and introduce them to a broader audience.
This year, we are calling for short documentaries under the theme of "Politics in Everyday Life in Southeast Asia" overviewing various aspects of political expression in everyday life.
VISUAL DOCUMENTARY PROJECT 2016
Deadline
Thursday, September 1, 2016
Theme
POLITICS IN EVERYDAY LIFE IN SOUTHEAST ASIA
Requirements
Applicants must be Citizens of Southeast Asia or Japan. Documentaries should be no longer than 30 minutes.
How To Apply
Please apply through the following website, where detail is given.
Invitation
to
Japan
An international selection committee will select five successful documentaries and invite the director(s) of each movie to Kyoto and Tokyo, Japan for an international screening. The Organizers will cover travel and accommodation fees.
Finalist
Announcement
The finalist will be announced in the mid September 2016.
Website
http://sea-sh.cseas.kyoto-u.ac.jp/en/vdp2016/
Organizers
The Japan Foundation Asia Center, Center for Southeast Asian Studies
Cooperation
Yangon Film School, Documentary Arts Asia, WATHANN FILM FESTIVAL, In-Docs, Bophana Audiovisual Resource Center, Viddsee
Contact
vdp@cseas.kyoto-u.ac.jp
VISUAL DOCUMENTARY PROJECT PROJECT OUTLINE
Southeast Asia is rich in its diversity of ethnic, religious and cultural composition. The region has maintained the coexistence of such diversity while at the same time achieving economic progress and becoming a hub for the flow of people, goods, money and information. Yet at present, the region is also confronted with serious issues such as the decrease of biodiversity and tropical forests, disasters, pandemics, aging population, ethnic and religious conflicts, economic differentiation and poverty.
In the face of this, how is coexistence and sustainability possible despite the diversity that exists? How can we make public resources out of the region' s social foundations which are the basis of people' s everyday lives? And, how can we connect these in a complementary way to existing systems of governance towards solving the problems and issues mentioned above?
In order to address these questions in the context of Southeast Asia, the Center for Southeast Asian Studies, Kyoto University has initiated "Visual Documentary project" which explicitly examines everyday life through a visual approach since 2012. This project aims to use visual forms of expression to complement the growing literature that exists on Southeast Asian societies. From 2014, the Japan Foundation Asia Center joins this project as co-organizer to help widely promote the richness of Southeast Asian cultures to people in Japan.
As of 2016, the project has linked up with numerous film schools in the region to help strengthen the documentary filmmaking network.