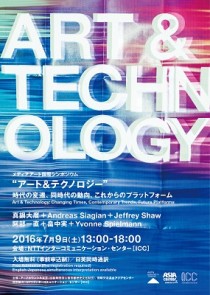 International Symposium for Media Art
Art & Technology: Changing Times, Contemporary Trends, Future Platforms
Media art is today prominent at cultural facilities, educational institutions and festivals all around the world. Though now familiar to us, media art originally emerged from the 1970s onwards out of pioneering experiments with the relationship between art and technology. Not only developing new forms of creativity, the media art movement has continued to harness the latest means for exploring issues about society and technology. Closely related to economic growth, technological advances, and globalization, media art also contributes to building new art platforms and reassessing the role of the art museum. This symposium features a range of international guest speakers introducing historical shifts in media art and case studies of contemporary practice. By reappraising the intersection between art and technology from both historical and regional perspectives, the symposium is an opportunity for newly connecting the present with the future, society with art, and the individual with the public.
We are sorry to inform you that the accommodation of the symposium has already reached its maximum capacity.
* The event will be broadcasted online: http://www.ustream.tv/channel/ntticc
The Symposium brochure download here.
Panelists
Daito Manabe (Artist / Rhizomatiks)

Photo: Kazuaki Seki

Born in 1976, Daito Manabe graduated from Tokyo University of Science and the Institute of Advanced Media Arts and Sciences. He uses programming and interaction design to create ways of discovering the inherent appeal of programming, computers, phenomena and bodies. He is the technical supervisor for the music group Perfume's live performances and has directed music videos for Nosaj Thing, FaltyDL, and Squarepusher, as well as collaborating on projects with a wide range of other musicians and artists, including Ryuichi Sakamoto. He founded Rhizomatiks in 2006 and since 2015 he has co-directed Rhizomatiks Research with Motoi Ishibashi to create projects with a stronger emphasis on research and development.
Andreas Siagian (Artist, Engineer / Lifepatch)

Photo: Sas Schilten

Based in Yogyakarta, Andreas Siagian is an artist with a background in civil engineering. His interest in interdisciplinary practice began when he was in college, where he studied programming languages to create a software for highway geometric design calculation and planning. His activity includes installations, workshops and festivals with a focus on the creative community, alternative education, DIY/DIWO culture, and interdisciplinary collaboration. Lifepatch is a citizen initiative formed in 2012 with a group of experts in other fields. It aspires to develop local resources and skills through technology and education. In 2014, Lifepatch won the Digital Communities prix at Ars Electronica.
Jeffrey Shaw (Artist)

Born 1944 in Melbourne, Jeffrey Shaw has been experimenting with new media since the late 1960s. He started creating interactive projects in the late 1980s and remains a leading figure in the field of media art. His frequent collaborations with engineers and programmers have produced many works that suggest new meanings and perspectives on technology. With facilitated by Chronus Art Center, Shanghai, the archival website "Jeffrey Shaw Compenduim 1966-2015" which includes his works and writings produced over almost half a century was opened in 2015. He was founding director of the Institute for Visual Media at the ZKM Centre for Art and Media in Karlsruhe, Germany, from 1991 to 2009. He is currently Chair Professor of Media Art and Dean of the School of Creative Media at City University, Hong Kong.
Kazunao Abe (Deputy Director, Yamaguchi Center for Arts and Media [YCAM])
Born in 1960 and graduated from Tokyo University of the Arts with a major in aesthetics and visual art theory. From 1990 to 2001, he was co-curator of Canon ARTLAB, a cultural development platform established by Canon Inc. He then joined the team preparing to launch Yamaguchi Center for Arts and Media [YCAM] and since the center opened in 2003, he has overseen all of its activities as artistic director, (since 2012 Deputy Director). Major exhibitions include Rafael Lozano-Hemmer's "Amodal Suspension," Ryuichi Sakamoto and Shiro Takatani's "LIFE - fluid, invisible, inaudible..." (2007), "Otomo Yoshihide/Ensembles" (2008), Seiko Mikami's "Desire of Codes" (2010) and international group show "Art and Collective Intelligence" (2013).
Minoru Hatanaka (Chief Curator, NTT InterCommunication Center [ICC])
Born in 1968 and graduated from Tama Art University. Minoru Hatanaka joined NTT InterCommunication Center [ICC] since 1996, prior to the facility's opening. He has curated exhibitions at ICC, including group shows such as "Sound Art - Sound as Media" (2000) , "silent dialogue" (2007), "[Internet Art Future]—Reality in Post Internet Era" and solo shows featuring the work of Dumb Type, Maywa Denki, Laurie Anderson, Kazuhiko Hachiya, Rhizomatiks, Arata Isozaki, Otomo Yoshihide, John Wood and Paul Harrison. He co-curated "Roppongi Crossing: New Visions in Contemporary Japanese Art 2004" (2004, Mori Art Museum) and curated a Japanese artist showcase at Sonar Music Festival (2006, Barcelona).
Yvonne Spielmann (New media researcher)
Professor Yvonne Spielmann is a leading scholar of technology, media and art, and has taught in Europe, America and Southeast Asia. Her publications include Hybrid Culture (2010, Suhrkamp Press/MIT Press), which examines the essential hybridity in Japan's media culture, and Contemporary Indonesian Art (2015, Logos Publishers/2016, National University Singapore Press), which discusses the close interrelationships between politics and aesthetics in contemporary Indonesian art in context of Southeast Asia. A Japanese translation of her landmark Video: The Reflexive Medium (2008, MIT Press) was published in 2011. From 2012 to 2015 she was Dean of Faculty of Fine Arts at Lasalle College of the Arts in Singapore. She is currently a visiting research fellow at NTU/Center for Contemporary Arts Singapore.
Event detail
Title
International Symposium for Media Art
"Art & Technology: Changing Times, Contemporary Trends, Future Platforms"
Time and
Date
July 9 (Sat), 2016 13:00-18:00
Venue
NTT InterCommunication Center [ICC] (Tokyo)
http://www.ntticc.or.jp/
Admission
charge
Free admission (Pre-registration required)
Language
English-Japanese simultaneous interpretation available
To
Register
Please email your name and affiliation to mediaartsympo@atelier-canon.jp , with the subject "Symposium Registration". (First-come, first served dasis)

We are afraid we have stopped accepting any more applications because there is no more place available.

Panelists
Daito Manabe (Artist / Rhizomatiks), Andreas Siagian (Artist, Engineer / Lifepatch) , Jeffrey Shaw (Artist) , Kazunao Abe (Deputy Director, Yamaguchi Center for Arts and Media [YCAM]), Minoru Hatanaka (Chief Curator, NTT InterCommunication Center [ICC]), Yvonne Spielmann (New media researcher)
Organized
by
The Japan Foundation Asia Center
Arts Council Tokyo
Special
Supported
by
NTT InterCommunication Center [ICC]
Inquiries
To Administrator of the International Symposium for Media Art (Kanon-koubou)
TEL: 050-5307-7687 (Mon.-Fri. 11am-5pm)