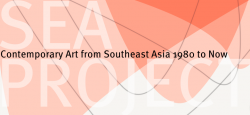 In 2015, the National Art Center Tokyo, the Mori Art Museum, and the Japan Foundation Asia Center teamed up to launch the "SEA PROJECT: Contemporary Art from Southeast Asia – 1980 to Now." This joint project conducts studies focused on the ASEAN-10 countries, building to a jointly-organized exhibition scheduled for summer 2017. With the research process by which "SEA PROJECT" conducts its studies considered an important element, the project website has been launched. There will also be some pre-exhibition events continuously taking place for the purpose of sharing this process with the public from an early stage. We are pleased to announce that, as the first edition of such events, Symposium entitled "How Has Japan Engaged with Contemporary Art in Southeast Asia?" is to be held on Saturday, February 27, 2016.
The Symposium will formally explore the questions of how art specialists in Japan have researched and introduced Southeast Asian contemporary art, how they have elaborated academic discussions on such since the 1980s, and what role Japanese performance art has played in Southeast Asia.
Event detail
Time and Date
Saturday, February 27, 2016 5:00 p.m. - 7:30 p.m.
Venue
Auditorium (3rd floor), The National Art Center, Tokyo
Presenters
Masahiro Ushiroshoji (Professor, Faculty of Humanities, Kyushu University)
Yasuko Furuichi (Art Coordinator, The Japan Foundation Asia Center)
Seiji Shimoda (Director, Nippon International Performance Art Festival [NIPAF])
Language 
Japanese (English simultaneous interpretation provided)
Capacity 
250 * First-come-first-served basis
Booking
Admission Free
Booking required: online booking available from Wednesday, February 4, 2016, on the Mori Art Museum website.
Program Schedule
Host: Naoki Yoneda (Curator, The National Art Center, Tokyo)
 5:00 p.m.
Project Introduction
Yusuke Minami (Curator, The National Art Center, Tokyo)
 5:05 p.m.
Presentations (30 min. each)
1) Masahiro Ushiroshoji
2) Yasuko Furuichi
3) Seiji Shimoda)
 6:45 p.m.
Panel Discussion & Question-and-Answer
Moderator: Mami Kataoka (Chief Curator, Mori Art Museum)
7:25 p.m.
Closing Remarks
Fumio Nanjo (Director, Mori Art Museum)