The Establishment of Five Arts Centre
Higuchi: Now I'd like to hear about Five Arts Centre, the main topic of today. Could you please briefly talk about how it was established, especially how the situation of art in Malaysia 30 years ago influenced the establishment of the Centre?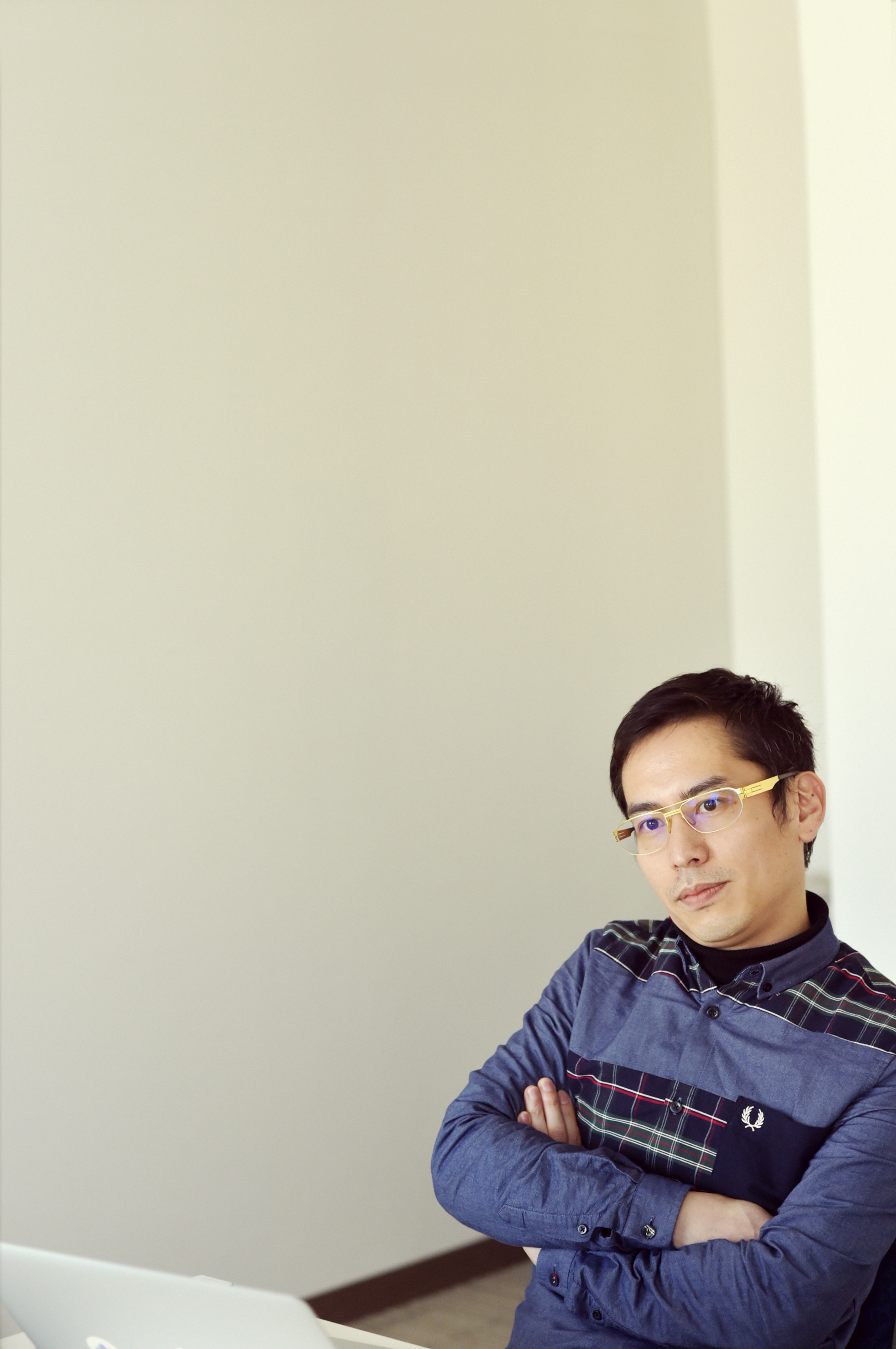 Mark: At the establishment of Five Arts Centre, the "context" was very important in its self-definition. It was established in 1984, and the crucial objective at that time was the promotion of Malaysian narratives and creations based on local realities. This current correlated with the postcolonial movements in Malaysia and other Southeast Asian countries including the Philippines, Thailand and Singapore. The five founders*4  reacted to the situation of Malaysia at that time – they were invested in creating alternative approaches, alternative voices, languages, images and forms.
*4 Chin San Sooi (director/playwright), Krishen Jit (director), KS Maniam (playwright), Redza Piyadasa (visual artist), and Marion D'Cruz (dancer/choreographer).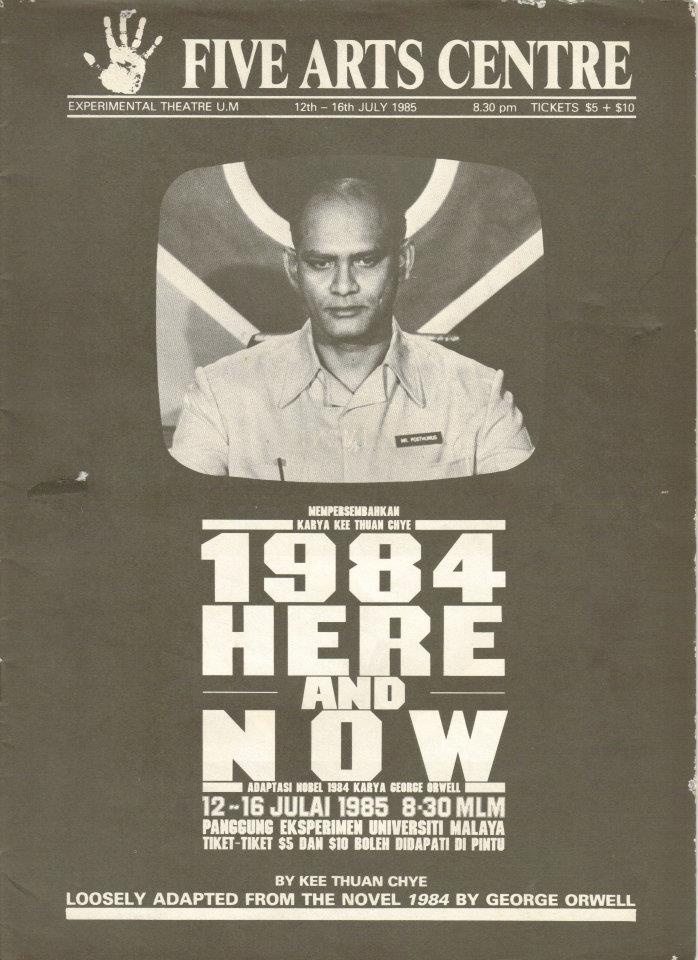 June: Which means, they incorporated reflection on the identities that surround us - what it is to be "Malaysian," what it means to be "diverse" - into their work.
Mark: Though the word "identity" sounds old-fashioned now. "Postcolonial" is an old word too.
Higuchi: Let me ask about the basic structure of the group. There were the five founders, and now how is it formed, by how many members?
June: We have 14 members in the collective*5 . They are from various backgrounds, not only artists. Of course everyone is an art supporter, but professionally they are a lawyer, someone from corporate finance, someone from the food and beverage industry in addition to a dancer, choreographer, theatre maker, filmmaker, and activists for women rights and heritage studies.
*5 At the time of interview, there were 14 members but now there are 13 members.
Mark: There is also a politician. He is in charge of the communications in an opposition party, and we call him "propaganda chief" (laughs).
Higuchi: You mean Fahmi Fadzil, the playwright/performer. He had been creating works on political themes, but I was surprised when I heard he actually became a politician.
Mark: We were too.
June: It might be difficult for the readers of this interview to understand how a collective this broad has been able to exist as a group for 30 years.
When I talked with Mark before, the word "diffuse" came up: probably the concept of "collective member" or even the definition of Five Arts Centre has been diffuse. We see Five Arts Centre as a platform and have the concepts of diversity and difference in the basis. The form of involvement can be defined by each member freely. That might be why it has continued for 30 years.
In Five Arts Centre, you are often told that you can do anything. For example, you can say you want to build a swimming pool. But someone asks you why a swimming pool has to be built, or is it okay to have a white swimming pool in the postcolonial situation, and you have to discuss endlessly (laughs). Through the discussion, the meaning of creating such a project shall be shared. I think the core of the group is in that the members, who have been seriously thinking about diversity, place importance on the process of sharing things through discussion. The diffusing energy is not unproductive but effective in stimulating diffusion. However, you have to be always aware that you need to discuss whether to build a swimming pool or not for three hours with 14 different people.
Mark: I'd like to add my personal thoughts to that. Dialogues between generations often end up being unproductive or causing conflict and tension. Sometimes the young and the older only confront and cannot communicate at all. Of course there has been such friction in us, but what is unique to Five Arts Centre is that many of us are educators. So dialogues are important.
I think dialogues are indispensable in human relationships and creations. In a theatre production, or even in weird projects like swimming pool building or house carrying, we are always aware that works are created in the middle of a continuum or timeline – of works done before, and after.
There is this awareness that we can learn from the past and /or divert to move forward.
Higuchi: Diversity must be an extremely important, urgent and immediate issue in Malaysia, where there are the issues of religions and racism as well as the contemporary issues that have continued since the colonial rule in the past, which we have been talking about here. It is interesting to hear about the reason why Five Arts Centre has continued for a long time: people believing in diversity put importance on dialogue and based their creations on it.
I think it can be said that continuation of dialogue is a democratic practice. On the other hand, the fact that the awareness of difficulty of dialogue and the attitude and concept for effort to accumulate dialogue have been handed down and shared beyond generations is very impressive.
By the way, is the example about a swimming pool a true story?
June: No, it's just an illustration (laughs).
Mark: The carrying of a house really happened.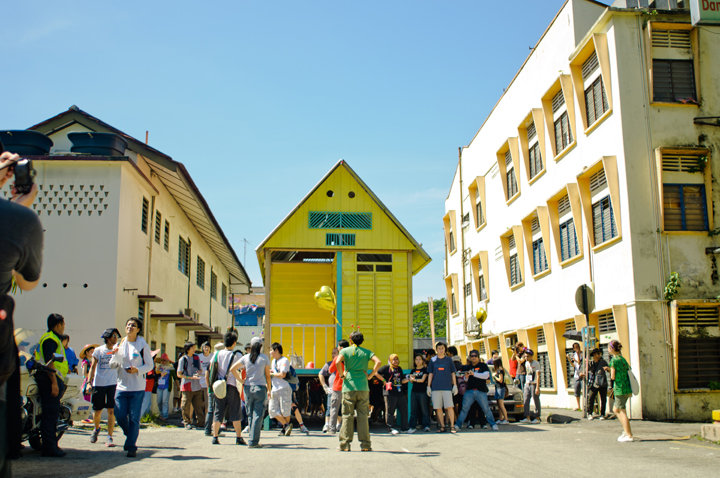 June: We had a lot of arguments about that too. We were asked a lot of questions like in a grant application, "Is the project about a cultural heritage?" We just wanted to carry a house through the city, but they were asking all these questions.
I'd like to take this opportunity to talk about the project. It was called "Projek Angkat Rumah (Carry a House Project)." I and Mark co-produced it, and we worked with a filmmaker Liew Seng Tat. As part of the celebration of the 25th anniversary of Five Arts Centre, we decided to "out-source" and invite arts practitioners to look at our history and propose projects based on that. Seng Tat proposed to carry a house – which is based on a Malay traditional practice.
I and Mark didn't want to look back on the achievements of Five Arts Centre like a retrospective. We wanted to involve someone from the outside and show Five Arts Centre from an external point of view. So we worked with four art practitioners: a filmmaker, visual artist, sound designer and theatre maker.
The sound designer Hardesh Singh did music for The Last Communist, a film by Amir Muhammad and was moving into creating digital platforms for news and information. He was interested in how news spreads, and his project focused on what kind of news young people want to hear. The visual artist Fahmi Reza toured across universities with his lecture performance Student Power, which was about the student movement in the 60s and the "speaker's corner" that used to exist in universities. In the universities, where political activities are forbidden now, students were quite shocked by this presentation. We also worked on a theatre production with Natalie Hennedige a theatre director from Singapore and looked at some of the stronger issues confronting our society, which at that point was and still is, how more violent our communities have become.
Mark: To add a bit from my point of view, at the 25th anniversary of Five Arts Centre, some of the older members didn't necessarily received our proposal positively or favorably. Because it's a 25th anniversary, they thought it would look back on the history or memorable moments.
So a very interesting argument occurred, and it can be summarized as, "Do we work toward the future, or look back on the past?" For the 30th anniversary, five years later, amongst a diverse year-long programme, we also had a conference where we marked the 10th death anniversary of Krishen Jit, one of the founders, and looked back on his work.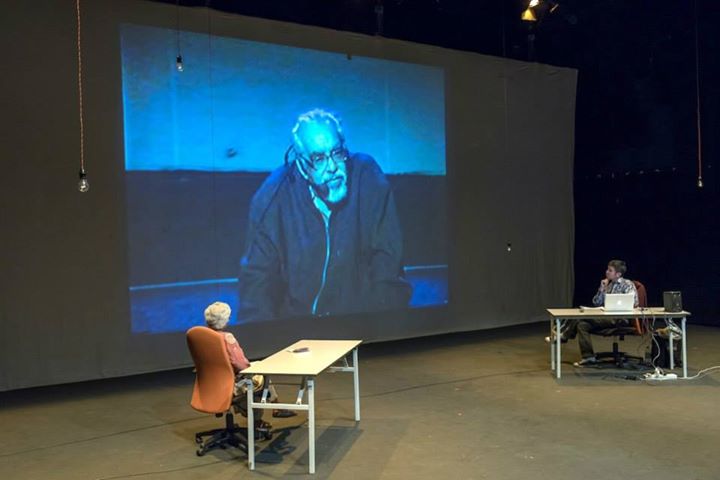 June: Returning to the house carrying project, it was good that the project was not only interesting but also silly. Beyond understanding truly what we were doing, we had a hunch that it would be hugely interesting.
300 volunteers gathered for this silly idea and it was only at the morning of the event when we called "one, two, three, lift!" that we felt the impact of this project. (laughs)
There was a moment of a kind of solidarity where we became one to do this silly thing, and that was absurdly touching. One of the collective members came running up to me and said, "I don't know why, but I want to cry." The fact that we were at the same place to lift something together, to overcome this huge burden together, made us cry.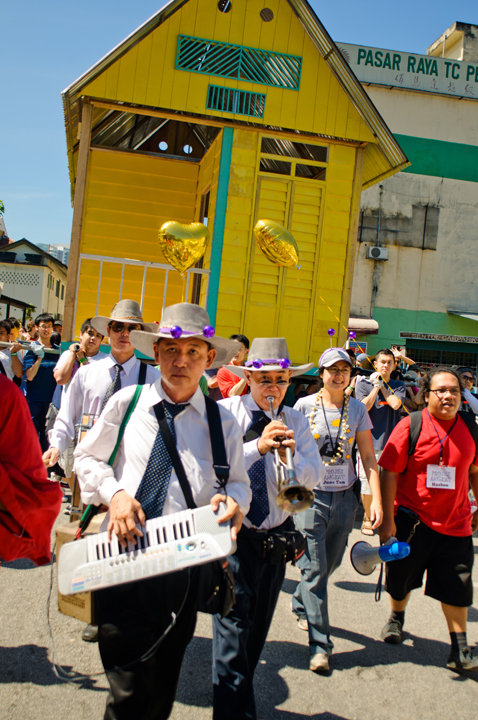 Higuchi: That is interesting. I have heard about the project from Mark several times, but each time I hear about it, I find various essences in the project.
In addition to the traditional Malay practice based on the experience of surviving in the hot and humid environment and the historical context about autonomy, the project creates a situation where diverse people get together and cooperate, in the society where relationships between ethnic or religious groups tend to be feeble, through a simple task that can involve anyone. And then the large group of people occupies the city and seizes the control of the streets... I think the art project exactly embodies the increase in the interest in creating people's own movement since 2008, which June talked about.
Another important aspect is what June described as "silly." In the times when intolerance dominates, I think the project exhibited the possibility of humor as power.