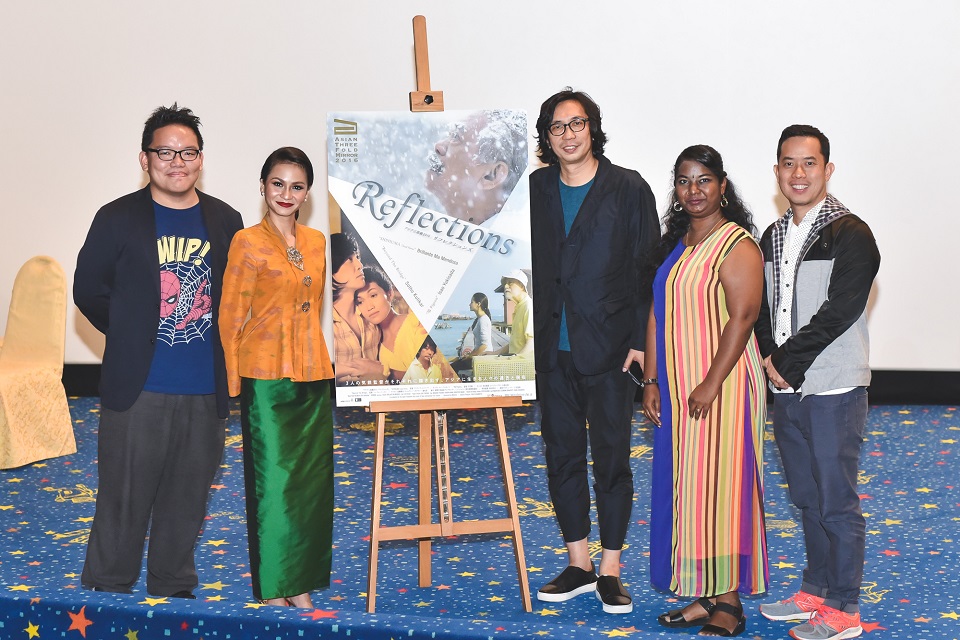 (From left) Edmund Yeo, Sharifah Amani, Isao Yukisada, Suloshna Balan, Woo Min Jin @tianchad
The omnibus film Asian Three-Fold Mirror 2016: Reflections, co-produced by Tokyo International Film Festival (TIFF) and the Japan Foundation Asian Center, had its Malaysian premiere on April 21 at Golden Screen Cinemas Mid Valley. Director Isao Yukisada and actress Sharifah Amani, along with the Malaysian cast and crew of Pigeon, participated in the Q&A session following the screening and celebrated the premiere together.
The Asian Three-Fold Mirror project was launched in 2014 as part of the collaboration between the Japan Foundation Asia Center and TIFF. The project aims to deepen interactions between neighboring countries within Asia, as well as to enrich cultural understanding and provide a chance for people to consider their identities and ways of life as individuals in Asia.
Pigeon, Yukisada's piece in the multi-part anthology, was filmed in Penang, Malaysia through a collaboration with Sharifah Amani as well as Woo Min Jin, Edmund Yeo and young filmmakers in Malaysia. Celebrating its Malaysian Premiere, Yeo unveiled a behind-the-scenes documentary, Yasmin san, which peels back the curtain on the making of Pigeon and explores the influence of the late, great Malaysian director Yasmin Ahmad on the short.
The directors selected for the second edition of the project, which is slated for a premiere in 2018, will be announced at the 30th TIFF, to be held from October 25 - November 3, 2017, at Roppongi Hills and other venues in Tokyo.
Notes and Quotes from the Q&A session (April 21, 2017)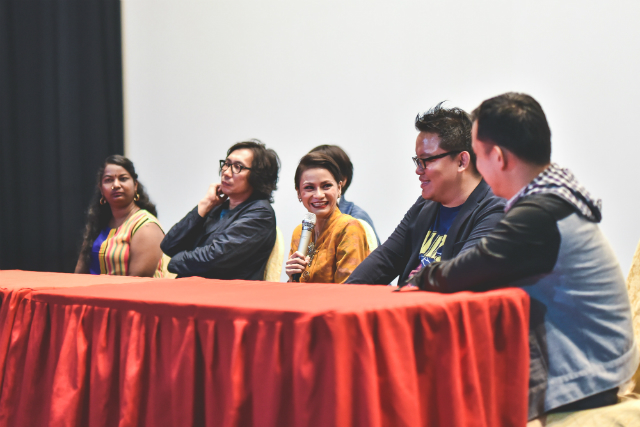 Isao Yukisada (Japan; Director of Pigeon)
Q. What made you decide to film in Malaysia with a mostly Malaysian cast and crew?
Working with people overseas helps broaden your horizon and be more open-hearted, because you need to know more about their culture. One of the reasons why I wanted to work in Malaysia is Yasmin Ahmad's works, which I greatly respect. Her pieces are very open-hearted and soul-soothing, so I wanted to do something in a similar way with this work. I wanted to communicate how two persons from totally different cultures could simply believe in each other. The big reward of this film was that I became very close and friendly with the Malaysian crew and cast. So I want to film once again in Malaysia.
Sharifah Amani (Malaysia; Actress, Pigeon)
Q. What was your takeaway working with Japanese counterparts?
It was very much a learning experience but I think the major takeaway was probably that we had a lot of fun on the set, actually, as Malaysians. Watching how Japanese work, they put honor in the craft whatever they do and how they took care of actors made us feel professional. That was great. Getting to learn from other actors and how other people work as well, it was such a privileged and humbling time.
Edmund Yeo (Malaysia; Co-producer of Pigeon, Director of Yasmin san)
Q. Why did you decide to bring the journey of making-of documentary back to Yasmin Ahmad?
Initially I was just doing documenting on the set, interviewing the cast and crew. Of course I knew the story behind Mr. Yukisada's story but as it went on, I realized that everyone was thinking in many ways to remember Yasmin Ahmad. I found Sharifah Amani posting a message for Yasmin Ahmad on Instagram and that was very inspiring to me. I realized how much she meant to this project and that her influence in some way maybe brought it all together.