ASIA HUNDREDS is a series of interviews and conference presentations by professionals with whom the Japan Foundation Asia Center works through its many cultural projects.
By sharing the words of key figures in the arts and cultures in both English and Japanese and archiving the "present" moments of Asia, we hope to further generate cultural exchange within and among the regions.
The Laotian Performing Arts
― Toh (Lattanakone Insisiengmay), your troupe Khao Niew Lao performs an interesting form of Object Theater that creatively incorporates everyday objects and recycled items as key props. You have adopted the animistic world view of the Lao people into an originally French theater style to create a unique dramatic space. What are your goals?
Toh: The Khao Niew Lao was established in 2008. Crossing traditional puppetry with Object Theater, we gave birth to a form that is suited to the Laotian context. Launching its first production at the Mekong Arts Laboratory 2010 in Manila, we have performed and collaborated extensively in Cambodia, Thailand, Vietnam, Singapore, Japan, Korea, France, and many other countries overseas. In Laos we conduct workshops and have been trying collaboration with other performing arts fields like dance and spoken theater. We are also hoping to bring traditional dance and shadow theater into a contemporary context and revive it.
―How did you enter this field, Toh?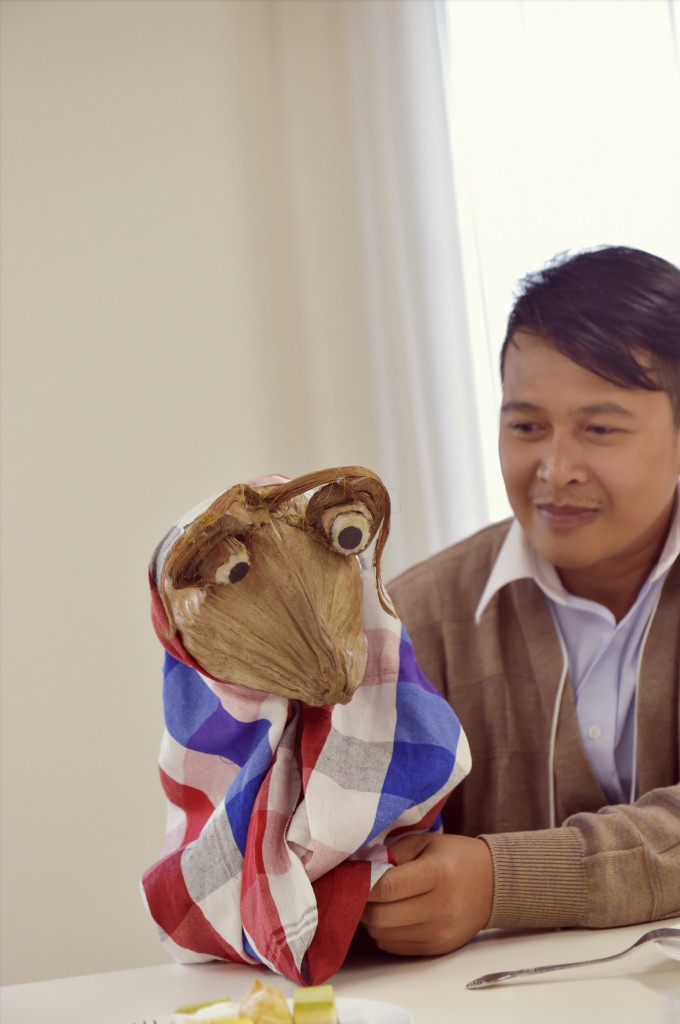 Photo: Naoaki Yamamoto
Toh: My father Leuthmany Insisiengmay is a performing artist who works in circus and comedy. As I didn't do well at school, I didn't continue my studies but applied to attend my father's workshop for comedy artists. But I always hated the old-fashioned clown because audiences seemed to look down on him as a crazy character or being so predictable. So I decided to do something new, something different. A new sense of humor. In fact, now I am happy we developed it into something better and funnier. Something that the kids are happy to go see.
For a while I continued in the circus theater with my father until we met a French group called Turak who did Object Theater. My father went to France to study it, and returned to Laos to start the Kabong Lao puppet theater group. My father was the first to bring Object Theater to Laos. I also trained with Turak and began to perform internationally.
― And then you established your own company, Khao Niew Lao, which means sticky rice, the staple of Laotian meals.
Toh: Our work in Object Theater was surprisingly successful and allowed us to visit France, Portugal, Switzerland and other places. Those experiences exposed us to different kinds of theater and broadened our ideas and our minds. Visiting other countries made us want to have our own group. That's how Khao Niew came about.
Meanwhile, as we continued to do clown theater in our France performances, we got to know Asanuma Chizuko, a Japanese mime artist. We call her Champa (plumeria), after the Laotian national flower. She proposed a collaboration with Lao artists, incorporating Object Theater. She and I formed a group called Jeobong (chili sauce) and toured Japan for a month with the show titled Magic Forest.
― Around the same time, you were also working with the French.
Toh: At first we collaborated on a piece called Broken Dream, about the trafficking of a young girl who wants to help her family by working in Thailand. It's based on a true story of a 15-year-old girl. Then we co-produced Metamorfoz with the French group Teatr Piba who we had done exchange with before. This was a large-scale theater production with proper costumes, lighting, and dialogue – very different from the skits we were used to presenting. It was a collaborative attempt by French and Laotians to create a serious stage.
In the meantime, we were doing workshops using objects all across Laos, in cities like Savannakhet, for example with disabled children.
―Today you showed us how you use a dried coconut and some cloth to transform into a mouse who can interact with a nearby audience. It seems like an effective communication method, especially for Laos with its diverse ethnic and linguistic population. I'm sure children love it too.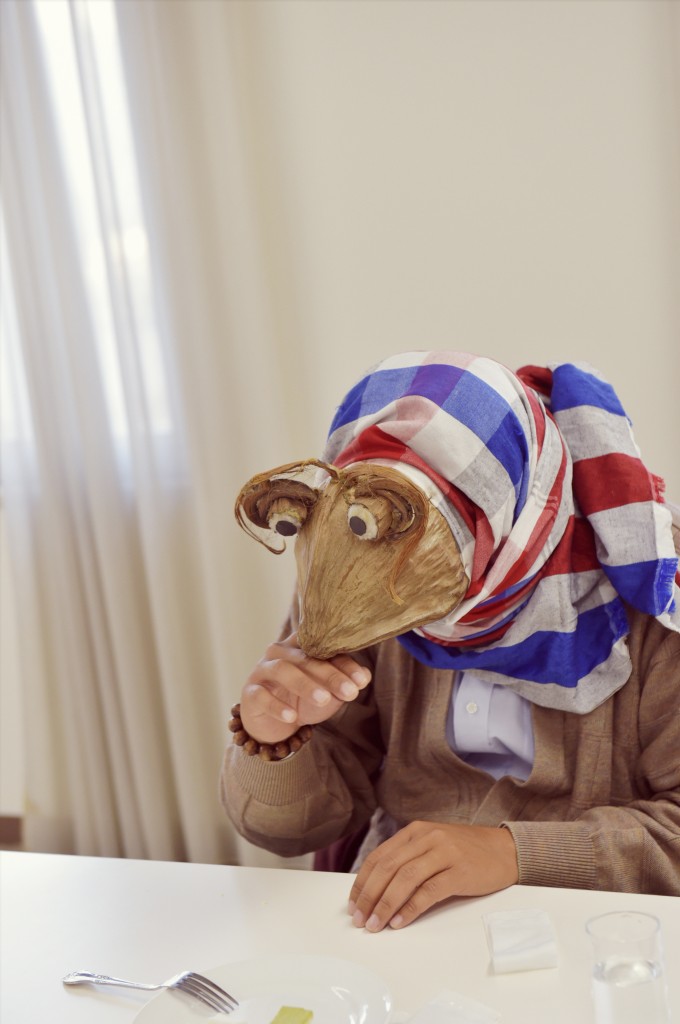 Photo: Naoaki Yamamoto
Toh: I usually improvise freely as I interact with the audience. The circus clown is just body-acting but in Object Theater you have to use your brain. It's like controlling two bodies in one. I have to use the brain, emotion, and movement at the same time as I combine the elements and communicate. My imagination is being tested, because there is no "right" and "wrong" as in clown acting.
Administration and management
―How do you manage your company?
Toh: There are five main members who have to do management, accounting, grant writing, and other administrative work. Around ten people take part in the performances. Khao Niew is registered as a private company. Most of our funding comes from institutions like the US Embassy, French Institute, the Embassy of Japan, and the Swiss Development Corporation Agency. Aside from our shows, we do acting workshops in various regions of Laos. We also get some additional in-kind support from private companies. We are still a young company and we still depend on outside funding.
― What do you think about the reliance on foreign aid?
Toh: We don't want to stay dependent. It is good for our credibility in the beginning, but later we want to be sustainable, for example, by having our own theater and selling tickets to the Lao public. We don't want to rely on international aid all the time. But we still need support from outside, for at least five more years until the Lao cultural scene matures. It's a long-term goal for us to really become financially independent.
― You are working with international partners a lot. Any problems with language or communication?
Toh: Around 2011 and 2012, when I first started to work with the French company Piba, I spoke no French at all. I went to Nice but just sat there because I didn't understand. After my return to Laos, I went to study French at the French Institute. I can speak okay now, I understand about 40%.
It's been 15 years in this field for me. Thanks to the opportunities I got to see beyond Laos, I want to bring what I learned back home. I want the young people from all parts of Laos to know more about theater. That's my number one wish. There are schools in Laos for traditional styles, but it is important to learn the new practice. For example, proper stage lighting. Some of our team had the chance to go overseas to see foreign shows. We brought back our observations and created our own lighting. Some in the National Spoken Troupe once studied in Russia or Vietnam. But in a country lacking even light bulbs, funding is the biggest challenge.
In Japan, the technical standards are clear. But in Laos, the audience has no idea what proper lighting is. Realistically speaking, it's not technically possible for us to put on a large stage performance overseas. In Laos, the lighting and sound production level of the halls at the French Institute, the National Culture Hall, or arts university is not good enough. Hopefully it will be better in the future, with the growth of the performing arts field and increase of people who want to do this backstage work. But it's a long way. I wish Japan Foundation will support such technical sides of the arts.