ASIA HUNDREDS is a series of interviews and conference presentations by professionals with whom the Japan Foundation Asia Center works through its many cultural projects.
By sharing the words of key figures in the arts and cultures in both English and Japanese and archiving the "present" moments of Asia, we hope to further generate cultural exchange within and among the regions.
The Situation of Performing Arts in Cambodia after the Fall of the Khmer Rouge's Regime
Makiko Yamaguchi (hereinafter Yamaguchi): Thank you for kindly accepting this interview. Before hearing about Amrita Performing Arts, where you work as Executive Director, I would like you to outline the current situation of performing arts in Cambodia please?
Kang Rithisal (hereinafter KR): To help you understand the situation of performing arts in Cambodia, I would like to talk briefly about the history. The country was under the Khmer Rouge's genocide regime from 1975 to 1979, and it is said that approximately 1.7 million people were killed or died from hunger of diseases during the period. They executed people who were highly educated and artists who were considered to be connected to those people. When the civil war ended and the country was liberated from the regime, it was announced that artists should gather in Phnom Penh. Artists who survived actually gathered there, and it was revealed that only 10% of the artists in the country survived, so they thought that they must try to restore the traditions of performing arts and save it from extinction. Most of them were teachers in their 40s or 50s, so they had only 10 or 20 years for working on the restoration. If they had failed, they would have no choice but to bring what they had to their graves.
In 1980, The School of Fine Arts in Phnom Penn reopened. Later, it was renamed "The Royal University of Fine Arts," the older name of the institution, and became an important base for education. Also, outside Phnom Penn, performing arts practitioners in various areas of Cambodia started to train young artists.
These movements lasted until 1993, when the Kingdom of Cambodia came into existence and the first democratic election was held. As soon as Cambodia was opened to the world, exchange with many other countries began, and the field of art was not an exception. For example, a large-scale U.S. tour called "Dance, the Spirit of Cambodia" was carried out in 2001, and more than 30 artists performed in 11 cities in the U.S. Artists were invited to New York and other cities and exchanged with various people. These events had a significant meaning. The organizers were aware of the influence of this kind of tour on the performing arts sector in Cambodia. Indeed, American organizations, presenters and producers started to offer a lot of support, and the number of projects by Cambodian arts organizations suddenly increased.
In 2003, Fred Frumberg, an American theatre practitioner, established Amrita Performing Arts. Fred had worked at opera houses and theaters in the U.S. with such internationally established directors as Peter Sellars, and visited Cambodia in 1997 as a performing arts consultant of UNESCO. It was UNESCO's fund that supported the Ministry of Culture and Fine Arts of Cambodia and professional performances. At that time, although performing arts practitioners in Cambodia were capable of creating and performing, they lacked professionalism in lighting, sound and stage management. It is not that Fred solved all the problems, but professional performances became feasible.
Historical Background of the Support from the U.S.
Yamaguchi: Why did you get that much support from the U.S.?
KR: Cambodia was ruled by the Khmer Rouge's government until it was liberated in 1979. At that time, a lot of people fled to the U.S. as refugees. There was the largest Cambodian refugee community in Long Beach, California. There were many refugees in Lowell, Massachusetts too. Among them are artists. The New England Foundation for the Arts supported them, offering opportunities for the dispersed refugees to get together to talk about and remember the traditional dance. The Foundation, later, tried to help the refugee artists perform again, but they were barely living and unable to think of practicing performing arts. They needed support. So the Foundation invited Cambodian artists to the refugee community and held workshops, which helped them a lot.
Through this process, the New England Foundation for the Arts became one of the driving forces for the 2001 U.S. tour. The Asian Cultural Council joined and fundraised from the Rockefeller Foundation. The Royal University of Fine Arts was directly supported. Many supporting organizations in the U.S. were very much aware of the necessity of support for Cambodian performing arts.
Fred happened to meet some Cambodian artists, got interested in Cambodia and visited the country. In the beginning he intended to work there for some years, but witnessing the situation in Cambodia, he changed his mind and — he is so inspired by his experience with the Cambodian artists— he thought that continuing support was more important than bringing big projects to realization. He founded Amrita in 2003 to contribute to the revival and preservation of Cambodian traditional performing arts.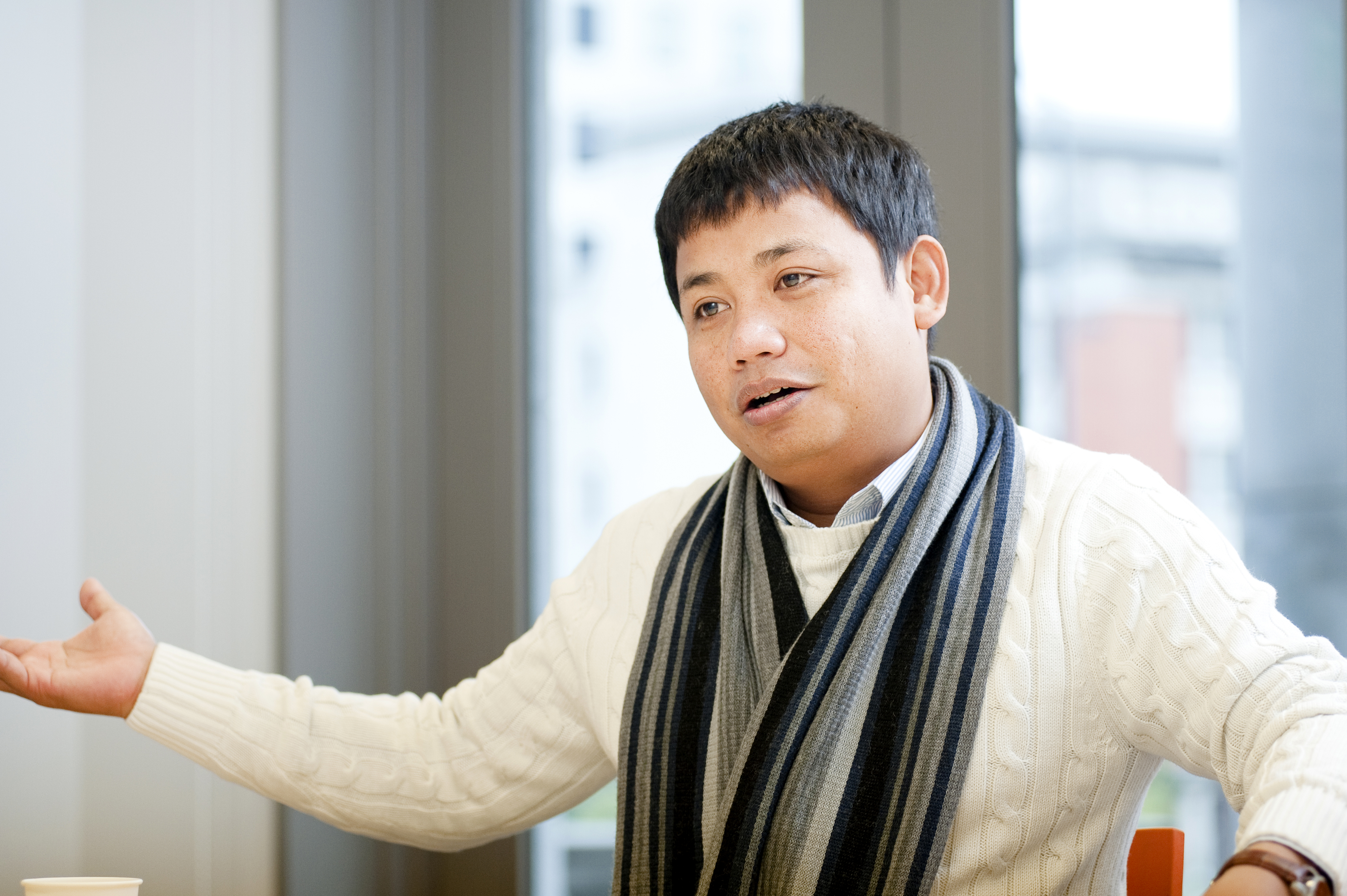 Yamaguchi: It was established as an American NPO?
KR: Yes. Its organizational status is still American. It is an international NGO based on the nonprofit laws of the U.S., so it can raise funds in the U.S. And it is an international organization with a Memorandum of Understanding with the Ministry of Foreign Affairs and Ministry of Culture and Fine Arts in Cambodia.
Educational Institutions and Employment Situation in Performing Arts
KR: Amrita opened the office in Cambodia in 2003, and has been working in cooperation with three organizations: the Royal University of Fine Arts that I mentioned, the Secondary School of Fine Arts, and the Department of Performing Arts of the Ministry of Culture and Fine Arts. Students start at the Secondary School, where they study dance, theatre, music or circus for nine years, and obtain a Baccalaureate of Arts at graduation. And then they have two choices: whether to obtain a BA at the Royal University or to directly enter the Department of Performing Arts and become a "government artist," who is employed by the government.
Yamaguchi: Is the governmental employment system for artists still in operation?
KR: Yes. There were not so many artists before, so everyone got a good job after graduating. However, the situation has become difficult, and there are not necessarily enough jobs for everyone. Besides, the income from the government's job is not so great, so it is not easy to make living as an artist only by working for the government.
The Royal University of Fine Arts, the Secondary School of Fine Arts and the Department of Performing Arts are educational institutions, but they also produce creations. However, the budget for that is not so big. They can produce two or three works in a year at their best. The support from the government is limited to the salaries of the employees and costs for office management, but when an international guest comes, sometimes, creation becomes possible. If the prime minister of an ASEAN country, or Japan, visits Cambodia, there shall be an opportunity for a show, and yes, the "government artists" shall perform in it.
Amrita does not work on special events such as governmental projects but wants to offer shows to the general public. We don't employ artists full-time, but we have been making various efforts.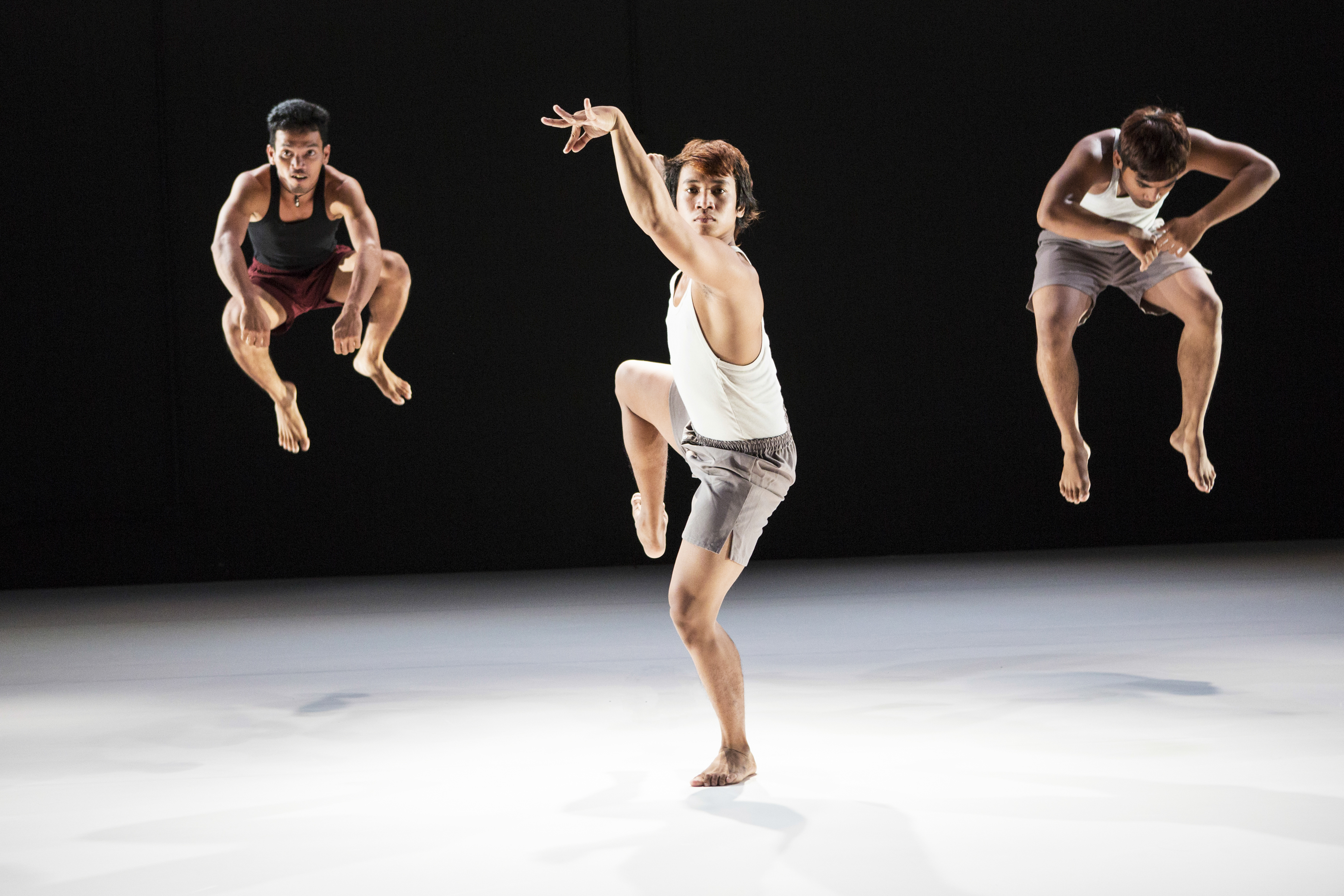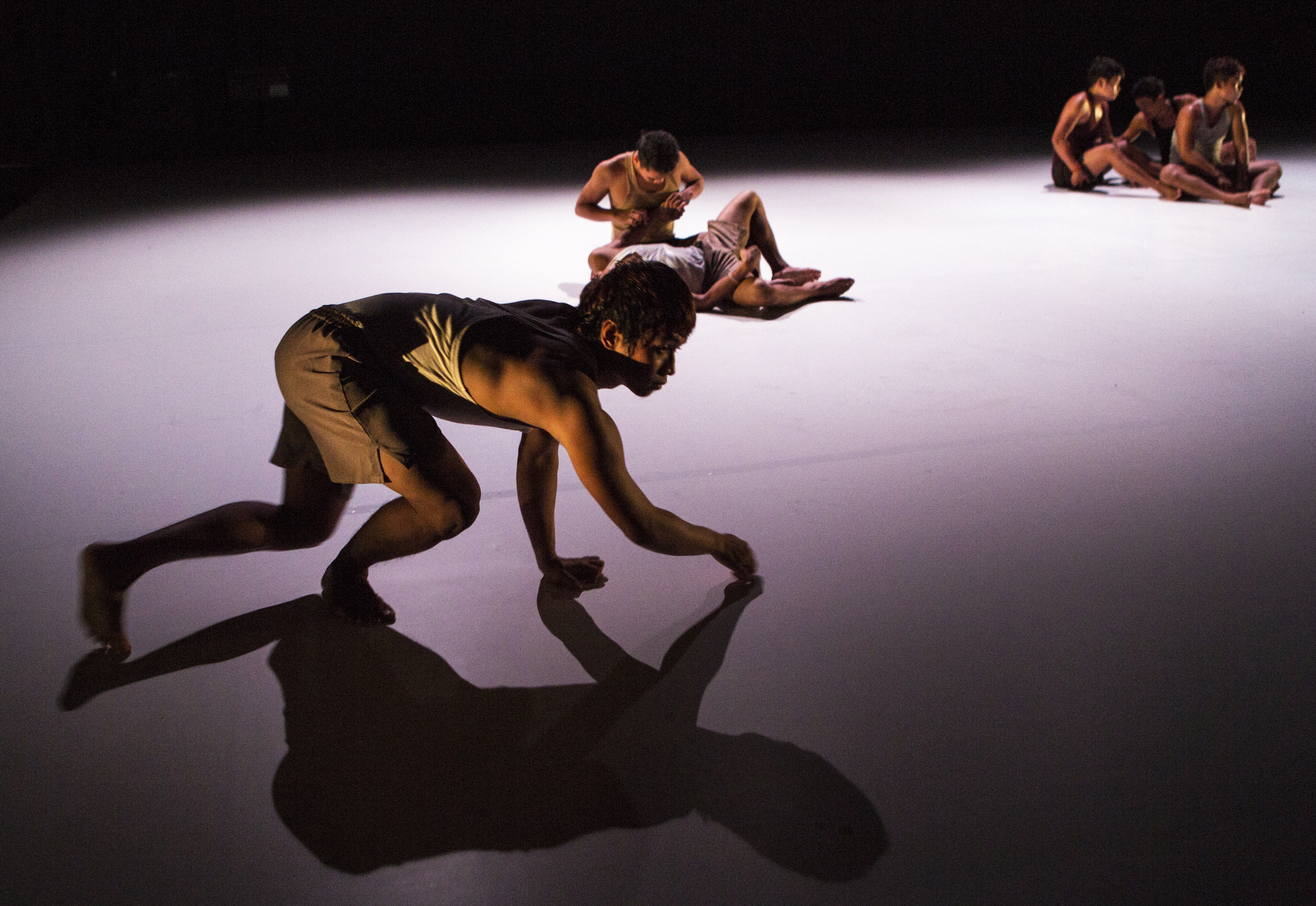 History of Amrita Performing Arts
Yamaguchi: Yes, I think I do. Thank you. I would like to hear about the work of Amrita next. What did Fred Frumberg do actually, when he established Amrita?
KR: He started Amrita to support artists' professional performance of all disciplines. He would produce throughout a year, hiring venues for presentations and fundraising for performances. He produced works by the Department of Performing Arts, the Royal University or others. Circus productions as well. He did everything to deliver diverse Cambodian performing arts to audience. This is his contribution in producing. He also supported Cambodian artists' own productions and explored possibility of international tours. He actually toured productions in Australia, London or Bangkok.
Yamaguchi: What kind of productions were they? Were the contents traditional?
KR: Mainly traditional dance at that time. Those were good days: we received plenty of support and were able to tour even with 40 members. We had shows in the Melbourne International Arts Festival or at Barbican Centre.
Local creations first, and then international touring. Participation in conferences and workshops were also part of our activities. We dispatched young artists to workshops, meetings, master classes and showcases in various places in Southeast Asia, such as Surabaya Young Choreographers Workshop or World Dance Alliance Annual Meeting, to let them meet many people, see many works and gather information from diverse sources. Also, when we toured Hong Kong Dance Festival or Singaporean dance festivals, we would exchange with other artists, see their works and take part in master classes and workshops. Artists who were born and raised in Cambodia and have trained in traditional dance would discover new works abroad and draw inspiration. That is how they started to think that they should be able to do something more than taking over traditional dance.
However, we didn't really know what we should do yet. We responded to the artist's drive by trying to do something across boundaries. We often hosted a dance company that visits Cambodia. The artists gradually become eager to create a contemporary piece by encountering things that they don't know about. The first contemporary piece of ours was a project in collaboration with Thai choreographer Pichet Klunchun.
Yamaguchi: I didn't know that. When was it, and how did it happen?
KR: It was planned in 2004, and created in 2005. A conversation between Fred and Pornrat Damrhung, then head of and an associate professor at the Department of Dramatic Arts of Chulalongkorn University in Thailand, triggered the project. Pichet was already highly acknowledged and active in Singapore and other countries. Cambodia and Thailand are close in culture, tradition and history, so Pichet was the best artist for us to try to collaborate with first. There was a time we were wondering if we should involve ballet training for the artists or not.
We used to think that we had to learn ballet in the first place whenever hearing the word "contemporary dance." Discussion on this issue in our members was quite interesting. Finally we reached the conclusion that it would be important to work on what is unique to us, from which something might be created. So we didn't involve ballet dancers. In Cambodian dance, in contrast to ballet, you take a lower position and verge to the ground. It must have been difficult for them.
Pichet was wonderful. He had already had experience in this kind of task and inspired Cambodian artists. The work Revitalizing Monkeys and Giants as the result of our collaboration was presented at the opening of the Singapore Art Museum in 2006.
Cambodian artists experienced a contemporary dance performance for the first time in this Amrita's project. It was the first collaboration with an international choreographer. It was successful and was invited to Singapore again later.
Yamaguchi: You joined Amrita in 2003?
KR: Yes. After the U.S. tour in 2001, a three-year grant making program started, and I worked on it first. I asked artists to write about themselves and what they wanted to do in a one- or two-page application. The board of Amrita selected 10 to 25 projects a year and distributed the grant to them. The amount wasn't big, but $500 to $1,000 was given to each project, and it was used for their creation.
Many artists, especially young ones, were eager to create a new work and applied. Their works were special in that there were somehow new ideas and trials even when they employed a traditional dance style. Sometimes we would find organic changes in young artists' works even when they worked on traditional dance. They were highly motivated, and our own recognition was renewed through the grant program.