Amrita's Fundraising and Cambodian Subsidy System
KR: We have become a contemporary dance company. Not full-time, but we have 15 dancers. Some of them belong to the Department of Performing Arts.
Yamaguchi: With the new artistic director, are you going to define your activity more clearly as a contemporary dance company?
KR: Yes. The activity of the dance company of Amrita is the core of what we do. Another important thing is production management. As I explained, Fred came to Cambodia as a theatre practitioner, and has immensely built capacity in the field. In Cambodia there is little knowledge and skill in this field, so other organizations and groups often ask us when they produce, tour or organize a festival. Of course we offer our knowledge and cooperate with them for their productions. The main income of Amrita comes from funds from the U.S. and other countries, but in addition to that, the income from production management supports the activity of the dance company. The domestic public support is, as I mentioned, only for the government artists and the three institutions of the Ministry of Culture and Fine Arts.
Yamaguchi: Aren't there public grant programs?
KR: We have always been advocating for that, but there has not been one. Especially I regret that there is no grant for mobility yet. The idea of directly employing artists and supporting only educational organizations is not irrelevant to the history and context of Cambodia. After the Khmer Rouge regime ended, Cambodia was in its zero year. There was simply nothing. What came to Cambodia first were organizations of communist countries at that time such as East Germany because Cambodia was a communist country. Many artists went to then Soviet Union to study. Even after the general election in 1993 and the establishment of constitutional monarchy, the idea was inherited, and the government directly employs artists and distributes budget to its schools and institutions.
When the country was a communist state, there were opportunities for performances, they were paid salaries, and rice, dried fish, soy sauce and other necessities were provided by the government. In terms of economic condition, artists' living standard was well at that time.
The change in the governmental system, politics and economy influenced the arts and culture. The support for performing arts wasn't an exception. When the country opened itself to the world, Thai and American movies flooded in.
Young Audience's Interests and Changes
Yamaguchi: The influence of the movies must have been huge.
KR: Young Cambodians were attracted to the West at once. Personally I was raised in an environment where I would see traditional dance, but the next generation have been nurtured by Indian movies and all the non-Cambodian cultures.
Yamaguchi: What kinds of people come to see Amrita's show?
KR: When we worked on contemporary pieces, we used to have a lot of foreign people living in Cambodia and less Cambodian people. The number of Cambodian audience gradually increased, and now more than half of them are Cambodians, especially young ones. Social media might have contributed to the change, and the fact that the creators of the pieces are young must be relevant. I think understanding and awareness are shared among the creators and audience.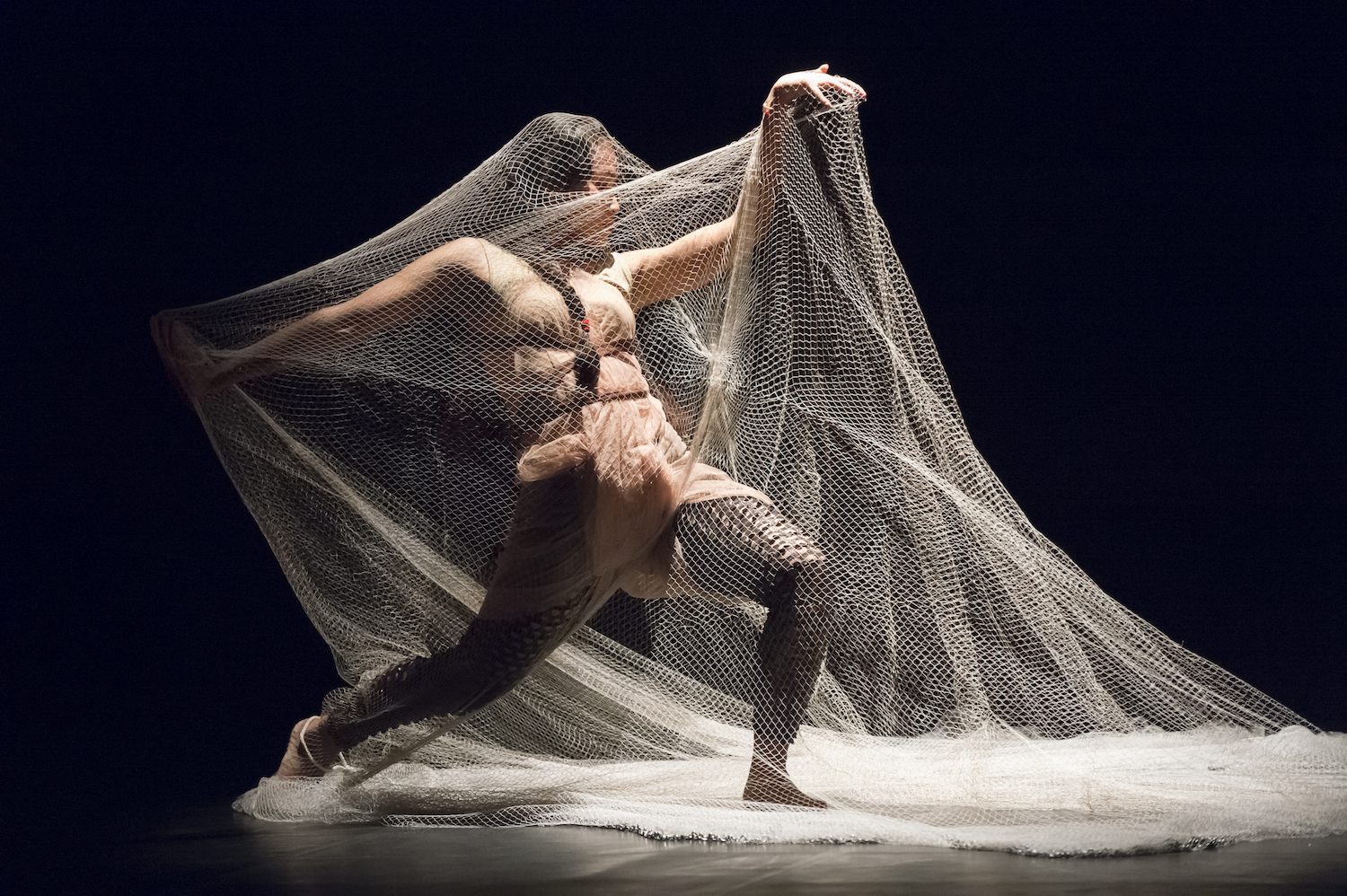 Yamaguchi: They share interests.
KR: They seem to be interested in similar things and want to talk about them. Let me tell you a story. We were going to show three works in the platform, and we invited the minister of culture. We sent her an email. We thought probably she would not come, but she came. She came quite early.
Yamaguchi: The minister of culture is female.
KR: Yes. I took her to the seat, and in the row in front of her were all young Cambodians, probably students. They were very excited, packed in the small space and even sitting on the floor. The minister was watching not only the show but also the young people who were so into what was going on on the stage. I was sitting next to the minister, and felt it was a rare moment. A contemporary dance piece talked so directly to them. What was expressed on stage had something to do with the young audience directly. The minister of culture witnessed that, exchanged some words with me after the show, and then asked us to bring a microphone to her. We thought, "Well, that's it. We are sent in jail." (laughs) However, she took the microphone and asked the artists and audience, "How did the show relate to your identities? Is this Cambodian, and if so, how?"
This situation speaks for the difference between generations in Cambodia. The minister of culture should be in her 50s, and what people in this generation first think about is whether a piece is Cambodian or not -- its identity.
Yamaguchi: Young people think differently.
KR: Probably they sense relevance to themselves. Perhaps they just like it. The show seemed to be directly talking into the audience's minds.
I saw a Japanese performance last night, and I saw many elements in the piece. I don't know if other people saw the same things in it, but for example, it seemed to me to be about gender issues. Also family issues or social issues. Contemporary expression involves various elements, and audience can freely associate them with their own lives. I think that this is probably what contemporaneity is.
The traditional dance pieces shown in Cambodia are always about myths. Rama, Sita, the good wins, the evil loses, the god wins, the non-gods lose, and sometimes the god does bad things. It's OK. It used to directly relate to us. But it doesn't now. Young people don't really get it, and if you try to understand, it's very difficult. I don't mean traditional dance is bad. It's just that ancient expression has become less relevant due to the development of society, politics and economy.
A while ago, when Amrita tried to produce a contemporary piece, all the teachers were upset and worried very much wondering what young people were doing. They were concerned that contemporary elements might, whatever it would be, destroy the traditional dance forms. But it is not bad to have people who have these kinds of worries because, while it is important for young artists to journey to the world of the contemporary, they also need to know their roots.
Yamaguchi: You have young artists study traditional dance first of all.
KR: Yes. We have worked with dancers who are trained in the traditional forms. We have never worked with dancers who haven't. We create contemporary pieces and try to do something totally new, but I think that is possible because we have learned something firmly in the past.
Yamaguchi: Are there young artists who create pieces that expose issues of the society they live in or of themselves?
KR: Yes. We are often asked for advice about creating that kind of piece. They have their daily lives, and as I said, they are not rich at all. They are always struggling to make living. They are aware of the issues of the society. Also the political changes in Cambodia. There are artists who are inspired by the reality and create works.
Yamaguchi: Are there theatre pieces as well?
KR:No, it's about dance, although there are theatrical dance pieces. For example, there was a piece, Knot, where a young female choreographer spoke about the relationship between herself and her baby. She explores this relationship through movements, text and music.
Another piece was called Tension. It was about the tension that he personally feels in society and the tension in the community. When there was a demonstration by people who were discontent with their living standard, the government installed obstacles here and there to block the demonstration. He walked around in the city everyday, observed the process, hated it and felt tension in himself. That was what triggered his creation, and it was shown at the platform. In the post-performance talk, he talked about the unusual tension that his community has, and said that it made him create the piece. That must have required a lot of courage.
Yamaguchi: I look forward to future creations by the young artists. Thank you very much.
[February 8, 2015, at Yokohama Creativecity Center]
---
Interviewer: Makiko Yamaguchi (Japan Foundation)
After working on Japan–Germany cultural exchange through music, theatre, dance and photography at Goethe-Institut Tokyo, she organized projects for performing arts exchange, promotion of Japanese culture and information exchange at the Japanese Culture Institute in Köln (The Japan Foundation). From spring 2011, she was in charge of the networking program at Tokyo Culture Creation Project Office (Tokyo Metropolitan Foundation for History and Culture). Currently works at The Japan Foundation Asia Center.