Influence of Thailand and Challenge of Laos
― Does Thai popular culture have a strong presence in Laos?
Kiritin: There is a very strong influence, particularly from film and TV drama in Thailand. The Lao scene has come to a fork in it's development; to blindly follow Thailand or to identify its own development. Our cultures are so close, and Thailand has had that connection to the outside world that has fostered that progression. I think film is more at threat than theater. Theater is separate enough from Thai culture not to be swayed by it.
Kino: TV is especially influential, more than cinema. We watch Thai TV from the day we are born.
―There's no language barrier?
Kiritin: Linguistically, no. A lot of Lao people do not speak English or French but understand Thai. So it is a very accessible thing, and also culturally very close. Thai culture is not so foreign as to be intimidating.
Kino: Thai television developed far before us and the quality of their shows is much better. Lao media is working under the control of the government. All TV stations and print media (except magazines) belong to the government, who controls the content. Many Lao people don't like to watch Lao TV that much because they hardly find things related to them. Except for the news program. And maybe most people who watch it are government officials. But I would say, most Lao people tend to watch Thai TV.
Kiritin: There's a strong sense of idealizing Thai pop culture; it's seen as more advanced. And for the xenophobic, it's as technologically developed as say, Australian or French, but the content isn't so different from Lao which is makes them attractive.
―Kino, do you also model your films after Thai movies?
Kino: Our first film At the Horizon, which we shot in 2012, was not a copy of Thai films but really the story we wanted to tell. It's our own story. It may look like a simple action thriller, but it's actually about the gap between the rich and the poor. As Kiritin mentioned, some may think social commentary goes over the ordinary audience's head. But this film is about the powerful and the less powerful, about people and society.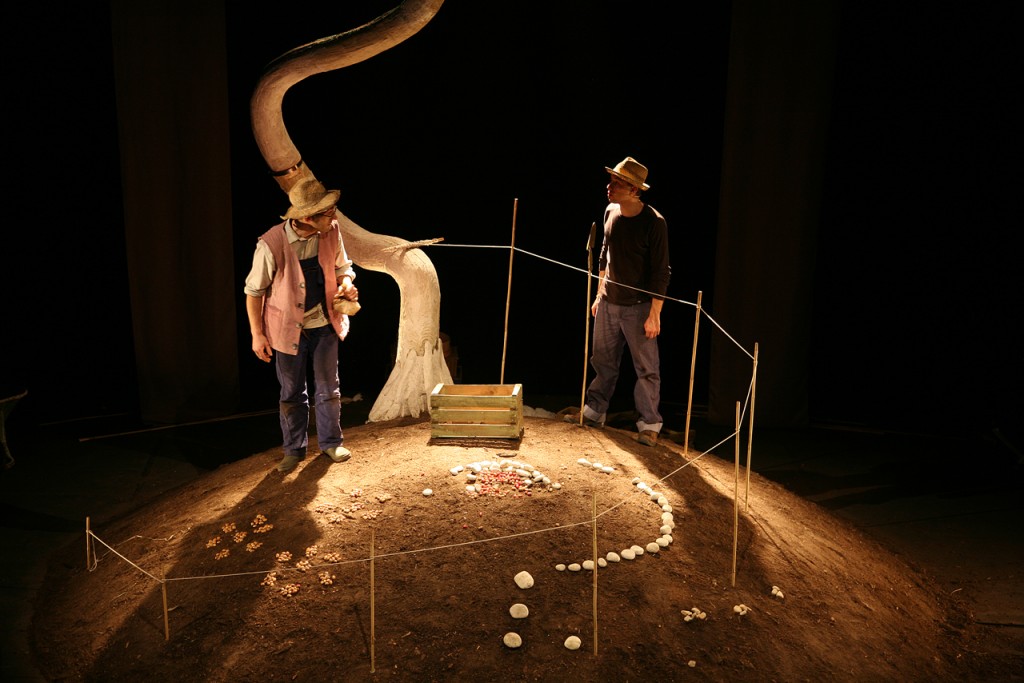 At the Horizon
Our next film Huk Aum Lum (Love is just right) had an investor, so we made a romantic comedy for the market. We followed the trends in Thai commercial filmmaking, so some jokes, filming and editing style are similar. But the location and actors are Lao. The film became a hit. I heard the film grossed 500 million Kip, or around 62,500 US dollars in Laos. The population of Vientiane is 600,000 so you could say this was a success in Laos. The film was later released in Thailand.
One of our actors, a famous Laotian entertainer went on to make another romantic comedy film. The story is predictable, but Lao people like that kind of thing. The story doesn't have to be profound, they just want to laugh. It's really the market, and it's a mess. But for us, we still want to produce the unique stories we want to tell, and not just copy Thai products.
―Any new projects coming up?
Kino: We just want to make the films we want, but we also want commercial success. I'm not sure how it will work out. After Huk Aum Lum, we continued developing our short film scripts under the project called "Vientiane in Love". A few scripts of our short films got rejected from the government after submission to the censorship, so we now have to develop the new ones to have all five or six stories.
Kiritin: It takes so long, it's tiresome.
Kino: Actually we have a script that is a coproduction between Laos and Thailand. This is a great opportunity for us. But the censorship blocks it. Since we submitted last year, we keep negotiating in many ways – for example we say we won't screen in Laos but only overseas. But we still get no no no, it's always no.
― What's the issue?
Kino: Human trafficking, drugs, guns… It's actually not that sensitive, but I don't know, they consider it a problem.
―Dangerous for the image of the country?
Kino: Yes, the censorship board is trying to protect its conservative image. They are afraid that a story with drug trafficking would lead people to think that Laos makes and sells drugs. The process and criteria for censorship is unclear.
Filmmaking and Fundraising
― Can you tell me how you raise funds for your films?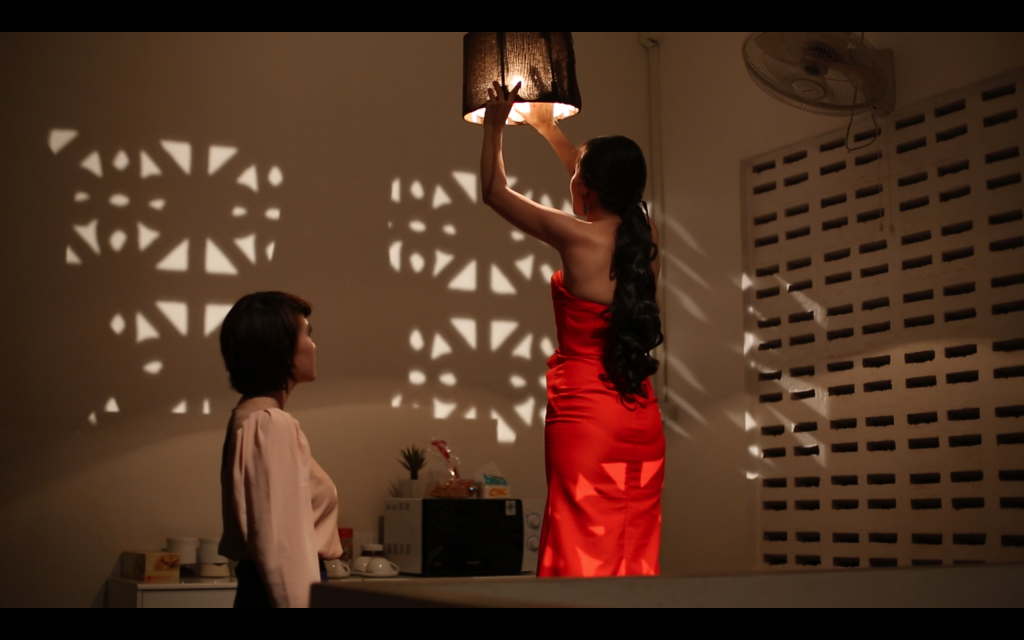 Vientiane in Love
Kino: For example we get funding from a petrol company. We once made a commercial for them and later approached them to invest in Vientiane in Love. So they gave us some money, not much, and some other companies provided in-kind support like food and locations. They sponsor us in exchange for their corporate logo in the credits. Our company handles the production but our own staff and director do not get paid. We pay actors and outside staff, but Lao New Wave Cinema personnel work for free in exchange for the box office income.
There are currently nine members in the company. Two are producers, a few directors, one is a gaffer from France and one guy is a Director of Photography from Laos. Sometimes we swap roles, but we don't have for example costume designers like Kiritin or makeup artists. We hire freelancers when we can afford it.
I think we don't pay low compared to other companies. For example a sound person will get $100 a day. Other companies don't pay that much. We don't want to look down on the industry and we want to respect everyone's work.
―You said earlier that Lao New Wave Cinema is different from other production houses because you focus on film.
Kino: I would say there are only a few companies making film in Laos. Lao Art Media also produces films, but most of their previous works were co-produced with Thai company/production. Only lately, a filmmaker (Lao-American) from Lao Art Media is writing and directing her own films. There is another group of people who have recently produced romantic comedy--and gained huge success because they produce for the mass market, as I mentioned before. Each of us have our own style.
However, for us, we want to truly produce our own films, initiated by us, using our own Lao film language. Not just the dialogue, but our own voice, our own stories reflecting lives in society. This is the identity we are looking for.
We spoke already about history. Before the revolution, there were so many movie theaters in Vientiane. Six or seven. Also in the provinces. I still remember how we watched Indian films, French films, Thai films in the cinemas as a child. The seats were better and the screen was very big, and there was a culture of watching all kinds of films. The whole family would get on bikes and go watch the movies.
Now, the culture is different. The movies are not part of our everyday life anymore. I want to bring that culture back so people can go and watch Lao cinema for Lao audiences. That is our main purpose. We want to raise a film industry in Laos. It is not an easy thing. We produce films, but at the same time we have to educate people how to watch the films. We even produced a short introduction film on how to watch a film: turn off your mobile, don't talk during the film, and so on. It's a funny skit with a guy who has bad manners. We have to educate. This is challenging for us, because we have to do two things at once.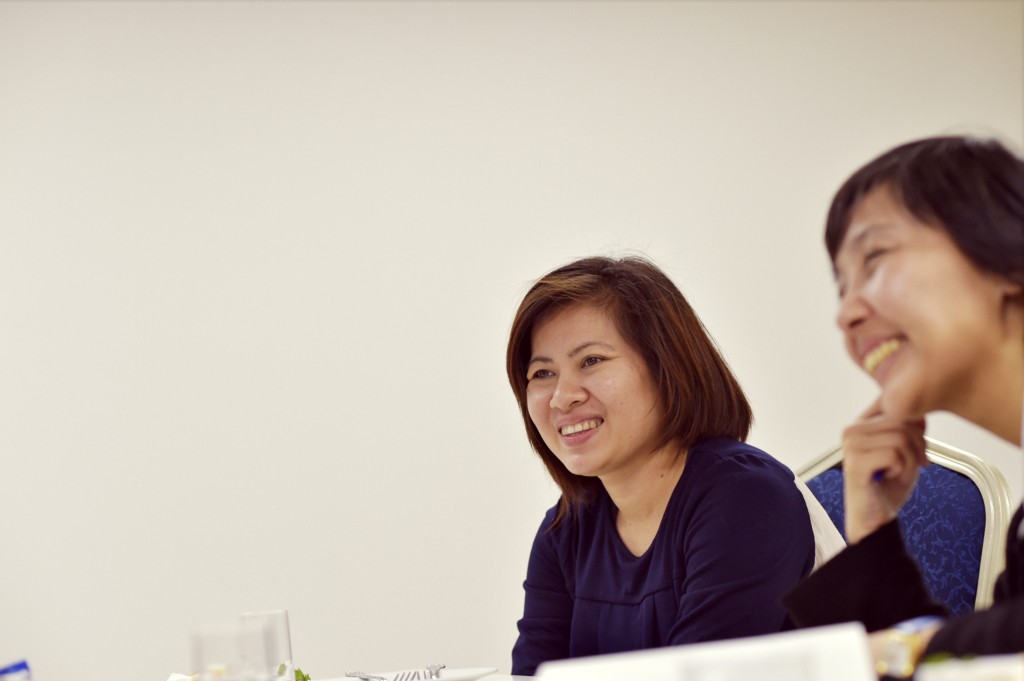 Photo: Naoaki Yamamoto
Anticipations for International Collaboration
―How do you feel about collaborating with Japan and other foreign countries?
Toh: I have worked with Japanese artists before so I hope to continue cultural exchange and to learn from Japan in many ways. For example, technical skills like production design, costume design, lighting, and stage setting. In the future we can maybe work with Japanese artists to create a show together, but I am not sure how.
―What are the benefits of international coproduction?
Toh: Whenever I have a chance to go out of Laos, I learn a lot. Discovering technical skills that I can apply to my work inspires me, and I am motivated to create my own work.
Kino: Likewise in filmmaking. That's why we want this great opportunity to work with other film companies such as the one from Thailand. The Lao population is so small, so working internationally is an important way of expanding our market. Working with another country allows us to expand our audience, our network, and enrich our experience, too, through working with someone who has more skill than us. If we get the chance to work with Thai crews, that is a huge benefit in itself.
And then there's a new project* we're going to do – if the producer Mr. Mori Taku gets funding from Japan, we can make a Lao-Japan coproduction. Of course we are open to working with a Japanese director. I'd like to try working with Japanese actors and crew. I think a larger scale production will allow us to learn more. We want to grow.
Kiritin: It's been really, really good to work with different western countries. I was trained in Australia, and I've learned that everybody does things differently. But even so, theater has the same atmosphere all over the world – it's very family-based and communal, and generally a very supportive environment. So even if the technical things are different, the atmosphere in performing arts is always constant.
What I've gotten from international collaboration, apart from personal enjoyment, is to see how every time different cultures interact, there are different results: in what is produced and how people interact with one another. I've seen linguistic gaps between team members, and cultural friction. And it's not just language, but how people interact and even hierarchies within the teams. In creative work, I find it's more about psychological insight than technical insight.
― I look forward to your further work! Thank you for taking part in this lengthy interview.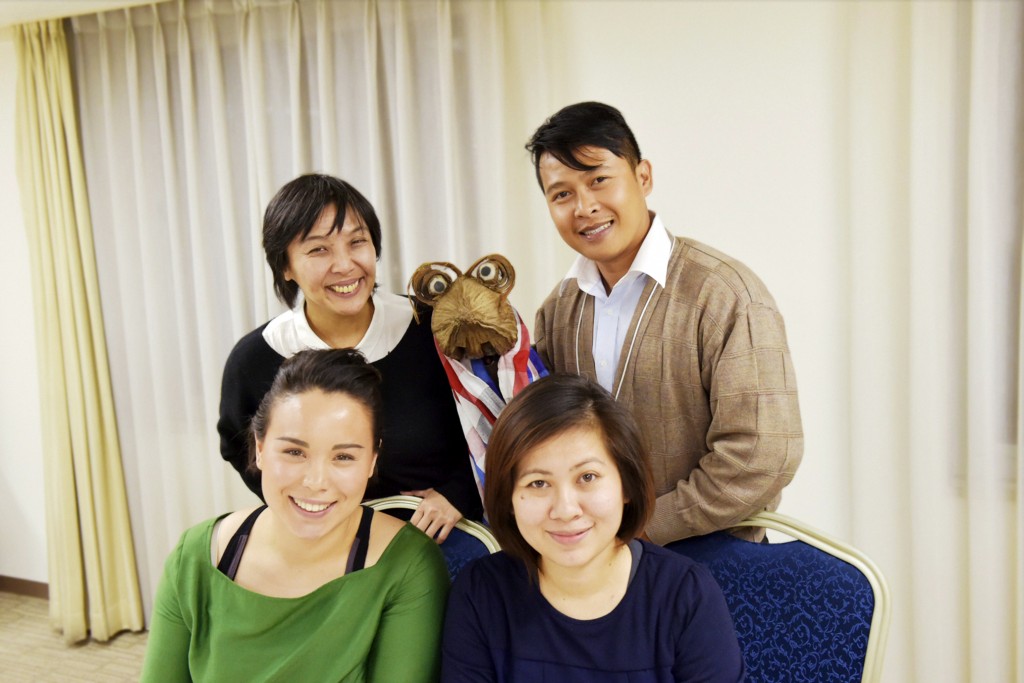 Photo: Naoaki Yamamoto
[February 12, 2015, in Sakuragicho, Yokohama]
---
* Say Namlay, A Lao-Japan coproduction movie. This project was supported by the Japan Foundation Asia Center, Grant Program for Promotion of Cultural Collaboration.
---
Interviewer: FUJIOKA Asako
International film festival organizer and distributor. Works with Yamagata International Documentary Film Festival in Japan from 1993 on as Coordinator, Director, and now on the Board of Directors. Established the New Asian Currents program, a collection of films and videos by emerging documentarists from around Asia during the years 1995 – 2003. Organizer of film workshops with Asian filmmakers from 2009 on. Selection committee and advisor for Busan International Film Festival's Asian Network of Documentary (AND) Fund since 2006. Sometime distributor of Asian documentaries in Japan, and Japanese documentaries overseas.