Making Smooth Silk for Flying High
Yoshioka: How would you look back the last four years in the terms of projects?
Luckana: In my first term from 2011 to 2015, we were trying to make the organization less messy. It's like trying to find a good foundation for everyone to start with. In the very beginning, I had only nine staff members. Now, it has come to over forty in total.
Yoshioka: Do you have sections for each field?
Luckana: Yes. We have started each clear division that is responsible for each field. I think we have quite a good foundation now. In our fifth year, I think we're ready to take off and fly.
I think it's also important that we secure the flourishment and development of the local arts with our efficient staff members and stimulating artists and giving them good opportunities for them to showcase their works. Now, it's time to start connecting platforms like this with the international community, bringing in and promoting these diverse cultural exchange activities, introducing new input for the local artists, and, at the same time, trying to provide more opportunities for them to go abroad and learn about other cultures.
Yoshioka: Do you provide opportunities for artists to go abroad?
Luckana: Yes. We are starting gradually. Now, we have an international program called the Han Nefkens Foundation and BACC Award for Contemporary Asian Art. It provides grants to all Asian artists, not only limited to Thai artists. We had been working on it for four years. We will select one artist from Asia every two years to take part in the program.
Yoshioka: An artist not only from Thailand?
Luckana: Yes. This is like an international collaboration to recognize Asia as a place with a very diverse cultural movement. In order not just to recognize the birth of Thai artists but Asian artists in general, we will have the selection process every two years. In terms of expanding the overall recognition for Asian artists, it also helps that we are able to connect with other networks of people because we work with a diverse group of people in the deliberation process of this award. We invite ten nominators from around the region. These ten nominators are from Vietnam, India, Korea, Japan, and England.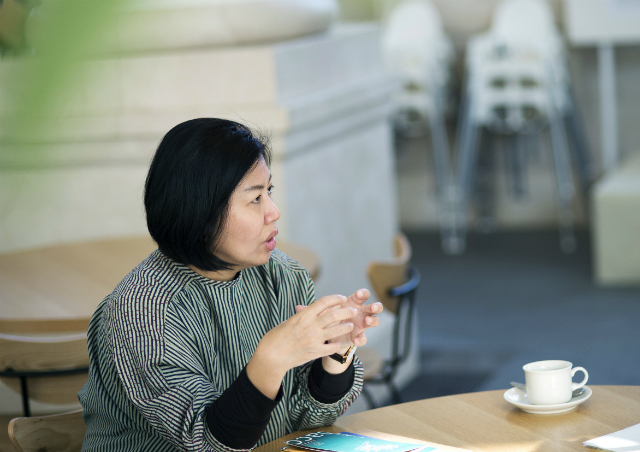 Yoshioka:Oh, really, Japan too?
Luckana: Yes. Some are from Europe. In the first edition of the Han Nefkens-BACC Award, one of the jurors—we have nominators and jurors—was Yuko Hasegawa.
Yoshioka: Oh, Ms. Yuko Hasegawa at Museum of Contemporary Art, Tokyo.
Luckana: Yes. Then, our first awardee was a Chinese artist.
Yoshioka: When was the first edition?
Luckana: 2013. Part of the award is to provide a grant but we also provide a residency for the artist at BACC for two months. We don't have a residency studio but we arrange a space nearby BACC as their studio.
Yoshioka: Are artists expected to create something as a result of this residency?
Luckana: Yes. Then, after the residency, the artist is allowed to have an exhibition space of BACC for a month if the artist wants to present his/her works. The first awardee was Chinese artist, Mr. Zhou Tao. He was in Bangkok during the time when the country was experiencing a political crisis and the protests were at their highest. We arranged an apartment for him in the Sukhumvit area but, actually, he never used it. He was in the protesting grounds, sleeping there.
Yoshioka: Really? Where was that?
Luckana: The protestors occupied Rachadamnoen Road near the Democracy Monument for two months. He apparently enjoyed it a lot. At first, we were really worried because he had hardly been to Southeast Asia. He was in China or maybe Hong Kong. But he made friends with Thai people who could speak Chinese well at the protests. They became friends and he decided to move to sleep there. He got well taken care of because they served food and there were also free drinks. It was like a temple fair actually, not like a protest ground.
He said it was a very wonderful experience for him because you wouldn't experience that in China at all: once you are in the street, you will be wiped up by military. You will not be allowed to stay there for two months. In Thailand, the weather is tropical, so you can sleep there fine. You cannot do that in China; it's too cold you cannot do that. So, it was a totally new experience for him. At the protest, there were concerts, good food free of charge. So, he could easily live there. In the end, he created a video work recording the lights of the protest. He called it Green Sun, like the "new sun." The work was really successful and now it was selected to be in many biennales and festivals around the world.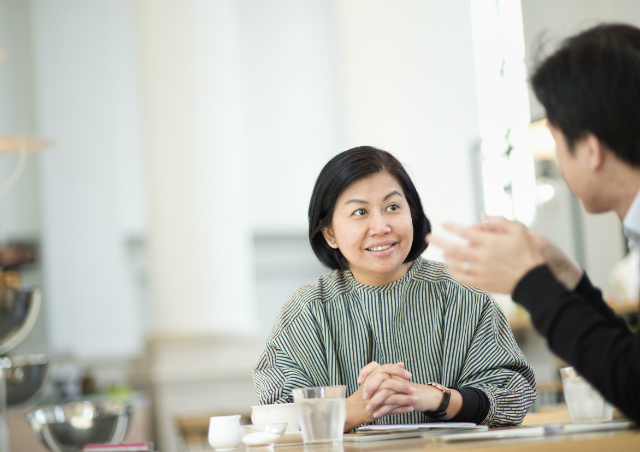 Yoshioka: Is the residency program only for visual artists?
Luckana: Yes, it is basically for the visual artists. In the second edition, we selected Mr. Anup Matthew Thomas from the south of India, whose artworks from his residency are now shown at BACC (as of February 2016).
Yoshioka: How about in the performing arts?
Luckana: One big and annual program is called Performative Arts Festival which had its fourth edition in 2015. It is like an umbrella festival consisting of Bangkok Theatre Festival (BTF), International Dance Festival, and Asiatopia International Performance Art Festival. We function as a venue and facilitator for the existing groups that have already created their own festivals but lack venues. So, we are trying to provide their venues and put everything under one umbrella and help them with communications, PR of the events, bringing in audience, and sometimes even provide funding for productions.
Yoshioka: So you mean each separated festival is merged into one umbrella festival as Performative Arts Festival?
Luckana: Yes. That is why the duration of the umbrella festival is quite long, from August to December.
Yoshioka: Oh, it is long.
Luckana: It runs two weeks for Asiatopia, three weeks for the International Dance Festival, and another three weeks for the Bangkok Theatre Festival. Then, in between, we have individual productions from local and international theater companies.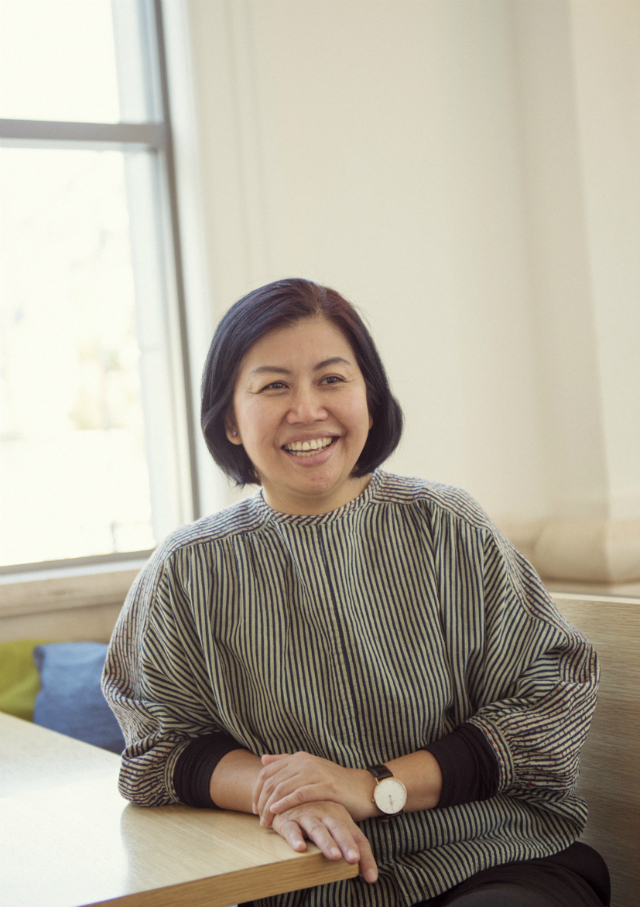 Yoshioka: I see. Was there any conflict among the organizers in the process of merging them?
Luckana: There was no conflict. I think it was because it stemmed from necessity. We tried to make them agree with the slot of time that they are comfortable with to work on and I think they value that partnership is very important because you cannot go by yourself now. We don't charge anything. In a way, we subsidize the venue for them, totally free of charge. They can do rehearsal for some time, but we do not charge. We have to pay a lot of electricity bills over the course of three months because sometimes they use the space for longer hours than we normally operate. But I believe that our support is important and necessary.
Yoshioka: That really sounds like great work you're doing for them. It might be more advanced than Tokyo, in a sense, in terms of helping each other in a positive way.
Does each existing Festival have a long history in Bangkok? I knew about Asiatopia and Bangkok Theatre Festival, but I did not know about the International Dance Festival. Does it also have a long history?
Luckana: Yes. It was firstly organized by and continues to be run by Ms. Vararom Pachimsawat. She used to be a dancer and she has been committed in organizing this festival for more than ten years, I think. But they held it here and there because they never had a permanent home. Sometimes it was in a park if BMA supported them, other times it was in some of the smaller theaters if they succeeded in getting venue sponsors or something like that. From 2012, it was included in Performative Arts Festival.
Yoshioka: Are there enough dance companies in Bangkok to form a festival?
Luckana: This is international, so they have international dance groups, getting supports from different embassies and cultural organizations.
Yoshioka: I see. How about Bangkok Theatre Festival?
Luckana: Bangkok Theatre Festival has also been running for over ten years now. One of the key figures is Mr. Pradit "Tua" Prasarttong. I've known him from the beginning when he started the first edition of BTF. The last two years, they kept the two main venues, areas near Phra Athit Road and spaces at BACC. But after the continuous political turmoil—having activists on the roads in the Bang Lamphu area near Phra Athit Road—BTF decided to focus only on spaces at BACC and other small venues around town for partnerships.
During BTF, around thirty theater groups from universities, professionals, and new comers come to BACC and use almost every space that we have; the auditorium, the multifunction room, and Studio 4. They even work with some of the restaurants tenants in more experimental ways. So the entire Center becomes really lively. All the commercial shops love it because it brings in a lot of people. The restaurants often become full. It's a very nice festival.
Yoshioka: I see, then you have Asiatopia.
Luckana: Yes, a performance art festival initiated by Mr. Chumpon Apisak, a pioneer of performance art in Thailand and also one of the board members of BACC now.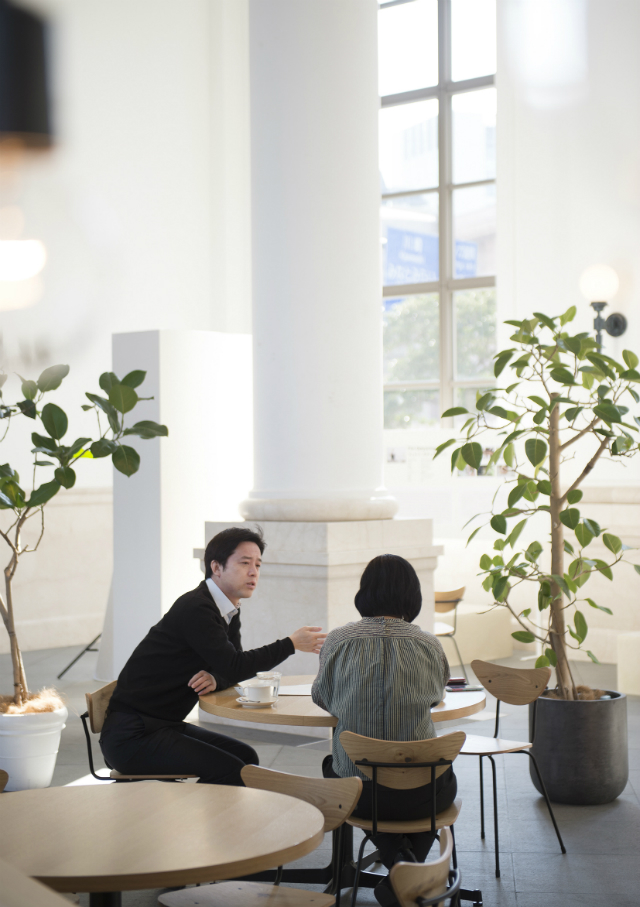 Yoshioka: I see. How about Mr. Pichet Klunchun? Is he also involved in any of the BACC projects?
Luckana: Mr. Pichet had a performance at BACC two years ago. Also in 2015, Prof. Dr. Parichat Jungwiwattanaporn from Thammasart University initiated an international symposium on contemporary theater and performance in ASEAN, held at BACC and co-organized by the Japan Foundation, Bangkok. During the symposium, Mr. Pichet performed with his company, along with the performance by Mr. Eko Supriyanto from Indonesia.
Yoshioka: How do you allocate the space and periods for each project annually?
Luckana: For exhibitions, we have three main galleries, each of 1,500 square meters. These galleries are managed by the Exhibition Department headed by Ms. Pichaya "Aime" Suphavanij. We have an exhibition committee to supervise the direction for the following three years, discussing what would be the right direction, what we really want to present to the public, etc. We curate the whole program with the committee.
For performing arts, we have the said Performative Arts Festival, working with different people to coordinate time slots properly. We also accept proposals from fellow organizations and partners for the rest of the available months and days.
Yoshioka: I see. This is my final question as we're short on time. What would you like to focus on for the second term as the director of BACC?
Luckana: I would like to focus on contributing to provide more quality works. I mean, both in terms of professionalism from our staff as well as our dedicated input of in-depth and extensive research for each of our curated programs whether they are on the visual arts, films, music, and performing arts. In the early years, with many urgent issues to be tackled daily—whether they involved architectural alterations and improvements, team building, financial securing, etc.—we had less time and energy to focus on developing long-term plans that kept on the track of our mission and mandate. Now, although some minor problems remain, things are more settled and we can now come back to review what we have achieved and also failed at, what really are our new challenges and, with all these years of accumulated experience in growing the arts and cultural networks and supporting them from different sectors, what and how we could further contribute to the enrichment of life of the people and Thai society at large. Meanwhile, I also want to appeal to the global society and make BACC serve as the leading art and cultural facility Bangkok city can be proud of. It is the keyword for me.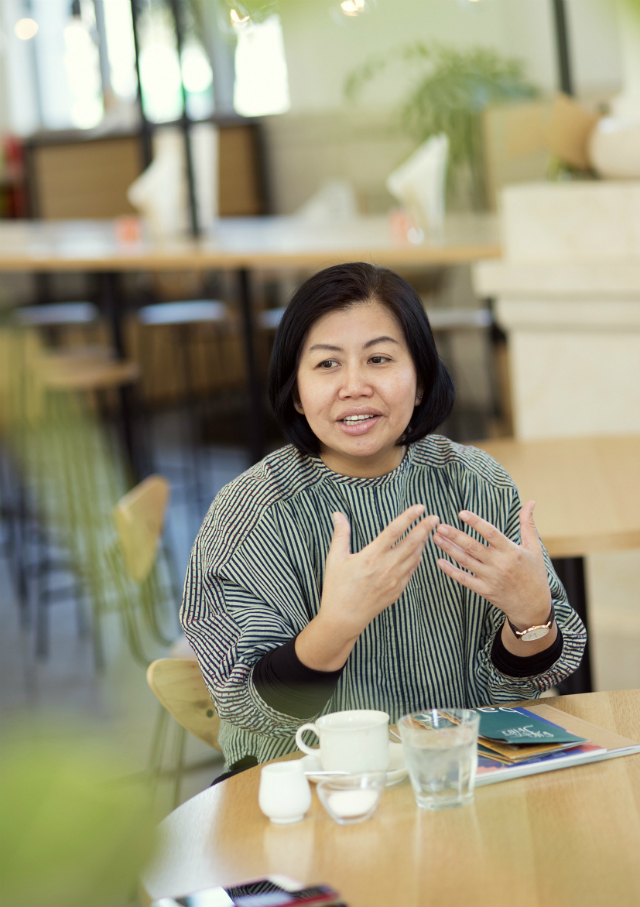 Another point is that BACC also has the objective to be a learning center for citizens. So BACC should be a learning place for everyone and anyone who are interested in the cultural and historical knowledges of the arts of Thailand and the arts of the international world. It should be also a meeting place. It is a place where you are exposed to diverse cultures. That is what we would like to offer. It improves our cultural life. It enriches the cultural lives of the city people, visitors from other towns, and also visitors from international communities.
Every time we hold programs, we always have to go back and see if we are still on track or if we just go around the bush. It's very important when you work in a public institution to always come back and evaluate what you have done, whether it served the goals that you set up.
I think we have been quite successful in terms of gaining public support so far. We have a growing number of visitors and with that growing number, I think the next challenging step is, "how can we deepen the audience's understandings; to not visit the Center as a passerby, coming here just to take selfies, or a place for their Instagram accounts. How can we further develop their knowledge and their appreciation for art?" That will be our next step to take.
BACC is handled on the city level, not on the national level. So, to be honest, what we can do within our capacity is very limited. But the Ministry of Culture has just started a new grant program stipulated by a new funding law which passed in the last year or so.
There are a lot of Thai artists who are well-recognized internationally but they can get very little support from the Thai government. I do hope the new grant program, of this national level, will provide opportunities for Thai artists to develop their practices further, and for Thai people to directly appreciate the artworks emerged from their own community. BACC will also do our best to facilitate such a development.
Yoshioka: I hope the Japan Foundation can also contribute to such developments in cultural exchange for the future. Thank you very much for your time today.
Luckana: Thank you very much.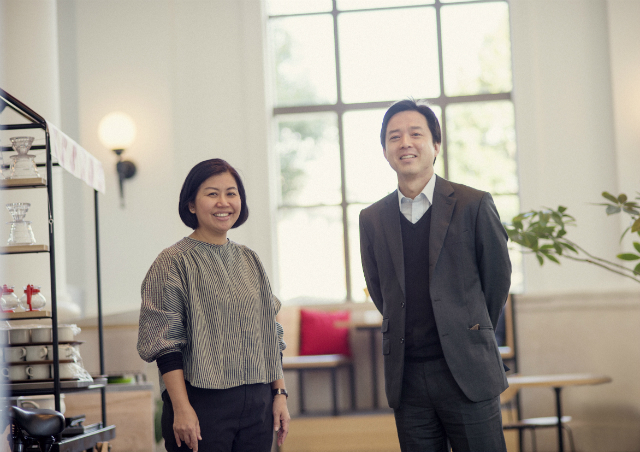 [February 9, 2016 at Yokohama Creative City Centre]
---
Interview and text : Norihiko Yoshioka
Norihiko Yoshioka is currently Director-General of the Japan Foundation, Bangkok. From 1999 to 2004, he served as Assistant Director of the Japan Foundation, Bangkok, managing and organizing such cultural events as annual Japanese film festivals, arts exhibitions, and stage performances, including the legendary Bangkok premier performance, memorandum by Dumb Type in 2003. He also served as Deputy Director of the Japan Foundation Center for Cultural Exchange in Vietnam, prior to being appointed as Deputy Director of the Japan Foundation Asia Center's Arts, Culture and Exchange Section in Tokyo. His recent initiatives and coordination include; Yayoi Kusama: Obsessions (2013/Vietnam), Go! Go! Japan! Rock Festival (2013/ Vietnam), DANCE DANCE ASIA (2014 onward/Asian countries), and Ensembles Asia with Otomo Yoshihide (2014 onward/Asian countries) to name but a few. He occasionally works as a translator for Thai–Japanese publications. His translations include: Zayu no Nippon [Lit. My Desk Side Japan], Prabda Yoon, Typhoon Books Japan, 2008; Chikyu de Saigo no Futari [Last Life in the Universe], Prabda Yoon, Sony Magazines, 2004.