ASIA HUNDREDS is a series of interviews and conference presentations by professionals with whom the Japan Foundation Asia Center works through its many cultural projects.
By sharing the words of key figures in the arts and cultures in both English and Japanese and archiving the "present" moments of Asia, we hope to further generate cultural exchange within and among the regions.
Stemming from a Study of Ancient Art
Yoshioka: Firstly, would you please share with us about your background? So at the time you were not studying subjects related to art?
Luckana: I graduated from Silpakorn University, well-known in Thailand as an edifice of art, but my major was, actually, English literature.
Yoshioka: So at the time you were not studying subjects related to art?
Luckana: Not really. I studied a lot on art history, ancient art in particular, because my department belongs to the Faculty of Archaeology and I could take the courses on art history too. So I had the chance to study Chinese, Indian, and Cambodian art, all of which influenced the ancient arts of Thailand. I studied Thai art history as well, beginning from Sukothai and Ayutthaya periods, and even back to the pre-historic.
Thanks to my school environment and life, which largely consisted of friends from the Faculty of Painting, Design and Architecture, stimulated my interests in continuing further to study art.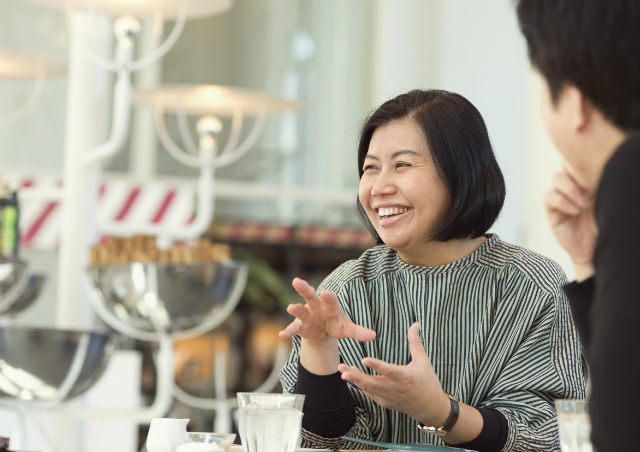 Yoshioka: So then you enrolled in the master's course on art?
Luckana: Not really again [laughs]. After graduation, I joined The Nation newspaper as a journalist.
Yoshioka: Wow, it is one of Thailand's leading English newspapers, isn't it?
Luckana: Yes. I wanted to exercise my English at work as I majored in it. I worked at The Nation for around two years in 1989 and 1990, mainly writing for the art and culture section called "Focus." I met with a lot of interesting people during that time. It was really an eye-opening experience for me.
Yoshioka: What were the major topics in arts and culture at the time?
Luckana: Art competitions in the National Gallery and university galleries.
Yoshioka: Competitions organized by the Ministry of Culture?
Luckana: No, at the time, we had no Ministry of Culture. The Ministry was, as you know, established in very, very later year in Thailand…
Yoshioka: Oh yes but still, earlier than Japan [laughs]. In Japan, we have the Agency for Cultural Affairs but it is not of a ministry level. Anyway, who were the organizers of the art competitions?
Luckana: There were national art exhibitions held by Silpakorn University and other major art competitions by several banks and private companies at the time. Only a few private galleries existed, back then; there were ups and downs of openings and closings. There were no more than ten at a time, I think. The art scene was mainly active around the universities, through the art galleries in Silpakorn University and Chulalongkorn University.
Yoshioka: You covered the performing arts too?
Luckana: Yes, but only a few. I think the performing arts were not the people's interests at the time. I remember this theater company called the 28 Group. They were producing big stages like "Man of La Mancha," those adaptations of western musicals and performances. But they are the group that gathered a lot of intellectuals within their circle. The other performances and movements were, like in the case of visual arts, affiliated with the universities like Chulalongkorn University, lead by Professor Sodsai Pantoomkomol, the founder of the Department of Dramatic Arts in 1975, or Thammasat University, lead by Professor Mattani Mojdara Rutnin, an internationally well-known scholar on Thai theater and dance since the '80s.
Yoshioka: I see. It might be interesting to research the roles of universities during that time; to what degree they contributed to the promotion and appreciation of the arts in Thailand.
Going back to your background; you, then, went abroad to earn a master's degree?
Luckana: Yes, I went to Australia, to the University of New England. I chose to continue studying the Indian influences on Thai art because there were not many subjects to choose from or resources on contemporary art in Australia. So, I decided to study ancient, the pre-modern art.
But then the exposure to Western cultures or Western-influenced cultures in Australia helped me a lot to expand my knowledge about contemporary art.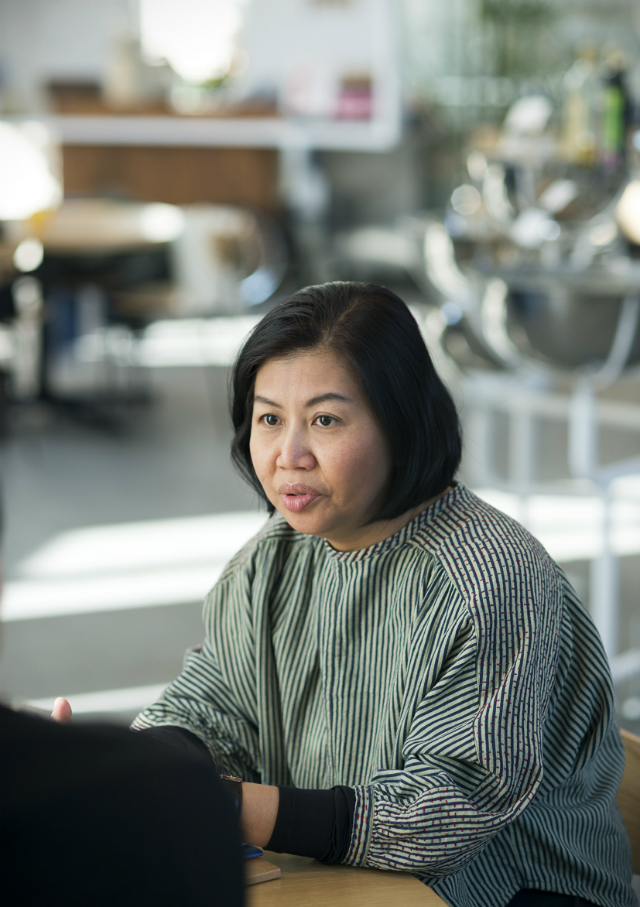 Yoshioka: And you came back to Thailand?
Luckana: Yes. My first career in the field of contemporary art started at Bangkok University with Mr. Petch Osathanugrah, the son of the private university's founder. He is now the president of the university.
Mr. Petch is a well-known musician and singer but also an enthusiastic patron of contemporary art, collecting a lot of artworks by Thai and international artists. He has a lifetime dream to open his own private museum and I was helping him set it up while teaching as a part-time lecturer at the university.
It was in early '90s, but the museum is now still under construction. I withdrew from the project in one and a half year. I'll omit the details here but he is still working on it. He is taking so many years on it mainly due to his hesitation to open it in a rough-and-ready way, but I believe it will finally open in the near future.
My career then lead me to the Rama IX Art Museum Project which has now become the Rama IX Art Museum Foundation.
Yoshioka: I think I have seen the project online. Whenever I googled "Thai Artist," the project's name pops up in the list of the first page.
Luckana: Yes, the project is like a museum on cyberspace. But in the beginning, it was a project to organize a large scale art exhibition covering the history of art during the reign of Rama IX, King Bhumibol, to celebrate the 50th anniversary of His Majesty the King's accession to the throne in 1996. I was in the assistant curatorial team to help curators who had to cover the artworks of the five decades during the King Bhumibol's reign (1946–1996).
I think that was one of the earliest exhibitions to really focus on the historical account of modern/contemporary art of Thailand. We published an art book with all the images of Thai art from the earlier modern period to the very contemporary period. We conducted educational outreach programs as well.
At the end of the project, they decided to register the organization as a foundation and continued on the website, providing knowledge about Thai modern art and building an artist directory.
It was after this that I moved to Tadu Contemporary Art in 1997.
The Tom Yam Goong Crisis and the Rise of Contemporary Practices
Yoshioka: That is the year when the Asian financial crisis was triggered.
Luckana: Yes, the Tom Yam Goong crisis.
Yoshioka: Tom Yam Goong? The Thai spicy soup?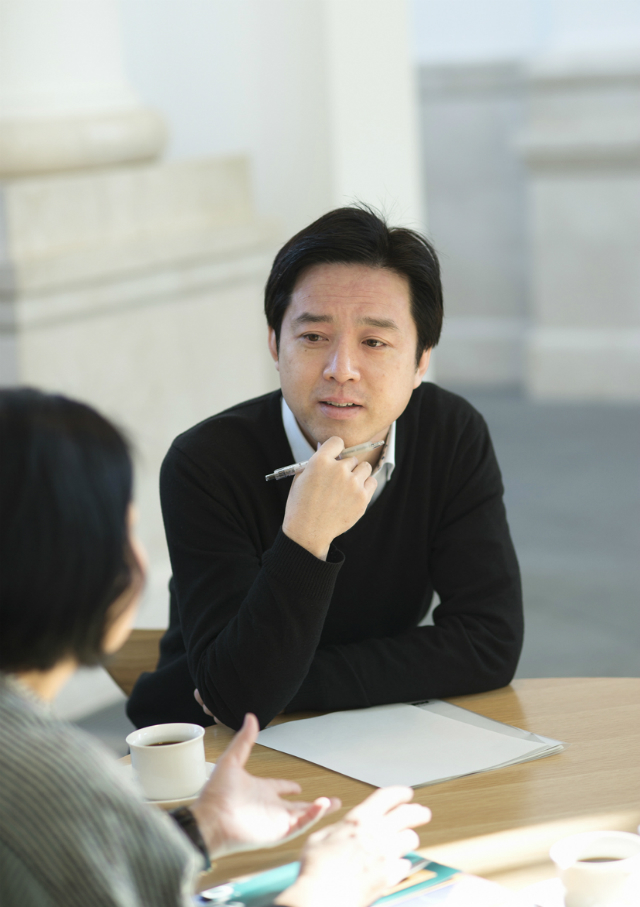 Luckana: Yes, we call the crisis that in Thailand. We exported the crisis to the other countries in Southeast Asia like our famous food, Tom Yam Goong.
A lot of financial institutions and corporate companies went bankrupt and their assets, including art pieces, were confiscated. Such artworks were sold in auctions in the next two years, offered at very cheap prices.
The effects of the crisis spread to the Tadu Contemporary Art as well. At the time, the space was run as a commercial art gallery, mainly sponsored by the Yontrakit Group, a big company importing European luxurious cars like BMW and Citroen. They also had to cut their budget for the space dramatically.
We had to rethink our position and direction; whether we could continue as a commercial gallery or not. We realized that without good financial support, it is very difficult for us to maintain the commercial aspect of the gallery. So we decided to shift to a not-for-profit center, providing the space as a platform even for other kinds of arts like films and performing arts.
Yoshioka: Then, in a sense, we have to thank the Tom Yam Goong crisis for triggering the transformation of Tadu Contemporary Art into a kind of alternative space of the time. I remember; working in Bangkok in 1999 and early 2000s, Tadu Contemporary Art was one of the most exciting spots to see experimental and contemporary art practices in Bangkok along with other cutting-edge alternative spaces like Project 304 and About Café.
Luckana: We set our mission not only to promote artists but also to work on the audience base, providing more information and knowledge on contemporary art in a broader sense. We also made more effort to reach out to other sponsors, not only relying on the Yontrakit Group.
They were happy with that because they spent less. But to be honest, it was a very hard time for us to survive in the late '90s.
We set our mission not only to promote artists but also to work on the audience base, providing more information and knowledge on contemporary art in a broader sense. We also made more effort to reach out to other sponsors, not only relying on the Yontrakit Group.
They were happy with that because they spent less. But to be honest, it was a very hard time for us to survive in the late '90s.
Yoshioka: I see. Without knowing the struggle behind, I was enjoying the early performances by B-Floor, Makhampom Theatre and 8X8 Theatre at Tadu Contemporary Art.
Luckana: In the case of Makhampom Theatre, it was mainly an individual project by the then director of the Theatre, Mr. Pradit "Tua" Prasartthong. After the crisis, our society in general was re-thinking what is our ideal. Where should we head to? So we invited different young theater groups to present their new works.
As for 8X8 Theatre, in their early years, it was more of a solo show by the director, Mr. Nikorn Seatang. One of his key pieces at the time was Insomnia, which I found very interesting.
Yoshioka: How about Mr. Pichet Klunchun?
Luckana: Yes, we invited him too. In one rare dance piece in the early years, actually, Mr. Pichet and Mr. Pradit "Tua" were performing together, choreographed by the revered Associate Professor of the Faculty of Arts at Chulalongkorn University, Pornrat Damrung.
It was an experimental attempt to explore the possibility of drawing on the contemporary elements in traditional Thai dance practices by having these two excellent performers play together with the sound designed by Ms. Sinnapa Sarasas.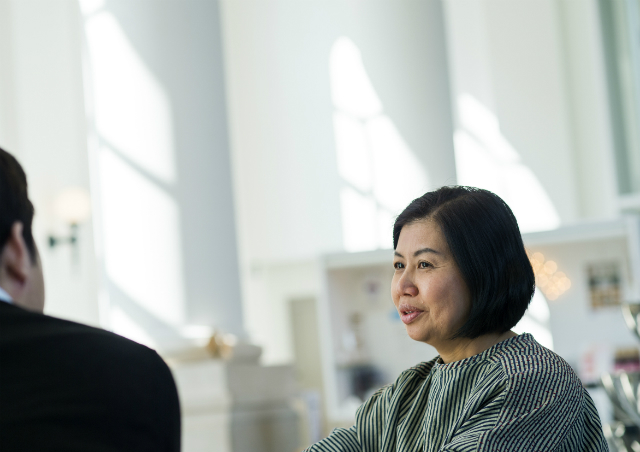 Yoshioka: I remember the seating capacity for 8X8 Theatre is around 100–150, without fixed seats. How were the feedbacks from the audience for such kinds of experimental contemporary practices at the time?
Luckana: It was basically very positive; oftentimes packed, full-houses. At the time, there wasn't anything like that being offered in the theater circle. The young generation, they wanted to try to be able to explore new kinds of expression or media. I think we were quite successful with getting mainly practitioners in the field and then expanding it to the larger audience.
Yoshioka: I was so lucky then being a part of such audience. Tadu Contemporary Art, however, was finally closed and relocated in the middle of the 2000s, wasn't it? Then you also shifted your work.
Luckana: Yes. While working at Tadu Contemporary Art, there was a new project; setting up the Queen's Gallery. The preparations began sometime from 2001. There was an old building that used to be one of the branches of Bangkok Bank, a major bank in Thailand. They had had this space for some time and decided to renovate it because Her Majesty the Queen had donated some money back to them. She said to the chairman of the company, "Please make a museum for the Thai people."
They decided to do it but still didn't have enough staff. I was asked to join them in 2003 to help set up the program and recruit people. I was there for another year and a half, just helping and then I left. I told them that if I didn't leave now, I wouldn't be able to have a family. I was about 38 then and I decided, oh, it's time that I should have a daughter or a son of my own rather than just playing with my niece and nephew. I said, "Please allow me to leave, I think I have a good reason." So, I left in 2005.
Then, I had a baby. I'd been a full-time mom for about four years. I was in a pause for a while, taking care of my family and occasionally doing part-time jobs before coming back and working with the Bangkok Art and Culture Centre (BACC) in 2011.
Taking Off, but Not As Smooth As Silk
Yoshioka: You are the second director of BACC?
Luckana: Yes. BACC opened in 2008 with the first director, Mr. Chatvichai Promadhattavedi. I was assigned as the director in May 2011 with a four-year contract. I just renewed my contract last year for another four years, extending my term until 2019.
Yoshioka: What was the process before you were appointed director for the first term?
Luckana: They called for applications and I submitted one. There was a series of interviews by the board of directors, and, luckily, I was selected out of the several applicants.
Yoshioka: Who are the members of the board?
Luckana: Mr. Chumpon Apisuk, Professor Dr. Apinan Poshyananda; Deputy Permanent Secretary, Ministry of Culture, Mr. Pradech Phayakvichien; the former director of the Tourism Authority of Thailand, Mr. Chatvichai Promadhattavedi; of course the former director, and former governor of Bangkok, Mr. Apirak Kosayodhin.
Yoshioka: That is a very convincing list of members with arts experts.
Luckana: We learned a lot in the starting years. In the first year, in 2008, the Bangkok Metropolitan Authority (BMA) already had the Bangkok Art and Culture Centre Foundation to run but there were problems because the Foundation was chaired by the Bangkok governor himself with the board members from BMA's bureaucratic officers. It would be probably not quite right that the budget for the Foundation approved by BMA was managed by almost the same members. So, they decided that all the committee should be from outside, no officials from BMA.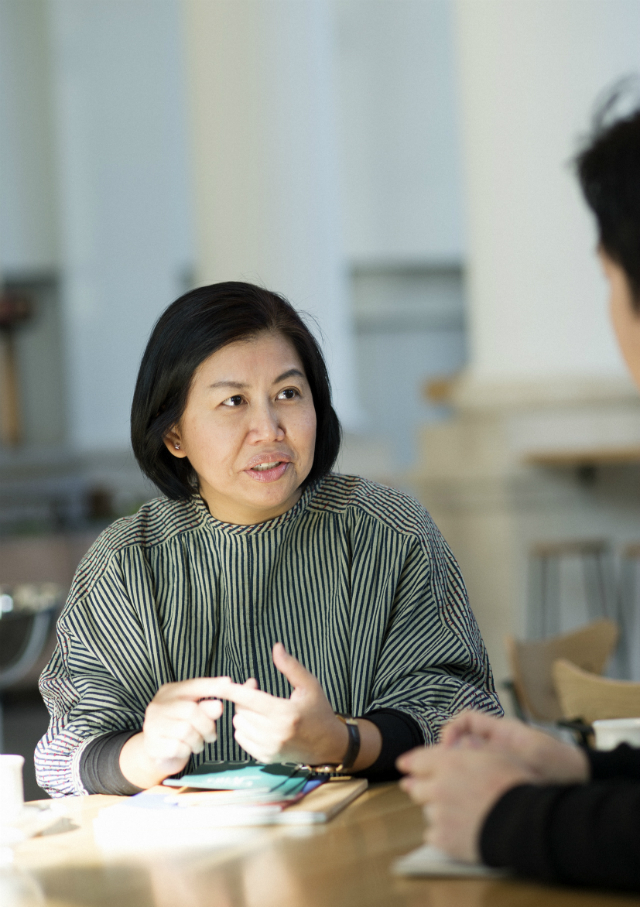 The first few years, BACC and running it was in very poor shape because of these uncertainties about its clarity; they couldn't approve the budget or even if they could, it was very little. We couldn't do anything other than to pay for the maintenance, cleaning, and electricity. There really was not enough to run anything. So, the first three years was really...like freezing.
That's why people criticized it a lot. People came into the building but it was empty. There was not much to see. As BACC had little money for conducting projects, they just waited for people to carry in luggage and do the work. They were not able to curate anything on their own.
It was quite messy for the first three years. I sympathized, actually, for Mr. Chatvichai for being in that position for three years.
In early 2011, BMA decided that they could not go on like this anymore. So, they decided to renew the committee members, changing the whole board. Mr.Apirak came in because he already finished his term as governor. Then, most of the BMA officials were gone. They called in professionals and businessmen for their expertise in financial management. They also needed to recruit a new director and a new team. That's how I was appointed in May 2011.
Yoshioka: What is the relationship between the BACC Foundation and BACC like?
Luckana: BACC is mainly funded by BMA and administrated by the BACC Foundation. I am, in the terms of finance, like the CEO of the administration team, belonging to the Foundation.
Yoshioka: How many percentage do you mean by "mainly funded" by BMA?
Luckana: Sixty percent.
Yoshioka: What about the other forty percent?
Luckana: We have to fundraise ourselves. We can think about renting our retail spaces in the building as well. We were lucky in a sense because it was part of the plan since the beginning; BMA was planning to subsidize partially by constructing retail spaces in the building. But, of course, we need to make efforts to find corporate sponsorship as well as build partnerships.
Yoshioka: Does the building itself belong to the Foundation?
Luckana: The building itself belongs to the city, to BMA.
Yoshioka: When you receive subsidies from BMA, do you have to apply for it in advance or submit something?
Luckana: Yes. We have to draft our yearly plan and present it. Our channel is through the section called the Culture, Sports and Tourism Department in BMA. We have to propose our yearly plans through this office, explaining what kind of budget we are using, what would be the programs, and how we're going to spend the money. We'll go to this channel and then the section's staff has to defend it at the BMA council.
Yoshioka: Are the council members all politicians?
Luckana:Yes. It's like a parliament of the city. Because the citizens of Bangkok elect their own governor, they have their own autonomy. You have to go to the council, like parliament, whereby they have representatives from several districts from around the city. The staff actually has quite a hard time defending the budget because all these representatives from each district don't know about contemporary art or modern art. They always complain to me, come back to me, saying, "Could you make it more accessible for them to understand all the proposals and everything because it's already difficult for them."
Yoshioka: You mean the Office of Culture, Sports and Tourism of BMA has to defend the budget against the council? It means the officers in the section understand but council members do not?
Luckana: Kind of, yes. We have already been working with the officers in the section for several years. In the beginning, it was also hard to let the officers understand about our activities and projects. But we tried to get them involved as much as possible. We invited them to be our guests of honor, to come and observe our programs, and everything. Now, they tend to understand and sometimes they use us as a think-tank partner for their own cultural projects at BMA. When they need, they come and consult with us because we know more people in the field of arts and culture. Now, the relationship with the section is much better and it has improved a lot.
But with the council, it's a big congregation of different people from different areas. Some of them are more affected by flood, so they would question why they have to spend on art than building other facilities that would improve flood problems. You have to argue a lot with these people and that's really not easy. But we have to keep communications for better understanding of each other.