Creating a Theater Production Independent of Words and Language
Hatori: How are you actually going back and forth between Japan and Vietnam? What are you doing every day in Vietnam?
Muneshige: Right now I am a student at Ho Chi Minh City University of Social Sciences and Humanities. During the daytime I study Vietnamese in the Faculty of Vietnamese Studies, and in the evenings I go to watch plays by theater troupes in Ho Chi Minh City.
Hatori: Are there already many translations for both Chekhov and Brecht that you'll be using as texts in Hanoi?
Muneshige: There are translations of both playwrights, but we won't necessarily follow the script that much; we'd change the script for our production. My goal is to see if I can put on a play without relying on words or language. When performing overseas, productions in Japanese would normally have English sub- or surtitles. But if Japanese people and Vietnamese people are performing together, there would be a mix of Vietnamese and Japanese. So I want to make a play where the content will be understood in both contexts and languages. My ultimate goal would be to build a relationship or network of actors and performers where you can't tell whether the actors are Japanese or Vietnamese.
Hatori: A network where each person would be speaking in the language they are most fluent?
Muneshige: Yes, what I mean is that there would be assimilation. Some actors would speak in Japanese, others Vietnamese, and others even both. I'm more concerned with the intangible, invisible ties between actors rather than understanding each other's language.
Theater is by nature composed largely of words and script, so complicated explanations would obviously be dependent on the verbal, on words. But for The Yes Sayer/The No Sayer, I want to create scenes where we only connect simple words together and keep words to a minimum.
Hatori: Are you already visualizing your ultimate goal in working on The Yes Sayer/The No Sayer?
Muneshige: Yes, I think so. There's one more work on top of The Yes Sayer/The No Sayer that I'm actually working on. The Decision is a work that cuts right into the issues surrounding the nation, politics, the socialist state, and communism. I think the relationship between the state and theater will change drastically if we can perform this play. But it will take more time.
Theater that is not Limited to the Stage
Hatori: While you are trying to change the content of the plays you put on—by working on plays by Chekhov and Brecht—the actual spaces or audiences that come to see it remain the same, I assume. What are your tactics in addressing this possible unchange?
Muneshige: I think the key is to try to change how theater is perceived: to take theater off the stage and into everyday life. For instance, how the performers convey something to the audience by re-situating or re-locating preconceptions. During elections, for example, we always see candidates making speeches in and around the city. Although this is not necessarily theater it is theatrical, especially if the candidate manages to form a two-way relationship with the audience where he conveys his message and the audience react to it. I think that can also be considered a form of theater. The same, I think, applies to festivals held in villages. If there is some form of relationship where contemporary elements are integrated into the traditional arts, I think the latter will evolve. Stage theater is of course important, but I hope to explore the practice of theater that is not limited to the stage.
Spreading the Marvelous World of Asian Theater
Hatori: Do you know if there are communications between Vietnam and other Southeast Asian countries on theater productions or exchange?
Muneshige: The Vietnam National Drama Theatre has previously invited Singaporean directors as part of their exchange project, but these efforts have yet to lead to further communication on theater. PETA unfortunately does not offer workshops in Vietnam either.
Hatori: I imagine that your twenty-year relationship with PETA would be very instrumental to introducing more ties among the countries, but have you not thought about introducing the people from PETA?
Muneshige: I hadn't considered that.
Hatori: Is that because you believe the conditions will evolve in a different direction?
Muneshige: No, it just simply didn't occur to me.
Hatori: I think it would be beneficial to everyone involved.
Muneshige: That's true, I agree.
Hatori: Because I assume there are countries that are closer to Vietnam than Japan.
Muneshige: The closest are Cambodia and Laos, but I am not familiar with the theater scene in those countries. I have heard that both countries have the shadow puppet theater and traditional performing arts, but I do not know if they have contemporary theater. I do want to research this further, and expand our network across the Indochinese Peninsula. Although we still cannot tell what kind of role theater will play in Indochina—including Thailand, Myanmar, Malaysia, and Singapore—or how these countries will give rise to new forms of theater in the future, I do believe it will be interesting to pursue that journey while working with Vietnam.
Hatori: I'd be thrilled to follow and learn more about your engagements.
Muneshige: I just really would like for the people who love the theater go to Asia; I want them to develop their interests, whatever it is. I want them to go to Asia, find a way to engage directly with each of the countries, and treasure the experiences and encounters. There's no need for theory or knowledge when we interact; theories aren't the driving energy in an interaction. What you take from your experiences is what directs you to the next step, so that is what is important. So I can't stress enough that it's important to feel, reflect on your experiences, and figure out your next move.
Brecht was the one who pulled me into the world of theater and had worked on productions in and with West Germany, so Western theater was always at the forefront of in my mind. Somehow, the theater world tends to focus on England, France, Germany, Russia, and the United States, but Asia has its own uniqueness which is by no means inferior to Europe.
We must spread the message that going to Asia is fun and will result in encounters with interesting people. This kind of information is currently lacking, particularly in Vietnam. Now that I am over sixty, I want to really get the word out there that I am enjoying theater in Vietnam.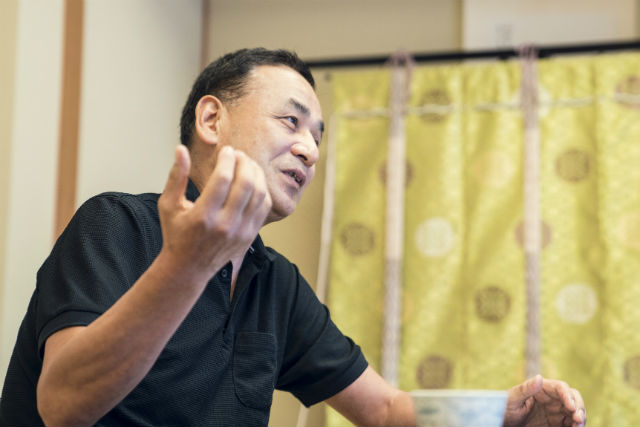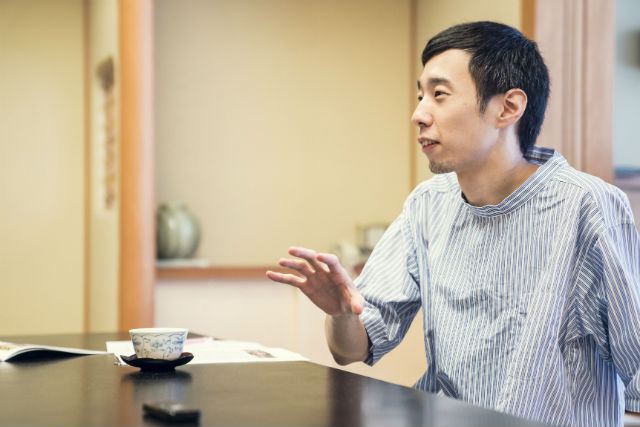 Doesn't Like the Theater? The One thing that Motivates Muneshige
Hatori: What's motivating you or driving you to continue working on these projects for at least the next five years?
Muneshige: I want to engage with various people in different places; I have always believed theater is a means to achieve that. Black Tent Theatre began with the conviction to perform wherever there was a group of audiences who wanted to see plays; we began to travel around the country with a large tent regardless of whether there was a stage or not. I think this conviction has rubbed off on me, and now, I am now expanding my arena to overseas. Several years ago, the Black Tent Theatre underwent a generational transition, and I would like to redirect its focus to Asia and possibly pursue exchange project with our Asian counterparts. Obviously, I'm not looking to privatize exchanges. Instead, I want to open up the ties I've developed to the younger theater groups or the younger generation.
I'm actually not that fond of the theater. But I am very interested in people who like it. Everyone has different reasons for working in theater and I find that that itself is interesting. Regardless of it being under the supervision of the government, people in Vietnam are always involved in some kind of theater. Whatever their reason may be, if the younger generation needs the theater, I want to work with them and do something together. If there are a group of people who are struggling to do their best in continuing their theater work, I want to join them. These exchange projects in Vietnam is not something that will just end after my one-year fellowship; it will definitely continue another five years.
Hatori: Twenty years! Not five, but another twenty years, please.
Muneshige: Thank you. I'll try to for another twenty. In twenty years' time, maybe we will have achieved something.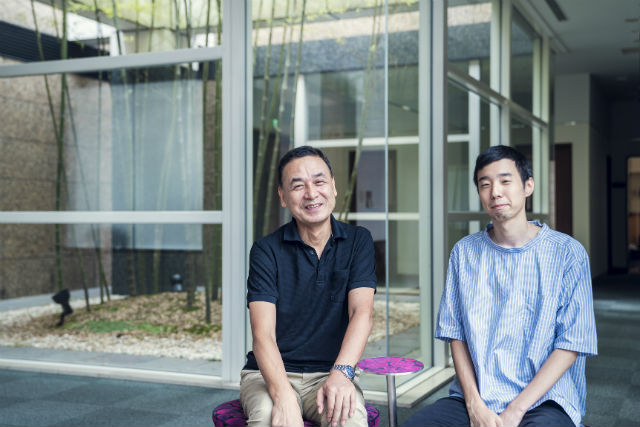 On August 18, 2017 at the Japan Foundation in Tokyo
More Information on Hiroyuki and Yoshiro Hatori
The Japan Foundation Asia Center Fellowship Program: Hiroyuki "Factual investigation of traditional and modern theater in Vietnam and promotion of performing arts exchange between Japan and Vietnam"
The Japan Foundation Asia Center Grant and Fellowship Program
Black Tent Theatre Official Website (Japanese)
Asian Artist Interview (Performing Arts Meeting in Yokohama)
---
Interviewer: Yoshiro Hatori
Born in Brussels in 1989. Director and Founder of Kenobi. Director of "The Useful Program" (Kyoto International Performing Arts Festival – Kyoto Experiment 2013, 2014), Assistant Director at Performing Arts Meeting in Yokohama (2015–present). Involved in deepening exchange with artists from Southeast Asia as coordinator for projects such as TPAM's Asian Artist Interview and ZA–KOENJI Public Theatre's "one table two chairs meeting"
Editors: Fumiko Takahashi, Natsuko Minemura (The Japan Foundation Asia Center)
Photo (Interview): Hajime Sato