The Beginning: Collaboration in Japan
Yuko Murata (hereinafter Murata): Meiske, I understand that you worked with Ms. Asako Fujioka*1 who is interpreting today for "A meeting of film organizers, producers and audiences: Japan & Indonesia!"*2 in 2014. Could you tell me how that came about?
*1 Has served as the Coordinator (1993–2008) and Director (2009–2014) of the Yamagata International Documentary Film Festival in Japan. Member of its Board of Directors since 2015. She is also the Director of Documentary Dream Center and the Independent Cinema Guild [Eiganabe].
*2 Organized by the Documentary Dream Center, Independent Cinema Guild [Eiganabe], and Kolektif, it consisted of film screenings, workshops, and a symposium on Japanese and Indonesian films held in Kobe and Tokyo from November 19th to 24th, 2014.
Meiske Taurisia (hereinafter Meiske): I met Asako during my research in Japan as an API Fellow (The Nippon Foundation Fellowship) in 2013. We got talking then and we just got along, discussing things about film, what can we do together. That's how it all started. I was invited to "Talk Series: Independent Cinema Around the World / Indonesia"*3 and got to know the staff and the filming courses that the Independent Cinema Guild [Eiganabe] organize.
For "A meeting of film organizers, producers and audiences: Japan & Indonesia!" Asako worked on the financing and she'd got funding from the Japan Foundation Asia Center and the Arts Council Tokyo. In Japan, we held programs in Kobe and Tokyo. For the iterations in Indonesia, in Jakarta and Yogyakarta, since we don't have institutions to fund projects like this, I tried to find support from other networks like already-existing programs, screening houses, and film festivals.
*3 Study session and workshop organized by the Independent Cinema Guild [Eiganabe] taking up case studies of overseas independent film industries and rethinking the conditions and situation in Japan. The "Talk Series: Independent Cinema Around the World / Indonesia" was held on January 30, 2014.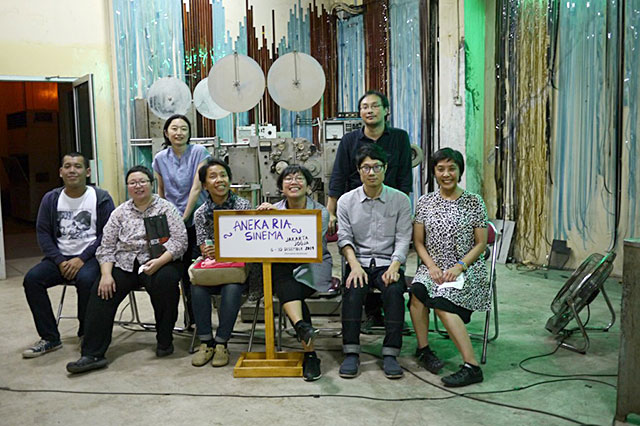 Meiske: We invited several members from Eiganabe to Indonesia and, in Yogyakarta [Jogja], we succeeded in getting the Jogja-NETPAC Asian Film Festival (JAFF) to host us, and we also held programs at Ifa Isfansyah's Jogja Film Academy. We held film screenings there too with the help of a community of staff of a documentary film festival. From Japan, we brought three films―Tariumu shojo no dokusatsu nikki [GFP BUNNY] (2013) by Yutaka Tsuchiya, Kantai [Hospitalité] (2011) by Koji Fukada, and Matsuri no uma [The Horses of Fukushima] (2013) by Yoju Matsubayashi―and we screened them in both Jogja and Jakarta.
We also worked with the Japan Foundation, Jakarta to screen Tokyo Story (1953) by Yasujiro Ozu at the Perusahaan Umum Produksi Film Negara (PFN) [ Indonesian State Film Company].*4 We also had a little support from Hivos, an NGO from the Netherlands.
*4 A state-owned film production company which was established during the Dutch occupation. Prior to the end of the Japanese occupation it was the Nippon Eigasha in Jakarta which then became the Perusahaan Umum Produkusi Film Negara [Indonesian State Film Company]. During the Soekarno regime, the PFN created many propaganda films and news footages.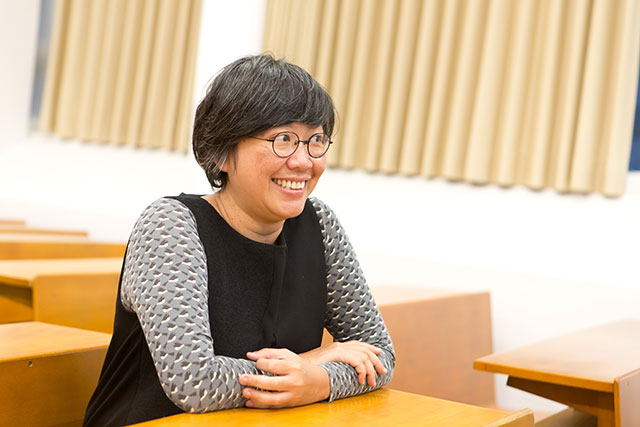 Murata: Is there anything in particular that you found was very different between the situation of film screening in Japan and Indonesia?
Meiske: During my stay in Japan, Asako recommended many "mini-theaters" (arthouse cinemas)―we visited lots in Kobe, Osaka, and Tokyo― and I realized that this was something we don't have in Indonesia. I also used to live in Europe―I was there studying―so I was familiar with the European arthouse cinemas which are run and funded by the city or the state. Here, in Japan, there are run privately. The European type of arthouse cinemas, which have governmental support, wouldn't work in Indonesia, but I thought we may be able to create our own screening space adapting the Japanese-styled ones.
Colorful Indonesia 2 and Sustainable Film Programming
Murata: How did you find curating Colorful Indonesia 2 with Ms. Takasaki? What did you pay attention to in curating it?
Meiske: It was very exciting to work with Ikuko and to work on this collaboration. I have to admit, I'm very interested to know the numbers of visitors that came because this type of program doesn't easily attract the public. Having good promotion and advertising it well helps, of course, but I know from experience that advertising does not necessarily guarantee a full house. That's a difficulty we have in screening Indonesian films, but that is precisely the reason we have to hold them on a regular basis and develop screening programs that will continue. A one-time program will only be just that, but like this particular screening program, it is wonderful how it began with the project with Eiganabe and developed into this Colorful Indonesia 2. I don't know what we can do yet, but we should let it evolve into another program in the future. To create a sustainable film screening program, it is very important to have regular screening opportunities and to increase viewers of Indonesian and Southeast Asian films.
Sadly Southeast Asian film doesn't have a large audience-base, so it is quite a tough terrain. But again, that is exactly why I am curious of the audiences' reactions in a program like this, and I do feel very privileged and lucky to realize such a program.
Murata: How was curating Colorful Indonesia 2 for you, Ms. Takasaki?
Ikuko Takasaki (hereinafter Takasaki): Southeast Asian films have not been the Athénée Français Cultural Center's strong point, to be honest, and, I too had the tendency to prefer European films over Asian ones. So, I admit curating Colorful Indonesia 2 was challenging. When programming a film screening, at the Athénée Français, we would oftentimes focus on a particular filmmaker and that was one of the choices we thought of this time; featuring one director, for instance, is the most simple and understandable, I think. But, because access to and opportunities to see Indonesian films in Japan is very limited―despite there being the demand to see them―we thought that it'll be a good chance to show a variety of films by different directors. And that was the starting point for programming Colorful Indonesia 2.
During the selection process, Meiske gave me advice and that was a very valuable experience; especially for the "Best Selection of Indonesian Short Films" program, her recommendations and suggestions was very helpful. There were films which I found very difficult to track down because there were no English documentations on them or that there were only blurbs of them. So it was very, very important to have her input as an expert on Indonesian film and its industry; as someone who knows it inside and out, and who has a broad overview of the situation. That process was very productive and educational in terms of which films to screen and also how we wanted to present Indonesian film here.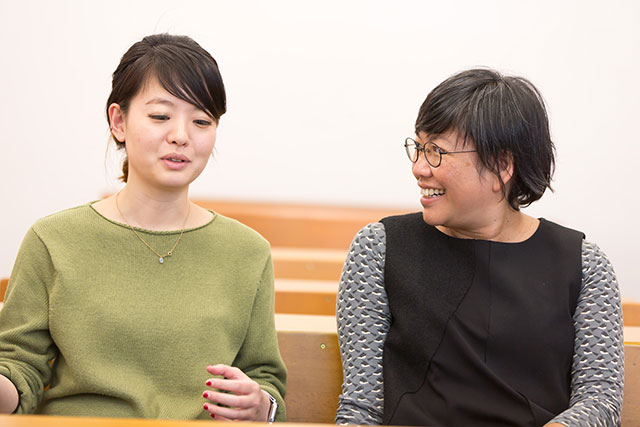 Takasaki: Our audience-base is more familiar with European and American films and film critiques, and I thought our regular viewers would be interested in The Three Sisters (1956) by Usmar Ismail because it's a classic, so it was a nice surprised to see many visitors for the "Best Selections of Indonesian Short Films" program today too. In addition to our regular visitors, I think we've gained new audiences who are interested in Southeast Asian culture and movies, and that is something we strive for at Athénée Français―to lure in all kinds of visitors―and I think, this time, for Colorful Indonesia 2, we were able to reach many first-timers as well as regular visitor, so I think it was a very successful program.