Situating Women in Indonesian Society
Yumi Matsushita (hereinafter Matsushita): Let's invite the four panelists to introduce themselves and say a few words before we begin. Meiske [Taurisia], could you start us off?
Meiske Taurisia (hereinafter Meiske): Hello, my name is Meiske Taurisia and I am a film producer. For this iteration of the Tokyo International Film Festival (TIFF), there were two films which I produced that were screened: Someone's Wife in the Boat of Someone's Husband (2013) directed by Edwin and Sendiri Diana Sendiri [Following Diana] (2015) directed by Kamila Andini.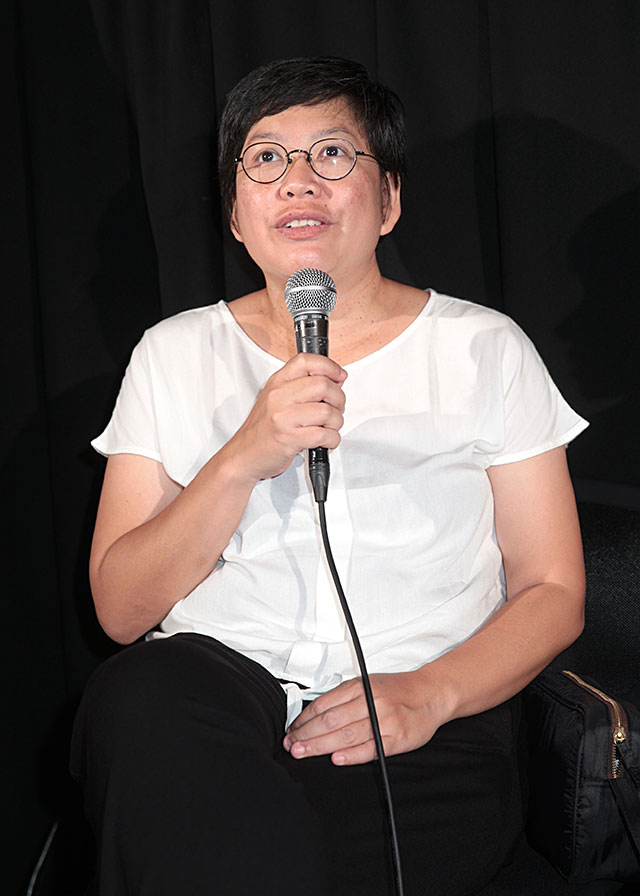 Kamila Andini (hereinafter Kamila): Hello, everyone. I am Kamila Andini and I am a director. It is my second time to be here at TIFF and this time I am here with my short film, Following Diana. I was here in 2011 with my first feature film, Laut Bercermin [The Mirror Never Lies] (2011), which was screened in the Winds of Asian section.
Matsushita: The Mirror Never Lies won the TOYOTA Earth Grand Prix that year, didn't it? The award that is given to films that beautifully depict the co-existence of nature and man. We are delighted to have Kamila's daughter here with us today too; she makes an exemplary panelist for today's symposium, I think. Mouly [Surya], please.
Mouly Surya (hereinafter Mouly): Hello, my name is Mouly Surya and I am a writer and director. I am here for the screening of my first film, Fikisi [Fiction] (2008). Previously, I was invited in 2013 for my second film Yang tidak dibicarakan ketika membicarakan cinta [What They Don't Talk About When They Talk About Love] (2013).
Nia Dinata (hereinafter Nia): Hi, my name is Nia Dinata. I am a director but I also sometimes act as a producer for young Indonesian filmmakers. I have also been invited to TIFF before, if I'm not mistaken, for the screening of Joko Anwar's first film Janji Joni [Joni's Promise] (2005) which I produced. Also, I have been here for my own films such as Berbagi Suami [Love for Share] (2006) and an omnibus film called Perempuan punya cerita [Chants of Lotus] (2007). And now, I am back with Ini Kisah Tiga Dara [Three Sassy Sisters] (2016).
Matsushita: Thank you. I'd like to begin with the title of this symposium, "Symposium with Women Filmmakers." This itself may suggest that women are still considered a minority [in society], but it is undeniable that the role of female filmmakers in Indonesia has seen an unprecedented rise in recent years. Not only within the film industry, but women in significant roles in the workplace―as a manager, for instance―may lead to less employees having to work overtime and the betterment of society as a whole. Nia, could you tell us some of the changes that have happened in the film industry in Indonesia?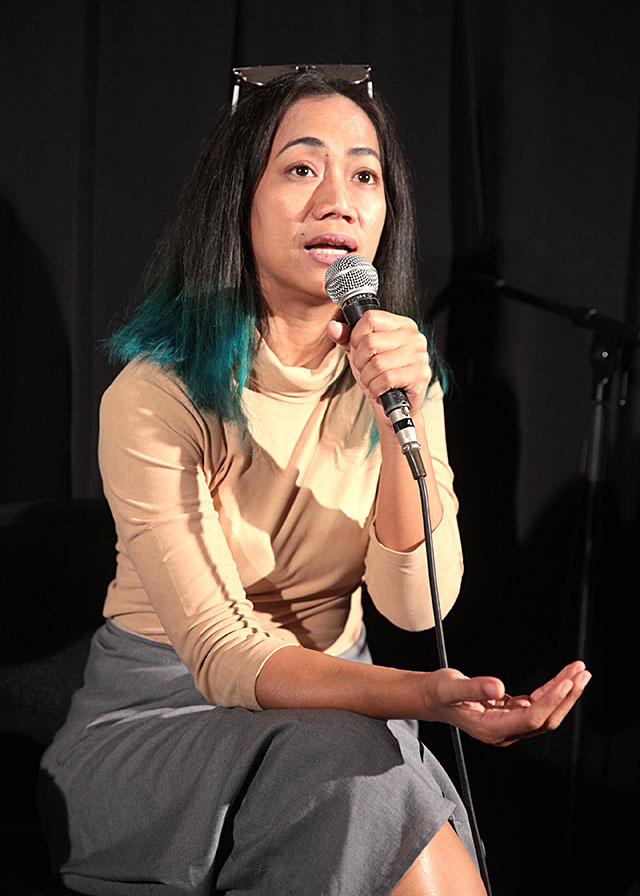 Nia: Actually, there is a very interesting change for women in Indonesia. We are all friends here so maybe we agree, but I think we, as female filmmakers, have become the minority in Indonesian society in the larger sense. I feel that women's awareness, if I may, have changed quite a bit from that of, say, 2003; 2003 was possibly the golden year of freedom of expression in Indonesian film.
To explain this a little: we occasionally screen our films in campuses all over Indonesia―something that I love doing because it gives students who don't have access to the movies to see films―but what I feel has changed so much, especially in these couple of years, is how female students on campuses are more conservative which is shown in the way they dress; I think they have this idea of how women should dress. So when I enter a big campus or sit in a large classroom with them, I become the minority because I don't cover myself or my hair despite the fact that I am a Muslim. Outside the film industry and when I step into an "ordinary" environment, I become the minority even among other women.
Matsushita: Mouly, you used to teach at a film school. What do you think about the female students becoming more conservative?
Mouly: I agree with what Nia is feeling. I think this occurs even in the family: I have four sisters and they all wear the hijab*1 and my daughter goes to an Islamic elementary school and I am the only parent not wearing it. I taught until about a year ago and I think that it is quite difficult for women, especially younger women, because we are not taught to become the breadwinner in the family; we're just not raised that way.
My father has passed away and I have a brother, so if I were to get divorced, according to the law and religion in Indonesia, I will go back home to "belong" to my brother. So, in a way, female students have that kind of mentality and it is very hard for them to actually detach themselves from what they've learnt and have been raised to believe.
*1 A hijab is a veil which usually covers the head and chest, traditionally worn by Muslim women in the presence of adult males outside of their immediate family.