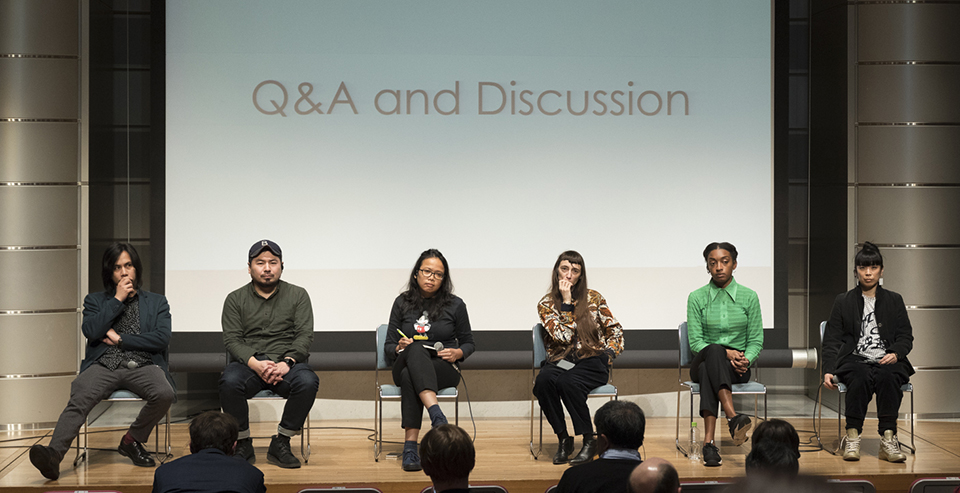 In recent years, festivals and cultural institutions specializing in new media art have developed practical and accessible programs for people to experience creativity hands-on and learn about various forms of artistic expression that use media technology. From this we can see the emergence of new cultural and arts platforms organically connecting digital media, the public, and society through transnational and transregional collaboration and collective creativity within the network society.
What values and challenges are made possible today by digital media creativity? This symposium explored how infrastructures for new media art function within society through a wide-ranging series of case studies from art centers and festivals around the world.
It also considered related issues of cultural heritage, preservation, and archiving for net art and other examples of practice that employ digital technology. Bringing together leading practitioners in media art creativity, education and archiving, the symposium was an opportunity to assess the future prospects for arts and culture that will grow out of crossovers between art and technology.
Click to enlarge [PDF:4.67MB]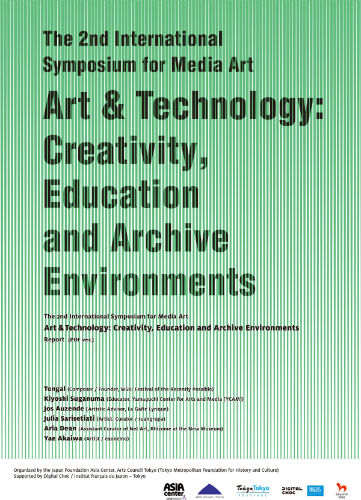 Contents:
Preface to the Second International Symposium Report
[Session 1] Platforms for Creativity and Learning
A Community-Run Media Art Festival Centered on Possibilities Tengal
Disseminating Original New Media Art and Educational Programs on the Global Stage Kiyoshi Suganuma
Imaginative (and Fantastical) Art and Technology for Young Audiences Jos Auzende
A Collaborative Festival Engaging with the Political Dimensions of Food Julia Sarisetiati
[Session 2] Restoration, Preservation, and Archiving Today
The Challenges of Internet Art Aria Dean
Creativity in Preservation: Processes of Reinterpretation and Updating Yae Akaiwa
Q&A and Discussion
[Report] Related Events
Published: December 17, 2018
Publisher: The Japan Foundation Asia Center, Arts Council Tokyo (Tokyo Metropolitan Foundation for History and Culture)
Editors: Fumi Hirota (The Japan Foundation Asia Center), Kaoru Chiba (Arts Council Tokyo)
Editing & Writing: Kenichi Abe
English Editing & Writing: William Andrews
Symposium Outline
Date
February 11 (Sunday), 2018
Venue

Tokyo Women's Plaza Hall Access (Japanese)

5-53-67 Jingumae Shibuya-Ku, Tokyo 150-0001 google map

Panelists
Tengal (Composer / Founder, WSK: Festival of the Recently Possible) [Philippines]
Kiyoshi Suganuma (Educator, Yamaguchi Center for Arts and Media [YCAM]) [Japan]
Jos Auzende (Artistic Advisor, La Gaîté Lyrique) [France]
Julia Sarisetiati (Artist, Curator / ruangrupa) [Indonesia]
Aria Dean (Assistant Curator of Net Art, Rhizome at the New Museum) [USA]
Yae Akaiwa (Artist / exonemo) [USA / Japan]
Organized by
The Japan Foundation Asia Center, Arts Council Tokyo (Tokyo Metropolitan Foundation for History and Culture)
Supported by
Digital Choc / Institut français du Japon - Tokyo
Details
https://asiawa.jpf.go.jp/en/culture/events/e-art-and-technology-sympo-2018/