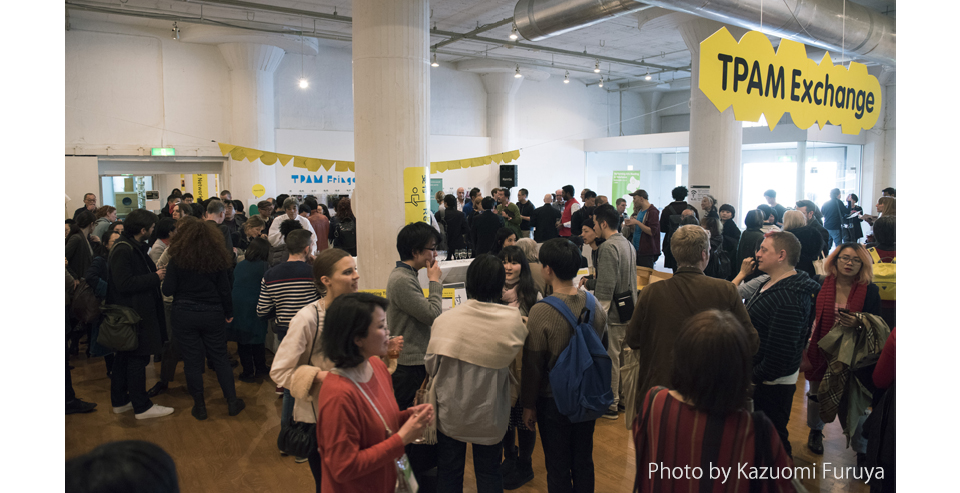 For TPAM 2019, the Japan Foundation Asia Center is, again, inviting 40 professionals engaging in creation of contemporary performing arts.
Another week of Performing Arts begins in Yokohama from February 9 to 17, where professionals in the field all gather to interact, discuss challenges, and build their networks.
Now in our fifth year since we began to work with TPAM in their programs focusing on Asia, we will still continue to bring the rich and diverse performing arts of Asia to a wider audience.
List of Invitees
Emily Sexton (Australia, Melbourne)
Artistic Director, Arts House Melbourne
https://www.artshouse.com.au/
Luiz Felipe Reis (Brazil, Rio de Janeiro)
Artistic director, CENA Brasil Internacional
http://www.cenabrasilinternacional.com.br/
Ida Patera (Brunei, Bandar Seri Begawan)
Chairperson, Brunei Amateur Dramatic Society
Reaksmey Yean (Cambodia, Phnom Penh/ Singapore)
Genaral Coodinator, Trotchaek Pneik Collective
Sormanak En (Cambodia, Phnom Penh)
Program Coordinator, Cambodian Living Arts
https://www.cambodianlivingarts.org/
Annie Feng (China, Beijing)
Theatre Producer/ Critic
Lynn Fu (China, Shanghai)
International Programs Director, Great Theatre of China
Karima Mansour (Egypt, Cairo)
Founder and Artistic Director, MAAT for Contemporary Art/Cairo Contemporary Dance Center
https://cargocollective.com/cairocontemporarydancecenter
Sherouk Abdelsalam (Egypt, Cairo)
Executive Workshop Coordinator, Cairo International Festival for Contemporary and Experimental Theatre
http://cifcet.gov.eg/
Frederique Ehrmann (France, Paris)
Project Director, T2G - Theatre de Gennevilliers
https://www.theatre2gennevilliers.com/
Katja Sonnemann (Germany, Berlin)
Organizer, AKADEMIA fuer Performing Arts Producer
Andre Tully (India, Mumbai)
Founder, Nothing Regular Media and Entertainment
Vikram Iyengar (India, Kolkata)
Director, Pickle Factory Dance Foundatio
https://picklefactory.in/
Gita Hastarika (Indonesia, Jakarta)
Director, Kelola Foundation
http://kelola.or.id/en/
Rebecca Kezia (Indonesia, Jakarta)
Assistant Program Manager, Komunitas Salihara
http://salihara.org/en
Huigyeong Na (Korea, Seoul)
Producer, Femi Theatre
Yi-Won Song (Korea, Seoul)
Director and Writer
Ounla Pha Oudom (Laos, Vientiane)
Director, Fanglao Dance Company
https://www.facebook.com/Fanglaodancecompany
Thantavanh Sivilay (Laos, Vientiane)
Event Organizer Department, Kaona Entertainment Company
Omar Abi Azar (Lebanon, Beirut)
FoundingMember, Zoukak Theatre Company
http://zoukak.org/
Rosheen Fatima (Malaysia, Kuala Lumpur)
Creative Producer, Manamana Productions
https://www.manamana.com.my/
Tan E-Jan (Malaysia, Kuala Lumpur)
Founder, Toccata Studio
https://www.toccatastudio.com/
Hector Efrain Castillo Netzahual (Mexico, Tlaxcala)
Director, Gestion Cultural Zona Centro A.C
https://www.facebook.com/GestionCulturalZC/
Olga Gutierrez (Mexico, Guadalajara)
Genaral and Artistic Director, Laboratorio puntoD
https://laboratoriopuntod.com/
Kriz Channyein (Myanmar, Yangon)
Film Director
https://krizchannyein.com/
Jovanni Cadag (Philippines, Manila)
Director of Creative Affairs, The Scenius Pro.
https://thesceniuspro.wordpress.com/
Micah Pinto (Philippines, Manila)
Executive Director, Para Sa Sining Collaboratory Inc.
https://www.facebook.com/parasasining
Grzegorz Reske (Poland, Warsaw)
President, Performing Arts Institute
https://www.facebook.com/Instytut-Sztuk-Performatywnych-134726393373007/
Marta Keil (Poland, Warsaw)
Curator, East European Performing Arts Platform
http://eepap.culture.pl/
Francisco Frazao (Portugal, Lisboa)
Artistic Director, Teatro do Bairro Alto
https://teatrodobairro.org/
Ekaterina Alekseenko (Russia, Moscow)
Executive Director, Meyerhold Theatre Center
http://meyerhold.ru/
Shawn Chua (Singapore)
Dramaturg
Mateo Feijoo (Spain, Madrid)
Artistic Director, Naves Matadero-International Living Arts Centre
https://naves.mataderomadrid.org/en
Dagmar Walser (Switzerland, Basel)
Department Editor, SRF Kultur Switzerland
Jarunun Phantachat (Thailand, Bangkok)
Artistic Director, B-Floor Theatre Company
https://www.facebook.com/Bfloor.theatre.group
Yadamin Jamsuksai (Thailand, Bangkok)
Co-founder, The Producer & I
https://www.facebook.com/TheproducerandI/
Christopher Vaughan (United Kingdom, London)
Founder, Thirty three Thirty three
https://33-33.co/
Nguyen Hong Phong (Vietnam, Hanoi)
Choreographer, Vietnam National Opera and Ballet Theatre
Truong Que Chi (Vietnam, Hanoi)
Curator, Nha San Collective
http://www.nhasan.org/