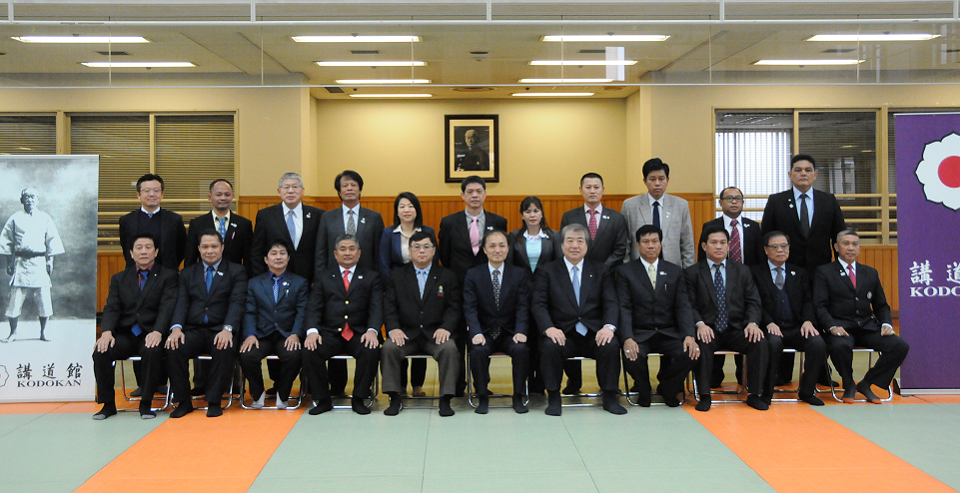 Presidents of Judo Federations in ASEAN―Japan Visit (2016)
The Japan Foundation Asia Center and the Kodokan Judo Institute are co-organizing an exchange program that strives to establish and strengthen networks in Asia through Judo.
Created in Japan and a world-renowned form of martial art, Judo is now becoming an extremely popular sport in ASEAN countries. For the first year, we will invite the presidents of the Judo Federations of each ASEAN countries to Japan, and hold overall as well as individual meetings to hear the current state of Judo in each respective country first-hand. They will observe the Kodokan Cup All Japan Judo Weight Category Championships and engage in Japanese cultural activities during their stay to encourage further mutual understanding.
Period
November 11 (Fri.)– 16 (Tues.), 2016
Countries
Nine of the ASEAN countries
(ASEAN countries who are members of the Judo Union of Asia Members, International Judo Federation)
Invitees
Presidents and administrative officials of Judo Federations in Cambodia, Indonesia, Laos, Malaysia, Myanmar, the Philippines, Singapore, Thailand, Vietnam (2 from each country, 18 in total)
Organizers
The Japan Foundation Asia Center, Kodokan Judo Institute
The Kodokan Judo Institute
Founded by Kano Jigoro Shihan in 1882, the Kodokan Judo Institute is the headquarters of Kodokan Judo, the most popular school of Judo that is practiced in over 200 countries and regions worldwide. As a foundation working toward public interest, Kodokan's mission is to train, examine, instruct, and spread Kodokan Judo to contribute to the mental and physical discipline of Japanese citizens and especially adolescents. To achieve these, Kodokan carries out an array of initiatives such as running Kodokan, a Judo school for youths; holding conferences and study groups lead by Judo instructors on the training and health of youths, organizing international as well as domestic competitions, bringing up Judo instructors, sending Japanese instructors overseas as well as welcoming foreign instructors, and managing the dan examinations. All of these contribute to further spreading the world of Kodokan Judo to the world.