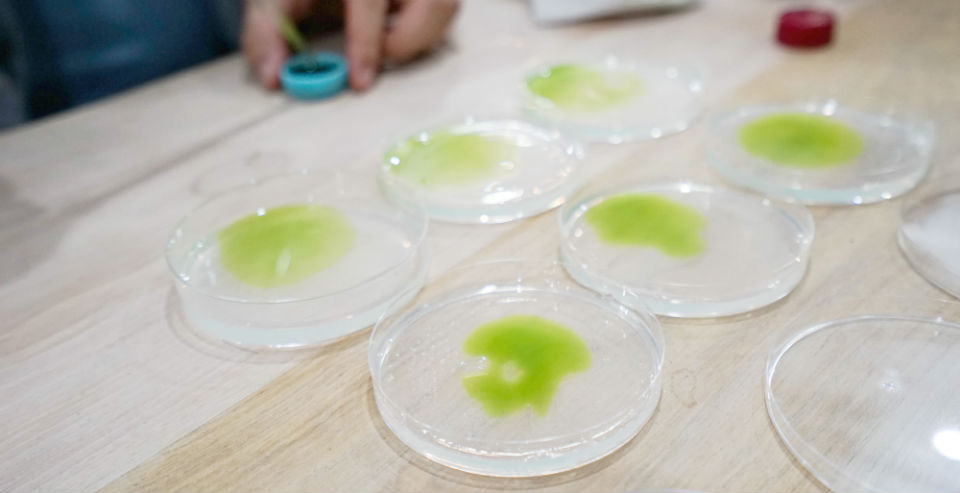 The Japan Foundation Asia Center's ref:now—toward a new media culture in asia comprehensively showcases contemporary media culture and creativity through art, exchange, education, and collaboration. As part of this ongoing project, the Japan Foundation Asia Center and TodaysArt JAPAN/AACTOKYO will organize an open-call workshop, BioCamp: Gardens as 'Biotechnik,' bringing together participants from Japan and all over the world on the theme of art, biotechnology, and culture.
Biotechnology is today regarded as a field with immense potential to impact our lives, and research into how its technology can be developed and applied is advancing rapidly. At the same time, we can also see the spread of DIY bio (sometimes called biohacking) in workshops and biology labs among individuals and community groups, or, in the creative fields of art and design, a variety of endeavors are reinterpreting and critically examining biotechnology and how it relates to our lives as well as its legal and moral implications.
The BioCamp: Garden as 'Biotechnik' is a special workshop directed by BioClub, a Tokyo-based platform for practices and discussions pertaining to biotechnology's potential. Viewing biotechnology as "biotechnik," a "living technology" necessary for understanding life, the workshop will bring together artists, researchers, designers, and DIY bio practitioners from around the world to consider the future social environments that will encompass biotechnology.
Through an approximately one-week intensive curriculum, the workshop will encourage extensive exchange, dialogue, and encounters as well as share understanding and issue awareness while searching for organic biotechnology design methods that can facilitate new ways of living.
Program Theme: Gardens of Biotechnik
In the same way that a garden in Japan encompasses specific aspects of Japanese nature, climate, geography and aesthetics, a "garden" in other parts of the word such as English-speaking countries or Indonesia integrates the characteristics and functions reflecting their respective social and cultural backgrounds.
This workshop encourages mutual understanding through the context of gardens in different regions, construing the garden as an interactive environment for mankind to encounter and associate with other life forms. When we regard the garden as something that designs organic relationships with space, landscape, environment, and the life forms arranged there, what kind of garden then becomes possible through biotechnology?
Attending lectures related to arts and BioArt, participants will acquire fundamental techniques in DIY lab equipment, bioink, CRISPR kits, and plant tissue cultures, and then use these to attempt new garden designs based on organic functionality.
Examples of Activities:
Lectures and workshops led by guest instructors
Excursions and visits to specialist organizations and facilities
Group work on the theme of gardens, producing texts, programs, raw data, and prototypes that use DIY hardware
Presentations of work and review sessions
Application
Applications closed.
Send your Application form, CV, and portfolio to: camp@meca.tokyo
BioCamp Application Instructions ( PDF 373kb ) *revised as of November 2
BioCamp Application Form ( Word 69kb )
Application Period
Friday, October 20 until Friday, November 10, 2017

*Applications must arrive no later than November 10.

Requirements
Applicants must:

a. be able to participate throughout the entire week of the Program
b. have experience (research, creative practice, etc.) in the field
c. have adequate fluency in English (everyday use)
d. have plans on how to develop her/his research or practices from the experience and findings from the Program

Items to Submit:

Application form (use the designated format)
CV (free format)
Portfolio (free format; in case of video materials, include viewing link)

Examples of Applicants

We are welcoming applicants from, for the example, the fields below.
Art, Design, Architecture, Performance (Art), Programming, Science, Engineering, Ethics,
Agriculture, Forestry, Biomass, Urban Greenery, Medical Care.
Program Direction
BioClub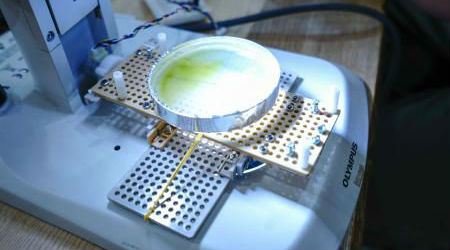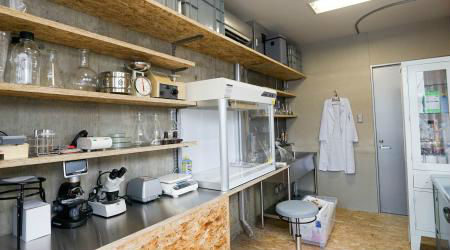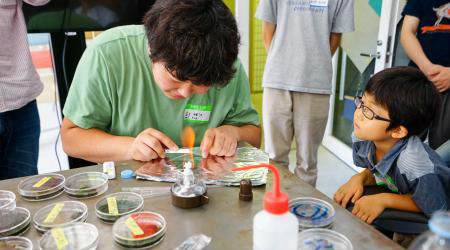 BioClub is an open biolab and community platform for practicing and discussing the societal implications of biotechnology. It was initiated by BCL (Georg Tremmel and Shiho Fukuhara) and launched in March 2016 in partnership with Loftwork Inc. BioClub is co-located with FabCafe Tokyo, taking advantage of the crossover between digital fabrication and biotechnology. Alongside holding regular events such as talks and workshops, BioClub provides opportunities to interact with biology and biotechnology for a wide range of individuals and organizations, including researchers, creatives, corporations, and anyone interested in the challenges of biotechnology. It has also established an experimentation and research bio lab that meets the standards of biosafety level of P1, allowing it to engage in genetic recombination projects. It functions as a hub for activities with the potential to affect society, including hosting biotech start-ups conducting research into incurable diseases and BioArt exhibits where artists recombine genes. Bringing together specialists and leading figures from a range of fields, BioClub is a space for deepening the debate about biosafety measures, ethics, and the importance of interdisciplinary innovation in the bio sector that is predicted to rapidly expand in the future.
BioClub Official Website http://www.bioclub.org/
Georg Tremmel (Artist / BCL / BioClub)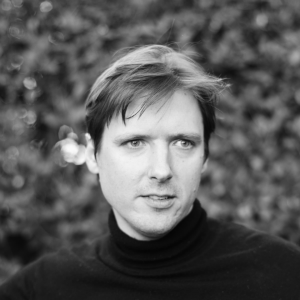 Georg Tremmel has a background in Biology, Informatics, and Media Art, and has been working on the intersections of art and biology since 2001, intertwining biological, cultural, ethical, and societal codes, and creating objects, installations, and situations for contestable discussions. With Shiho Fukuhara, he founded BCL, an Artistic Research Framework for critically exploring Art & Biotech that aims to explore the relations, congruences, and differences of biological and cultural codes through artistic interventions, social hacking, and basic research. Tremmel is also a researcher in the Laboratory for DNA Information Analysis at the University of Tokyo and a Visiting Researcher at the metaPhorest Art/Science Group at Waseda University. Lives in Tokyo, Japan.
BCL Official Website http://www.bcl.io
Chiaki Ishizuka (Artist / BioClub / Loftwork)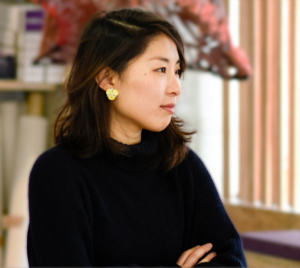 A graduate of the Institute of Advanced Media Arts and Sciences (IAMAS), Chiaki Ishizuka joined Loftwork in December 2016, following experience as a project manager for industry-academia partnerships. As director of BioClub, she runs a space for open debate and experimentation exploring possibilities in the bio field. As an artist, she creates work with a focus on interaction and borders between humans and other life forms. Lives in Tokyo, Japan.
Chiaki Ishizuka Tumblr http://chiakiishizuka.tumblr.com/
Andreas Siagian (Artist / Engineer / Lifepatch)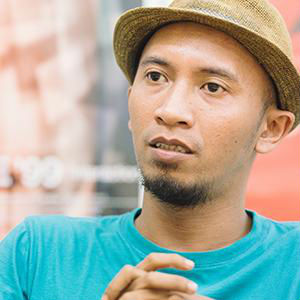 Andreas Siagian lives and works in Yogyakarta, Indonesia. He received his formal education in civil engineering from Atma Jaya University in Yogyakarta. A dedicated autodidact, he independently studied programming languages during his college years, which sparked his interest in interdisciplinary practices. This soon evolved to encompass audiovisual creative programming, DIY electronics, sound sculpture, installations, and instrument-building. His collaborative activities with local creative communities led him to be a co-founder of several initiatives, including: breakcore_LABS, a platform for experimental audiovisual performances; urbancult.net, an online site for visual documentation and mapping of street art in Indonesia; and Lifepatch.
Guest Lecturer
Joe Davis (Artist, Philosopher / The George Church Lab, Harvard Medical School) [USA]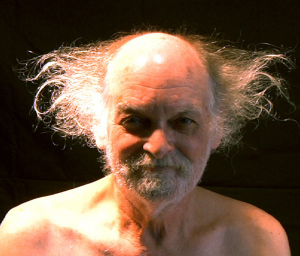 Joe Davis is a ground-breaking and pioneering artist working with Art, Biology and Space since the 1980s. Davis has been a Lecturer and Fellow at MIT Center for Visual Studies, a Research Affiliate at the Alexander Rich Lab at MIT, and currently holds the unique position of 'Artist Scientist' at the George Church Lab at Harvard Medical School. In 1988 Davis created Microvenus, the world's first genetically-engineered artwork, by encoding the missing information from Arecibo message in synthetic DNA in E.coli. His others works include Mouse Ear - encoding an image of the universe in the ear of a mouse and RuBisCo Stars - sending the information of a gene into space. His Bacterial Radio Project won the Golden Nica in Hybrid Arts from the Prix Ars Electronica in 2012. Davis continues to work in the fields of molecular biology, bioinformatics, space art, and sculpture and continues to dream the good dreams about biotechnology.
Ionat Zurr (Artist, researcher / SymbioticA / University of Western Australia)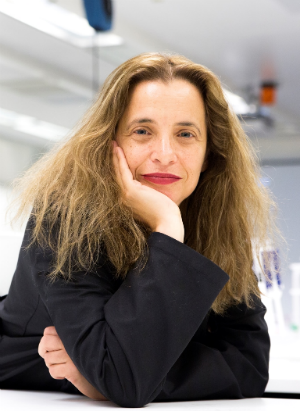 Ionat Zurr developed the biological arts initiative, The Tissue Culture and Art Project since 1996 together with Oron Catts. She is considered a leader in the growing field of Biological Art, both as a practitioner and a theoretician. Her research was instrumental in the development of SymbioticA in 2000, an artistic research center housed within the School of Human Sciences, the University of Western Australia. Her main interests lie in our shifting perceptions of life and the evolving relationships we have with the different gradients of life through the use of biotechnology. Zurr runs the academic program in SymbioticA and is a faculty in the School of Design at the University of Western Australia. She is also a Visiting Professor at the School of Art, Design and Architecture, Aalto University, Biofilia from 2015 to 2020. Born in London, UK and lives in Perth, Australia.
Symbiotica Official Website: http://www.symbiotica.uwa.edu.au/
Günter Seyfried (Artist / pavillon_35 / New Design University (St. Pölten) / University of Applied Arts Vienna)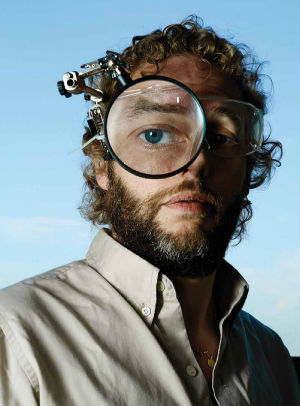 Günter Seyfried lives and works in Vienna, Austria. He has a background in medicine and psychology, which he studied at the University of Vienna, and has strong links to the fine arts, digital art, and media art, having graduated from the Department of Digital Art at the University of Applied Arts Vienna. He is teaching at the Department of Manual and Material Culture of the New Design University in St. Pölten, Austria, and also at the Department of Media Theory at the University of Applied Arts Vienna. Seyfried combines science and art education and develops projects as an independent artist, participating in national and international exhibitions and publication projects. He is a founding member of Pavillon 35—Gesellschaft für wissenschaftsbasierte Kunst [Pavillion 35—Society for Science-based Art].
Polyinease Official Website http://polycinease.com/
Pavillion_35 Official Website http://pavillon35.polycinease.com/
Thomas Landrain (Biohacker, Entrepreneur / Just One Giant Lab / PILI / La Paillasse)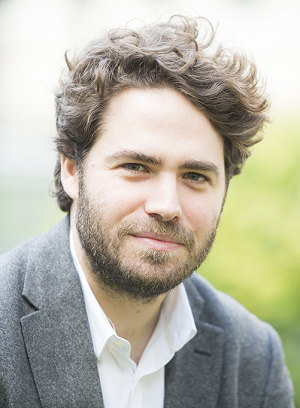 Lives and works in Paris, France. Thomas Landrain is co-founder of the Just One Giant Lab (JOGL), which helps sync humanity onto solving our most urgent and important problems using Open Science, Responsible Innovation and Continuous Learning. He also co-founded and directed for 6 years La Paillasse in Paris, one of the largest open community labs in the world providing resources and opportunities to hundreds of change makers and indie scientists for free. He co-founded and directed for 2 years PILI, a biotech startup making natural dyes using fermentation to create sustainable, renewable and scalable alternatives to petrochemical dyes in the industry. Recently he has also joined the iGEM Foundation to help design and deploy new programs to explore how communities can create even more positive values and impact on the world using Synthetic Biology.
JOGL official website http://jogl.io/
PILI official website http://www.pili.bio/
Tomoki Yamauchi (Gardener / Kyoto University of Education)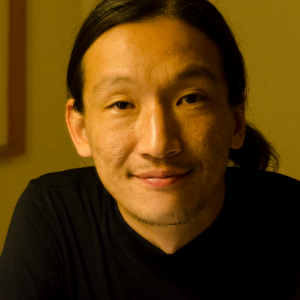 Tomoki Yamaguchi is carrying out research about the way of thinking and practicing contemporary European gardens and landscape architecture through the analysis of Gilles Clément's theories. His main projects include, Deer and Children Garden (Otsu, 2013–14), Eight Herbs Garden (Kyoto, 2012–16), and Micro Landscape in Movement (Yebisu International Festival for Art and Alternative Visions, 2016). Yamauchi translated Clément's Le jardin en mouvement into Japanese as Ugoiteiru niwa (Misuzu Shobo, 2015). Lives in Kyoto, Japan.
Tomoki Yamauchi Research Webpage http://researchmap.jp/yamauchitomoki/?lang=english
Lectures by other specialists are also planned for the workshop.
Event detail
BioCamp: Gardens as 'Biotechnik'
Workshop
Saturday, February 10 – Saturday, February 17, 2018 (8 days)
Venues

1) Red Bull Studios TOKYO Access
1-3 Shibuya, Shibuya-ku, Tokyo 150-0002 google map

2) BioLab Tokyo / FabCafe MTRL Access
Dogenzaka Pia 2F, 1-22-7 Dogenzaka, Shibuya-ku, Tokyo 150-0043 google map

Participation
Fee
Free
Organized
by
The Japan Foundation Asia Center
TodaysArt JAPAN/AACTOKYO
Produced
by
BioClub
The Japan Foundation Asia Center
TodaysArt JAPAN/AACTOKYO
Special
Support
Digital Choc / Institut français du Japon - Tokyo
Supported
by
Austrian Cultural Forum Tokyo
Shinjuku Gyoen National Garden, Ministry of the Environment
metaPhorest (Waseda University)
Grant
Arts Council Tokyo (Tokyo Metropolitan Foundation for History and Culture)
U.S. Embassy, Tokyo
Inquiries
BioCamp Office
Email: camp@meca.tokyo