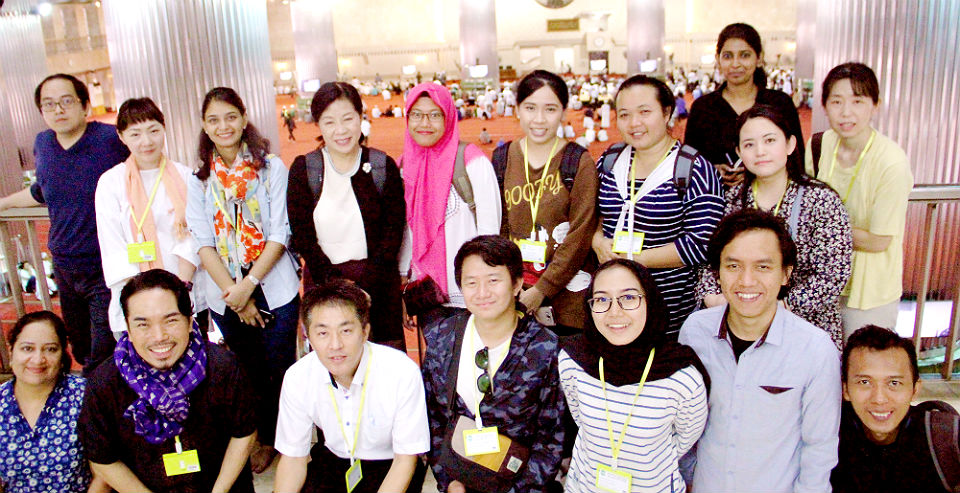 The Japan Foundation launched the program, "EYES for Embracing Diversity: Human Mobility and Diversity (EYES project)" to promote an engaged inclusive society in 2017.
The EYES project brings together 10 participants (* EYES fellows) from 4 countries in the Southeast Asian regions and Japan who have been striving to create a diverse and inclusive society and gives them opportunities to discuss and also promote the importance of social, religious, cultural diversity by visiting various places in Japan.
In the 10 days of the program, the EYES fellows visited various places to exchange their views such as a public primary school and a Japanese Brazilian school in an area with high concentration of foreign residents, and Kawaba village in Gunma Prefecture where ageing and depopulation are major challenges.
At the end of the EYES project, a final sharing & discussion session, "Findings from Southeast Asian professionals on how to build local communities beyond borders: A case study of Gunma and Shinjuku ward" will be held in Tokyo. The ten EYES fellows will present their findings and the understandings they realized throughout the program, together with a screening of photographs from their stay in Japan.
We are looking forward to seeing you at the venue.
* For more details of the EYES fellows: EYES for Embracing Diversity
Event Detail
Date
July 14, 2018 10:00 a.m. to 12:00 p.m. (Doors open 9:30 a.m.)
Venue
B104, 3331 Arts Chiyoda Access
6-11-14 Sotokanda Chiyoda-Ku Tokyo 101-0021 google map
Language
Japanese / English (with interpretation)
Admission
Free (Pre-registration required) (Capacity of the venue: 50 people)
How to

apply

Please send an email with a subject "RSVP for EYES", and inform us of:
1) Your name
2) Affiliation
Email: asiacenter_lecture@jpf.go.jp
Organizer
The Japan Foundation Asia Center
Program
10:00 a.m. to 10:20 a.m. Opening remarks by the Japan Foundation
10:20 a.m. to 11:45 a.m. Report by EYES fellows
11:45 a.m. to 12:30 p.m. Discussion / Q&A
Inquiries
Ms. Nami Orimo, Ms. Nakako Fujishige
Arts, Culture, and Exchange Section 2
The Japan Foundation Asia Center
TEL: +81-(0)3-5369-6025
This is the certified project of beyond 2020 program.
Program Schedule (July 2018)
Fri., 6: Arrival in Japan, Orientation
Sat., 7: Lecture and Discussion
"New challenges for Japan: Can Japan open to the world?"
"EYES for Embracing Diversity 2018 in Gunma: Objectives, method and expected effects"
Sun., 8: Discussion with educational supporters and foreign residents (Ota, Gunma)
Mon., 9: Visit to Public Primary School, Japanese Brazilian School (Oizumi, Gunma)
Tue., 10: Fieldwork (Kawaba villege, Gunma)
Wed., 11: Fieldwork (Kawaba villege, Gunma)
Thu., 12: Walking tour in Okubo area, Visit to Shinjuku Multicultural Plaza
Fri., 13: Wrap-up Discussion
Sat., 14: Final sharing & Discussion
Sun.,15: Departure from Tokyo