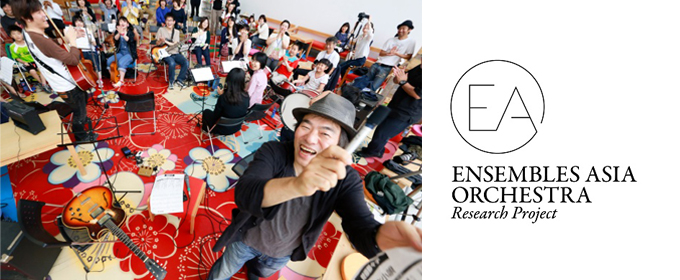 The Japan Foundation has launched Ensembles Asia Orchestra in 2014 with the mission of creating a free-form orchestra that engages with people who are not professional musicians.
We proudly presents "Hanoi Collective Orchestra" which is audience participatory, improvisational orchestra performance on 27th of September in Hanoi. Before the performance, we will also hold a workshop to create "Music Instruments".
After arriving at Hanoi, Mr. Otomo Yoshihide (musician), Mr. Fuji Hiroshi (artist) and 6 university students who has relation with Tohoku area will search materials which are used for everyday life in Hanoi. Then, they wil create "Music Instruments" using these materials. On 27th, we will hold a workshop for "Music Instruments creation" by using items for daily use. After the workshop, play together with participants by using "Music Instruments".  We welcome people who have never learned to play an instrument. At the performance, we don't use musical score. The sound we play depends on feelings, relationship, and conversation among participants.
Free admission and registration is not necessary. But we might restrict entrance in case of the number of participants exceed venue's capacity.
The Japan Foudation Center in Vietnam website: http://jpf.org.vn/en/
Date & Time
Sunday, 27 September 2015
[Workshop]  14:00
Creating "Music Instruments" using materials we use in our everyday life.
[Performance] 17:00
Playing the "Music Instrument" we create like Orchestra.
Venue
The Japan Foundation, Center for Cultural Exchange in Vietnam (Courtyard)
27 Quang Trung, Hoan Kiem, Hanoi
Entrance
Free.
Organizer
The Japan Foundation Asia Center
Planning
Ensembles Asia Orchestra (Keiko Arima, Director of Ensembles Asia Orchestra)
Artists
Otomo Yoshihide (Musician, Artistic director of Ensembles Asia)
Fuji Hiroshi (Artist, Guest artist of Hanoi Collective Orchestra)
Cooperation
Nha San Collective
Press Meeting
Date & Time: Friday, 25 September 2015, 15:00
Venue: The Japan Foundation Center for Cultural Exchange in Vietnam
27 Quang Trung, Hoan Kiem, Hanoi