Determination and Faith in the Cast
Watanabe: The actress who played the mother; I understand she fled to France, and then returned. Could you share with us what the situation was, both on set and also for her emotionally when she was playing her role?
Kulikar: Actually, she wasn't in Cambodia at the time of the time of the genocide, and returned after the country had begun to see economic improvement, so she didn't literally experience the brutality of the regime or lose family during that time.
In a sense, this film is also about the love between a mother and her daughter: the protagonist, Sophoun, is me, and her mother is my mother. So I shared with her my own and my mother's feelings, and superimposed my mother's emotions with Sophoun's mother. Before filming, we spent a lot of time discussing about this, and she came to somewhat understand. Even in between takes, I communicated with her: showing her footages of Khmer Rouge, sharing with her what I had learned from working on the documentaries, what people had experienced and their traumas. I repeatedly shared those things. And, since she is a professional, she absorbed it all—took in my emotions and stories—and figuratively became my mother in the film.
Watanabe: How was the actress who played Sophoun? I assume she also absorbed many things during filming.
Kulikar: Yes, she did. There is a big gap between our generations, mine and Ma Rynet's. I grew up without any television, internet, social media; Rynet grew up in a newer age where things are much more accessible. Despite that difference, we have both lost our fathers at a young age: I lost mine when I was two-and-a-half years old; Rynet hers when she was fourteen. I think sharing that absence, not to mention all the personal chat we had prior to filming, allowed us to find a common ground on which to build on the character.
I worked with Rynet for about six months, during which time I asked her to watch films with strong-minded, determined female characters. I wanted her to play a strong-willed, stubborn young woman, a quality that is quite the opposite of "traditional" Cambodian women who, instead of fighting for their rights, yield and follow what has been said to them. It is difficult to find young women who are eager to know more about their own country, their cultures. So, initially, many of my friends from overseas suggested that I find a Cambodian living in France or the United States. But I felt it had to be someone from Cambodia who had lived with the country's past. I was determined. So I told Rynet that I wanted her to play a young woman who is equally determined to confront and know about her own past. She was already very interested in history, so I think she took the time to build on Sophoun's character through reading history books, exchanging information, dining and conversing with me and the crew, and just through working with us.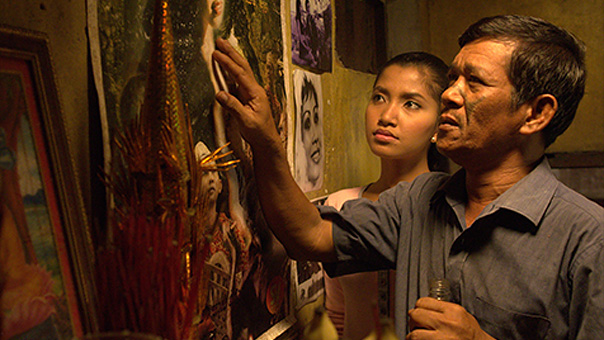 (c) HANUMAN CO. LTD.
Watanabe: How did you find these actresses? I hear you did the casting yourself.
Kulikar: I did. We hardly had any external funding; ninety-five percent of the film was funded by my family, so we had to do many of the preparation ourselves. Casting, production, and design were all my responsibility. As for casting, though, my long experience working as a line producer with foreign filmmakers gave me an idea on where to find good actors.
For Sophoun, I searched for actors at the national theater, art schools, universities, and even karaoke bars which I don't do often [laughs]. But I ended up finding Rynet in a magazine. It was one with a funny name so I was a little hesitant. But she was this perfect Khmer beauty that I couldn't help but ask her to come in for a screen test. Rynet hardly had experience in acting, so for the first couple of auditions her acting was, like the other actors I saw, quite general and bland. But upon seeing her several times and speaking to her one-on-one, I knew that I could dig deeper.
Watanabe: How was the casting for the projectionist? Wasn't that difficult?
Kulikar: It was [smiles]. The projectionist is a very complex character: he cannot live without and still lives in the past. The older generations in Cambodia tend to not want to think of the past, let alone be caught up by it, so it was very hard to find an actor who was willing to or could play this part. So with Sok Sothun, the actor who played the projectionist, I again spoke about my family, our history, and also shared my personal feelings. And then explained about the film and its story, and how I needed this specific character. Initially, he was hesitant. He said, "no, I do not want to [play this part]" and seemed like he would take the offer. But, in the end, I think the film's story captured him, and fortunately he accepted.
Watanabe: He is, to me, a really intriguing character. As you say, it's a difficult role to play, but I think any actor would want to try this role. Generally speaking, in Japanese films, projectionists are very rarely "bad." Well, this character isn't bad either, but I think he is a tragic and sad character; having to live with such guilt, never to be forgiven until your death makes this a challenging role that, as an actor, I would like to tackle. So it's a little surprising that he initially rejected it saying it wasn't for him.
Kulikar: Yes, initially he read the script and said he did not want to play him. But that may be because I couldn't convince him well enough, and, as the director, I had to think seriously about how to encourage him to take the part. But if you watch the film, I think you can see how he became passionate in the role.
Watanabe: Was he happy with the completed film?
Kulikar: Yes, absolutely. During film, Sothun realized just how tragic this character is. There are short films inserted in The Last Reel (hereinafter film-within-a-film), in which the projectionist experiences unrequited love. In real life also, the projectionist is robbed of what he desires. Either way, he is a tragic character. Sothun, I think, ended up being inspired by the projectionist's many unique characters, and seemed to enjoy this demanding role.
Watanabe: Well, it's moving enough to see a projectionist rolling a film in an abandoned theater. I think many Japanese viewers would tear up with just that scene.
Kulikar: Really? Then I wonder if it'll be a hit here [smiles].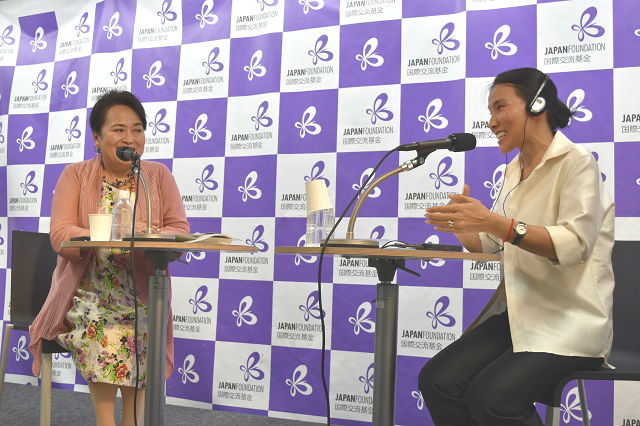 A Dark Period, and Beyond
Watanabe: There are many scenes that overlap with the Japanese sentimentality, so I think a lot of Japanese viewers will tear up. The fantastical river scene being one of them, where a farmer's daughter falls in love with a Prince and gently rows her little boat in between the lotus flowers. I'm originally from the countryside in Yamagata City (Yamagata Prefecture), but that scene overlaps with the dream I had as a girl of a prince coming to sweep me off my feet someday; of a prince appearing but the audience is left wondering the actual outcome. Maybe this is any girl's dream; not just Japan or Cambodia, but for all girls. What made you decide to include this kind of scene in the film?
Kulikar: Well, through this film, I wanted to introduce Cambodian culture as well as trigger the younger generation's interest in their culture. This film consists of both light and dark elements where the latter cast a shadow on the former. In the film-within-a-film, I incorporated the beautiful temples, cultures, and music representing the bright and luminous Cambodia.
As well as these cultural motifs, I included leitmotifs used in Cambodian film during its golden age in the film-within-a-film. Some examples are princesses, princes on horseback, and ponds filled with lotus flowers, all of which are motifs that are far-off from everyday life. The reason why I quoted motifs from these films is because I wanted to encourage more Cambodians to see the films of this particular era, and because I wanted them to be proud of the paths we took and our wonderfully rich culture. Our country is not only about the dark, grim period; we have centuries of splendor, temples built throughout history still stand, the Khmer language we use, everything remains beautiful. Why do we let ourselves stereotyped by the dark period that lasted only three years? We need to envision a future that goes beyond these devastating years. That's why I included both the light and the dark.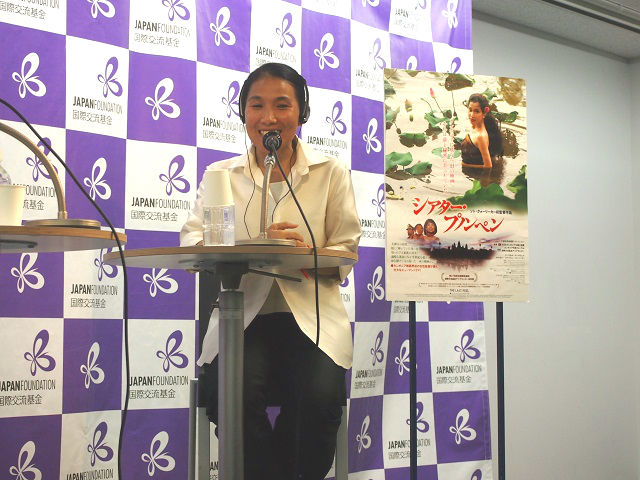 Many elements are portrayed in this film. If I were to include everything, it would exceed the film's 105-minute feature-length. Nevertheless, Cambodia's cultures, history, its good and bad, women, the country's beauty, and the current societies are weaved into it. We're famous for the Angkor Wat and Khmer Rouge, but the film is filled with many other dimensions of Cambodia that I wanted to share with the audience.
Watanabe: I think your wishes are getting through to the audience. The most tragic thing for people who make a living making films, like us, is for the movie theaters to disappear, for the filmmakers to be killed, and the filmmaking environment to be destroyed. We want to make films that the public can enjoy, don't we? So we'll do what it takes to prevent a situation where those in film have to disappear. I have an inkling that that is one of the reasons why you made this film.
Kulikar: You're absolutely right. During the genocide, Khmer Rouge murdered many intellectuals. Filmmakers were considered as such too. They first targeted the artists and filmmakers because their presence was very strong and influential; they were the ones who played the role of getting across messages. It was through their works and films that people listened to each other and understood society. So Khmer Rouge overreacted to this and wanted to get rid of them first.
Watanabe: What was your mother's reaction after she first saw the film?
Kulikar: This film is somewhat of a dialogue between my mother and I about our past. So during the premiere, I was very nervous what she would say. My mother sat still through to the end credits, and after it finally ended, she said softly, "you included everyone's name." That was her first reaction. I had included the names of all of our relatives we'd lost during that time, and, I think, my mother was surprised and moved by it. At that moment, I felt as if all of the sense of loss she'd kept within her was somehow alleviated a little. I don't think my mother realized just how this film was deeply connected to our family at this point though.
Last week, I spoke at the Japan Institute of the Moving Image. I introduced to the audience about the history of Cambodia, its film history, and also about why I made this specific film. My mother who was also in the audience said to me, "I'm glad I came. I think I got to know you a little better." My mother joined me during my interviews here [Japan] too, but she said she better understood my intentions, wishes, familial ties, and also my attachment to film.
I think we're in the midst of learning from each other about our past. She understood why I made this film, and also realized how important it is for me to know about the past. Ever since I began working on this, I think the conversations between my mother and me has become more open.
Watanabe: That makes her your number one audience [smiles]. How old is she?
Kulikar: She's seventy. She's beautiful inside and out, and is the source of my strength.
Watanabe: She really is. I read and studied a lot for this occasion and realized just how much there was to learn for me. Talking with you today made Cambodia an even more fascinating country, and I would love to visit you there someday. Thank you very much for your time.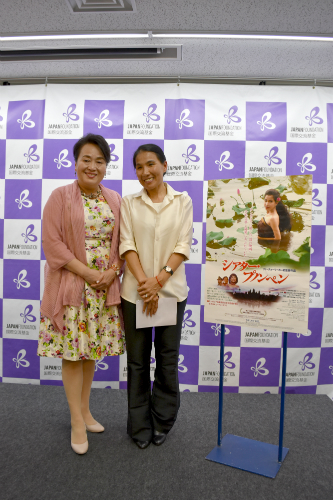 The JFIC Hall Sakura, The Japan Foundation
May 25, 2016
---
Translator (Japanese-English): Meiko Sano(The Japan Foundation Asia Center)
Editors: Amiko Takimoto, Kei Kojima, Meiko Sano (The Japan Foundation Asia Center)