The Myanmar Film Industry from a Historical Context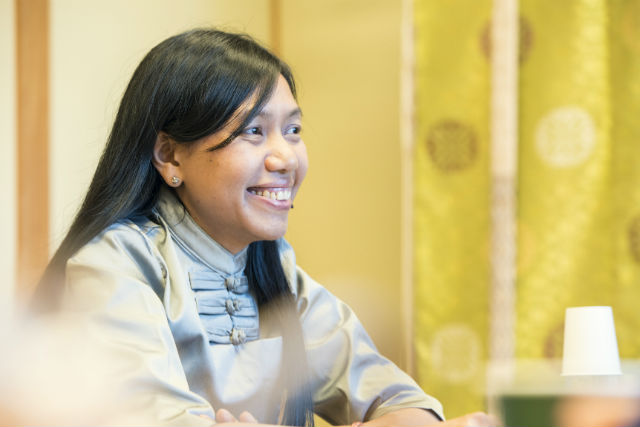 Fujioka: Your perspective is broad and comprehensive, like seeing the industry with a wide lens. Does this vision come from your familial environment? Your grandfather was also a film director and your mother is a producer and Academy Award-winning scriptwriter. How do you perceive today's Myanmar from a historical viewpoint?
Kyi: During my grandfather's era―that is before 1988―the film industry was booming.*3 In those days, the director was also the producer of a film. Film directors filmed with their own equipment and owned their own mini movie theaters at home. Directors were highly respected by actors, as if they were kings. They could release films soon after production so the money flow was fast and immediate, and audiences watched movies with passion. It was the golden era of cinema.
After 1988, however, the industry faded. Video-films entered the scene and took off in the 1990s. But it was no longer a good time for the film director or producer; by this time, the roles of the director and producer were no longer shouldered by the same person.
I joined the industry around 1995. At first, I made video-films instead of films for theatrical release because it was a growing market. In 1999, I made my foray into cinematic film. After the video-only era, the scene was just moving back to the cinema. And because of the limited number of films, movie houses showed almost everything that was made and allowed us quite a good share of the box office. Filmmakers of my generation were still young and inexperienced. They were often afraid of established actors. We tried to cast them because it ensured commercial success but at times they would turn us down, complaining about the storyline or that they could not trust the director.
*3 In 1988, as the people's movement for democracy rose, the military power ruled by General Saw Maung staged a coup d'état. Economic sanctions began shortly thereafter.
Fujioka: It's the classic star system.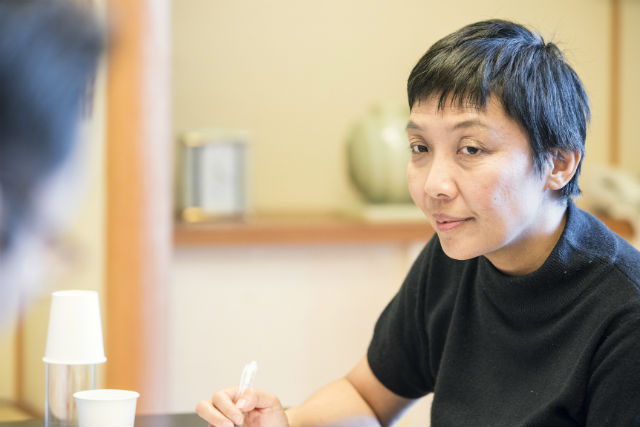 Kyi: By around 2008, I had about ten years' worth of experience and had established my career as a film director. Younger actors were emerging and the director's status rose to a more respected and influential position. Movie companies were competing against each other and were starting to sign with male actors in bulks of ten or twenty titles per contract. Actors were tied to exclusive deals with particular studios. This is how the industry works to this day. Unable to cast famous actors, our company started to hire fresh faces. Our strategy was to introduce new talent and try to forward their careers on to successive films. By 2013 or 2014, even top-selling actors were starting to trust us and willing to work with first-time filmmakers. And in 2015, the number of emerging film directors skyrocketed. Actors and film directors are now able to form relationships of mutual respect.
Fujioka: How many film directors of your age group, thirties to forties, are there today?
Kyi: There are maybe two film directors around my age, and about four directors who are a bit younger, in their thirties. I find that their artistic sensibility surmounts any current filmmaker's. The audience may know their works but not yet their names. Nevertheless, the four filmmakers are outstanding. In addition to these four are filmmakers who are still in production of their debut films, so I believe there are six all together: three male and three female filmmakers. They are truly exceptional.
Fujioka: What about the technical staff for the cinematography, lighting, and editing? Have they seen progress since your grandfather's time?
Kyi: There is steady technical progress. In addition, the quality of the camera and other equipment has become advanced and so the state of affairs has totally transformed since my grandfather's time. Especially since 2015 or 2016, there's been drastic change. It is easier to import equipment now; this was banned during the junta times. Also, access to the Internet and communication through email is now widely available, and we can easily purchase things online.
In 2016, there were examples of Thai and other foreign directors being hired for Myanmar films, Myanmar actors were cast in films shot in Thailand, and opportunities to film with a Malaysian director and film crew came about too. There are more opportunities for regional collaboration in filmmaking.
Fujioka: Are there foreign films which have influenced you?
Kyi: Steven Spielberg, John Woo, and Korean films. I try to watch films that Myanmar audiences would like. It's unrealistic to dream of a sizeable movie that is the standard of a Hollywood action film in Myanmar, but I watch romantic movies or dramas which may work better here.
As for documentary, I learned it from foreign teachers when I took part in a one-month documentary training program over a course of three years, from 2005 to 2007.*4
My second documentary which I made in 2006 won Best Short Film in a documentary competition run by National Geographic in the United States. I studied the foreign method at the time, and I believe I have now made it 100 percent my own.
*4 Workshops hosted by the Yangon Film School, a European non-profit organization.
Fujioka: You are spending two weeks in Japan on this trip, taking advantage of networking opportunities and learning about Japanese culture. What has left the strongest impression on you so far?
Kyi: It's hard to choose the best impression. The Japan Foundation who invited me took very good care of me. I was taken to visit three different cinemas of different sizes, so I was able to learn about the Japanese theatrical business in a short time. My visits to the National Film Center and the studios were very instructive. And I noticed that the Japanese are always smiling and eager to do their best. Whenever we took the taxi, even the drivers were polite, kind, and responsive. When I'd ask many questions through the interpreter, they would politely respond to everything. All the restaurants we entered by chance provided good service and smiles, with people always eager to work hard. I was impressed by the way they were always respectful and attentive to the customers. Also, I can never forget how fast the Japanese walk. I'm always left behind...[laughs]!
Fujioka: But it sounds more like it's your country who's stepping on the gas!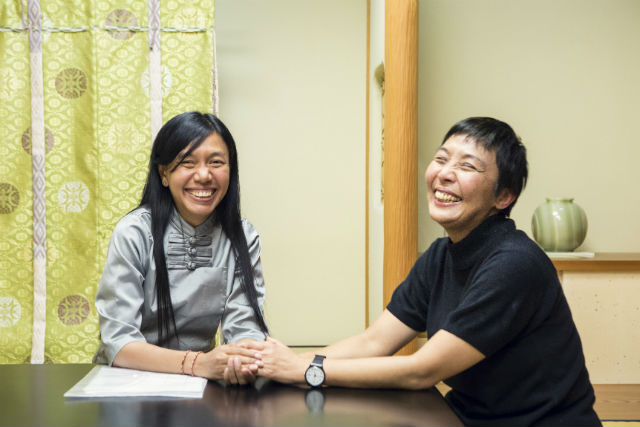 At the Japan Foundation, on February 24, 2017
---
Interviewer:Asako Fujioka
International film festival organizer and distributor. Works with Yamagata International Documentary Film Festival in Japan from 1993 on as Coordinator, Director, and now on the Board of Directors. Established the New Asian Currents program, a collection of films and videos by emerging documentarists from around Asia during the years 1995–2003. Organizer of film workshops with Asian filmmakers from 2009 on. Selection committee and advisor for Busan International Film Festival's Asian Network of Documentary (AND) Fund since 2006. Sometime distributor of Asian documentaries in Japan, and Japanese documentaries overseas.
Translator (Burmese-Japanese): Takanori Hosokawa
Photo: Motoi Sato