ASIA HUNDREDS is a series of interviews and conference presentations by professionals with whom the Japan Foundation Asia Center works through its many cultural projects.
By sharing the words of key figures in the arts and cultures in both English and Japanese and archiving the "present" moments of Asia, we hope to further generate cultural exchange within and among the regions.
Review the experiences of film collaboration with Japan
Kenji Ishizaka (hereinafter Ishizaka): Today we would like to talk about international collaboration in filmmaking with three master directors, who all have been collaborating with Japan and engaging in a lot of things. So at first, I would like to ask each of them about their experience of collaborating with Japan in filmmaking before moving to the discussion. Starting with Mr. Khoo, you worked with a Japanese crew and cast in your latest film, Ramen Teh. Could you please tell us about it?
Eric Khoo (hereinafter Khoo): I was approached a couple of years ago by Yutaka Tachibana who said he wanted very much to do a coproduction between Singapore and Japan to celebrate the 50th anniversary of friendship between the two nations. I have always been very fascinated with Japanese culture, especially the food and the aesthetics, and I also had made an animated film, Tatsumi (2010), based on the life of Yoshihiro Tatsumi, the gekiga (realistic manga)artist. So when this opportunity arrived, I was very excited and we decided to make a film about food, love, and forgiveness. It was exciting working with Takasaki city and its film commission, which helped us put the film together for the first time. We were also in communication with MK2 in France as our international sales agents. So as we were carving and weeding out the script, it was really instrumental and creative that Japan-Singapore came up with a very strong story, but for me, what was most impressive was actually filming with the Japanese crew and cast and with Singaporeans together on location. We filmed first in Japan and then went back to Singapore to finish off the film, and we were very touched when some of Japanese crew on their own accord came to Singapore to just be with us. So we have built a very strong friendship.
Also working with Takumi Saitoh, we became very good friends. He is a very talented and promising director, and I really enjoyed his directorial films, so he came to my mind as one of the directors for our new horror series called Folklore for HBO Asia. This omnibus is sort of a tribute to Twilight Zone, and we made it with six directors from Asia. I wasn't very sure if he would be interested in directing horror, but to my surprise he said that he would very much like to do it. So basically I pulled in all my friends on board as the directors. In Asia, especially, we all believe in ghosts and we have a lot of very interesting folklore, so it was very exciting to conceive the stories together. We filmed all the episodes in their mother tongues, so when you actually watch all these different anthology episodes, they are very uniquely, distinctively different from one another, as we have different spirits. It was really a wonderful experience.
When I look at Asia, I am fascinated by the size of it and by all the wonderful filmmakers emerging, so for me it is a bit of a quest to just carry on working with them and now we are working on a new anthology called Foodlore. It is about people and food, and each film is a narrative, but again all the directors have full control of creativity. So actually what we do is, we come up with an idea and send it to HBO, and after they give us their feedback, the script will be written. We have eight episodes and one is being shot now in Takasaki, directed by Takumi Saitoh. So it has been an exciting two years for all of us and, yes, we hope to do and create more series and to connect with the world in terms of sight--streaming through a new medium of expression.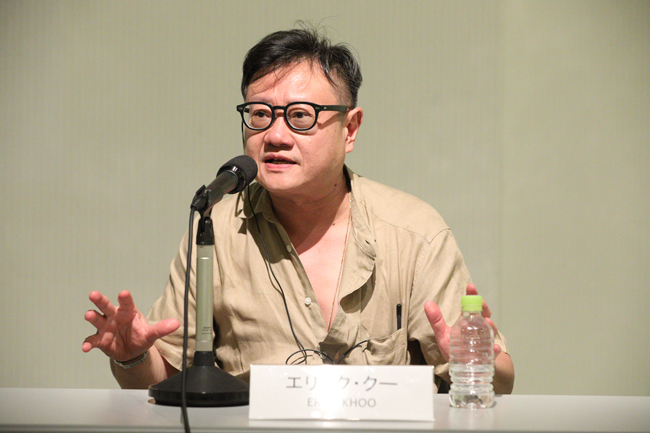 Ishizaka: Thank you very much. Now I would like to move on to Mr. Mendoza and his called stories. Three years ago, you made an episode called SHINIUMA Dead Horse for the omnibus film Asian Three-Fold Mirror 2016: Reflections in collaboration with Japan, right?
Brillante Ma Mendoza (hereinafter Mendoza): In 2015, when I was approached to do one of the shorts, I didn't yet have an idea of what and where to shoot. So when I was invited to Tokyo in the same year, I took the opportunity to meet with some Filipinos living here and interviewed them. We of course continued our interviews and research with our resource people in Manila and finally came up with the story about an undocumented Filipino living in Japan. Also we were looking at when to shoot, since I was thinking of having snow as an important part of the film. Being a Filipino and living in a tropical country, we don't have snow, so it is something amazing for us. That's why the story is situated in Hokkaido, where there is lots of snow, and the lead character is working for a horse farm there. So we went to Hokkaido for location hunting and for shooting, and it was the first time for us to see snow, and we were so amazed by it. But my way of making films is quite different from the way Japanese filmmakers usually do it, so at first it was a struggle for me, and I think also for our Japanese counterpart. Normally, you do the preparations like locations, the props, the costumes, etc., and identify the characters based on the script so that you can be more specific about the requirements of the script or the story. But I am very spontaneous and I don't really follow everything that is written on the script, and my filmmaking is not really that organized, whereas everything in Japan is very organized. I can cite one instance. I don't set up lights or tripods, and my staff is very young so they don't look like professionals, and I brought my actor without an assistant, so apparently some Japanese staff were wondering if we could really make the film. The first day also was quite challenging for them because I would choose locations that were not initially planned. But the most interesting part was on the last day when our flight was cancelled because of a snow storm. I asked my crew and actor to shoot the snow there, and we just shot on our own. Actually this cut became the major part of the story and because of that storm we were able to create the continuation of the story back in Manila. So this spontaneity is part of my filmmaking process, and it was quite challenging for our Japanese counterparts, but at the end of the day, we managed because we learned to trust one another. I learned how to be more organized from them, and I think the Japanese learned to trust us and our process more. So that was quite an experience.
Recently, I did another film as a producer working with the Fukuoka film commission and also the Saga film commission. When you are a producer working with another director, you focus more on the budget, on how to complete the film on a very limited budget. So, that is another experience. But because we more or less know each other and we know how to work on a limited budget, it is easier. On the other hand, doing films in a foreign country like Japan and doing films in the Philippines is very different. In the Philippines, I can go anywhere I want with a very limited budget because of course I have a lot of connections. But in a foreign country, you cannot do that. You have to abide by the rules, the permits, the way of their ethics, their working style, etc. But at the end of the day, I am taking this as an opportunity to learn to collaborate with other people. And the most important thing is that you don't compromise your film, but at the same time, you learn from it.
I also have a project that will be filmed in Tokyo, so you are going to see me a lot here in Japan. I am looking forward to filming in this beautiful country.
Ishizaka: You are engaged in a number of projects as a producer as well, and now I am starting to get really excited to hear that. So next I would like to ask to Mr. Garin Nugroho. In collaboration with Japanese artists, you presented your silent film Setan Jawa with a live 3D sound concert here in Japan yesterday. Would you like to talk about it?
Garin Nugroho (hereinafter Nugroho): Over the past ten years I have always tried to develop "Expanded Cinema*1 ", for example my film Opera Jawa (2006) became a dance musical in 2018 and it traveled Europe, and then its visual art exhibition was held in Paris and Munich. And this time, the silent and black-and-white film Setan Jawa, which is a collaboration between my production company and the Melbourne Art Center, made a new collaboration with the Japan Foundation Asia Center, and we had Yasuhiro Morinaga as the sound composer, as well as musicians and performers from Japan and Indonesia, including the singer Kom_I. The interesting thing is that in the perspective culture of Asia, the four elements of dancing, singing, music, and storytelling have become bigger, and with these elements films are getting more interesting and Asian people are becoming more interested in collaboration. Even in Opera Jawa and Setan Jawa, I tried to develop Expanded Cinema using these elements.
In performing arts in Asia, I think that the oral tradition is more common than the script tradition, and improvisation and spontaneity have become part of creativity itself, and I think that these are the sources of the Asian perspective for collaboration. For instance, in the traditional Indonesian performing art called Wayan Orang, the performers arrive on the stage only 30 minutes before the play and who comes first becomes the hero while who comes late becomes the enemy. This spontaneity not only creates more spontaneity, but all the dancers in Wayang Orang are the maestro of everything: they know the structure of the story in detail, the characterization in the dramaturgy, the music, everything about the play. So that is why they can play any character the director orders, and they know very well how to develop characters. And I think that this is one of the richest cultures in the Asian perspective now. In Asia, there are so many ways to tell stories. So this time too, I could discuss the details with Kom_I only two days before the show but she could adapt it very well and she performed very well on the stage, too.
What we call Asian collaboration doesn't have any standardization, but we have something that what we call storytelling, dance, music, and expression joined into one, even if they are so different. We have the same sources for creativity. As for Setan Jawa, it is like a horror film and it is mystical. This mysticism is a part of the strongly rooted culture in Asia, and it has been represented in literature, in music, in dance, and in theatre. That is why it became a very beautiful collaboration with Japan. In fact, Yasu (Yasuhiro Morinaga) traveled around Indonesia to get the sources of dance, music, theatre, etc. I think this culture is becoming like a library of acting, storytelling, characters, spontaneity, and creativity.
*1 A film, video, multi-media performance or an immersive environment that pushes the boundaries of cinema and rejects the traditional one-way relationship between the audience and the screen. Setan Jawa, a silent black-and-white movie, was produced to be screened with accompanying live music under this concept.