A challenge to document the changing city, Yangon; Hekishu (Matsunaga)
Ishizaka: Let's move on to Daishi Matsunaga's Hekishu (碧朱). I don't know if it is to do with a Chinese saying but I am not really familiar with this word.
Matsunaga: As a matter of fact, this is an original word I came up with ("Heki" means Blue and "Shu" means Red). You can liken a life to four seasons; spring, summer, autumn and winter, and in the same way you can liken seasons to colors. So, from my perspective, Myanmar today is more likely moving on from a juvenile stage to a mature adult; spring is over and about to turn in to summer, changing from blue to red and gaining power. Hekishu represents a stage of maturity in this country.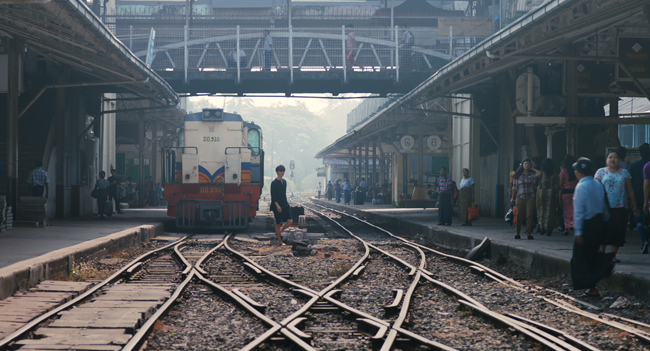 Ishizaka: As we watch your episode, the appearance of the circular train in Yangon Myanmar, which is not as fast as one in Japan, sets a good rhythm to your narrative and this "Speed" is certainly part of your story. So, as you traveled a lot to prepare for shooting, what kind of scenery did you find and what did you experience on the trip?
Matsunaga: Well when I read Degena's script, I found a very clear vision and meaning. In my case, I took a different approach. I tried to capture what I felt when I dived into the scene and depicted the documental moments in this film. So, when I visited Myanmar I was inspired by many elements; there were many things that do not exist in Japan anymore and things that are about to change and be lost or that I wish would remain in the country. Since film can help us to record what exists today, I thought I could take this opportunity to record many elements of Myanmar. So, the concept of time was pretty symbolic. We always try to improve efficiency, and improving efficiency by a second or two seconds matters to promote your products today, but is that real richness? That was the key question that came to mind in Myanmar.
Ishizaka: Station, market, port; I see different scenes in your episode. Especially the first scene, where the sheer volume of the metal sounds in the station was really pronounced, this made a big impact and was one of the things I noticed. Could you tell us about the photography and the sound?
Matsunaga: For the photographer, I was introduced to Gao Shiyi*2 who is based in China and has worked under respected cinematographers such as Daisaku Kimura and Lee Ping-bin. He speaks not only Chinese but also Japanese. Aside from the theme of this story, I wanted to challenge my ability as a creator, so I decided the basic angle and lens by myself and then Shiyi made the actual cut.
*2 Born in Beijing, Gao Shiyi graduated from the cinematography and lighting course of the Japan Institute of the Moving Image in 2007 and worked for Toho Pictures. After working under Daisaku Kimura, he went back to China in 2009 to work as an assistant of Lee Ping-bin and now he is credited in numerous films as a cinematographer.
Ishizaka: Speaking of which, I talked with the director Isao Yukisada the other day and he said that the scenery of your episode has the atmosphere of Hou Hsiao-hsein's Dust in the Wind (filmed by Lee Ping-bin).
Matsunaga: That might be too much of a compliment. But thanks to the big efforts of the local production team in Myanmar, we received shooting permission which made it possible to do a wide-angle shoot of the whole railroad yard and inside the train. Something like that is no longer possible in Tokyo anymore. Edwin might have encountered this challenge this time though, especially in commercial films, shooting the landscape of Tokyo is so difficult in terms of getting permission, so you really have to comply with the limitation of an area and eventually the pictures are forced to be limited and small, and there is no point anymore of seeing those landscapes in big screens. It will have just the same significance as if you watch it on the TV screen.
Ishizaka: It is true. When I talk with international directors, they say Tokyo and Kyoto are the most difficult cities to get permission for shooting.
Matsunaga: For the sound, Yangon was filled with a rich variety of sounds. This time the sound recorder on the set and the sound mixer were different so the process was completely separated, which was totally new to me. The sound mixing was done by Hiroyuki Ishizaka, who also did the sound in the director Brillante Mendoza's episode of Asian Three-Fold Mirror: Reflections, at the Pinewood Studio in Malaysia. He was really versed in the use of dubbing equipment, and his style of sound composure was a totally new creation for me and I enjoyed it very much.
Ishizaka: I hear that Hiroki Hasegawa, the lead actor, enjoyed shooting in Yangon as well.
Matsunaga: Yes, he was an actor who can drop his actor aura or that strong image of being an actor, so I asked him to not act, but to just feel what he sees in the location and live the ordinary life in this film. Actually, he was very willing to do that and he did it so well that people on the street wouldn't recognize him as an actor.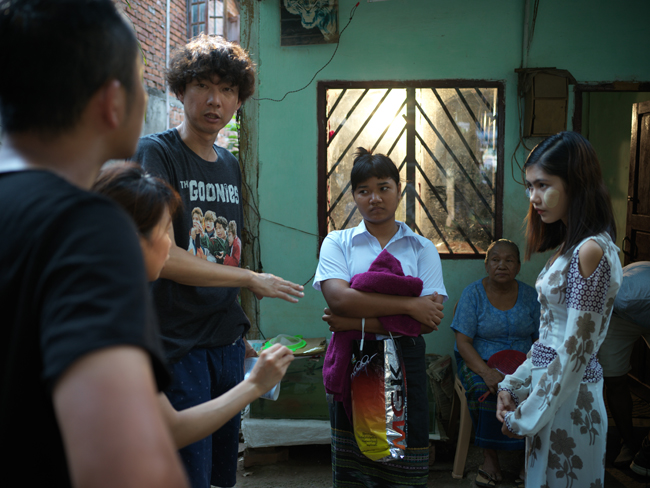 Ishizaka: And Nandar Myat Aung, the heroine, she is a local student of the National University of Arts, right?
Matsunaga: Yes, at first, we held an audition of professional actresses for the heroine, but the landscapes and others were so real that I thought if the characters next to Hasegawa acted professionally, he would be forced to act as an actor. So, I dared to choose amateurs by looking around the University and decided on Nandar after an audition.
Ishizaka: Now I would like to ask the other two directors to share with us their impressions about Hekishu.
Degena: As a person who was raised in a fast-paced city in Inner Mongolia, I really wondered what these landscapes in other countries including Myanmar and Japan meant to me. I always think about the grassland in Inner Mongolia which is kind of abstract for me and all these contrasts of two different places in his film, one fast paced and one slow, really reminds me of my own situation. Also, his portrayal is so calm while mine is filled with lots of dialogue and is fast paced. I really admire the simplicity of his story, but still the background is very complicated. I like it very much.
Edwin: I liked his concept of time that is subtly done in this episode, and also the encounter of two characters from different cultures, the different perception of time and how they meet and how they communicate; it is so beautiful how they are all trying to understand each other. For example, I really liked the blackout scene when the protagonist (Hasegawa) was invited to the heroine's house and her family sings Happy birthday with a lit candle, the joy is so cute. There is still an awkward situation, but slowly they enjoy the moment. It reminds me of how beautiful it is when we human beings try to understand each other. Now when I see the whole film, the three episodes have a very different approach, but they share the same understanding of something that is missing and a kind of longing for the future, which is quite amazing. It is like a prediction of the future. I guess we are surrounded by loneliness, and he tried to capture the evolution of this loneliness in the film.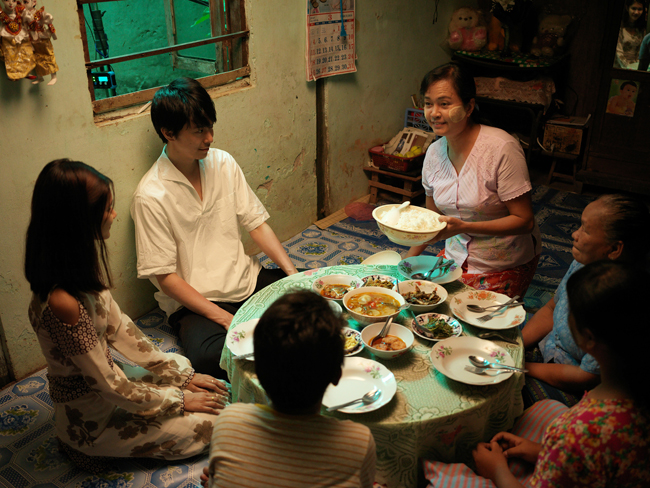 Ishizaka: About this blackout scene and the Happy birthday song, does it actually happen for real in Myanmar?
Matsunaga: That is actually my original idea. But during the research there were so many blackouts, but people were not panicked at all and they just continued to enjoy their ordinary life. If it happens in Japan, we would surely panic and complain to the power company. So, this way people accept what happens and turn it in to something positive; I think a film director has to do the same when trouble occurs. We should not get stuck in a problem or otherwise our possibilities just shrink. Let's say we wanted to shoot a sunny day, but if it rains, we need to ask how can we make the best use of the rain? Visiting and shooting in Myanmar, I felt many people have the capacity to accept difficult situations.