ASIA HUNDREDS is a series of interviews and conference presentations by professionals with whom the Japan Foundation Asia Center works through its many cultural projects.
By sharing the words of key figures in the arts and cultures in both English and Japanese and archiving the "present" moments of Asia, we hope to further generate cultural exchange within and among the regions.
To preserve Philippine Cinema's heritage
Hidenori Okada (hereinafter Okada): You have been an actor. In 2016, you became the chairperson of the FDCP (Film Development Council of the Philippines), and you were actually appointed by the president.
Lisa Dino (hereinafter Dino): Well, it's been very fulfilling so far. It's a totally different field in the sense that I'm not really doing things for my own passion or satisfaction. It's actually doing something for a higher cause, which is really serving the film industry. So being able to push forward for programs that would really help our industry improve, as well as engaging our entire community to really give importance to our cinema – its past, its present, and its future.
Okada: So, if you could just give a brief description of your FDCP chairperson job.
Dino: The Film Development Council of the Philippines is under the office of the president. We are the sole body that is in charge of (1) making sure that we have a healthy ecosystem when it comes to the domestic and international production, (2) that we are giving priority to the preservation, conservation of our cinematic heritage, (3) for us to be able to expose, promote, and celebrate Philippine cinema, not just domestically but in other countries as well. And (4) is to make the Philippines a prime location spot for foreign productions to shoot their films.
Okada: In August 2016, I visited Manila for the first time. And I also participated in and visited an international silent film festival, which was very active. And then I also visited the National Film Archive of the Philippines, NFAP and had a talk with you.
Dino: Oh, yes! I remember that!
Okada: And I'm very much interested in film preservation in other countries. That's also the purpose of my visit. And the film preservation situation is very much developing in the Philippines.
Dino: That's very hopeful. That's an optimistic approach to how you see it. [laughter]
Okada: In the Philippines both entertainment and art films have been thriving. I have the impression that its film industry is very special in Southeast Asia. I know that some people have made efforts to conserve films since the 1990s. And in 2011 the National Film Archive of the Philippines was established, suggesting that the Philippines has recently been poised to preserve films.
Dino: There are two thriving communities, large-scale films and low-budget films, that are working towards harmoniously creating that beautiful cinema in the Philippines. Yes, preservation is coming in late, but especially in my term we are becoming very aggressive in identifying a permanent archiving facility for our heritage; continuously engaging and connecting with our depositors to deposit their collections to us; and creating a secure system so that our depositors would feel that, as vanguards of this cinema heritage, we are able to really take care of our films. And that's ongoing, and that's actually what we are doing right now.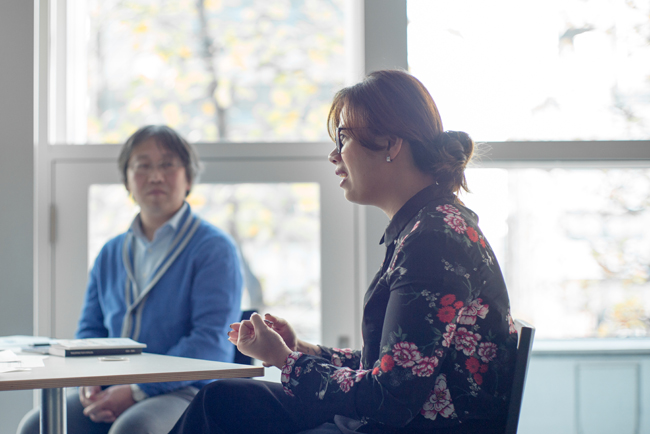 Okada: What is your biggest challenge now in pushing for film archiving?
Dino: Well, it's really convincing the government that preservation is important. There are so many - I mean, we are a developing country and I'm sure a lot of developing countries face this right now - it's always what is current and what is present that needs to be addressed. You know, preservation and culture take a back seat. And we're lucky because we are finding people from government, like senators and congressmen, who are pushing for a permanent storage facility. Our depositors are slowly understanding that it is important for them to preserve their films. They are ready to give their films to the Film Development Council of the Philippines. But our vaults are full. And we need to find a permanent facility with better temperature conditions and where international standards are met in preserving these collections. And actually this year (2017) was a milestone because we were given a budget for the first phase of the transitory archiving facility in Subec. It was old bunkers. It used to be a bomb shelter during the US time. And our technical consultant said it would be a good place for us to start storing some films. We just have to make sure that the technical consultants will give us the specs on how we can really create it. It's a start. I think we have a long way to go. But we need to start somewhere.
Okada: Film archives throughout the world have often converted former military facilities into film storages. La Cinémathèque française and the CNC (Centre national du cinéma et de l'image animée) use the fortresses built in the 19th century as their storage facilities. Here in Japan also, our film storage (the Sagamihara Conservation Center of NFAJ) is located in a suburb west of Tokyo. The premises were originally returned by the US forces that had occupied Japan. Before that, they were used by the Japanese army.
Dino: I visited the CNC this May. So, I'm really excited for us to do this. It's a three-phase project, in which we're also going to build a cinema museum with a cinematheque in that area. So, hopefully we can start acquiring more collections from our private productions, because the conditions of their storage facilities are really bad.
I was just in the Filmoteca in Spain, and I was able to find some Filipino films in their collections. It's hard to repatriate it, and I don't feel comfortable getting the films back knowing that we don't have the facilities for it. So really we have to address this main issue of identifying a facility that would be conducive for the preservation. I would be more confident to really search and hunt for films if we have a real place for us to store it. So that's why we're working double time in convincing the government to completely support our program. So that the next step is connecting with our partners and countries which have collections of our films. And I'm sure Fukuoka, with how much importance they've been giving to Filipino cinema, would be very much willing to partner with FDCP in terms of this exchange.
Okada: The National Film Center (the current National Film Archive of Japan) and the Fukuoka Library archives are very keen to preserve and store Southeast Asian films. Thanks to Fukuoka, I was able to watch Mario O'Hara's Three Years Without God (1976). Such a masterpiece. There was a time, from now I suppose the idea is that each country respectively has their own facilities. So, you know, we repatriate the films. In general, in the Philippines for the copyrights, the film owners, are they willing to cooperate and then offer?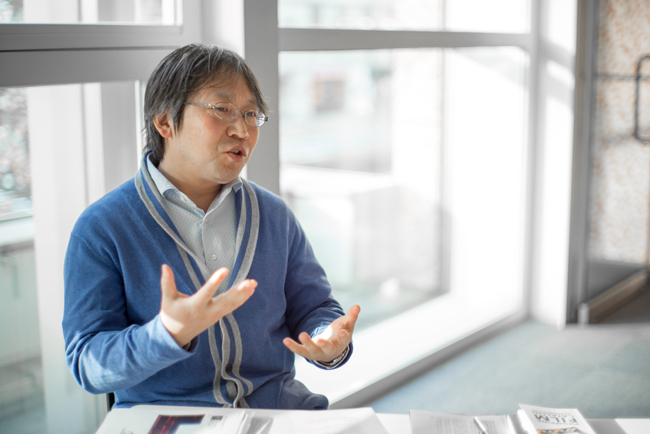 Dino: In terms of their willingness, I think they understand the importance of preserving their films rather than keeping it to themselves and in the end just losing it altogether. So I think in that aspect, we've already convinced them that it is OK for them to just deposit the films in the archives. And I think we should have a good contract to just show them that these films are just for storage.
We secure rights from the owners to deposit the films to us. And then there's a memorandum of understanding that we're able to screen the films for non-commercial purposes and that they will allow us to keep and store the films in our collection.
Well actually, just the ownership is kind of tricky in the Philippines. Because even the owners themselves don't really know much about the different copyrights or the different licensing that is involved in a film. So one owner or the owner, you don't know if the owner is the filmmaker or the producer or the production which was involved in the production of the film. So right now that's what we are trying to figure out. We're creating a system that would make it easier for the producers to know. Because they give the broadcast rights here, and they give the prints here. So within the system, we're trying to come up with some kind of a standard.
Okada: With the older films, we don't know rights sometimes. They are called, "orphaned films". Do you have that issue as well?
Dino: Yes. All the time! One film the print is here, but they don't have the right. Or in the other one where they don't have the print but... So oh my God, it's an ongoing... Especially now we are celebrating our 100 years of Philippine cinema. So we have a lot of activities surrounding the event. Partnerships to do a special program for our celebration. And that involves old films, and every time there is an old film that we're trying to show or probably digitize, we cannot find the owner, because the film is here but you don't know yet if you can do anything with it, because the right is with the other, or we don't know. Or they died already. Yes, I think that's always an issue.
Okada: We are in the same boat. There are massive films we cannot make use of because, you know, we cannot touch them. US, Europe, such films are now, they sort of deregulate, there's a move towards deregulation.
Dino: For things that are "orphaned," we use fair use. But the money that is collected from screening it is kept. So whoever claims it and they show that they are the owners, we're ready to give the money... I think the government has been, our agency has been pretty good at accessing fair use.
Okada: So, I'd also like to talk about restoration.
Dino: Our restoration and digitization is ongoing. So that one, with the films in our catalog and the films in our collection, we are continuously digitizing our films. With the physical prints that we have, we try to preserve it and at the same time have a digital copy. The digitization process is really given priority right now also. We acquired a film scanner in 2015. Digitization is something that we can already do in-house. Restoration is what we source outside. Normally our films with FDCP will be restored by Ritrovata. We're forging partnerships with one of the leading restoration companies in the Philippines that is local. It's called Central Digital Lab. They have pretty much restored more than 100 films from the ABS-CBN archive. And with our partnerships with Korean Film Archive and other institutions that have archiving facilities and capacity for restoration, we are creating partnerships so that we can restore some of the films that we already have. So actually we are restoring right now Eva Fonda (1976) by Maning Borlaza and Brutal (1980) of Marilou Diaz-Abaya. And we just actually restored the oldest film in our collection, a 1937 film of Zamboanga starring Fernando Poe, Sr., the father of Fernando Poe, Jr., who was the biggest action star. Yes, we are given the budget to restore two films a year. But right now there are films that can be restored already locally, so we plan to hopefully be able to restore at least five films a year. And that's the goal right now of FDCP.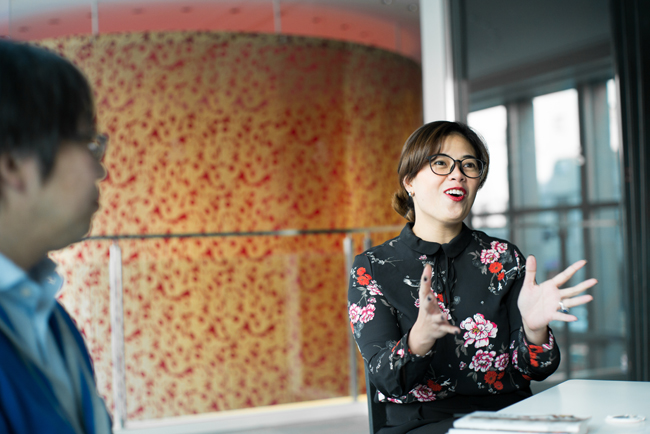 Okada: ABS-CBN, that's a TV broadcaster and they're playing a major role in film conservation? So a TV broadcasting company is playing a role... So would you like to enlighten us on how they are contributing to film preservation?
Dino: Well, ABS-CBN is not only a TV broadcasting company. They are also a film production company. Actually a lot of the commercial films in the Philippines are produced by ABS-CBN. There was a move for the company to give importance to our cinematic heritage, because the head of the ABS-CBN, Charo Santos, is part of this Second Golden Age of Philippine cinema*1 . And she was part of the 1976 film Itim by Mike De Leon. So because of her being in ABS-CBN, the effort to preserve films started. And Leo Katigbak, the head of the ABS-CBN archives, has been very active. They have a huge collection of their old films, and at the same time, they are acquiring rights for commercial purposes. So what they do is they restore the film, and then they sell the film in video form. They're selling it as a DVD. Also screening.
*1 While the rise of Philippine Cinema in the 1950s is referred to as the First Golden Age, a new wave from the 1970s through the early 1980s is called the Second Golden Age. Under the Marcos administration that restricted freedom of expression, films that criticized society were created in succession. Among the leading filmmakers were Lino Brocka, Ishmael Bernal, Mike De Leon, and Marilou Diaz-Abaya.
Okada: As for maintaining film heritage, film posters, still photographs, film magazines, etc., what's the situation in the Philippines? Like what about the physical...?
Dino: The struggle, as it is, is on our film collections. So the non-film collections is a totally new issue we need to address. I think we need to have more efforts on collecting non-film materials. We are in touch with the private collectors. Personally, I mean hopefully FDCP will be able to buy these non-film materials from the private collectors so we can store it. And when FDCP finally has a budget to acquire these, then we will start. I felt so envious of the Filmoteca in Spain. Oh, their non-film materials and even the reproduction of the posters is – there, they have an entire lab just for that. But it's in our consciousness. Hopefully we'll be able to do so something.
Okada: The Cinematheque Manila where I visited had posters of the masterpiece. I remember there was a statue of Gerardo de Leon at the entrance and ones of Ishmael Bernal and Lino Brocka. I was impressed. So, I think it soon can turn into museum because you already, you know...I was so impressed at the statues!
Dino: FDCP is building a room just for the non-film collections. Because right now we already have old cameras deposited to FDCP. And we have a lot of old equipment that was deposited to us. We also want to start collecting film-related memorabilia. And we are creating a room just for that. So hopefully it can be a start of our collecting these posters, sketches, scripts, story board drawings of our producers.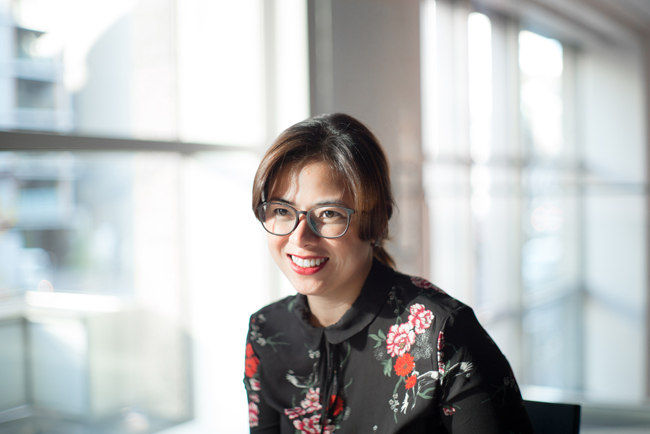 Okada: So currently film archivists are being trained. How are they... is there any function to train film archivists?
Dino: Well, of course the first goal right now as soon as we have an identified archiving facility is to be a member of the FIAF (International Federation of Film Archives)*2 . That's the first. So that we can have access to continuous trainings offered by the association. We just sent a participant to Bangkok for the FIAF event. In the Philippines, we just hosted the SEAPAVAA (Southeast Asia-Pacific Audiovisual Archive Association) training this year. We were able to fly in young archivists in the regions to participate in the workshop and training. So, in terms of our efforts to mainstream the importance of preservation, we are doing that in terms of the programs.
*2 An international organization composed of national film archives across the globe to preserve films and images as cultural heritage and historical documents. Established in 1938, the FIAF has 166 members as of May 2018. From Japan the National Film Archive of Japan and the Fukuoka City Public Library have joined the FIAF.