The Professional and Familial Relationship between the Director and Actors
AC : Chicco, you've worked with Angga quite a bit. You starred in We Are Moluccans (2014) which was screened at the 25th Focus on Asia International Film Festival Fukuoka (FIFF), and for Letters from Prague (2015) which was again shown at the 26th FIFF and had Rio in it, you were involved as its producer. What is it like to work with Angga as a director?
Chicco Jerikho (hereinafter Chicco) : We Are Moluccans was my first movie as a leading actor, but Annga, I think, really trusted me to play such a big role. I have him to thank for my winning Best Actor for the 2014 Festival Film Indonesia. I feel comfortable working with Angga; I love working with him and Rio. We know each other well, so we can explore many things.
For me, Filosofi Kopi is not just a movie. We opened Filosofi Kopi, the coffee shop, because we wanted people from all over the work to know how good Indonesian coffee is. We want everyone to know Indonesian coffee, just as everyone knows Blue Bottle Coffee*3 now.
*3 Founded by James Freeman, Blue Bottle Coffee is referred to as the pioneer in third-wave coffee, a movement toward artisanal coffee which focuses on all aspects of production.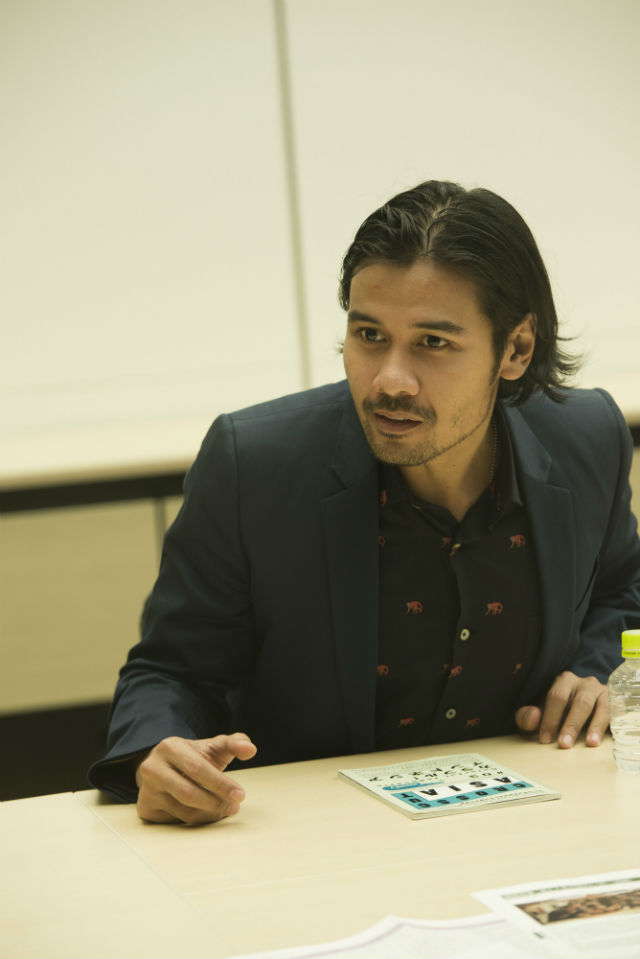 AC : Rio, what was it like for you to work with Angga who is the youngest director among those featured in CROSSCUT ASIA #03: Colorful Indonesia? Does working with someone who is of a similar age change anything?
Rio : The first film I saw which was directed by Angga was We Are Moluccans, and I was amazed at his work and also with Chicco who played the main character. I had wanted to work with Angga since. Then one day, Chicco called and invited me to a meeting with Angga for the part for Jody. I immediately said yes, and we met. It's such an honor for me to be part of Filosofi Kopi because, I think, this kind of film contributes to the development of film in Indonesia too. To make a good film, I think it is important to have a good relationship with the director, fellow actors, and the crew, but Angga, Chicco, and I are more than just friends; we're like a family.
Oh, by the way, Chicco and I came to know each other well after we entered the entertainment business, but we actually went to the same high school. He didn't know me, but I knew him [smiles].
Angga : Chicco was a model in high school, so he was already famous [smiles].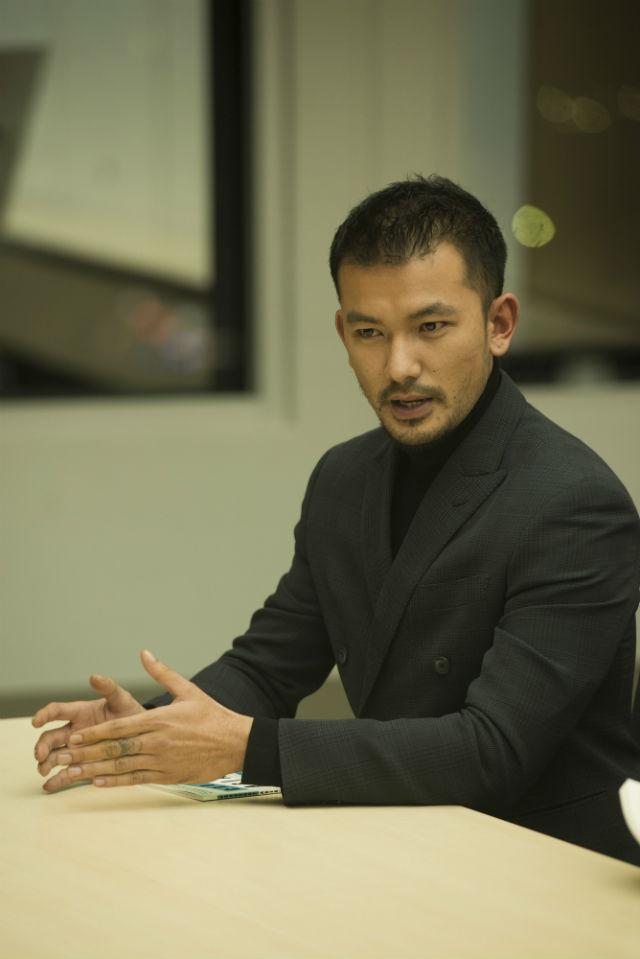 Two Protagonists, Two Actors: Their Personalities and Traits
AC : The two protagonists in the film, Jody and Ben, share the same passion of making the best cup of coffee, but their personalities are almost the opposite: Jody, played by Rio, is more business-oriented and Ben, played by Chicco, is more of a free-spirited perfectionist. And, in real life, you two run a coffee shop together. What is your on-screen and off-screen relationship like? How does Jody's and Ben's relationship compare with yours?
Rio : It's actually quite the same [smiles].
Chicco : Jody and Rio know more about the business.
Rio : And Ben and Chiccho have the minds of a craftsman. We have a few baristas in our coffee shop, but Chicco trained them from how to brew coffee to how to serve the customers. Each of our baristas is different, from their characters, mannerisms, and style. It's quite magical.
Chicco : We created each of the barista's characters: how they talked, dressed, et cetera. But the most interesting thing is if you add Ben and Jody together, you get Angga; Angga is a combination of the two characters [smiles].
AC : Do you agree, Angga?
Angga : I don't know [smiles]. But I admit I was writing the script not as an art film, and I tweaked the characters and plot so that it was enjoyable for a wider audience. In that sense, juxtaposing two opposite characters—the artist and the businessman—is an easy strategy. Not just with the coffee or film businesses, I think we can see this in many instances; a little like Tom and Jerry. I, too, am simultaneously the CEO of Visinema Pictures and a film director, so I have to run a business and also maintain my creative side. Maybe that's why Chicco thinks that I have both Ben and Jody characters.
AC : From watching the film, we could easily see a strong trust between Rio and Chicco. In your opinion as the director, Angga, how do you evaluate them as actors?
Angga : I think one of the key elements of Filosofi Kopi's success is how Rio and Chicco created the best bromance between Ben and Jody. As you said, the chemistry between them is very strong, and I think that was because they both shared the same vision, of how we want to do this movie. Needless to say, I think Chicco and Rio are two of the best actors now in Indonesia, and that is not just in terms of their talent but also their humility and humble approach to every job they take. They keep their hearts, minds, eyes, and ears open to humbly take in and express the characters. I think that is what makes their work magical.