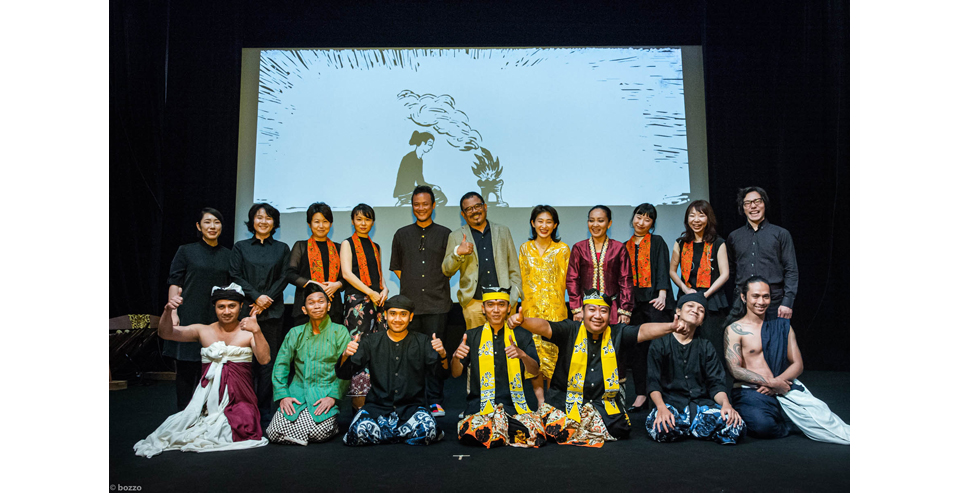 On July 2nd, 2019, the Japan Foundation Asia Center presented the Japan premier of "Setan Jawa - A Silent Film and 3D Sound Concert". Setan Jawa is a silent film directed by Indonesian master filmmaker Garin Nugroho, which, under the concept of "expanded cinema," was produced specifically for screening accompanied by live music. Beginning with its first international tour in February 2017 from Melbourne, Australia, Setan Jawa has also traveled to Singapore, Amsterdam and Berlin, with successful collaboration with local musicians in each city. In Japan, the film was presented for the first time in a "3D sound concert" format, featuring new compositions by sound designer Yasuhiro Morinaga. Morinaga produced the music and sound effect based on his research and field recordings conducted in Indonesia over the course of several months. The concert also featured collaboration on stage by KOM_I, known for her highly distinctive and experimental vocal performance in "Wednesday Campanella," and Indonesian and Japanese musicians and actors. The two successful performances provided a rare opportunity, the first of its kind in Japan, for both Japanese and Indonesian artists to engage in cultural exchange through co-production of music and stage with silent film as the medium.
Post-performance talks were held after each concert. The afternoon session was emceed by Mr. Yu Kaneko, a film critic, and attended by director Garin Nugroho, Mr. Yasuhiro Morinaga, KOM_I, and Ms. Asmara Abigail, the main actress of the film Setan Jawa on a surprise visit to Japan. They shared with the audience the background of the project as well as behind-the-stage episodes during its production.
Comments from the audience:
Thank you for this rare opportunity to appreciate an art performance like this. It tugged at my heartstrings from the beginning to the end.
The concert left me with a deep impression. For cultural exchange, I hope projects like this will be widely presented and further developed in the future!
Black-and-white film sets the tone, graceful dance in colorful traditional attire entertain the eyes on the stage in front, while dissonant sounds from behind create a sense of fear and insecurity. The performance was three dimensional, multi-faceted and superb. (One could also note the similarity with Japanese culture. The black-and-white images reminded me of Kurosawa's Rashomon, and the umbrellas and the drums had common traits as well.)
The music and sound effects were excellent. The film and stage performance spurred an interest in me on how Indonesian culture may have influenced Japanese culture. KOM_I and other performers with musical instruments were all wonderful. Expanded cinema should be recognized and receive support as a new artistic genre with potential for growth. I wish the best for this project's future.
"SETAN JAWA –A Silent Film with a Live 3D Sound Concert / Asia in Resonance 2019"
Details of Event
Time and Date: Tuesday, July 2, 2019 2:00 p.m. start / 7:00 p.m. start (two performances)
※Post-performance talks held after both performances
Film:
SETAN JAWA
Directed by Garin Nugroho / 2016 / 70 min / black-and-white / silent film
Music and Sound Director : Yasuhiro Morinaga
Performers & Musicians:
KOM_I (Wednesday Campanella)
Luluk Ari Prasetyo, Heru Purwanto, Dorothea Quin, Gunawan Maryanto, Teguh Permana, Akbar Nendi, Haidi Bing Slamet, Andori
Natsume Saiki, Taeko Kobayashi, Ayu Eto, Hiroki Taniguchi, Miyako Kira, Kumi Masuda, Noriko Koide
Venue: Yurakucho Asahi Hall
Organized by: The Japan Foundation Asia Center
Co-organized by: UNIJAPAN
Special Sponsor: Garuda Indonesia
Supported by: Embassy of the Republic of Indonesia, Tokyo
Music & Sound Production: concrete
Production & Management: OKAMURA & COMPANY, Inc.
↓Click to view the Program Booklet [PDF:5.33MB]