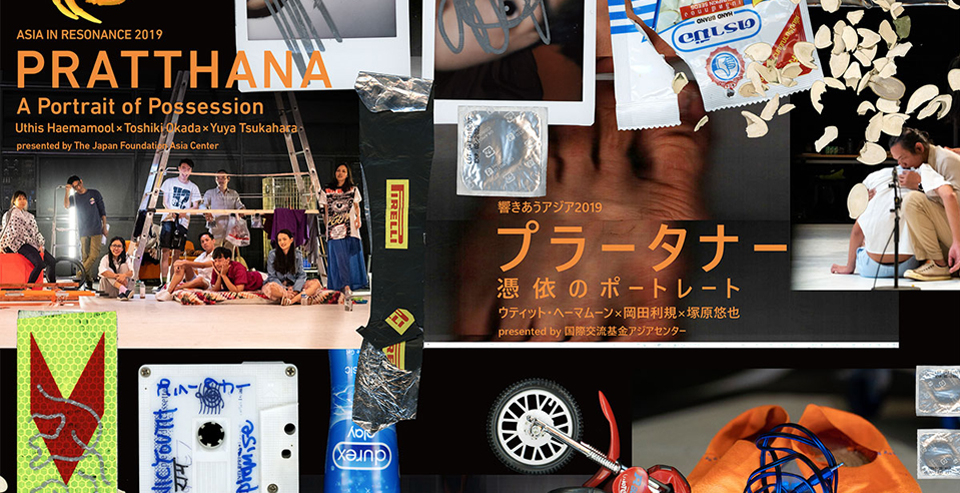 Long Reviews
From consumption to creation: the "narrative power" summoned by flux written by NAGATANI Satoki
I can feel "you don't feel it anymore" written by PARK Kenyu
Theatre production based on the novel by Uthis Haemamool, acclaimed Thai writer, adapted for stage by theater director Toshiki Okada with Yuya Tsukahara (contact Gonzo) as scenographer. Japan premiere following the successful tour in Bangkok and Paris
Pratthana – A Portrait of Possession, which as premiered in Bangkok in August and staged at Japonismes 2018/Festival D'autumne à Paris in December 2018, is a stage adaptation by Toshiki Okada of the latest novel by Uthis Haemamool, based in Bangkok, who is at the leading edge of contemporary Thai literature. This will be shown for the first time in Japan.
This adaptation looks back at the life and sexual past of a painter living in Thailand between 1990s and 2016, projecting society, history as well as political changes around an artist. This production was created thorough collaboration within Toshiki Okada and Uthis Haemamool, both are artists and of the same generation, Yuya Tsukuhara (contact Gonzo) as scenographer, actors from Thailand and the creative staff from Thailand and Japan.
An interview with Uthis Haemamool is specially featured in Asia HUNDREDS
UTHIS HAEMAMOOL――From Individual-oriented Stories to Expansive Art
Casts
Jarunun Phantachat
Kemmachat Sermsukchareonchai
Kwankaew Kongnisai
Pavinee Samakkabutr
Sasapin Siriwanij
Tap-a-nan Tandulyawat
Teerawat Mulvilai
Thanaphon Accawatanyu
Thongchai Pimapunsri
Waywiree Ittianunkul
Witwisit Hiranyawongkul
Event Details
Dates
June 27, 2019 (Thu.) to July 7 (Sun.)

June 27 (Thu.) 6:00 p.m.
June 28 (Fri.) 6:00 p.m.
June 29 (Sat.) 1:00 p.m.
June 30 (Sun.) 1:00 p.m.
July 1 (Mon.) 6:00 p.m.
July 2 (Tue.) CLOSED
July 3 (Wed.) 1:00 p.m. *Post talk
July 4 (Thu.) 6:00 p.m.
July 5 (Fri.) 6:00 p.m.
July 6 (Sat.) 1:00 p.m.
July 7 (Sun.) 1:00 p.m.

* Duration: 240 min. including 20 min. intermission
* Language: Thai (with English and Japanese subtitle)
* Doors open 15 minutes before the start of the performance
* Ticket counter open 1 hour before the start of the performance
* For details, please visit the special website
https://www.pratthana.info

Venue

Theatre East on basement floor 1 in Tokyo Metropolitan Theatre
1-8-1 Nishi-Ikebukuro, Toshima-ku, Tokyo Googlemap

Ticket Price
Reserved seating
Advance purchase : 4,000 JPY
At door: 4,500 JPY
Aged under 30* : 2,500 JPY
Students*: 1,500 JPY
Persons with a disability*: 1,500 JPY
* These tickets are the same price whether purchased in advance or at the door. Please present your ID at the ticket counter.
* Technical college students, university graduate students, university undergraduate students, and students of elementary, middle, or high schools.

[Discount Tickets]
Several types of discount tickets are available at precog (peatix)
for details: https://pratthana/info/en/

[Ticket for both "Pratthana" and "Fever Room": 7,000 JPY]
* Set tickets are all sold out.
This set ticket price is a discount of 500 JPY on the general advance purchase ticket price for each work.
* Available only at Tokyo Metropolitan Theatre box office.
* Purchase of set tickets is limited to two sets per person.
* More about Fever Room (https://fr2019.jfac.jp/en/)

Reservation
precog (Peatix) http://precog-jp.net/tickets

Tokyo Metropolitan Theatre Box Office
http://www.geigeki.jp/t/ (PC)
TEL: 0570-010-296(10:00 a.m. - 7:00 p.m. / except for closed days)

Ticket release date
April 21 (Sun.) 10:00 a.m.
Organized by
The Japan Foundation Asia Center
Co-organized by
Tokyo Metropolitan Theatre (Tokyo Metropolitan Foundation for History and Culture)
Planning
and
production by
precog. Co., Ltd
Produced by
The Japan Foundation Asia Center, precog Co., Ltd, chelfitsch
Supported by
Arts Council Tokyo (Tokyo Metropolitan Foundation for History and Culture), The Saison Foundation
In cooperation with
Sodsai Pantoomkomol Centre for Dramatic Arts, Faculty of Arts, Chulalongkorn University,College of Social Communication Innovation, Srinakharinwirot University, Democrazy Theatre Studio, contact Gonzo, B-Floor Theatre, FAIFAI, For What Theatre, Splashing Theatre Company
Special website
A call for Long Review Awards
A call for texts of reviews that answer the question: In what ways does Pratthana – A Portrait of Possession (the play or the novel titled Silhouette of Desire in English) tell "our story"?
We are seeking reviews of the play and original novel on which the play is based that take up the aspects of art history, performing arts history, social history, political history, etc.
Winning text of "The Japan Foundation Asia Center Award" will be translated into Japanese and posted as a special feature article "ASIA HUNDREDS" in both English and Japanese. Looking forward to your entries!
Deadline for outline (440 words) submission: Sunday, July 21 2019
For details, please visit the AWRD website.
https://awrd.com/en/award/pratthana_review_2
Asia in Resonance 2019
The Japan Foundation Asia Center is holding the "Asia in Resonance 2019", a series of events introducing its various cultural exchange programs between Japan and Southeast Asia. The broad range of special events includes cross-border productions of stage performances and films, an international friendly soccer match in which the ASIAN ELEVEN team of selected Southeast-Asian players will play against a team from Japan, and a "NIHONGO Partners" symposium. These events are an opportunity to enjoy the resonance created by the strengthened ties between Southeast Asia and Japan. And as well as being an opportunity to look back at the achievements of mutual cultural exchange which the Asia Center have been holding over the last five years, this festival will provide a springboard to further deepen ties between Japan and Southeast Asia.
"Asia in Resonance 2019" is scheduled to also be held in Southeast Asia.

This is the certified project of beyond 2020 program.