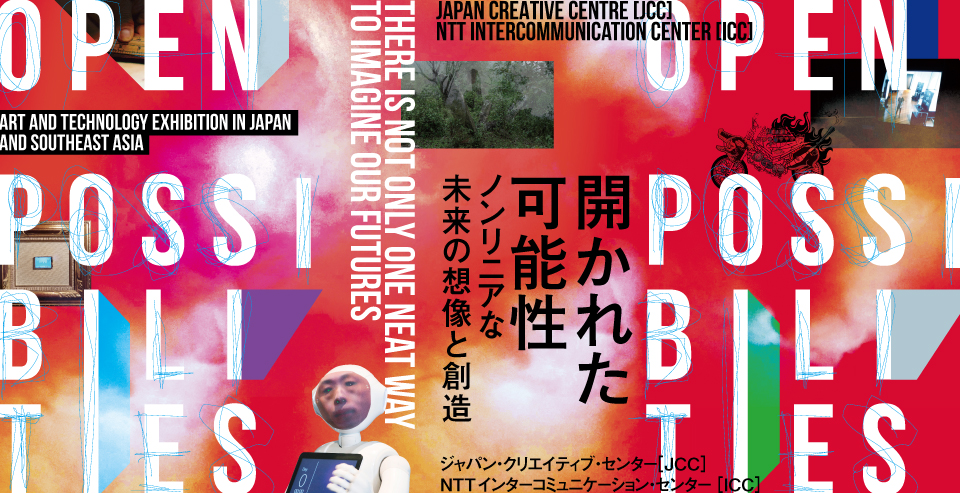 [YouTube Upload]
Exhibition "Open Possibilities: There is not only one neat way to imagine our futures"
UPDATE (Friday, February 28, 2020)
[Exhibition Closed from February 29]
In compliance with Japan's national health authorities, NTT InterCommunication Center [ICC] has made the decision to close its facility from February 29 (Sat) to March 1 (Sun), as a measure against the further spreading of the novel coronavirus (COVID-19) in Japan. Accordingly, the exhibition "Open Possibilities: There is not only one neat way to imagine our futures" will end on February 28 (Fri).
We apologize for the inconvenience and disappointment this may cause to those who had hoped to visit on both dates. We thank you for your understanding and cooperation.
Art and technology exhibition in Japan and Southeast Asia
Shining a spotlight on the creative scene in Asia that is rapidly developing as the region makes advances in information technology, the Japan Foundation Asia Center fosters exchange programs and partnerships between members of the emerging generation of talent through exhibitions, workshops, symposia, and performances in order to introduce new media art that is the fusion of technology and artistic expression as well as trends in pop culture and music in the post-Internet era. Exhibitions have to date been held in Manila, Tokyo, and Yogyakarta, aiming to promote exchange between young peers from specialist fields in Japan and Southeast Asia and to showcase creativity through art and technology.
For the 2019 fiscal year, which is the last year of the project, the Japan Foundation Asia Center will further expand its network of projects cultivated until now and hold an exhibition in Singapore and Japan, jointly curated by curators in Southeast Asia and co-organized with the NTT InterCommunication Center [ICC], a leading institution in Japan for new media art. In December 2019, an exhibition will take place at the Japan Creative Centre (JCC) in Singapore to mark its tenth anniversary, which will then tour to the Tokyo venue at the ICC from January to March 2020. Harnessing the practice-based activities and distinct characteristics of new media art in Japan and Southeast Asia, the exhibition aspires to widely present contemporary forms of expression in Asia across national and regional borders.
Exhibition Outline
As information technology and globalization continue to transform our society, what kind of vision of the future can we imagine?
This exhibition is an attempt to reinterpret the singular image of the future that has been cultivated by modernization, scientific and technological progress, and instead present multiple possibilities for our future. With a focus on new media art in Asia, the featured artists use technology as shared tools or platforms to explore mythology, ritual, and the relationship between mankind and machine. Within Asia, the forms and processes by which modern technology was accepted differ greatly. These artistic practices reveal remarkable creativity and rich sensibilities.
Through different perspectives of artists on technology, this exhibition endeavors to broaden our vision of a linear future into futures with open possibilities.
Curators
Riar Rizaldi (Artist, Researcher) [Indonesia]
Yubisui Yasuko (Assistant Curator, NTT InterCommunication Center [ICC]) [Japan]
Details of Tokyo Exhibition
Date
&
Time
January 11 (Sat.) - March 1 (Sun.), 2020 11:00 a.m. to 6:00 p.m. (Admission until 30 minutes before closing)
Closed on Mondays (If Monday is a holiday, then Tuesday), Maintenance day (February 9)

*Opening hours and holidays are subject to change. Please visit the ICC website for up-to-date information.

Venue

NTT InterCommunication Center [ICC] Gallery A Access
Tokyo Opera City Tower 4F, 3-20-2 Nishishinjuku, Shinjuku-ku, Tokyo 163-1404 Japan Googlemap

Admission
Adults / University students 500 (400) Yen
Admission free for High school students and younger
* Rates shown in parentheses are for groups of more than 14 persons.
Exhibited
Artists
Tanatchai Bandasak [Thailand]
Hayama Rei [Japan]
Ichihara Etsuko+Watai Taiki [Japan]
INTER–MISSION [Singapore]
Lintang Radittiya [Indonesia]
Waft Lab [Indonesia]
yang02 [Japan]
Zai Tang [Singapore]

Heri Dono [Indoneisa] *Special Exhibition

Organized
by
The Japan Foundation Asia Center, NTT InterCommunication Center [ICC] (Nippon Telegraph and Telephone East Corporation)
Exhibition "Open Possibilities: There is not only one neat way to imagine our futures" (Singapore)
Related Events
Artists' Talk
January 11 (Sat.) 1:00 p.m. - 5:00 p.m.
Session 1
"GAMELAN OF NOMMUNICATION: Past, Present, Future, and the Changing Same"

Conceived by the artist Heri Dono as a gateway to communication, GAMELAN OF NOMMUNICATION is a 1997 installation featured in this exhibition and part of the collection of ICC. Using technology to update the gamelan ensemble's instrument's fundamental essence as something that anyone can use to communicate, Dono created an installation intended to function like an accessible tool for cultural exchange. Marking its re-exhibiting, this talk considers what kind of future the artwork now seems to reflect.

Speaker: Heri Dono
Moderator: Hatanaka Minoru (Chief Curator, NTT InterCommunication Center [ICC])

Session 2
"Exposing the Limit: On Futures, Media Art, and Technology"


In this talk, the artists will talk about their work and how they challenge the limits of contemporary technology. This talk and discussion explores the possibility of reimagining technology through artistic practice. How can media art foster an alternative concept of the future?

Speakers: Ichihara Etsuko , INTER–MISSION, Waft Lab, yang02
Moderator: Riar Rizaldi (Exhibition Curator)
Capacity: 150 persons (First-come basis)
* With interpretation (Japanese-English)
Workshop "Bright Future: DIY LED Workshop with Waft Lab"
January 13 (Mon., Holiday) 1:00 p.m. - 5:00 p.m.
Known for its community-based practice, Waft Lab here organizes a workshop on making a DIY LED installation. Inspired by the bright and colorful LED design of odong-odong vehicles in Java, Waft Lab gives a crash course on how to program addressable and SMD LED with computers and microcontrollers. During the workshop, participants create their own interactive LED designs.
Artist: Waft Lab
Facilitator: yang02, Gyaru-den (Electronics Art Group) [Japan]
Recommended for: elementary school students and older
Capacity: 15 persons (Application required. Participants may be decided by lot)
Registration: Please see the ICC website for more details on registration.
* With interpretation (Japanese-English)
Artists' Talk: "On Surroundings: Reconfiguring the modes of communication with nature"
January 18 (Sat.) 2:00 p.m. - 4:00 p.m.
Through presentations and discussion, this talk investigates the relationships between art, technology, and nature. How does art and technology shape our understanding of nature? If we can reconfigure our modes of communication with nature, will an alternative vision of the future emerge?
Speakers: Hayama Rei, Tanatchai Bandasak, Lintang Radittya (Instrument Builder, Sound/Electronic Artist) [Indonesia], Zai Tang
Moderator: Yubisui Yasuko (Exhibition Curator)
Capacity: 150 persons (First-come basis)
* With interpretation (Japanese-English)
Workshop "Emergency Noises: Workshop on Sound, Instrument, and Alarm"
January 19 (Sun.) 1:00 p.m. - 5:00 p.m.
Indonesia and Japan are both nations prone to natural disasters. Sound plays an important role in disaster prevention and mitigation. What can the aesthetic of sound teach us about alarms and warnings? Led by two prominent sound artists from Indonesia and Japan, participants in this workshop learn and explore the possibilities of using instruments and electronics to make a simple sound alarm device. At the end of the workshop, the instrument built by participants will be recorded and played.
Artist: Lintang Radittya
Facilitator: suzueri (Sound Artist) [Japan]
Recommended for: the higher classes of elementary school and older
Capacity: 10 persons (Application required. Participants may be decided by lot)
Registration: Please see the ICC website for more details on registration.
* In the Workshop, participants will use a soldering iron. Elementary school students must be accompanied by adults.
* With interpretation (Japanese-English)
Screening Program
'Animistic Apparatus: Cosmos' is the screening program related to the exhibition "Open Possibilities: There is not only one neat way to imagine our futures."Escape Velocity II by Zai Tang, who is one of the exhibiting artists of "Open Possibilities" is showed together with this program.
"Animistic Apparatus: Cosmos"
This screening is presented in the context of Animistic Apparatus, a research and curatorial project initiated by May Adadol Ingawanij, where the concept of an animistic cinematic medium is proposed as a medium of cosmological entanglement and communication, and of deep time-space. The selection of recent moving image work by artists from Asia tell stories of relations between land, place, spirits, technology, and people. It sees nonhumans also as entities that embody history, speculate futures, and tell their own stories. Together these films question the assumption that humans are the only ones that remember, the only ones that imagine, and the only audience of cinema.
Curators:
May Adadol Ingawanij (Writer, Curator) [Thailand / UK]
Julian Ross (Researcher, Curator) [Japan/UK/Netherlands]
Venue: ICC Theater
Capacity: 27 persons
Admission free (Ticket is required to see the exhibition.)
Total duration: about 75 minutes
Time Table: Please see the ICC website for more details
Works
Bilal
Bagasworo Aryaningtyas
Indonesia, 2006 / 4 mins
Confusion Is Next
Pathompon Mont Tesprateep
Thailand, 2018 / 22 mins
The Blood of Stars
Raqs Media Collective
India, 2017 / 13 mins
Come to Me, Paradise
Stephanie Comilang
Canada, 2017 / 25 mins
Escape Verocity II
Zai Tang
Singapore, 2018 / 10mins
* This program contains some vivid scenes. Please refrain from watching these if you are subjected to be affected and keep your children away.
Curator Profile
Riar Rizaldi (Artist, Researcher) [Indonesia]
Riar Rizaldi is an artist from Indonesia currently based in Hong Kong. His works mainly focus on the relationship between human and technology, consumer electronics, theory-fiction, image circulation and network intervention. Through his works, he questions the notion of (a) temporality, image politics, digital materiality, media archeology and unanticipated consequences of technologies in human life. He is also actively composing and performing sonic-fiction using the methods of field recording and foley through programming language. Riar has also curated ARKIPEL Jakarta International Documentary & Experimental Film Festival - Penal Colony (2017) and "Internet of (No)Things" (2018) at Jogja National Museum that was organized by Japan Foundation Asia Center. Riar is currently a PhD candidate at School of Creative Media, City University of Hong Kong.
http://rizaldiriar.com
Yubisui Yasuko (Assistant Curator, NTT InterCommunication Center [ICC]) [Japan]
Born in 1978, Yubisui Yasuko studied architecture at Waseda University and then worked initially in production management for art events. In 2005, she started working at NTT InterCommunication Center [ICC] as a curatorial assistant. From 2006 to 2008, she also took on a parallel role as coordinator of ICC's video archive HIVE. In recent years, she has been involved in curating and producing many exhibitions held at ICC, including the "Open Space" series. In 2016, she was one of the editors and contributors to OS10: A Perspective of Art and Media Technology: Documents of ICC OPEN SPACE 2006–2015 (https://www.ntticc.or.jp/en/feature/os10/), which was published to commemorate ten years of the "Open Space" series.
Participating Artist Profile
Tanatchai Bandasak (Artist, Videographer, Photographer) [Thailand]
Born in 1984, Tanatchai Bandasak studied at Thammasat University in Bangkok, Thailand, and the École nationale supérieure d'arts de Paris Cergy, France. His practice encompasses video, photography, found objects, and installations, and has been exhibited at the National Museum (Bangkok, 2019), Tang Contemporary Art (Bangkok, 2018), Nova Contemporary (Bangkok, 2017), Ygrec (Paris, 2012), and Kadist Art Foundation (Paris, 2011). His films have screened at the 41st International Film Festival Rotterdam, Rencontres Internationales Paris/Berlin/Madrid, WNDX Festival of Moving Image (Canada), and the 5th and 6th Bangkok Experimental Film Festival. In 2019, he was artist-in-residence at the NTU Centre for Contemporary Art, Singapore.
Tanatchai Bandasak Official Website
Gyaru-den (Electronics Art Group) [Japan]
Gyaru-den is an electronics art group formed in September 2016 by Mao, a college student and self-professed gyaru, and Kyoko, a former pole dancer. Its practice fuses electronics with the gyaru youth subculture that was one of Japan's signature female street fashion trends in the 1990s and 2000s. Inspired by the idea that even gyaru can create things with electronics, the group proposes a unique concept of technology for gyaru, by gyaru. Its output includes such original items as dekotora-cap (hats decorated with electronic components) and "devices that you want to encounter so much it makes you shake." The pair continues to explore a creative combination of gyaru fashion and technology that can attract guys at nightclubs and parties. Mao and Kyoko's dream is that electronics and gyaru fashion will become so widespread and intermixed that one day you can even buy Arduino kits at the discount store Don Quijote.
Gyaru-den Official Instagram
Hayama Rei (Artist, Filmmaker) [Japan]
A graduate of the Department of Moving Images and Performing Arts, Tama Art University, Hayama Rei spent her childhood in a unique environment with frequent interaction with wildlife. She began her film and video practice using original approaches from 2008. In her work, she explores the nature and other living creatures absent from or disregarded by anthropocentric perspectives. Reinterpreting the relationship between nature and mankind, she attempts to summon nature's invisible layers of reality into the human imagination. Her work has been exhibited and screened at the Tokyo Metropolitan Museum of Photography, Museum of the Moving Image (New York), Bergen Kunsthall, Thai Film Archives, Anthology Film Archives (New York), Sheffield International Documentary Festival, Empty Gallery (Hong Kong), and more.
Hayama Rei Official Website
Heri Dono (Artist) [Indonesia]
Born in Jakarta in 1960, Heri Dono is a leading Yogyakarta-based artist and the first Indonesian to break into the global art scene during the early 1990s. Dono is well known for his installations, many of which are inspired by his experiments with wayang, the complex shadow puppet theater of Java. Wayang performances comprise a number of artistic and non-artistic elements. Dono merges these into a narrative and more generic interpretation of wayang, to which he also adds multimedia components. Such creative efforts express Dono's interest in revitalizing arts that are deeply rooted in Indonesian traditions. In his installations and performances, Dono effectively harnesses the potential of performativity and interactivity to engage in complementary dialogue with audiences.
Heri Dono Official Website
Ichihara Etsuko (Artist) [Japan]
Born in 1988, Ichihara Etsuko is a media artist and fantasy inventor. She graduated from the Studies of Media, Body and Image program at Waseda University's School of Culture, Media and Society. In her practice, she creates artworks that offer a unique interpretation of Japanese culture, customs, and beliefs, presenting new, technology-based approaches. Her accessible and fun work going beyond the conventional contexts of visual art and applying highly original design approaches to Japanese culture has attracted widespread international press and media attention. Her major work includes Sekuhara Interface (2012), an interactive installation featuring a radish that responds with sexual moans when touched, and the Digital Shamen Project (2015 and ongoing), in which a household robot offers a chance for the bereaved to live with a deceased relative for 49 days. She won the Excellence Award at the 20th Japan Media Arts Festival in the Entertainment Division in 2017, an Honorary Mention (Interactive Art + category) at Prix Ars Electronica 2018, and a STARTS Prize nomination also in 2018.
Ichihara Etsuko Official Website
May Adadol Ingawanij (Writer, Curator) [Thailand / UK]
May Adadol Ingawanij is a writer, curator, and teacher. Her research explores genealogies of cinematic and media apparatus, potentialities of contemporary artistic and curatorial practices, and the aesthetics and circulation of artists' moving images, art, and independent films in, around, and beyond Southeast Asia. She is Professor of Cinematic Arts at the University of Westminster, where she co-directs the Centre for Research and Education in Arts and Media.
May Adadol Ingawanij Official Website
INTER-MISSION (Art Collective) [Singapore]
Initiated in 2016 by Urich Lau and Teow Yue Han, INTER-MISSION is an art collective dedicated to discourses of technology in art. With a focus on interdisciplinary and collaborative video art, audiovisual, performance, installation, and interactive art, the collective aims to inhabit the gap between technologically engaged artworks, artists, and audiences. INTER-MISSION builds transnational networks to promote sustained dialogue and engagement with media practices. It creates a space that encourages collaboration, reflection, and participation in our ever-changing technological environment through interactive performances, installations, video screenings, international and interdisciplinary dialogues, and knowledge sharing.
INTER-MISSION Official Website
Lintang Radittya (Instrument Builder, Sound/Electronic Artist) [Indonesia]
Lintang Radittya is an instrument builder and sound/electronic artist based in Yogyakarta, Indonesia, whose current interests include DIY analog electronics, the relationship between sound and space, randomness, Javanese futurism, and the intersections of electroacoustic, interactive, and experimental music. He has taught workshops, held exhibitions, performed live, lectured, and created unique instruments and installations at many locations and festivals around the world, including CTM Festival (Berlin, 2019), Nusasonic (Yogyakarta, 2018), SynthFest (Malaysia, 2017), and the Holland Festival at STEIM (Amsterdam, 2017). Lintang also founded Kenali Rangkai Pakai, a project focused on the research and development of DIY synthesizers in Indonesia, and initiated Synthesia.id, which attempts to document and database synthesizer culture (both building and development) in Indonesia.
Lintang Radittya Official Website
Synthesia.id Official Website
Julian Ross (Researcher, Curator) [Netherlands]
Julian Ross is a researcher, curator and writer based in Amsterdam. He is a programmer at Locarno Film Festival and International Film Festival Rotterdam as well as an assistant professor at Leiden University Centre for the Arts in Society. His curatorial projects have been presented at the Tate Modern, Art Institute of Chicago, Kunsthal Rotterdam, BOZAR Centre for Fine Arts, Eye Filmmuseum, Tokyo Photographic Art Museum, Yerba Buena Center for the Arts, Anthology Film Archives, Harvard Film Archives, British Film Institute, Light Industry, and more. His recent publications include book chapters in The Japanese Cinema Book (BFI, forthcoming), A Companion to Experimental Film (Wiley-Blackwell, forthcoming), and America: Films from Elsewhere (2019, The Shoestring Press).
Julian Ross Official Website
suzueri (Suzuki Elico) (Sound Artist) [Japan]
Exploring her interests in the gap between physicality and interaction with tools and musical instruments as well as narratives emerging from relationships with actions, suzueri's practice encompasses both live performances and exhibitions. Her work is particularly characterized by combining pianos with self-made devices to make a roundabout, restless form of expression where musical instruments, devices, performance, and song all interfere with one another. Based in Tokyo, she regularly holds live events as well as collaborating or performing with Japanese and international artists from the fields of experimental music and sound art. A frequent performer overseas, her recent appearances include Tsonami Sound Art Festival 2019 (Chile), Hanoi New Music Festival 2019 (Vietnam Museum of Ethnology), SFX Seoul 2018 (Alternative Space LOOP, South Korea), and Harvard Graduate Music Forum 2018 (Harvard University, USA). She is also a part-time lecturer in the Department of Imaging Arts and Sciences at Musashino Art University.
suzueri (Suzuki Elico) Official Website
Waft Lab (Artist Collective) [Indonesia]
Waft Lab is a Surabaya-based interdisciplinary initiative whose art, culture, science, and technology practices are driven by a DIY spirit. Since 2011, Waft Lab has been organizing various activities such as workshops, discussions, exhibitions, and festivals with the aim of discovering fresh ideas and building sustainable collective networks. Waft Lab previously had four main regular programs: Elektro Work for electronic music performances; Video Work for video festivals; Urban Work for art exhibition events; and No Work for workshops or sharing and discussion activities. More recently, Waft Lab has focused on its No Work projects, continuing to develop and seek new methods that can meet the needs of the public.
Waft Lab Official Website
yang02 (Artist) [Japan]
Born in 1984, yang02 completed a master's degree majoring in media art at Tama Art University in 2009. His work is inspired by the potential for expression in the public sphere with a foundation in digital media. His practice inquiries into the independence of expression and reveals human physicality by entrusting the agency of actions to autonomous devices or external factors. His recent group exhibitions include the 20th DOMANI: "The Art of Tomorrow" (The National Art Center, Tokyo, 2018) and "The Breathing of Maps" (Yamaguchi Center for Arts and Media [YCAM], 2018). He won the Excellence Award in the Art Division at the 21st Japan Media Arts Festival (2018).
yang02 Official Website
Zai Tang (Artist) [Singapore]
Born in the UK in 1984 and based in Singapore, Zai Tang's solo currently responds to the question: What does it mean to listen to the voices of nature in a time of ecological crisis? He experiments with the abstraction and visualization of sounds recorded in wildlife-rich habitats under threat. He combines these augmented sounds with other elements—drawing, animation, projection and/or performance—to create immersive and reflexive experiences that explore notions of awareness and connectivity between the human and the nonhuman. His recent exhibitions and screenings include at the Singapore Biennale (2019), SGIFF (2019), the Second Yinchuan Biennale (2018), KLEX (Malaysia, 2018), The O.P.E.N. (Singapore International Festival of Arts) (2017), and the National Gallery Singapore (2017).
Zai Tang Official Website
This is the certified project of beyond 2020 program.